For men fashion and accessories, specifically, jewelry can be difficult to find. While the fashion world tends to provide women with infinite options and styles – every season – many men find it difficult to portray their sense of self. Accessories are the easiest way to establish your style and change up any outfit regardless of the occasion. Fine jewelry is an adept way for men to accessorize and show off who they are. While some may prefer large pieces that call attention, others are subtle and want their jewelry to be just that. There are options for anyone on either end of that spectrum and here we have a curated selection of refined jewelry pieces for men. It might seem as if options are limited but we have found unique pieces just for you. From necklaces, bracelets, and chains to rings, cufflinks and tie bar Raymond Lee Jewelers offers a curated selection. While finding those pieces that are indicative of who you are may seem difficult our selection offers range and quality.
Ideally one would not wear all their favorite jewelry pieces at once unless that has been your style, but you will probably want to with the incredible collection below. Here are some of our favorite jewelry pieces for men.
Necklaces & Chains
A necklace or chain can go in a million ways. Paired together, different sizes, featuring pendants or gemstones there is any number of ways to wear fine jewelry around your neck. We at Raymond Lee Jewelers offer designer and bespoke necklaces, chains and pendants. All of them are made from the finest quality materials including gold, platinum, and silver. There are different designs like barrel, wheat, or cable link chains (see below).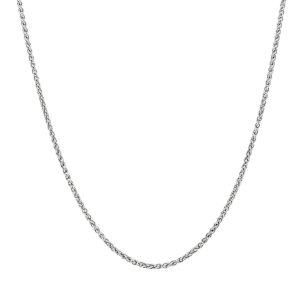 First, this 14k white gold barrel chain link necklace. It is approximately 26 inches long and the barrel chain links around a ¼ inch wide. Refined and simple this accessory can be worn in any occasion. It is as discreet as it is tasteful and can be played up with pendants of any sort.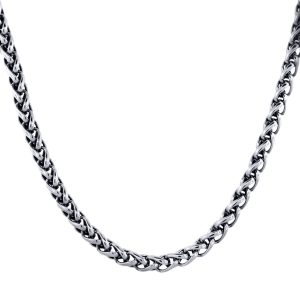 Designer David Yurman has his signature design in sterling silver and gold patterns. This 6mm chain necklace features a wheat chain design and is approximately 17 inches long. One can wear this type of chain on its own, featuring a pendant with any assortment of jewels or combined with other chains, including those in yellow or rose gold.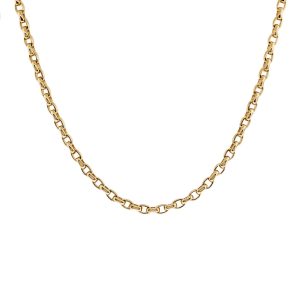 Finally, a delicate and unique 14k yellow gold cable link necklace. This lobster clasp necklace is approximately 24 inches long and can be worn as a single or double loop.
Rings
Second is men's rings. Now rings can really be designed and changed up to each man's taste and style. From simple sleek bands to championship winner inspired jewels there are rings of every size, shape, and style. There are a few considerations to take into account when selecting a ring. First, are you purchasing a ring for special occasions or for everyday wear? Then, what kind of materials are you looking to use and if you want any jewels or gemstones added. Finally, the design of the ring itself is the most important. There are as many understated and simple rings as there is eye-catching engraved and bezel rings. We offer a large selection of men's rings that includes practically all of these styles and variations. Our offerings include high-end luxury designer jewelry and uniquely made to order pieces.
There is no mistake when selecting rings that go with your fashion style and type. Here we have a few of our large range of men's rings, but to check out all of our options visit our site.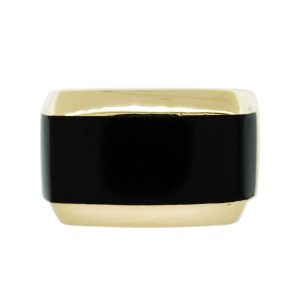 First, a unique 18kt yellow gold ring featuring a rectangular cut onyx. The strongly masculine rectangular ring features the inlaid onyx stone at the center. Sleek and understated this ring can be worn every day.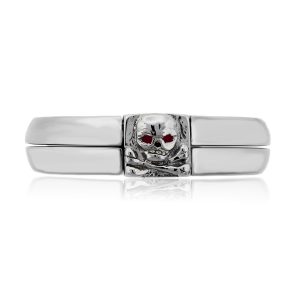 Next is a very unique piece indeed. Styled into a skull design this platinum ring is topped off with two rubies in the detailed eyes of the skull. You do not have to live a pirate's life to infuse your style with the high seas. This ring is a rock and roll, Caribbean lifestyle statement piece for sure.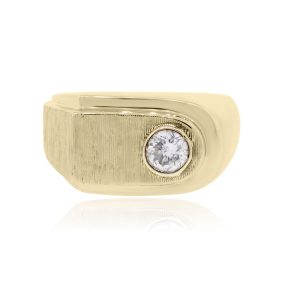 Third, is this magnificent 14k yellow gold ring featuring a bezel set round brilliant diamond that is approximately 0.45ct.  A perfect ring for day to day this piece has a raised textured section and the offset diamond gives it just that bit of glimmer to set it apart.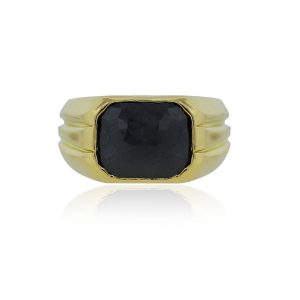 Fourth, this gentleman's ring is truly unique featuring approximately 6.40ctw of Black Diamond Measuring 11.15mm x 5.47 x 9.20mm. Set in 18k yellow gold this ring this ring also has two horizontal bevels along the sides. Fascinating and subtle this piece can be either an event jewel or day to day depending on your style.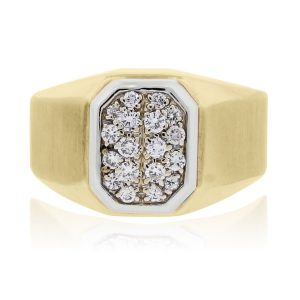 Fifth, a true statement piece this daily 14k yellow gold ring features approximately 0.50ctw of round brilliant diamonds. Set in the center of the ring in a vertical oval pattern the diamonds are surrounded by a white gold bezel. They shine even brighter with this soft detailing.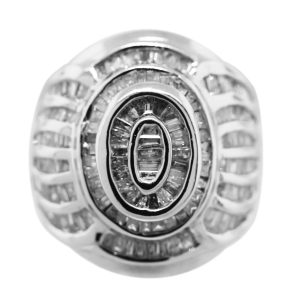 Second to last, one of the most detailed and designed rings available. An 18k white gold diamond ring featuring approximately 3ct of baguette cut diamonds. Flowing outward in symmetrical oval shapes the diamond design makes this ring an eye catcher. This bold look may not be for all men but for those who enjoy a confident and strong piece of jewelry, this is the ring.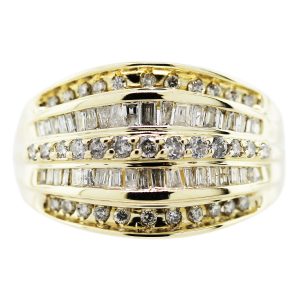 Finally, another highly jeweled ring. This 18k yellow gold men's diamond ring features approximately 2ct worth of round brilliant diamonds and baguette cut diamonds. The bands running along the length of this ring alternate between the baguette cut diamonds and round brilliant diamonds for a textured and intricate design.
Bracelets
Next are bracelets for men. Now this category of men's jewelry is arguably one of the most diverse. From large heavily jeweled bracelets to thick gold chains there are definitely statement pieces. However, just like with all other types of men's jewelry there are also sleek understated pieces for those men whose style is more traditional.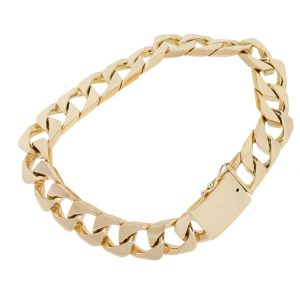 First is a classic. A 14kt yellow gold Cuban link bracelet. This is the type of bracelet one sees quite often in South Florida and with its smooth yellow gold design can be worn day to day without clashing with your style. This piece is 11mm wide and has a hidden clasp box with a safety clasp.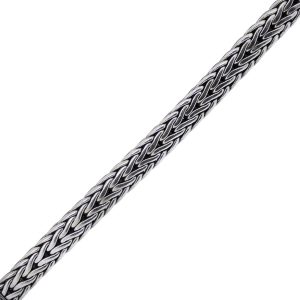 Next is a designer bracelet. A gorgeous Scott Kay designer Doberman 18k sterling silver bracelet. Made with sterling silver and 18k yellow gold this masculine bracelet has a double push tongue in box clasp.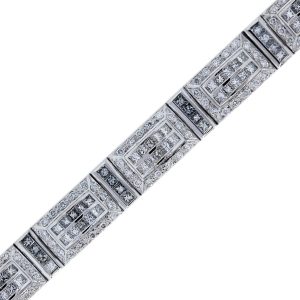 Thus we come to a truly bold and bulky masculine jewelry piece. The 14k white gold men's bracelet features approximately 9ct of round brilliant and princess cut diamonds. A statement piece to say the least this jewel weighs in at all around 55 grams and the pave set diamonds are sure to turn heads.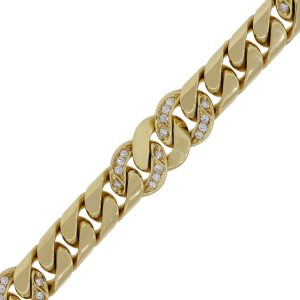 Finally, an Italian designer 18k yellow gold bracelet featuring approximately 2ct diamond round brilliant diamonds set into the link chain. The 8.50″ x 0.18″ x 0.53″ bracelet features a hidden tongue clasp with safety. A fine piece of jewelry for men looking for classic and bright bracelets that accentuate their gestures and personal style.
Cufflinks
Third, the men's jewelry piece for the best of occasions and the every day, cufflinks. There are a number of options for cufflinks. From dress cufflinks and monogrammed pieces to designer jewels featuring stones and gems, there are cufflinks for every moment. Here we have a selection of fine Bulgari, Tiffany & Co. and bespoke cufflinks. These subtle accessories men cannot have enough of. For each occasion, and suit design and color, there is an ideal cufflink.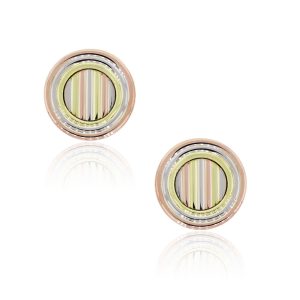 First are some fun and festive colorful tri-color gold Bulgari 18k cufflinks. These are round with vertical stripes alternating between rose, yellow and white gold tones. Ideal for Summer or Spring occasions these designer cufflinks go with any style.
Another designer set of cufflinks, these Tiffany & Co. 18k yellow gold x cufflinks are in the house's signature design. They are classic, easily recognized and no doubt a breeze to pair. Regardless of the event or the color of your suit these cufflinks are here to make a subtle appearance.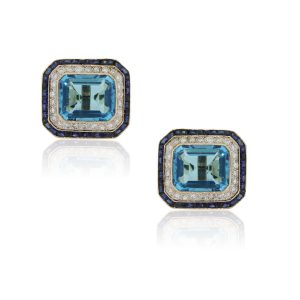 On the other hand for those men looking for true jewel cufflinks, these featuring precious gems and diamonds are the ones. 18k yellow gold cufflinks hold approximately 1ct of square cut sapphires surrounding the center featured blue topaz measuring approximately 10.83mm x 8.80mm. To top it off there are approximately 1ct of round brilliant diamonds between the blue jewels.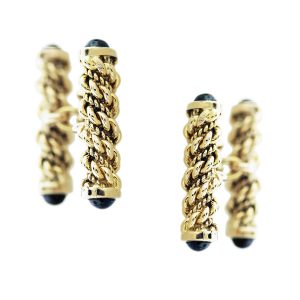 Another set of sapphires these cufflinks are more understated. They are a blend of the two previous sets merging yellow gold signature design with precious gems. While these are maritime inspired the four cabochon sapphires give it a sleek finish.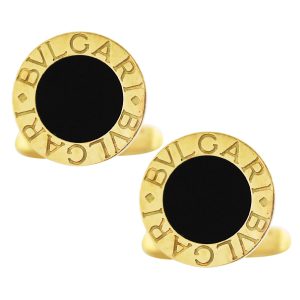 Finally a designer pair of 18k yellow gold Bulgari cufflinks featuring onyx centerpieces. These are traditional and feature the emblematic Bulgari engraving.
Tie Bars
Next, there are occasions for ties and for some men that might even be each and every day. While not all men will wear jewelry on the day to day a tie bar is a perfect way to accentuate your style. These petite elegant accessories are both functional and beautiful.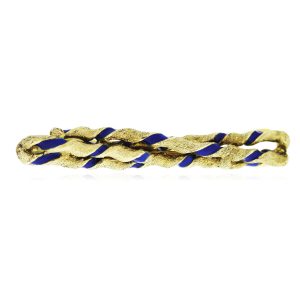 First are a maritime-inspired 14k yellow gold and blue enamel stripe tie bar. It has a textured and rustic feel with bright yellow gold and dark blue enamel. This piece also happens to currently be on sale.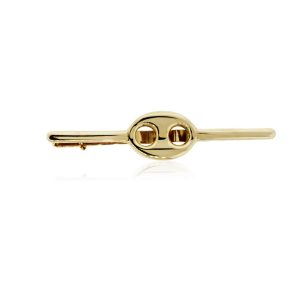 Lastly, an 18k yellow gold mariner link tie bar. Simple and straightforward this tie has an interesting touch with the mariner link. It is a traditional gold bar straight across but rather than stop there it also features the nautically inspired centerpiece.
Money Clip
Finally, for the man who has it all or prefers his jewelry off his body, we have money clips. There is not always a need to carry your whole wallet and one always needs cash handy. To keep that cash together and give it a refined jeweled touch a money clip is timeless and minimal.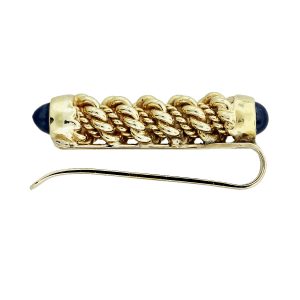 Last, this piece of jewelry for men is a true gem. Featuring two Cabochon sapphires at either end this 18k yellow gold money clip has a rope like maritime-inspired design. It is about 1 ⅛ inches long.
Custom Jewelry
There are some jewelry pieces that only exist in our very own minds though. For these Raymond Lee Jewelers offers customer jewelry design. Our master jewelers work with you to bring your idea to life. Passionate about their craft and helping you create the ideal jewelry piece they will sit with you at our exquisite location and discuss possibilities. We source all of our very own fine quality materials to craft your jewelry piece and put it through the most rigid tests of quality and durability. Come into one of our pristine locations and discuss your custom jewelry idea with one of our jewelers today, or schedule an appointment.