There are a lot of fine accessories out there, but an elegant timepiece like the GMT-Master II by Rolex is hard to beat. There is just something about a high-end watch that really brings our look together. The great thing about watches is that they come in a huge variety of shapes and sizes and can be made from a range of different materials. Rolex is one of the most instantly recognizable watch brands in the world, known for its fine quality and precision design. What we love about the timepiece is how well it works with pretty much any style.
The watch is one of the few accessories that combine form and function into something you can wear. Most often, accessories are meant to look great, but they don't have a function beyond that. With a watch, you get the functionality of always knowing the time and with some watches, you get a lot more functionality than just that. Whether a man or a woman, bold or simple style, the watch is a great accessory for anyone.
The Elegant Timepiece
When we think about people who have elegant and effortless styles, chances are one of their daily wear accessories is a high-end timepiece. For whatever reason, a nice timepiece has the ability to transcend time, trends, and even styles. With a watch, we will always be able to remain punctual and on time, but it adds a lot more than that to our look. There is that put-together look and professionalism that we get from watches, but more on that below. The watch is one of those unique accessories that can be both functional and all about looks.
Especially when we are talking about a high-end piece such as a GMT-Master II by Rolex, you are getting something that is incredibly elegant, but also reliable, precise, and durable. It is a watch that is easy to own and the classic design will let it stand the test of time. With classic styles such as this watch, you get the peace of mind that it will continue to look great for many years into the future. Like a well-fitting business suit or a little black dress, a classic watch is one of those rare pieces that can defy trends and ever-changing fashions.
Put-together Style and Professionalism
It makes sense to want to have an effortless look that is put-together and stylish. We want to look like we take care of our appearance, but not that we are fussy. Though this look might seem difficult to achieve, it really doesn't have to be. One of the secrets of this effortless elegance is the use of classic styles and timeless accessories. The classics are, well, classic, and you can never go wrong with something that can defy trends. Pairing a variety of different classic looks together will give you that put-together look without a ton of fuss. A high-end watch like the GMT-Master II by Rolex is also a great way to get that professional look so many of us are vying for.
We know the modern world of business is tough and you have to take advantage of any little edge you may have. Looking professional is part and parcel of being taken seriously and having success in the business community. A great accessory for a professional look is a high-end timepiece. Pairing a high-end timepiece with a well-fitting suit will give you a professional and serious look that can be incredibly helpful in this difficult environment. It will also show others that you value your own, as well as their, time.
The Best Place for Your Luxury Jewelry Needs
At Raymond Lee Jewelers, we know that you don't want just average or run-of-the-mill accessories. People come to us for a fine selection of rare high-end pieces. For this reason, we hire only the most experienced and connected buyers. This is how we ensure that we find the best selection of unique, rare, and well-made pieces for our display cases. We take our reputation seriously and will continue to strive to maintain it for many years to come.
Whether you are looking for a vintage high-end timepiece or you want the latest GMT-Master II by Rolex, we have you covered. From wedding rings to bracelets, from earrings to luxury watches, we have it all. And if you can't find exactly what you want, we also offer custom jewelry design services as well. With the use of the latest and most advanced computer technology, our skilled jewelers will work closely with our clients every step of the way. This is how we can ensure that we are able to turn your dream into reality. Additionally, we also offer a comprehensive range of jewelry repair services as well. From simple ring resizing to repairing broken timepieces, we have the skills and know-how for the job.
Rolex Watches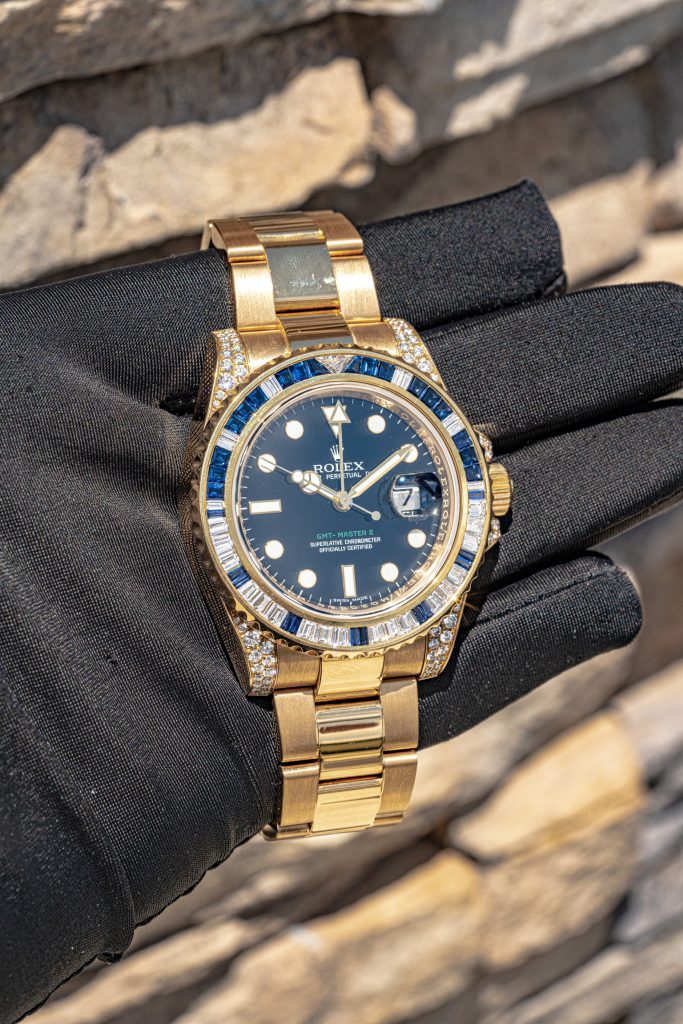 Rolex is a brand whose reputation precedes it. There aren't many people in this world who aren't familiar with this luxury brand. It is synonymous with high style and luxury. This is a brand that discerning consumers from around the world swear by. This Swiss-based company has a long history of innovation and high-end design. Only the finest watchmakers and engineers will make the proverbial cut at Rolex, which is part of why they have been able to retain their high status for so many years. They have such an emphasis on innovation that they make many of their watch components in-house.
Rolex holds a number of patents on components that feature in their watches. From internal calibre movements and mechanisms to materials and bracelet styles, Rolex has patents on a lot of different elements. This means that what you get from Rolex truly is one-of-a-kind. All Rolex watches are hand-made to the highest standards of quality in design and construction. Only the finest materials will feature in a Rolex watch. These watches are so well known for their quality that many people are actually able to pass them down through generations and they continue to operate perfectly.
The GMT-Master II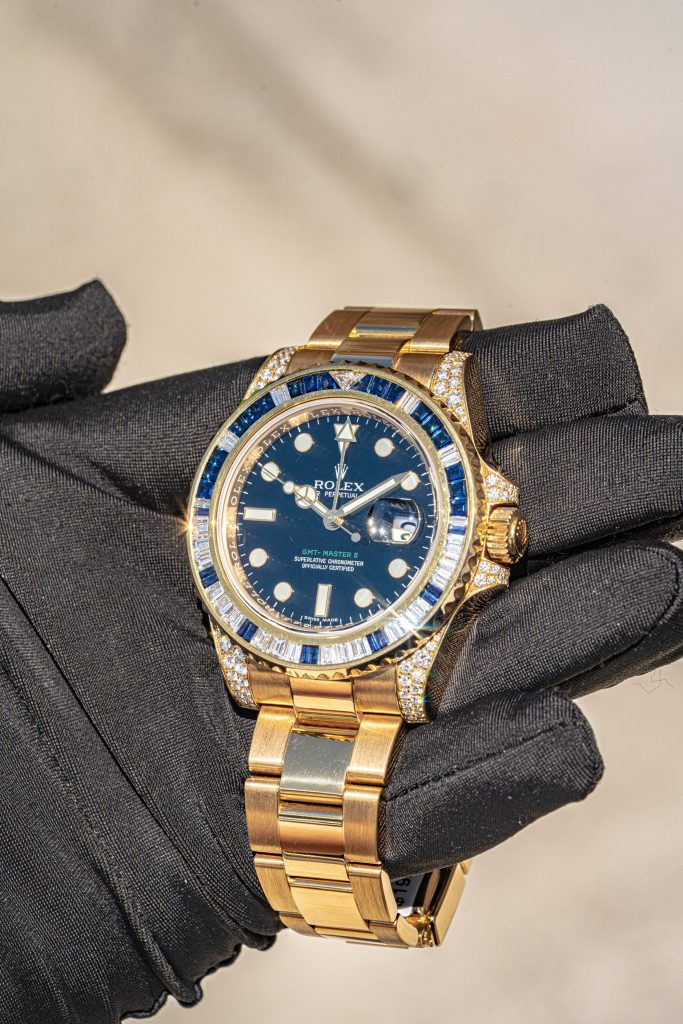 The GMT-Master II line of watches was made popular by pilots and world travelers. The first GMT-Master line saw its introduction in 1955 and its successor, the GMT-Master II has been a favorite since. This is a watch for the worldly. It allows you to easily tell the time in two separate time zones at the same time. Whatever reason you travel, this is a great feature.
Additionally, the watch also has a 24-hour hand and a rotatable bezel. While many different versions of this watch have been released over the years, these are elements that remain consistent across the different models. Most often, the rotatable bezel will be two-tone. In the version of the watch we feature here, these two tones come in the form of diamonds and sapphires.
This is one of the many Rolex watches that feature unique and patented Rolex-exclusive features. It is a robust and durable watch that features some of the most cutting-edge internal movements and mechanisms. This watch is an automatic self-winding watch that keeps accurate time without having to be wound by hand like many other high-end timepieces.
Diamonds and Sapphires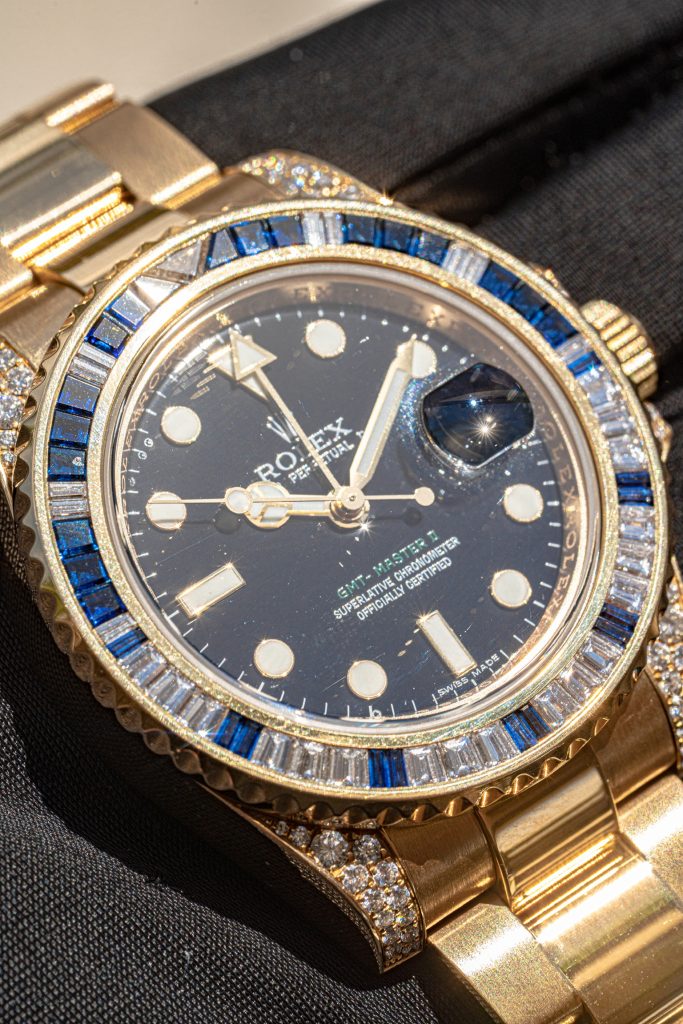 As we note above, the GMT-Master II by Rolex is one of those iconic watches that are easily recognizable on sight. This is because their popular models have certain design features that remain consistent across the many different versions of the watch. This line of watches, as we have seen, will always have a time display for two time zones and will always have a rotatable bezel. These are the elements that make this watch discernable from other styles and even on the most elegant versions of the watch, these features remain. It is traditional for the bezel of the watch to feature two different colors. Though the version of the watch we feature here is a bit more elegant than a traditional version, it too features two colors.
Here, rather than a two-tone metal bezel, there are both diamonds and sapphires inset into the bezel. This gives the watch that two-tone quality that makes it so popular, but it also gives it some extra glamor and elegance. These fine diamonds and sapphires are in a rectangular cut, which allows you to see their quality. There are additional accent diamonds on the bracelet of the watch which are in the round brilliant cut. This cut gives the stones the maximum amount of sparkle.
Yellow Gold
This is a classic style of watch, so it makes sense that many models of the GMT-Master II by Rolex are made of yellow gold. Yellow gold is one of the most traditional metals that any jewelry is made from. In fact, many Rolex watches are made from yellow gold or stainless steel in their first introduction on the marketplace. This is how they become known for these materials. We love the classic look of a Rolex watch in yellow gold and think it offsets the blue sapphires and high-grade diamonds quite well. As with anything that features in a Rolex watch, the yellow gold alloy that features here is of the highest possible quality.
Pure gold is not used for jewelry and other adornments. It is far too soft in its pure form. So to use it in jewelry, it must be blended with other metals. For yellow gold, pure gold is often mixed with other yellow metals such as copper. The addition of the other metals gives the gold the strength and durability it needs for use in jewelry but still maintains that shiny yellow that we all love so much.
Precision, Durability, and Reliability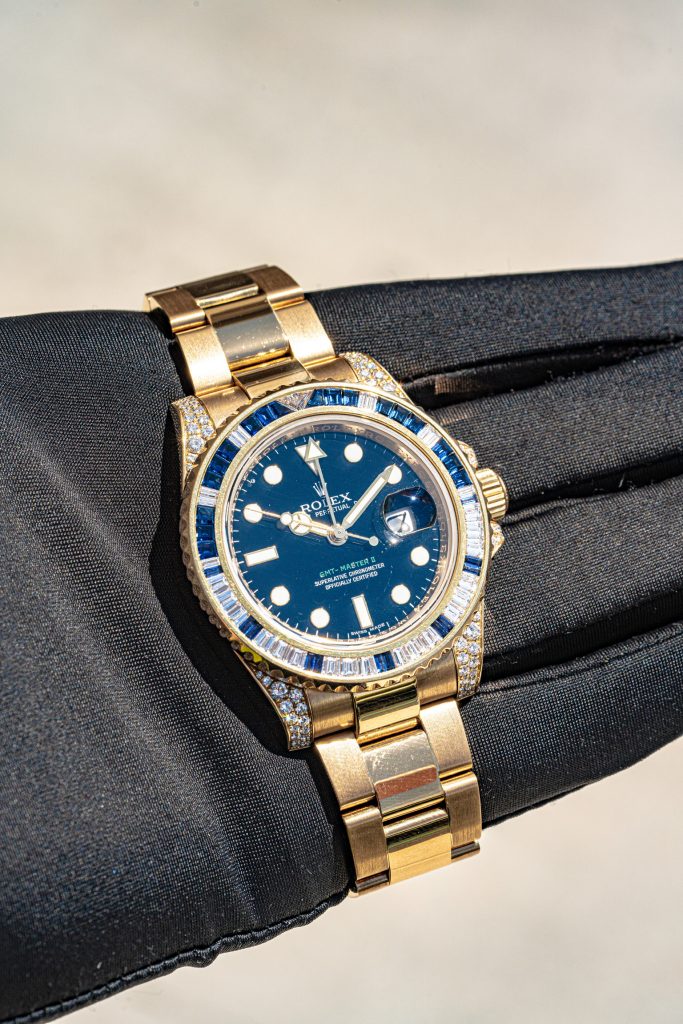 We talk an awful lot about how good Rolex watches look, and for a good reason – they all have elegant and stunning styles. But there is a lot more that goes into a Rolex watch than just style. As we noted in the section where we discuss Rolex as a brand, they make many of their watch components in-house. The company holds many patents on internal watch mechanisms and more. The company is known for its cutting-edge internal components that provide enhanced precision and reliability. While a watch for you might not be life and death, there are some professions where it can be. And Rolex strives to create watches that people can literally depend on with their life.
All of these cutting-edge features make their way into each and every Rolex watch. Even the fanciest Rolex watch is going to be waterproof, dust-resistant, and even resistant to magnetic fields. These are durable watches that can go where you go. Well-made, these watches feature Swiss-born craftsmanship and engineering that is far above what you can find anywhere else. If you are looking for a timepiece that you really can rely on for the long term, this is a great option.
In Closing
We love the timepiece for many reasons. First and foremost, it is an elegant accessory that looks good on anyone, whether man or woman, young or old. There are watches for pretty much any taste and style, so finding a watch that will look good on you and will fit with your style is most certainly possible. We love the timepiece as it can give us that put-together or professional look that is so important to many of us. Pairing a high-end watch with classic attire or a well-fitting business suit gives you effortless elegance.
Here, we look specifically at the GMT-Master II line of watches by Rolex. Rolex is one of those brands that really doesn't need much introduction. It is almost synonymous with luxury and quality. The GMT-Master II line is a robust and elegant line of watches with functionality suited to world travelers. It allows you to keep track of the time in two different time zones and has a rotatable 24-hour bezel. The version of the watch we feature here is made from fine yellow gold and features diamonds and sapphires on the bezel. Additionally, there are also diamond accents on the bracelet of the watch.