An elegant, bold accessory such as a four-strand diamond necklace with a unique v-shape, is a great statement piece. Formal occasions are a lot of fun, they are some of the few events where we ladies can let our inner princess out. These are the kinds of events where we get to dress to the nines in our finest. That means our finest clothes and our finest accessories. Pairing fine attire with something as beautiful as this bold diamond necklace will certainly get eyes on you.
It is a ton of fun to dress up and spend an evening with your near and dearest and if you are anything like us, you wish there were more opportunities to do so. But when those rare opportunities come around, we think you should really take advantage, and having something elegant and eye-catching at the ready is a great start. Jewelry like this can easily be the focal point of any outfit, but it can also serve as an accent to something even bolder as well. What works best for you is a matter of style and preference.
The Best Place for All Your Fine Jewelry Needs
Here at our flagship store, Raymond Lee Jewelers, we know that our clients have come to expect a lot from us over the years. We have worked really hard to become known as one of the best fine jewelers in the Boca Raton area. Over the years, we have become known as the premier place for high-end jewelry. We have the best selection of rare, high-end pieces in the area. Our clients have discerning tastes and don't want run-of-the-mill pieces, so they expect accessories you can't find at just any jewelry store.
This is why we hire only the most experienced and skilled buyers for both of our stores. These are people who have a ton of experience and connections that allow them to source out some of the most unique pieces from sales across the world. With the highest standards of quality, we ensure that only pieces that are well-made of the finest materials will grace our display cases. And if we don't have what you are looking for, be sure to ask about our custom jewelry design services which allow us to turn your dream into reality.
The Power of High-end Accessories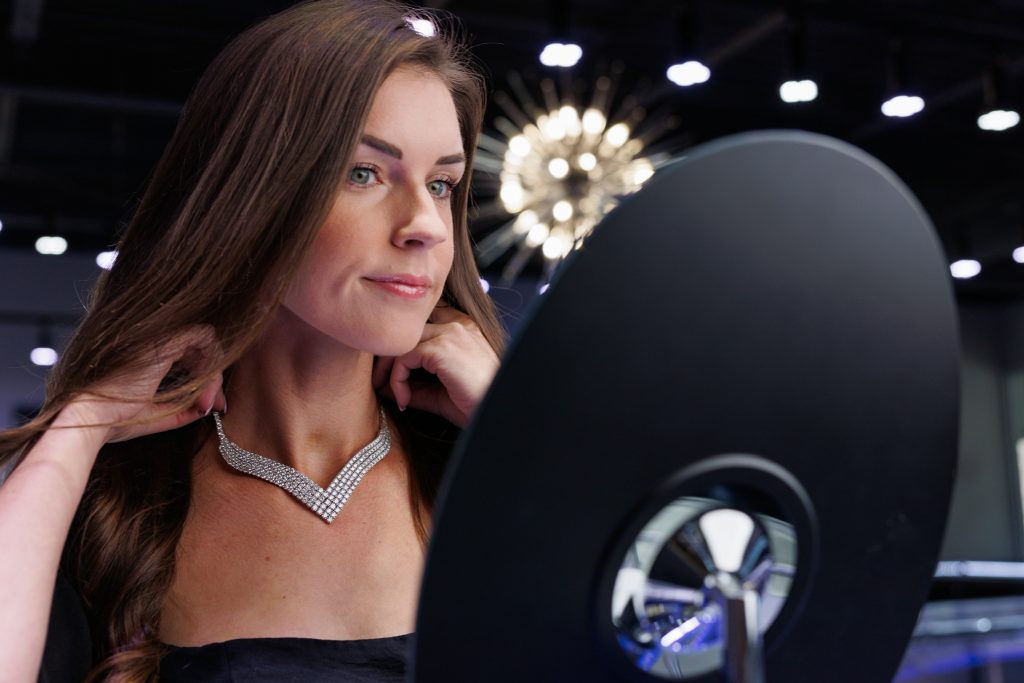 There is a lot to love about a high-end piece of jewelry, whether we are talking about a four-strand diamond necklace or a luxury wristwatch. These are items that can really give you that put-together look of effortless luxury and elegance that so many people strive for. And, these accessories can tell others a lot about you. The necklace we feature here, for example, will show people that you have an appreciation for the finer things in life. It shows that you are willing to seek out high-quality pieces that aren't simply average.
It can also show others that you have a bold sense of style and fashion. Whether you use this necklace as the focal point of a look or you want to accent something else, it is a great accessory. And there is no reason to stick to just one accessory. It is a lot of fun to pair different accessories together, even if they are statement pieces. It is through these means that you can really create a unique style and look for yourself. And this is true whether you are dressing for an evening at a high-end gala or at the bar with some friends.
The Statement Piece
We feel like all women should have a few statement pieces. Not only are they a lot of fun, but they can really complete a formal look in a way simpler pieces just can't. But what exactly is a statement piece? Well, the four-strand diamond v-shaped necklace we feature here is a great example. This is a visually-stunning piece of jewelry that can steal the proverbial show. It is bold and sparkly; the materials that feature in this necklace make it exclusive and clearly a luxury item.
In essence, statement pieces are bolder and more formal pieces that you often reserve for those special occasions. These are pieces that you will bring out for that gala or other high-society event. Something like the necklace we feature here is not a casual piece. This is something that would look pretty out of place at a grocery store or with casual clothing. But with an evening gown and a few other carefully chosen accessories and you can enjoy the evening looking like true royalty. And, I think we can all admit that any excuse to really dress up is going to be a lot of fun.
Four-strand Diamond V Necklace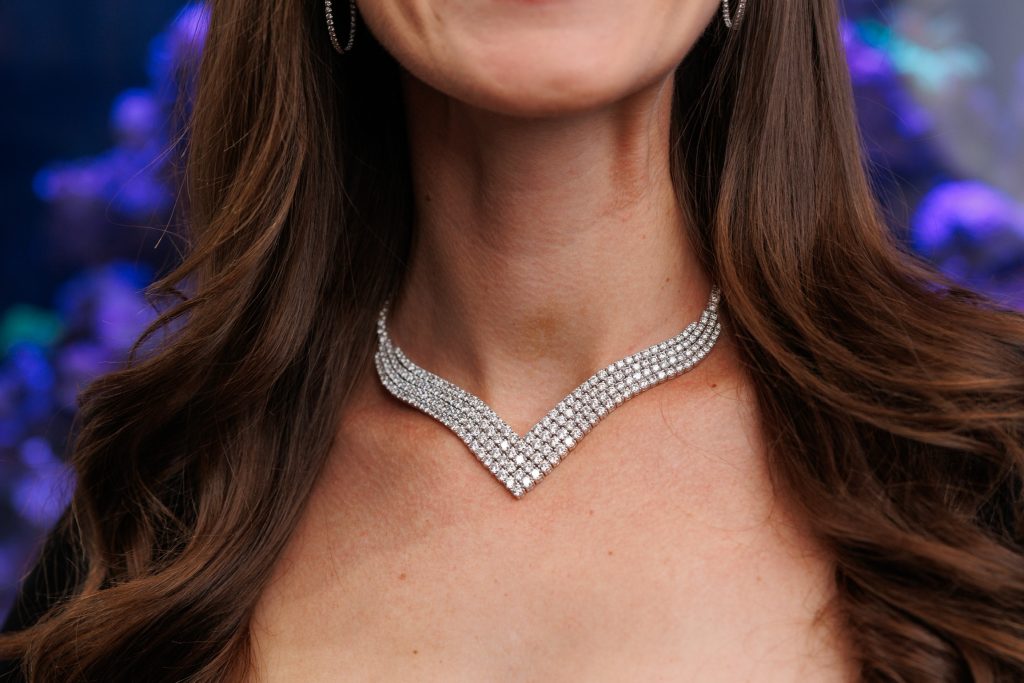 When we think about a statement piece, it is hard to imagine something a whole lot better than the four-strand diamond necklace that we feature here. This is not something that people are going to miss. It is a large, wide necklace that is chock to the brim with sparkly diamonds. As the name of the necklace implies, this piece consists of four rows of high-grade round, brilliant-cut diamonds (but more on them below). These four rows of diamonds come together at a point at the chest to create a v-shape to the necklace.
The four strands of diamonds do not go all the way around the neck. At about the ears, the necklace turns into a single strand of diamonds with a hook clasp to fasten it behind the neck. This makes it more comfortable and a lot less bulky than it would be if the four-strand configuration went all the way around the neck. But you don't have to sacrifice any diamonds with this style because even the part of the necklace that would normally be a chain is akin to a diamond tennis necklace. There is a ton of sparkle and shine in this piece and the diamonds are held in place by white gold prongs.
Beautiful Round Brilliant-cut Diamonds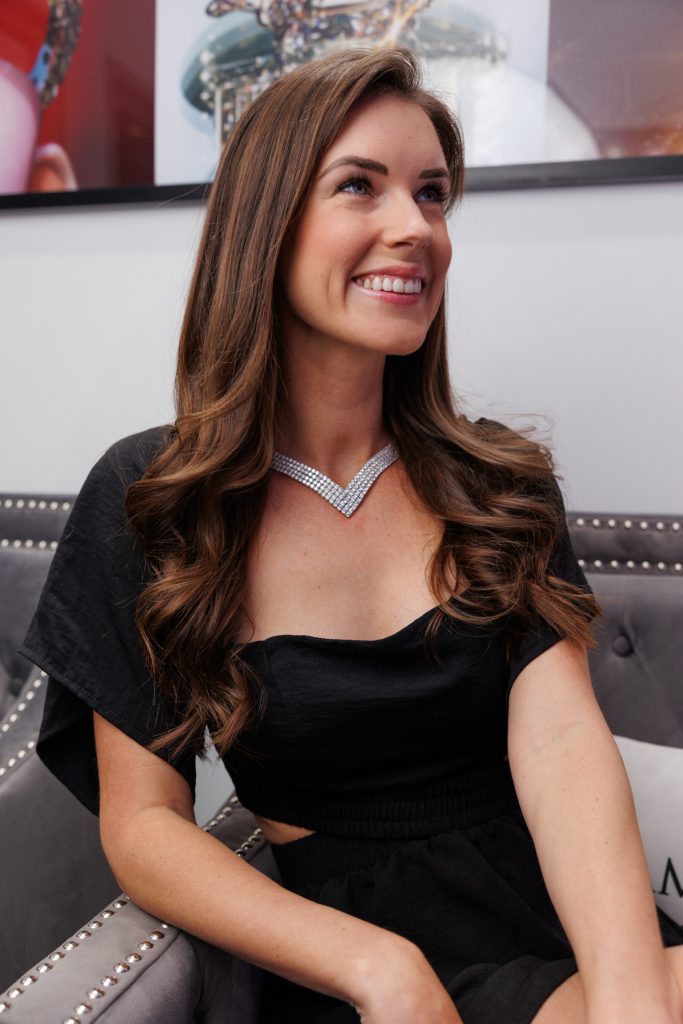 The stunning and beautiful four-strand diamond necklace that we feature here boasts a huge number of high-grade diamonds. There are numerous cuts of diamonds and each of them offers a unique quality and style. One of the greatest things about the diamond is its hardness and durability. This allows jewelers to cut these gemstones into pretty much any shape you can imagine. Most often, diamonds are cut to maximize either the fire or the brilliance of the gemstone. Fire refers to the rainbow-like hues that will emit from the center of certain cuts in the light. This is a cut that shows the depth and quality of stone.
Conversely, brilliance, or sparkle, is the most sought-after characteristic of a gemstone. This is caused by a play of light that occurs when light is reflected off many cut surfaces. Therefore a gemstone that is meant to maximize sparkle is one that will have many facets. The most popular cut for brilliance is the round brilliant-cut stone. These are round stones that have many facets cut into the surface of the stones. This allows for a light if light refraction, which results in a ton of sparkle.
Stunning Quality
While the four-strand diamond necklace we feature here is a really elegant and special piece that you will likely reserve for special occasions, it is still incredibly well-made. There is no reason to buy high-end jewelry, even that which features high-grade materials, if the construction is shoddy. Even a piece that you don't plan on wearing very often should be well-made and reliable. The last thing you want is to spend good money on a piece of statement jewelry, only for it to break on the first or second wearing. That won't do at all.
The necklace we feature in this piece, as well as anything you will find in our display cases, is going to be of the highest possible quality, in every context. We only sell pieces that feature the highest-quality materials. This means pure metals and the clearest and rarest gemstones. And each and every piece we offer is also well-made. The construction quality of the piece is one of the things our buyers are trained to look at. This way, we only offer pieces that are durable, well-made, and built to last. The necklace we feature here has all the features that one looks for in a piece of high-end statement jewelry.
Elegant Design
There are a lot of things that we could talk about as it relates to the four-strand diamond necklace that we feature here. It is made from high-grade white gold. This gold gives the necklace that cool silvery hue that so many people love, but that still has the brightness of fine gold. It also features the highest-grade round brilliant-cut diamonds. These fine diamonds are cut in a way that is meant to maximize the amount of sparkle and shine the stones will give off. This is the most glittery of all the different cuts and one of the most well-loved.
All of these things come together to create something that is truly special. What you have with this necklace is a piece of stunning jewelry that is elegant in its design and fine in its construction. It has a relatively simple and classic design, which means it will look great with a wide variety of different formal styles. But it is also bold and chunky in design which ensures that it is an eye-catching piece. It makes a great piece on its own, or you can also pair it with other accessories.
Focal Point or Accent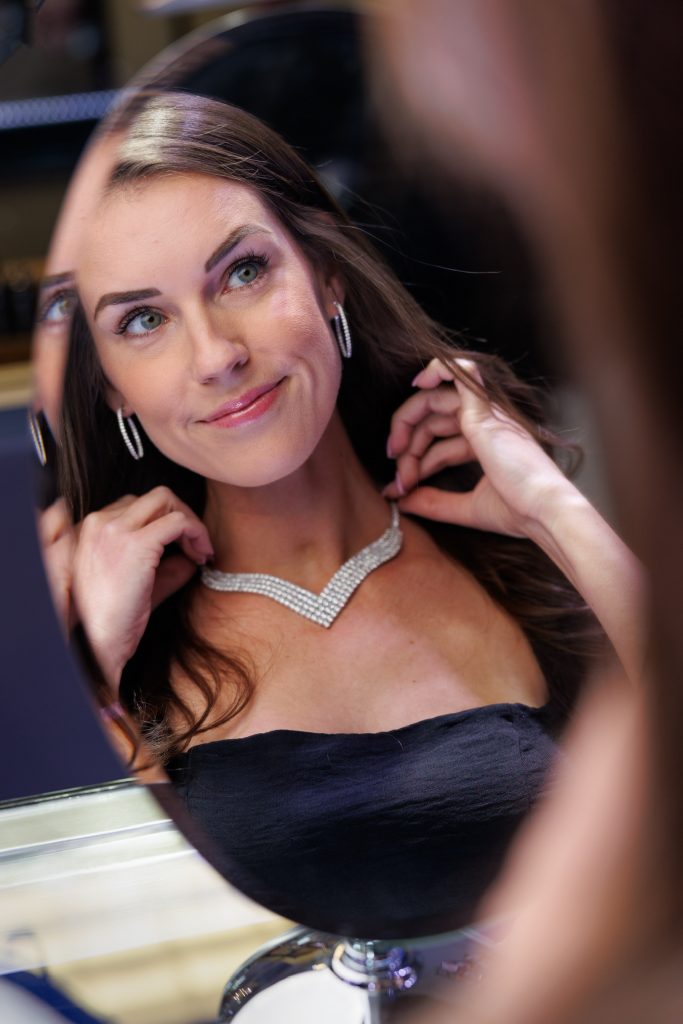 Though the four-strand diamond necklace we discuss here is most definitely a statement piece, it is more versatile than you might think. You can choose to have the necklace be the focal point of your formal look or an accent to it. Let's discuss this a little more. Say you want this necklace to be the star of your outfit. To do this, you would pair a simple dress with the necklace. This will naturally draw the attention to the necklace, as opposed to whatever you are wearing. It will make the necklace the main part of your look, rather than something to accent your outfit. The model who is wearing our feature necklace here shows off how to make this necklace the focal point of your look.
However, if you have a really bold style, you may want this necklace to serve as an accent to an even more eye-catching outfit. To achieve this look, you choose a really bold dress or bodysuit and pair it with this necklace and a whole host of other high-end pieces. Sparkles and diamonds can accent a dress with a really bold or plunging neckline or even something with a startling color.
In Closing
A statement piece is one of our favorite pieces of jewelry. These are pieces that you hold back for those special occasions. Say you have a formal dinner party or gala you plan on attending – this is the perfect opportunity to show off your finest attire and finest accessories. We love an opportunity to really dress up and it is great to have special pieces that we hold back just for these occasions. Most often, these are going to be bold or ornate pieces that would look out of place in more casual settings or with more casual clothing. Here, we look at a truly stunning four-strand diamond necklace that comes to a point in a v-shape.
This is a bold necklace that features four strands of high-grade round brilliant-cut diamonds. These are diamonds that are cut in a way that maximizes the amount of sparkle they put off. So a necklace with four solid rows of these diamonds is going to make me incredibly glitzy. You can easily make this necklace the focal point of your outfit by pairing it with something formal, yet simple. But you can also go all out and pair this necklace with something really eye-catching, as well as other bold accessories.