Classic elegance can start with really simple accessories like a Day-Date watch by Rolex. Accessories such as high-end wristwatches have the ability to defy trends and times. This is a watch that will always look great, no matter what is currently in fashion. And these are versatile timepieces that work with a wide range of different kinds of styles and fashions. You can just as easily wear this watch out for a family picnic as you can for an evening on the town with that special someone. Not many high-end accessories are versatile in this way. And, the Rolex watch is iconic, both in terms of look and design. With the line of watches we feature here, there are classic and traditional versions, as well as more eye-catching and bold versions. This means there really is something for everyone.
Whether you are looking to add some extra professionalism to your business look or you simply want that put-together style that so many people covet, a high-end wristwatch is a great choice. And All Rolex watches are hand-made with Swiss-born craftsmanship, engineering, and construction. This gives you the peace of mind that you are getting a well-made, top-of-the-line timepiece that features only the finest materials.
The Elegance and Beauty of the Timepiece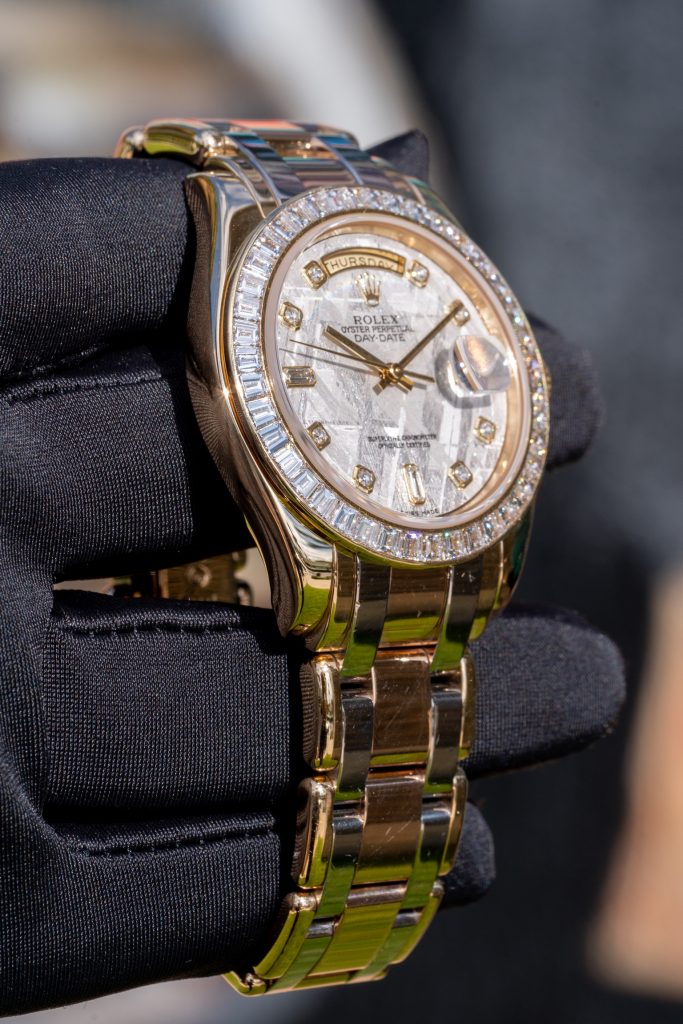 There is something about classic accessories such as the wristwatch that can defy trends and stand the test of time. Some things are classic for a reason. There is just something about their design that never falls out of style. We can easily think of this concept with apparel items like the little black dress. This is a look that always works, regardless of the current trends. There are also accessory styles like this as well. A classic, elegant timepiece with clean lines and a traditional profile is another great example of a timeless classic. The Day-Date line of watches by Rolex perfectly fits this proverbial mold.

And the great thing about classic styles is that you have the peace of mind that this is an accessory that will continue to look great for many years to come. A lot of people will even hand down their Rolex watches to future generations. This is because these watches are not only iconic, but they are so well made that they can easily continue to work for generations. And, another fun fact about Rolex watches is that they tend to hold their value over time, oftentimes even gaining in value if the watch is still in great shape. This means that a Rolex watch even makes for a good investment.
Professionalism or that Put-Together Look
The world of business today is a tough and competitive place. There are so many people vying for success that it takes a lot to stand out from the proverbial crowd. We have to have the knowledge, education, and skill to do the job, but this often isn't enough. It also takes a bit of luck as well as having the right look. Think for a minute about first impressions. People often form their first impression of a person on the basis of how they dress and carry themselves. Words are often not even spoken before this impression is formed. And it is hard to change this first impression once it is formed. So it makes sense to want to put your best face forward. Accessories such as the Day-Date line of watches by Rolex are great accessories for those looking to add to the professionalism of their look.
The timepiece shows others that you care about punctuality – that you think of their time, as well as your own, as important. But even if you aren't trying to make it in the cutthroat world of business, a high-end timepiece can give your outfit that put-together look that so many of us crave.
Rolex Watches
Rolex is a brand that really doesn't need much introduction. It is one of the most well-known brands in the world. In fact, the name Rolex is synonymous with luxury watches. And there are many good reasons for this. This Swiss-based company has a ton of experience in making some of the most advanced, cutting-edge, and elegant timepieces in the world. Whether you are getting a Day-Date or some other model, you are getting a piece of engineering and design genius. Each and every Rolex watch is handmade to the highest standards of design, construction, and quality. Only the finest watchmakers will make the cut at Rolex.
Since the foundation of the company, innovation has been the name of the game. Engineers and designers work closely with people in a range of extreme professions (such as aviators or deep-sea divers) to figure out the unique needs of their environment. They then strive to create a timepiece that can withstand these elements and even add functionality to their work. These elements will then make their way into all Rolex watches.
One-of-a-Kind Innovation
Innovation is an important and elemental part of the Rolex business model they do a lot of their designs in-house. With other watchmakers, they will source parts of their watches from other companies. This includes things like the internal components and mechanisms that make the watch function. But Rolex does things a little differently. With the focus on innovation, it makes perfect sense that they choose to design many of the elements and components that go into their watches themselves. This means that many of the components that go into Rolex watches are designed and made in-house.
In fact, Rolex actually holds a variety of patents on different elements and components they have designed. What this means is that what you get with a Rolex watch truly is one-of-a-kind. Others will try to imitate these features, but nothing beats the genuine article. The patents Rolex holds range from internal movements and mechanisms to bracelet configurations and material blends. It is this in-house research and development that allows the company to stay ahead of the proverbial curve. And, it means that these watches, including the Day-Date line, really are exclusive to Rolex.
The Day-Date Line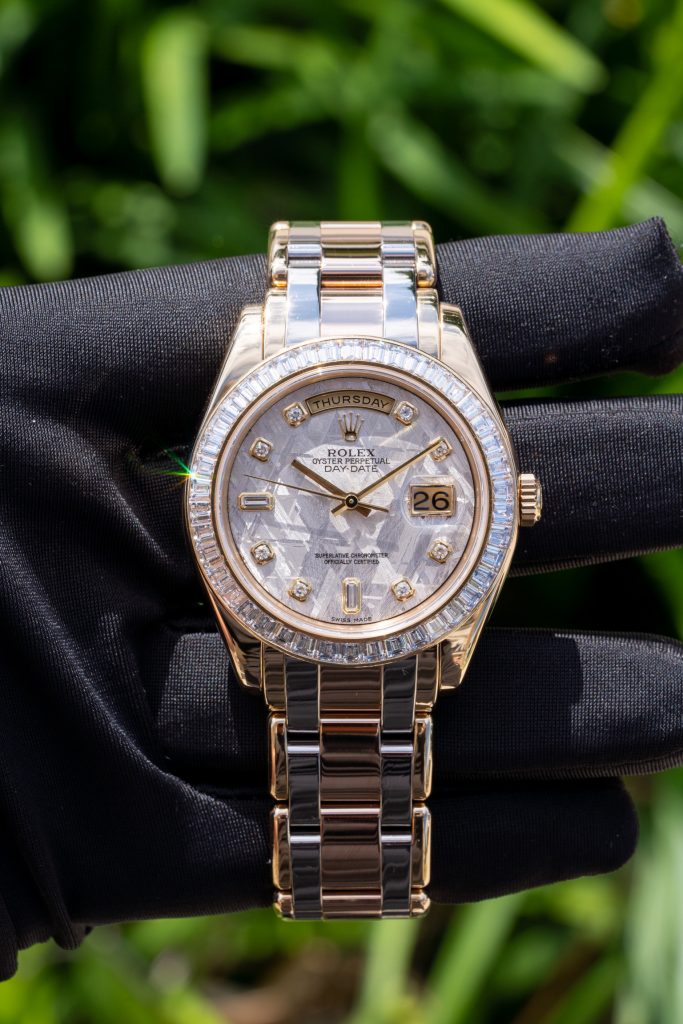 The Day-Date line of watches is a classic and timeless line of watches. It features clean and elegant lines, simple details, and a ton of innovation and internal design. This watch is available in different materials. Some feature colorful dials, whereas others feature diamond accents. There are versions with different bracelet configurations as well. What this means is that you really can find something for anyone within this timeless line of watches.
This line of watches saw its first introduction in 1956 as one of the world's first waterproof, self-winding chronometers. It was the first watch of its kind to display the day and date on the face of the watch. This is where it gets its name. No matter what version of the watch you choose, there are two elements that will always remain the same. And these are the iconic day of the week, shown at the top of the watch face. Then, there is the date, which is shown at the 3 o'clock mark, under a unique cyclops lens.
No matter what iteration of the watch you choose, these two features will always be there.
Yellow Gold and Diamond Accents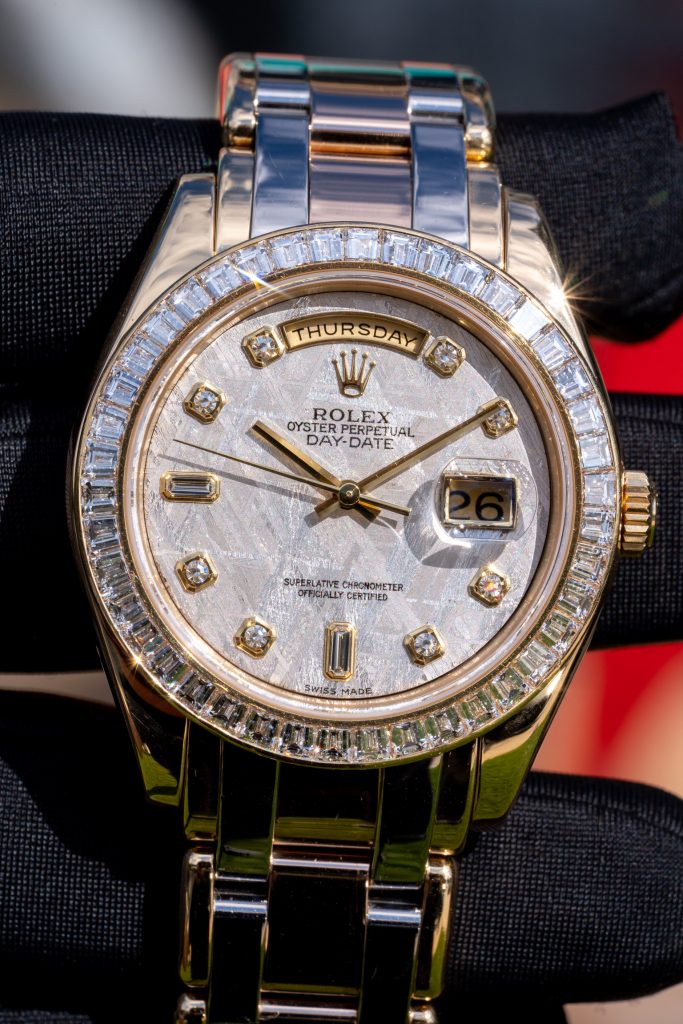 As we have noted throughout this guide, there are a lot of different kinds of Day-Date watches to choose from. There are simple and traditional ones as well as colorful and eye-catching ones. The version of the watch that we feature here is a blending of traditional looks with a bit of eye-catching bling. When this watch was first introduced, it was featured in yellow gold with the classic Oyster bracelet. The version we feature here has these two really classic elements. The three-link Oyster bracelet is a classic and the use of yellow gold is a great choice for those who like traditional materials.
There are also diamond accents on this watch that give it some sparkle and a bit of extra glamor than an all-metal would have. The bezel of the dial of the watch features high-grade diamonds that encircle the whole bezel. These are in a round brilliant cut which is meant to maximize the amount of sparkle and shine the diamonds will put off in the sunlight. Additionally, the hour markers are also small diamonds. This gives the face of the watch an extra bit of elegance, while still allowing the dial to be easy to read.
Classic Oyster Bracelet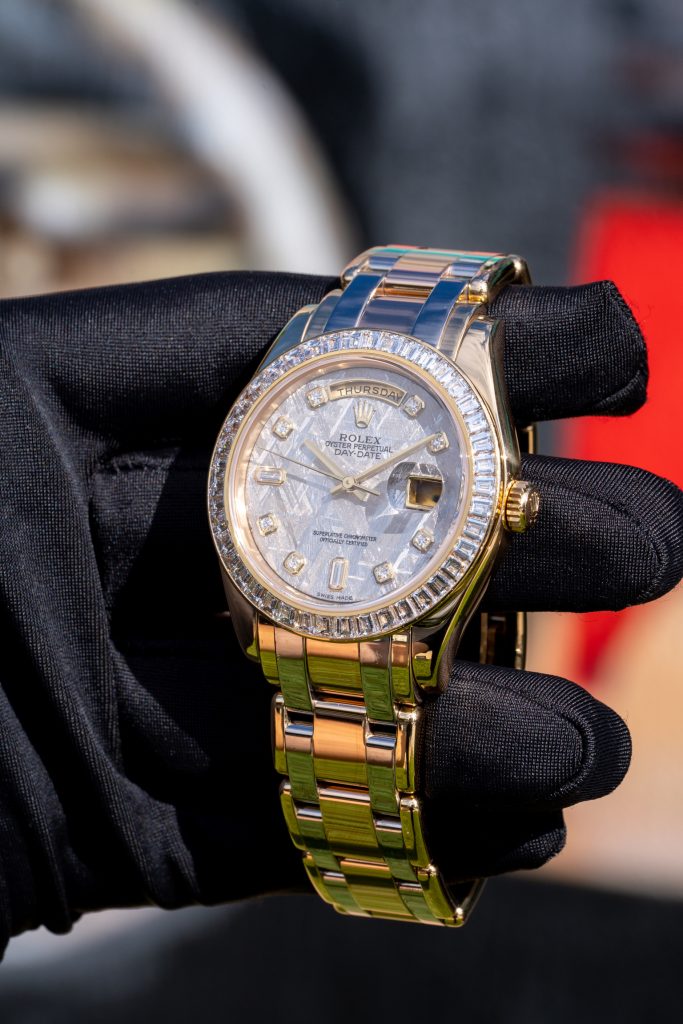 Rolex has a number of different kinds of bracelets. These feature different configurations of links and even materials. Classically, the Day-Date would feature the Oyster bracelet, though newer iterations can be found in a variety of different configurations. The version we feature here boasts that classic and timeless Oyster bracelet.
This is a strong and durable bracelet that has a classic and iconic look. It saw its first introduction in the late 1930s and is a favorite of styles such as the Sky-Dweller, Datejust, and of course, the Day-Date we feature here. The bracelet has a classic look and feel and is strong enough to withstand the rigors of daily wear.
In addition, it is designed with comfort in mind. Like all Rolex watches, no matter how ornate, are meant to be worn. That means the closure clasp won't yank or pull on your hair, and neither will the Oyster bracelet. And like other elements of Rolex watches, the Oyster bracelet is a Rolex exclusive. It is one of the many elements that Rolex holds a patent on.
A Traditional Classic or Bold Take on a Timeless Favorite
Classic styles like the Day-Date line by Rolex are great because they can stand the test of time. This is true no matter what version of the watch you get. Even the most eye-catching version will still have those simple clean lines and that classic profile. And, the watch will also have an iconic day and date display. But there really are a ton of different styles to choose from. There are simple and classic versions of the watch. These are all-metal versions that have the classic Oyster bracelet. There are also those, such as the version we feature here, that kind of straddle classic and eye-catching. It features yellow gold and the classic Oyster bracelet. However, it also features diamond accents on the hour markers as well as around the bezel of the watch.
There are versions of the watch that are far more eye-catching than what is featured here. You can find versions of the Day-Date that are completely encrusted with diamonds. Rolex offers versions that feature diamonds on every part of the timepiece. We are talking diamonds on the face of the watch, diamonds on the bezel, and diamonds on every inch of the bracelet of the watch. These are truly bold accessories, to be sure.
In Closing
When it comes to classic accessories, it is hard to beat a luxury timepiece. These are one of the few high-end accessories that combines form and function into a single piece. Watches can, at the very least, tell you the time. However, watches like the Day-Date we feature here also tell you the day of the week and the date as well. Many Rolex watches have even more additional features that further add to the utility of the watch. With a Rolex watch, you get something that is well-made, precise, durable, and reliable. If you are looking to enhance your look of professionalism, or you are simply looking for that accessory that will complete your look, the watch is a great choice.
The Day-Date comes in a huge range of different options. You can find it made from different materials, with different bracelet configurations, and more. There are classic all-metal versions and those that are bold and quite eye-catching. Here, we feature a version that straddles classic and eye-catching. It features traditional yellow gold as well as the classic Oyster bracelet. However, it also features diamond accents for some extra sparkle and shine. There are diamonds around the bezel of the watch, as well as on the hour markers.