Sculptures, Pixels and Fossils — The Art of Rock Vault 2013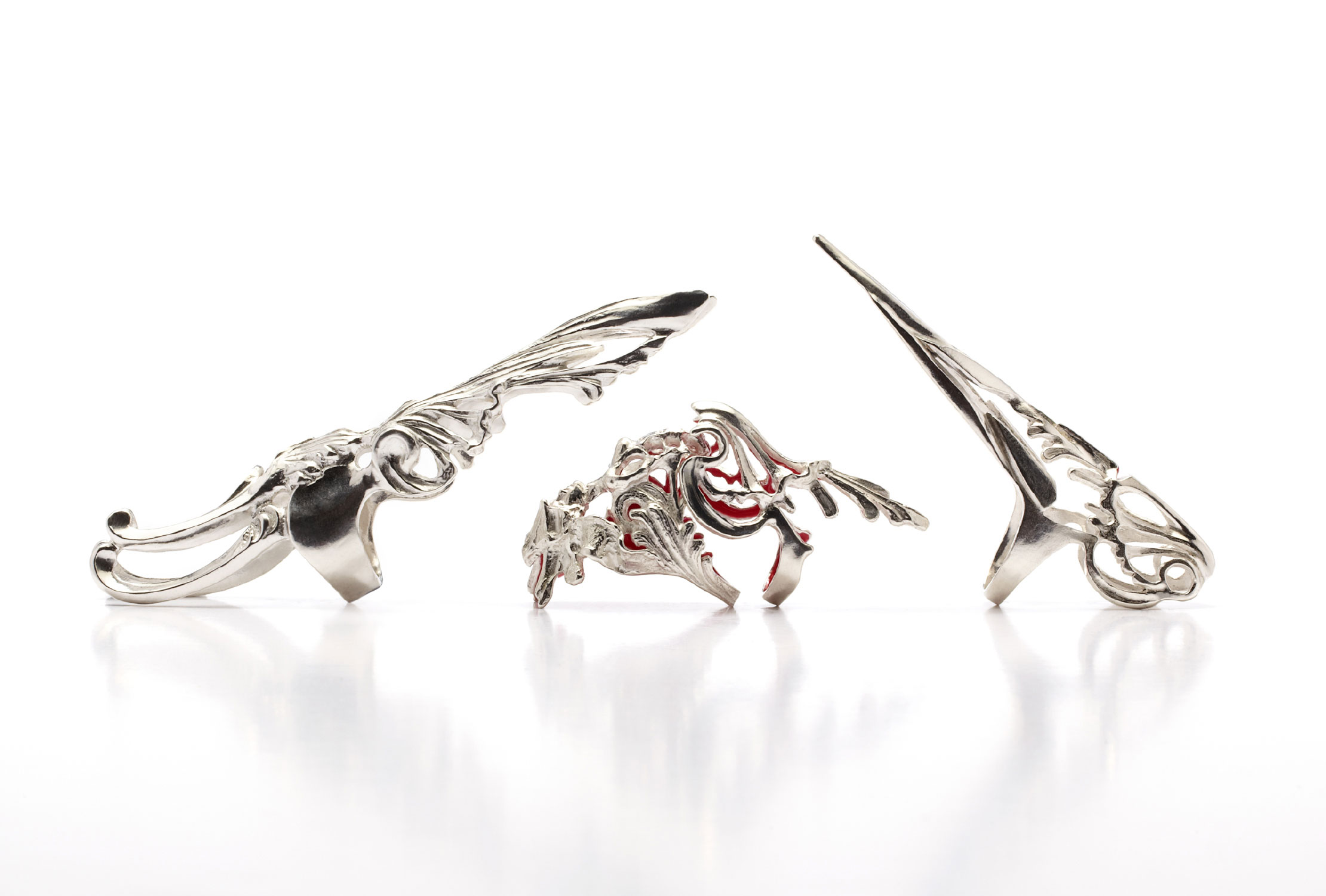 London Fashion Week brings bright new talent in jewelry design together at Rock Vault, the seasonal event sponsored by the International Palladium Board. Rock Vault's intent is to showcase the work of up-and-coming jewelry designers who share a fresh vision and innovative take on the jewelry design industry.
Rock Vault 2013 showcases ten designers who have little in common other than their unique visions. They work in different media — some in precious metals, some in gemstones, some in other, less-recognized materials. Their original creations are among the most stunning in the world.
Sculptural Art
If you've ever found yourself captivated by the the warm, flowing lines of a favorite sculpture and wishing you could wrap it in your arms and claim it as your own, the contemporary jewelry designs of artists Yunus Ascott and c just may be the muse you've been missing.
Featured for the second year in a row at the British Fashion Council's Rock Vault, Yunus and Eliza's wearable sculptures feature more-than-oversized pieces — rings, pendants and cuffs — that seem inspired both by future and myth. Faces feature boldly in these pieces, as do claws and wings. Aptly names rebel cuffs, battle rings and Colored Goddess pendants intermingle within Yunus and Eliza collections, struggling for dominance in a frozen world of precious metals.
Each unique piece in the Yunus and Eliza repertoire is hand-crafted, with minute attention to detail, in London.
Stacked Geometrics
Jo Hayes Ward designs are a study in pixelated imagery. The digital influence runs strong through her collections of rings, earrings, cufflinks, brooches and necklaces. Thousands of tiny geometric shapes combine to form settings for precious stones. Her pieces are reminiscent of a computer graphic brought to life in stunning diamonds and gold.
Three-time presenter at Rock Vault, Jo Hayes Ward works in a variety of metals that includes gold, silver and stainless steel — with or without the addition of precious gemstones. Her stack rings represent all that is dainty, yet substantial, within the digital universe.
Fossilized Fashion
Jacqueline Cullen brings her passion for 180 million-year-old Whitby Jet jewelry to the Rock Vault in 2013. Featuring the mysterious black fossil detailed with textured gold and diamonds, Cullen takes inspiration for her modern take on 1800s mourning jewelry from nature. Indeed, you can almost picture molten lava in the gold detailing that splashes through her rings, earrings and pendants.
The Cullen collection nicely represents the untamed forces of nature with its often chaotic and always unapologetic jewelry designs. In stark black and gold with a simple glittering diamond here and there, her pieces thrill even the most jaded of jewelry critics.
Ascott, Higginbottom, Ward and Cullen represent only a small percentage of the design talent that will take center stage at this year's Rock Vault. Now in it's fourth season, Rock Vault has been called the premiere venue for buyers of fine jewelry. Participation here can easily make the careers of the designers who are both fortunate enough and talented enough to be included.