The COVID-19 pandemic has affected our community and the nation at large. Each and every one of us has felt the impact of this financial and global health crisis, and while all of our precautions and social distance practices have begun to curb the spread of COVID-19, we still have a ways to go until our economy and psyche recover from this catastrophe. The good news is this pandemic is proving just how strong our nation is and how much we care about each other. If we all continue to support each other, not only will we flatten the curve, we will crush it and get back to our normal lives. Moreover, we will come out at the other end with a better outlook on life, a stronger community spirit, and America will continue to be the most powerful market on Earth. To do this, we have to remain prudent and we need to support small businesses, which are the driving force of the American economy and paramount to our identity as a nation.
UPDATE (MAY 11, 2020):
We are pleased to announce that our showroom is now open to the public!
Repairs are still being handled by Curbside Pickups.
So, if you want to come in to buy, sell, trade or get a collateral loan, visit our showroom during our normal hours of operation. If you want jewelry or watch repair service, please contact us to set up a curbside pickup*****
First and foremost, the Raymond Lee Jewelers team wants to thank everyone for your loyalty and your continued patronage during the COVID-19 pandemic. We are thinking of you all – our family, our friends, our customers, and our community here in Boca Raton – as we work through the impact of the coronavirus.
We are doing everything we can to keep our staff employed and continue our business operations while minimizing obstacles for our customers to make purchases at a time when the jewelry and watch market is so ripe.
Our hearts go out to those in our community, America, and everyone across the globe who have been affected by the COVID-19 pandemic. Furthermore, we deeply praise the valiant health care workers who are putting themselves at risk for all of us. We greatly encourage everyone in our community to continue taking the necessary precautions so we can eliminate this virus.
Read on to learn about how Raymond Lee Jewelers is adapting to the current market conditions, how we are currently conducting business, and how this global crisis has affected the luxury jewelry and watch industries, creating an unprecedented buyer's market.
HOW WE ARE ADAPTING TO MARKET CONDITIONS
At Raymond Lee Jewelers, the health and safety of our customers and employees is of foremost importance. We have been keeping close track of what's occurring around the world and right here in our city of Boca Raton. We will continue to assess the state of the pandemic to make real-time decisions that put the safety of our community first. We'll keep everyone updated as we move forward.
As of now, our showroom is closed to the public. However, we are employing new tactics to continue our business operations while limiting contact. Our customers can shop online and get same-day deliveries. Additionally, we are doing curbside pickups at our showroom parking lot at predetermined times for those who want to pick up their goods immediately and in a safe manner.
Shopping Online
Our online store is the most convenient way to shop with us. With our extensive yet carefully selected collection of jewelry and watches, you are guaranteed to find the finest quality pieces at the best prices. We are continually improving our online shopping experience to make shopping with us online as seamless as possible.
Shipping times
We are processing orders on the same day and we are getting orders shipped out immediately with same or next day delivery.
We ship via FedEx or UPS, fully insured. And as of now, shipping has not been impacted. There are new procedures in place to ensure packages are delivered safely and without risk, even for packages that require a signature.
Return Policy
We have improved our return policy to better suit online shopping. If you are not satisfied with your purchase, you can return it in the same condition as you received it for a full refund with no questions asked. We will just need to inspect the merchandise first and then we will place a refund to the payment method used for your purchase.
Our Communication Channels are Completely Open!
Our communication channels are completely open so you can contact us with any questions you may have.
All you have to do is call us (561-750-7808), DM us on Instagram or Facebook, or email us. We are monitoring our communication channels all day long, so we will reply with promptly.
One-On-One Skype & WhatsApp Virtual Consultations
To minimize the need of going out while also getting all your questions answered thoroughly, we have started doing consultations virtually. We can set a consultation with you via Skype or WhatsApp on the same day of your request or at your earliest convenience. This will enable you to look at our collection of jewelry and watches and ask questions just like you would in person.
Curbside Pickups
For those who want their items immediately, we have started doing curbside pickups.
The process is simple:
Shop online or choose what you want during our virtual consultation.
Schedule a pick up time with us.
Make payment online or bring a check or cash to the pickup.
Come to our showroom at your predetermined time so we can be ready to bring your goods to your vehicle when you arrive (also to ensure no other customers arrive simultaneously).
Our armed security guard, who is tested daily, hands over the goods to you, without you needing to leave your car.
Inspect your jewelry and/or watch, try it on, and if you are satisfied, you are on your way, never having to leave the comfort and safety of your car.
The benefit of curbside pickups is that you can try on your jewelry or watch and inspect it, you can get it right away, and you will not be in contact with any other customers or in a confined area. This all takes place outside of our showroom doors. It requires the absolute minimum contact needed when purchasing a high ticket luxury item, which is typically an in-store purchase.
Curbside Pickups: Want absolutely no contact?
Curbside pickups can be done without any contact. If you request a 'contactless curbside pickup' with us, you will be required to make payment online or over the phone, and when you arrive, we will place your package in a designated spot while our armed security watches you pick it up from a safe distance, eliminating any contact yet keeping the safety of you and your goods complete.
From there, you can get back in your car, have a look at everything, and if you are happy, you are good to go.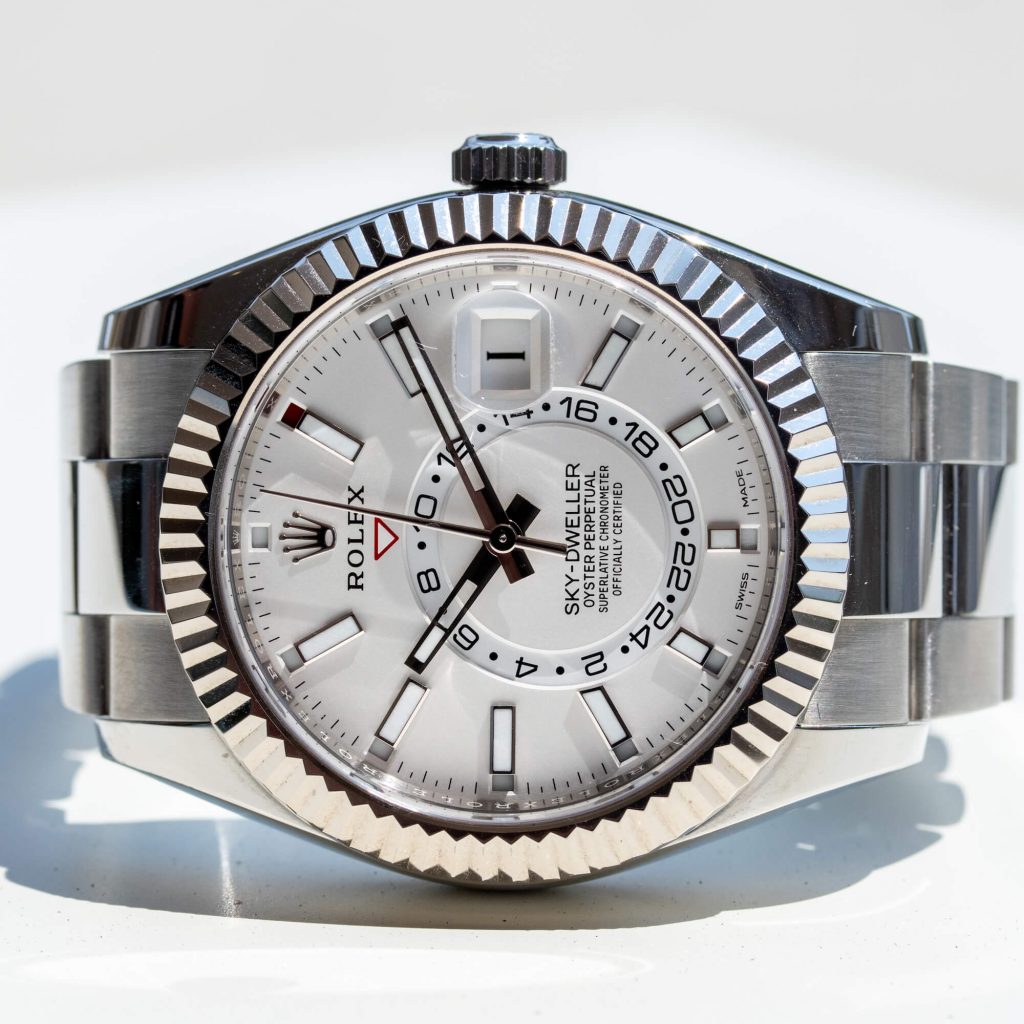 SAFETY PRECAUTIONS & SANITATION PRACTICES
Although our store is closed to the public, we are still taking the highest level of precautions inside and outside our showroom doors to protect our customers and our staff.
We have employed stringent respiratory etiquette and everyone is washing their hands throughout the day. We are also using hand sanitizer when necessary. Moreover, we have a rigorous cleaning schedule where we disinfect anything that has been touched. Throughout our store, there is hand sanitizer, wipes, and tissues. This will continue to be in place when we open back up to the public.
All items that leave our showroom are entirely safe
Any jewelry and watch that we sell will be taken to a safe cleansing area for thorough disinfecting. Not to mention safely for the piece itself. From there, we package merchandise with gloves, so any items that leave our showroom are safe for our customers.
Our meticulous safety precautions and sanitation practices will remain in effect moving forward. We want our customers to know that they are safe and we take hygiene and cleanliness very seriously.
As mentioned, we are closely monitoring the situations. So if anything changes we will be sure to make an announcement and we will update this page.
THE COVID-19 PANDEMIC HAS CREATED A BUYER'S MARKET
COVID-19 has had an unprecedented impact on global markets, and this extends significantly to the jewelry and watch market. It has drastically affected jewelry and watch retail across the United States, leading to a major buyer's market that is unlike anything we've seen. Even greater than the 2008 great recession, a time when the jewelry market contracted more than the global economy as a whole.
What is a buyer's market?
A buyer market transpires when the supply exceeds demand. In a buyer's market, the buyer has the power. This means they can negotiate better deals. Sellers need to keep afloat so they are willing to accept offers that they would normally not consider.
In the case of fine jewelry and luxury Swiss watches, they are discretionary purchases. So those who need to be careful of their spending right now, are not buying. The industry as a whole has seen a 60% decrease in sales because of this. This leads to greater supply and it puts sellers in a position where they need to sell.
When supply is greater than demand and sellers are in need of sales, the buyer's market surges even greater.
Now, what's special about luxury jewelry and watches is they are not your typical non-essential luxury products. They are investments. Jewelry has been a universal currency for centuries. It has funded wars and explorations. Moreover, in the past two decades, gold has appreciated by 472 percent, while the value of certain precious stones has increased by over 900 percent.
So, for savers, they can now take advantage of the jewelry and watch industry in a big way.
Right now, the big brands of the jewelry and watch industries have ceased production indefinitely. When non-essential buying bounces back, this is going to inflate the price of these same items that are now selling at extremely low prices.
The point is, if you've had your eye on jewelry or watches, now is the time to buy. You will get the biggest bang for your buck. Likely once in a lifetime type deals.
Now, many people are slow to pull the trigger, which is understandable, as these are uncertain times. However, people are surely going to continue to celebrate birthdays, holidays and couples will continue to get engaged. So, whether you want to buy yourself something or you know you will need a gift for any future date, you can greatly benefit from the buyer's market that the jewelry and watch industry are facing right now. Plus, if you buy locally, you will be supporting a business in a time of need. So, you can feel content with getting an unbelievable deal as it is mutually beneficial.
Of course, not everyone can take advantage of a buyer's market. We are not suggesting to buy jewelry if you are not in the position to do so. However, for those who still have disposable income or have saved up a lot of money and are safe from the effects of the current economic collapse, then it's a very desirable time to buy investment-worthy jewelry and watches.
Raymond Lee Jewelers: Allowing Buyer's To Set The Price in Negotiation
At Raymond Lee Jewelers, we have fully accepted that this is a buyer's market. So, we are allowing our customers and long time clients to set the price in negotiation. At the current time, any reasonable offer will be accepted.
Because of this, we have been selling a lot. Many of our clients have been buying jewelry and watches they've had their eyes on for some time, knowing that the price won't ever be this good again and they are helping the life of our business.
Keep your money local
Whether you decide to buy jewelry or not, we urge that you keep your money local right now to help support our community. Successful communities thrive on keeping money close to home. It's what supports neighborhood and local organization and it provides opportunities for both entrepreneurs and citizens who want meaningful jobs.
"We aren't going anywhere" – Raymond Lee Jewelers
In our 30+ years, we have seen and been through a lot. We've had to weather many challenges and we've always come out the other side stronger and better for it. For the past three decades we've helped people celebrate important moments in their life and we look forward to continuing to be able to do this for many more generations to come.
Our goal is to keep our staff employed and come back and do more hiring. We promise that Raymond Lee Jewelers isn't going anywhere. We appreciate everyone's support during these tough times and we want you all to know you have our support as well. Let's get through this together and do everything in our power to boost the American economy by supporting small businesses locally. If this occurs across the nation, America will maintain its dominant position in the global market.
Contact us
Please don't hesitate to reach out to us if you need anything. We are here for everyone and we look forward to hearing from you.
You can contact us on Instagram, by email or give us a call at 561-750-7808.
Stay safe, stay strong, stay united!