Pear-Cut Diamond Solitaire with Eternity Band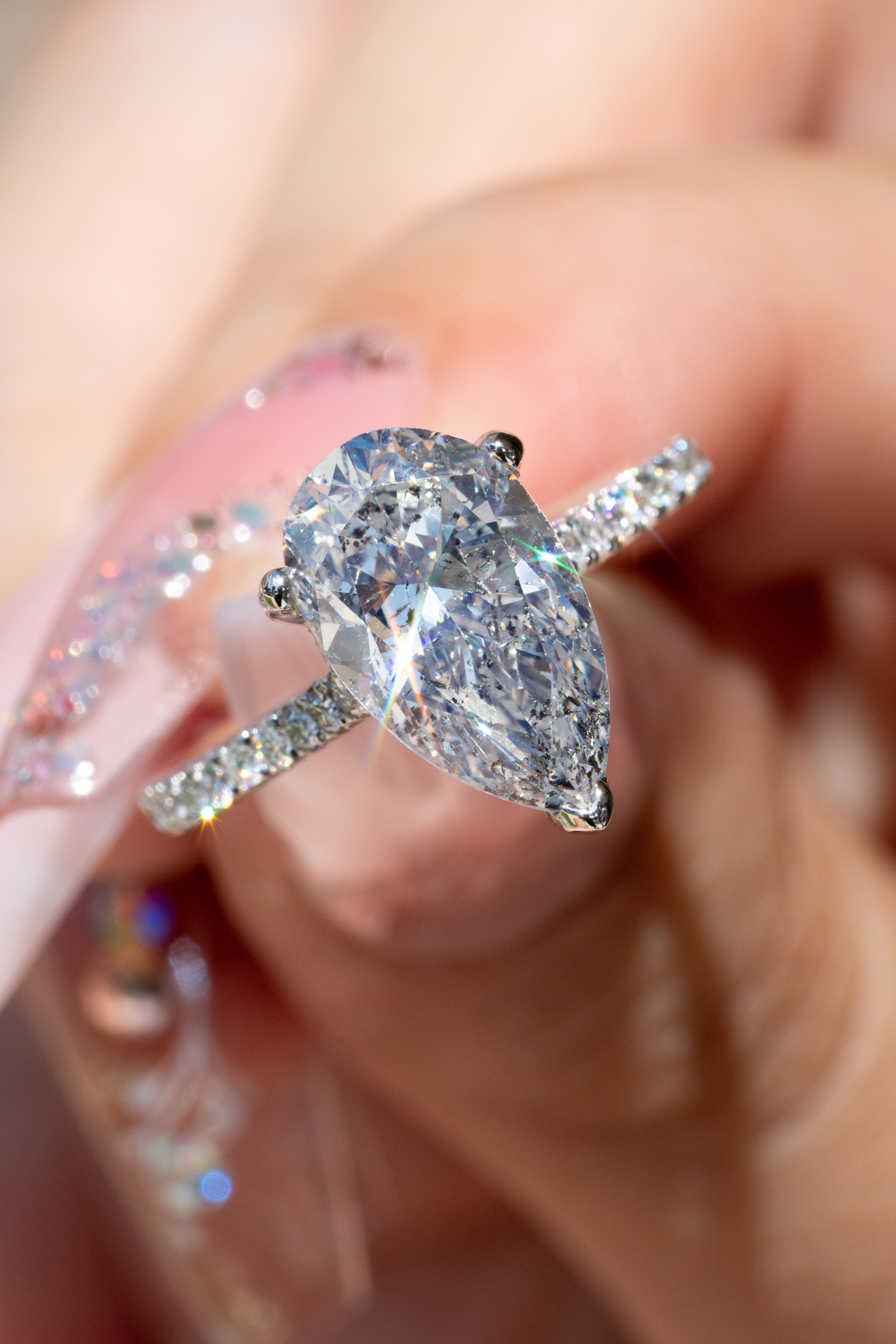 When you select something like a pear-cut diamond solitaire ring with a half eternity band, you are choosing classic elegance and style. This ring is actually a beautiful blending of multiple different classic styles. These come together to create something that is very unique, while still maintaining that classic and timeless look. Choosing an engagement ring can seem like a pretty scary task. How are you going to choose something that you will continue to love for the rest of your life? And if you are buying a ring for someone else, that task can seem even harder to manage. Luckily, we have a ton of experience in helping people from all walks of life choose the right ring for them.
Here, we talk about the basics you will need to consider when choosing an engagement ring. We will then go on to discuss why we feel that classic styles make the best option for an engagement ring. Then, we look closer at a specific type of ring. Here, we will discuss the cut and the different elements that make up the ring. Whether you choose the pear-cut diamond solitaire ring we feature here, or you simply use this as a guide to find your perfect ring, we are sure you will appreciate the advice.
More Than Just a Great Selection
At Raymond Lee Jewelers, we are obsessed with quality and style. That has been our motto since we opened our doors in Boca Raton. We have been able to develop a reputation as being one of the best high-end jewelers in the area. This is because we offer a unique selection of high-end accessories that you can't find just anywhere else. Whether you are looking for an engagement ring, or you want a high-end watch or anything in between, we have you covered. Our buyers have a lot of experience, and they have developed connections along the way that allows them to source the best and rarest pieces in the world.
But while we are known for our great selection of rare high-end jewelry, we do offer more than that. Say you have an old luxury watch that no longer works, we can fix it! Whether you need a ring resized or you are looking to have an old piece reworked, we have the tools and skills to make it happen. And, if we don't have exactly what you are looking for, we also offer custom jewelry design and creation.
Simplifying the Engagement Ring Buying Process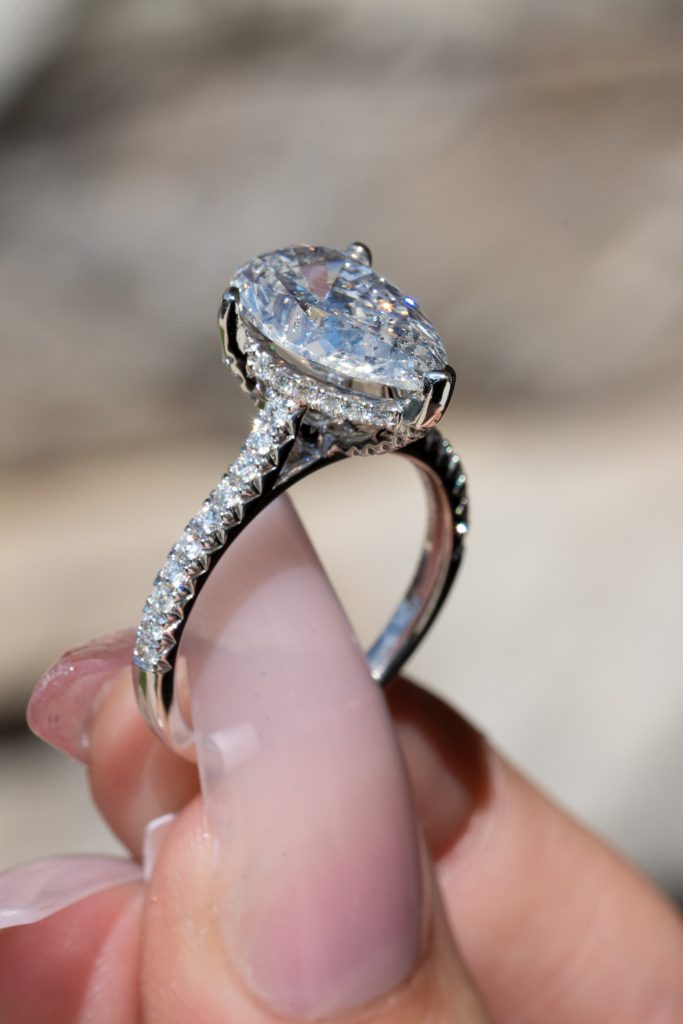 We know that choosing an engagement ring is not the most simple thing you can do. However, with a bit of guidance, we can make the process a lot more simple than it might otherwise be. One of the first things you want to do when you are thinking about engagement rings is to consider your style. What types of cuts do you like? Do you have a preference for a specific type of metal? Next, you will want to set your budget. This can also really help reduce the time it takes to find the right ring. The last thing you want to do is get your heart set on something that is out of your price range.
While the ring needs to be beautiful, it also has to be practical. You have to wear it every day, so it needs to be able to go where you go without risking damage. Do you lead an active lifestyle? Are your hobbies or job hands-on? If so, this will also help guide your choice. You may want to choose something simpler if you do lead a more active lifestyle. The pear-cut diamond solitaire ring we feature here is a great ring for those who use their hands modestly.
The Classics are Key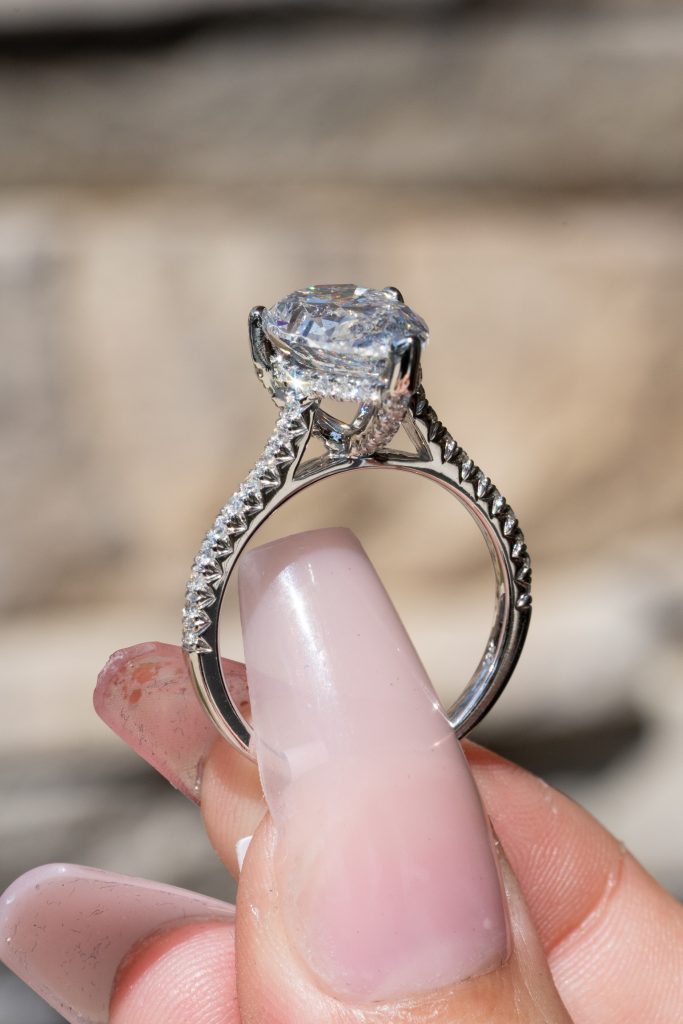 Choosing a trendy, eye-catching, or really stylish engagement ring is incredibly tempting. Who doesn't want to have the latest look? However, think about how fashion trends work. They come and go incredibly quickly. If you choose something trendy, what do you do when that falls out of fashion? You are either stuck with an unfashionable ring, or you have to make the expensive decision to buy something else. For many people, this isn't an option. That is why, as much as you might like to choose something bold, we highly recommend choosing a classic style.
Classic styles are those that defy trends and stand the test of time. Think about the little black dress. No matter what the current fashion rage is, this dress will always look great. The same is true for certain types of jewelry. When you choose a classic style, you have the peace of mind that it won't fall out of style. And, these classic looks are incredibly versatile. They look great with a wide range of fashions and can even evolve with your changing look over time.
Pear-Cut Diamonds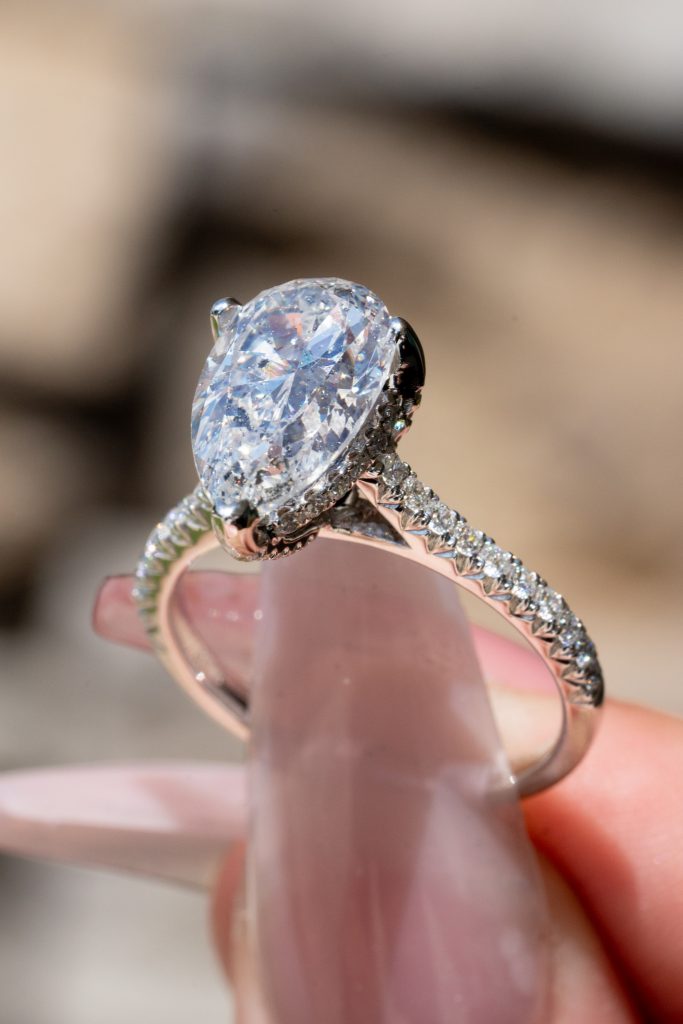 A pear-cut diamond may also be called a teardrop diamond. This is an elegant cut that has a unique shape, but all that sparkle and shine we love in a diamond. This is actually a combination of two different cuts: a round and marquise cut. What this gives you is a tapered stone that comes to a point at one end and has round angles at the other.
There are different varieties within this cut that refer to how wide and what the ratios of the cut are. What works best for you will depend on your personal taste and budget. The pear-cut diamond solitaire we feature here boasts a large, high-quality pear-cut diamond that shows its clarity and sparkle.
The pear-cut diamond looks great with a wide range of different styles. You can easily pair this cut with vintage styles, modern styles, or anything in between. It is one of those lesser seen cuts that is actually incredibly versatile while being unique and elegant. One of the things people like about this cut – beyond the beautiful sparkle, of course – is that it can have a slimming effect on the finger.
The Solitaire Ring
When thinking about classic styles, it is hard to imagine anything more classic than a traditional solitaire ring. The pear-cut diamond solitaire we feature here is a beautiful example of this timeless classic. What makes this ring so beautiful is its simplicity. In essence, a solitaire ring features one large stone that is the focal point of the piece. As the ring we feature here shows, that doesn't mean that this will be the only design on the ring, but that it is the focal point. Since you are focusing on one main stone, you want to make sure that it is a quality stone.
The main stone, since it is the, well, main stone, is going to be what draws in the eye. Any flaws or imperfections that appear within that stone may be readily apparent. This can really reduce the beauty of the ring. So it makes sense to choose the highest quality stone you can afford, rather than the largest. This classic style pairs well with other pieces of jewelry, so you can easily pair it with earrings, necklaces, other rings, and more.
Half Eternity Band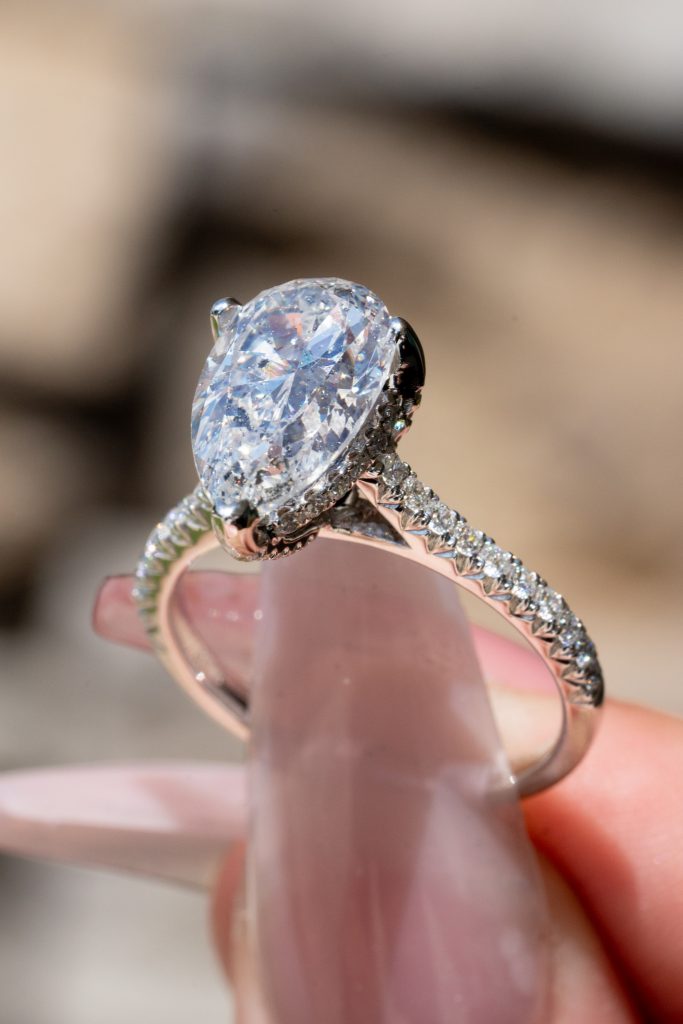 The pear-cut diamond solitaire we feature here is more than just a classic solitaire-style ring. It is actually a blending of a few different classic styles. What this gives you is something that is both classic and timeless but also unique. You can still show your personality and style, even if you stick with a classic. The ring we feature here also boasts the addition of an eternity band. This doesn't take away from the focus on the main stone, but it does add a lot of sparkle and shine to the piece.
Eternity bands feature stones that are inset into the band. Most often these are diamonds, but you can use other stones in this context as well. Here, we have a half eternity band. That means the diamonds go about halfway around the ring. There are also full and two-thirds eternity bands. What works best for you will depend on your preferences and comfort. A lot of people like the half or two-thirds bands because they find them to be more comfortable. A full eternity band, with stones that go all the way around the band, can cause some chafing on sensitive fingers. But ultimately, the decision is up to you.
Hidden Halo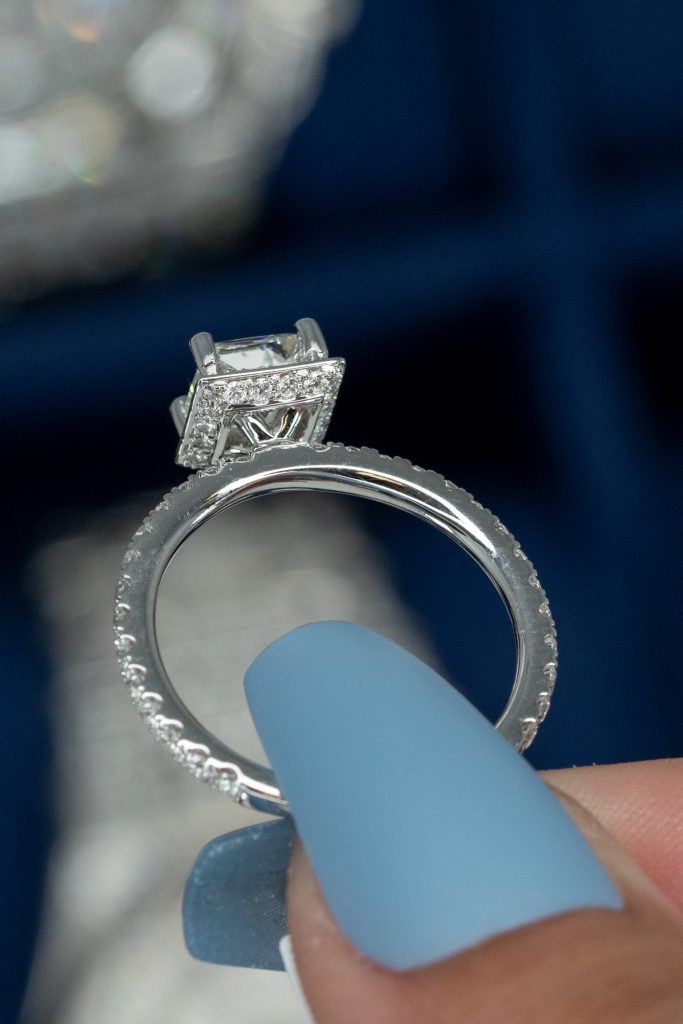 The halo is another popular timeless look that adds so extra glamor and sparkle to any piece. There are tons of different styles of halo, but here what we see is a hidden halo. In short, a halo is a row of smaller accent stones (in this case, diamonds) that encircle the main stone. In traditional halo rings, you will see a circle of diamonds around, say, a round, brilliant-cut main stone. However, there are different ways of using the halo. The hidden halo is one of the types that you don't see as often, but it is incredibly elegant.
Rather than encircling the main stone of the ring at the face of the ring, the circle of stones is actually to be found towards the base of the setting of the ring. It appears around the side of the main stone, rather than encircling the face of the stone. This gives the ring a lot of extra sparkle and shine, seeing that the stones are in the round brilliant cut. But since the stones are at the base of the setting rather than the face, the main stone is still the prime focal point of the ring.
Versatile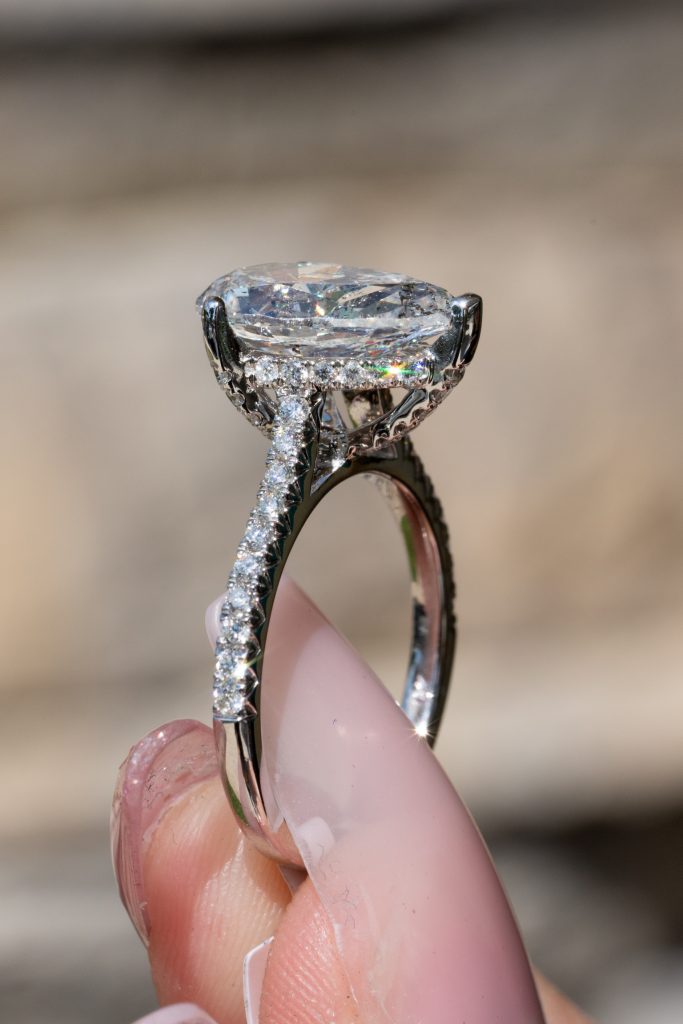 We might not often think about versatility when it comes to engagement rings, but we really should. Each day brings something a little different. Some days we will be in formal attire and others are a lot more casual. Some days are more active and hands-on than others. What this means is that you want a ring that is tough and durable enough to go where you go. The pear-cut diamond solitaire ring we feature here is a beautiful example of a well-made, high-quality ring. It can easily withstand the rigors of your daily life without you having to worry about damage. But it is versatile in more ways than this.
This is a style that will look great with anything you pair it with. You will love the instant glamor and elegance anything you pair with this ring will take on. Whether you are wearing formal attire or something a lot more casual, the look will be enhanced with this ring. And, since your style is likely to change with time and age, you also have the peace of mind that this ring can easily evolve with your style. The great thing about the classics is that they look good with anything!
In Closing
Choosing the perfect engagement ring might, at first, seem pretty scary. We hope that we were able to reduce some of that stress with the tips and considerations we discuss here. After you have considered your style and budget, and you think about your lifestyle, you are better prepared to choose a ring. Knowing the answers to these questions will help you rule out many options and reduce the amount of searching you will have to go through. We feel that we make a strong case as to why choosing a more classic style really makes a ton of sense in this instance.
We then discuss the details of a pear-cut diamond solitaire ring with a half eternity band and hidden halo. The intricacies of the cuts and styles are broken down into easy-to-understand language. We look at the ins and outs of the diamond cut, as well as the benefits of choosing a classic and timeless ring such as this. But at the end of the day, we know that you will love looking at this ring on your finger. It is timeless, elegant, and made from the highest quality materials. It has beautiful symbolism and will easily stand the test of time, making it a perfect choice for an engagement ring.