Pantone's biannual declaration of colors always forecasts the fashion – and therefore jewelry – trends we can expect for the next season. And as Fashion Month winds down, many of the Pantone Spring 2015 colors from the "En Plein Air" palette popped up on the runways in New York and Paris. Next spring promises a relatively subdued palette, heavy on the neutrals and muted jewel tones (our favorite.) Typical for spring, the whole palette takes its cue from the big show nature puts on, but each color boasts warmer, subtle  undertones. Even the hues you'd expect to pop get toned down – lookin' at you Scuba Blue. Luckily for us, plenty of gorgeous colors call this palette home, making it a cinch to pair the designers' sketches for those colors with our very own favorite baubles.
Trina Turk, of course, adds pattern mixing and cheery brights to her take on Classic Blue. The feminine silhouette and playful booties need a piece that plays well with other commanding patterns, but also holds its own.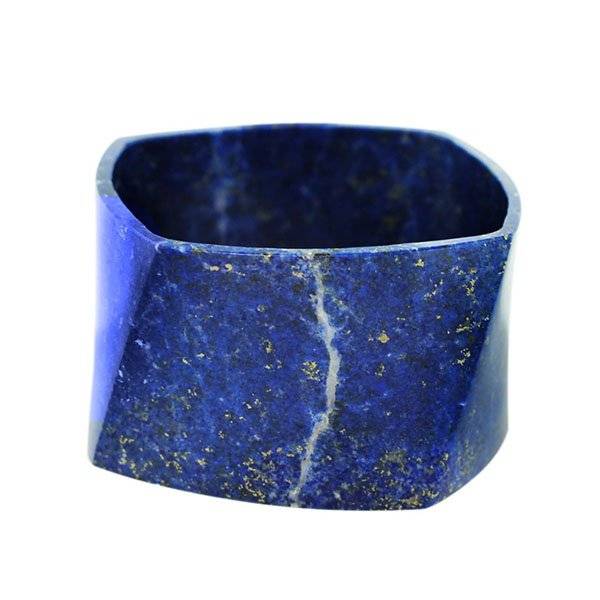 This amazing Frank Gerhy Torque cuff from Tiffany & Co. demands a closer inspection. Gold flecks and white veins pop against the stippled shades of cobalt, giving it enough interest on its face. Add to this Gehry's signature architectural spin, and you've got yourself a cuff worthy of Classic Blue.
Monique Lhullier's structured modern goddess take on Lucite Green intrigues us. Folds and pockets in a futuristic silhouette are the perfect foil to the retro color – not quite mint, but nowhere near avocado, and still would be right at home in your grandmother's kitchen. It needs an equally era-mixing piece.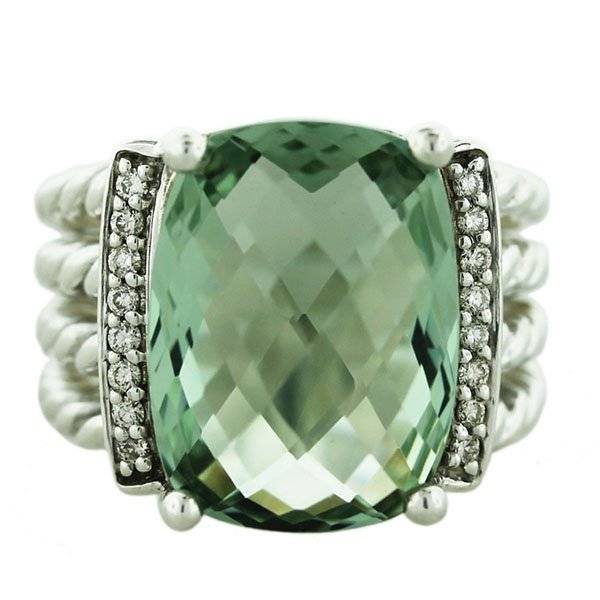 This David Yurman praisiolite Wheaton ring with diamonds is the perfect answer. It's large, and its checkerboard cut is striking, as are the four twisted shanks.
Scuba Blue, by far and away the brightest color on the palette, still maintains a nice, subdued tone. The sheath by Barbara Tfank recalls the 1950's amazing necklines, but shows off a turn of the 21st century hemline. So we're looking for a piece that's edgy in style, classic in cut, and blue enough to make you stop and stare.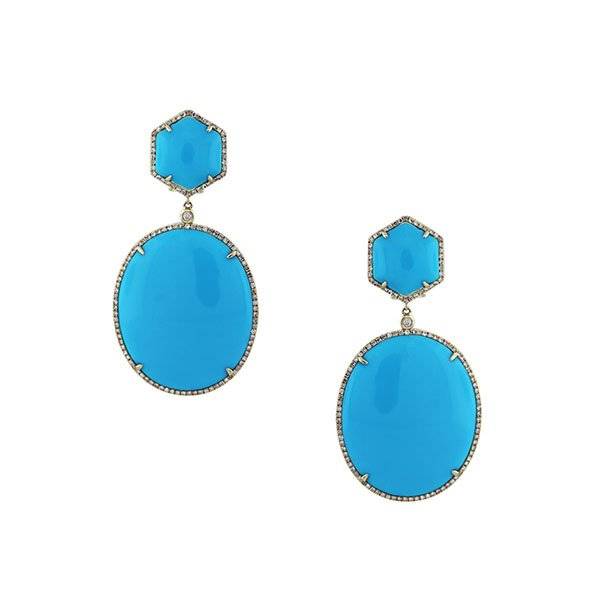 Boom! Turquoise slice earrings, with fat ovals dangling from hexagons, the perimeters of each surrounded by the finest and sparkliest of rose gold and diamond micropave.
This adorable romper by contemporary favorite Ella Moss has us fast-forwarding to next Spring! A playful graphic chevron is perfect for this dessert inspired color. It needs a piece equally as sweet.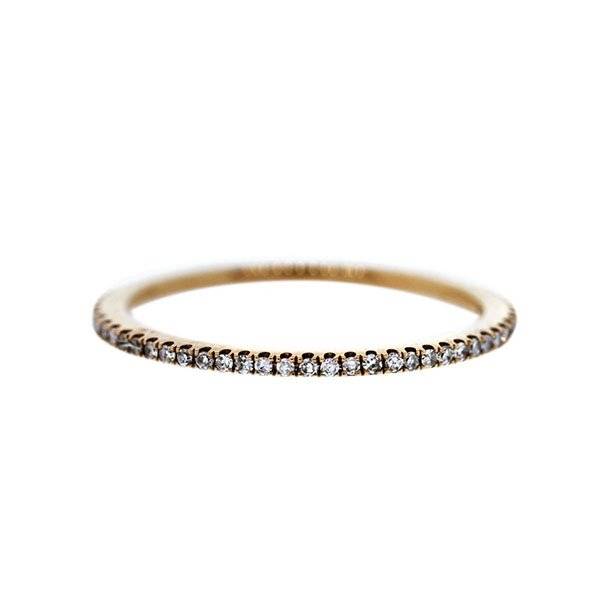 Stackable rings are hot hot hot in jewelry trends, and this sliver of rose gold and diamonds is perfectly on point.
Icy aquamarine, as depicted by BCBG Max Azria has a lot going on. Micropleats, a dropped waist, a two-tiered skirt that verges on an elongated peplum, and – of course – mega cleavage. Let's keep it simple in the jewelry department.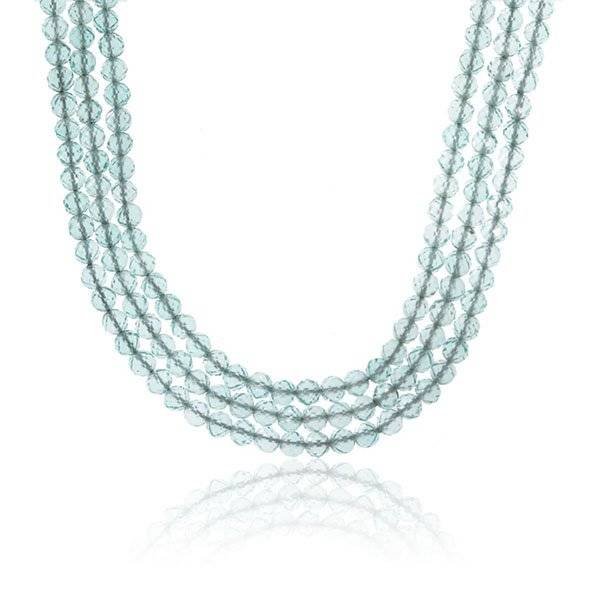 This three strand Tiffany & Co. necklace is a beautiful configuration of faceted aquamarine beads on sterling silver.
Finally, we have Glacier Gray. We love Denis Basso's floral addition to this muted color – a shade that sometimes sticks around a little too late into spring, as our Northern readers can attest. But even if the skies are still snow gray and the snow is actually gross-gray, the flowers are just around the corner. So we think adding a nod to the still-sticking-around ice is a fun play on the spring classic of florals.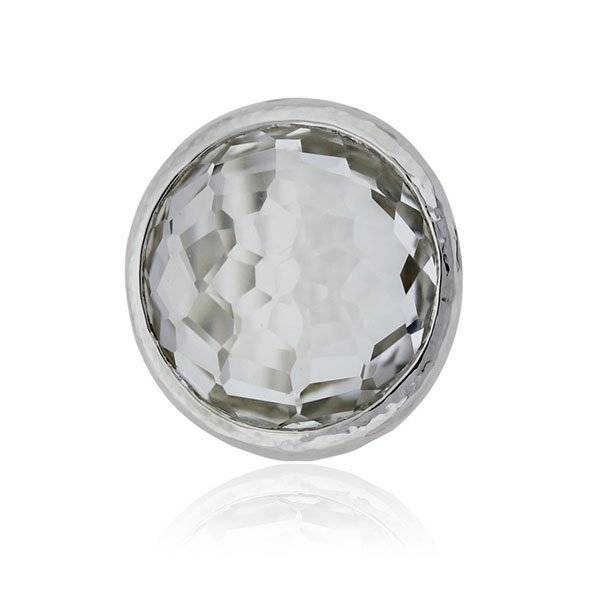 And this Ippolita rock candy crystal clear quartz ring is just the ticket. Though let's all collectively cross our fingers the snow and ice won't preserver as late into this spring as it did into the last.
Related articles