This article is your guide to know how to spot a fake Rolex Daytona. We have featured our classic Rolex Daytona Winner 24 1992 model for you to see what a Real Rolex Daytona looks like. Below you will find the top 11 ways to tell a real Rolex Daytona from a fake one.
Rolex is considered globally as one of the most iconic luxury watch brands. The company sells an incredible number of watches worldwide every year, which is a clear confirmation of their quality and popularity. A Rolex watch isn't just a watch; it is a tool and an indication of elite status.
There is a massive demand for Rolex watches. And, as with many other luxury watch brands, and luxury items in general, a big demand comes with a seriously cold-blooded counterfeit market.
Unfortunately, some buyers are bamboozled into coughing up real cash for a fake Rolex watch. Conversely, some people know they aren't buying a real deal Rolex, and they don't care, maybe they want to trick others into thinking they have a real Rolex. In either case, this is what keeps the replica market alive and something we DO NOT support.
This article is intended to help people spot a fake Rolex Daytona, specifically, and to give you the information you'll need when purchasing a Rolex watch. We have over 30 years of experience in the luxury watch market, and one of the largest Rolex collections in Florida, so we are confident when we say that you can trust our word.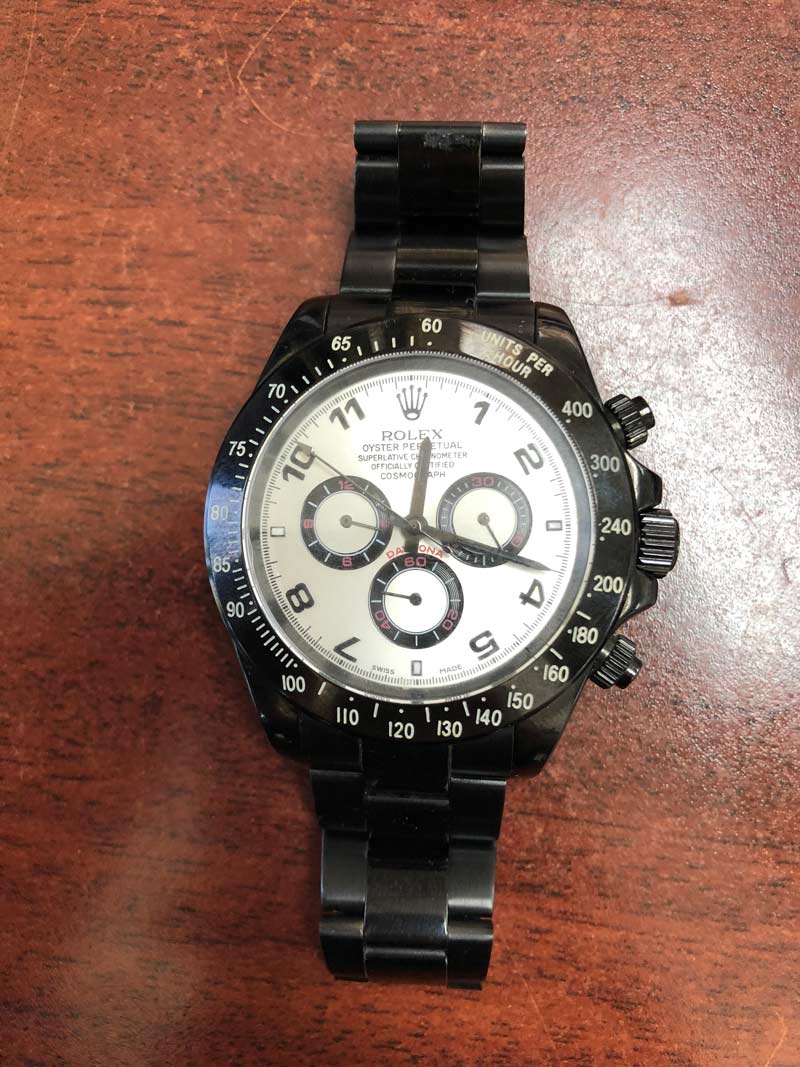 Why is there such a big counterfeit market for Rolex watches?
As mentioned above, Rolex watches are the most collected and sought after watches in the world, so as a consequence, there is a very, very large market for fake Rolex watches. A large portion of counterfeit watches are produced in China and throughout Asia, and to be quite frank, they have gotten significantly better at making them look real over the years. These fraudulent Rolex watches typically sell for anywhere from $25 to $500.
The Rolex Daytona is one of the biggest victims of forged timepieces. With that being said, we are looking at Rolex Daytona watches explicitly in this post.
Rolex Daytona
Released in 1953, the Rolex Daytona was created for the professional racecar driver. In a flash, it became a favorite in the Rolex community, and it still is one of the most popular watches across the world to this today.
It's one of the most iconic models in the Rolex lineup and is highly collectible among watch enthusiasts. Of course, because of this, there are a lot of fake Rolex Daytona watches out there. It is crucial to know how to tell a real Rolex Daytona from a fake one.
Follow the 11 ways to spot a fake Rolex Daytona to avoid ever purchasing a replica Rolex.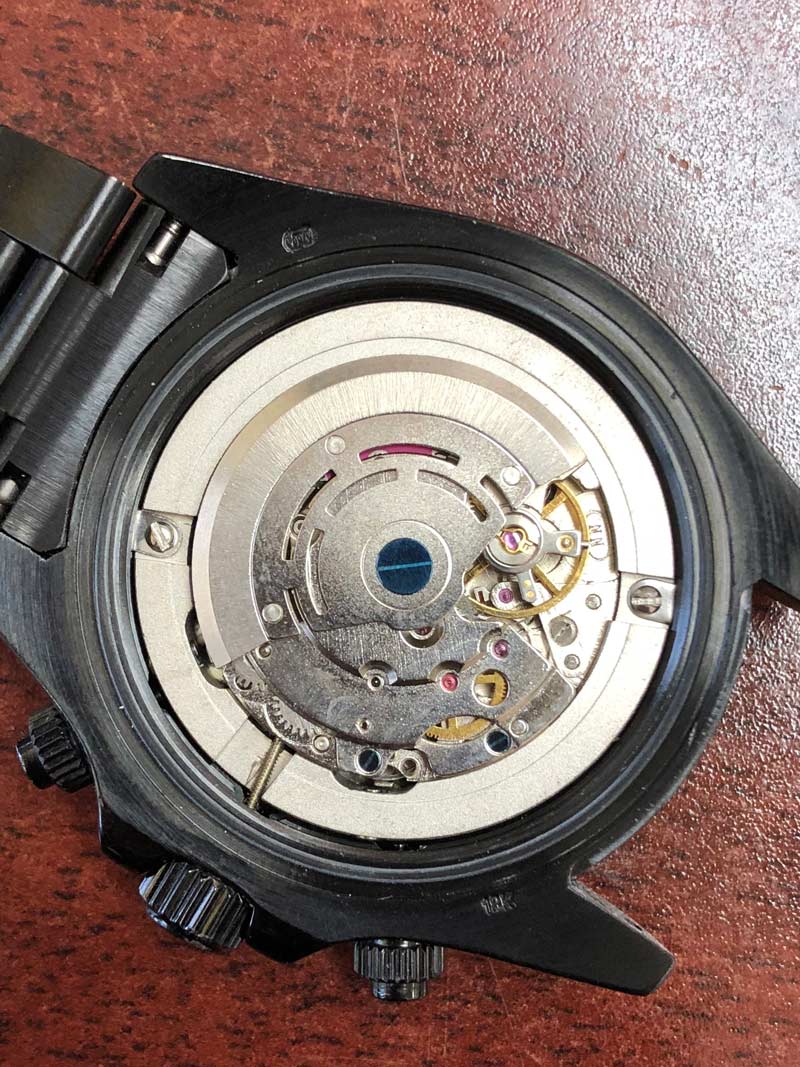 11 Ways to Spot a Fake Rolex Daytona:
1. DIAL
Let's discuss the dial first because usually, this is the easiest way to spot if it's a fake, especially on the cheaper replicas.
a) Perfect font/lettering
The fact that Rolex watches are flawless in design and Rolex does very thorough quality inspections on everything that leaves their facility, you would never find a real Rolex with lettering that is bubbled or crooked, or lettering that is unevenly spaced. If you notice the font and lettering is off in anyway, this is a major red flag.
b) Stamping on Dial
Fake watches are produced at different levels of quality. On the super low-quality fakes, they don't even add the Rolex name or iconic crown logo on the watch near 12 o'clock. This is, of course, an obvious giveaway that it is a fake. The replica Daytona's that do have the same stampings and crown on the dial will not have the same level of quality as a real Rolex. So, look carefully at these things for anything that seems off. A real Rolex has a crown that is in perfect alignment and much more consummate in its curves and shape than the majority of copies could ever be.
c) Date Window/Complication
If you are looking at a Rolex Daytona watch and it has a date complication (date window), then you know immediately it is a fake because real Daytona watches are not made with a date complication. This is something very obvious and should be one of the initial things you look for.
d) Chronographs – The Three Subdials
All Daytona's have chronographs and are designed with three subdials, which measure lapsed time through the pushers on the case. These three subdials should be evenly spaced on the dial, of the same size, and they shouldn't cluster the markers at all. Moreover, you should test this function to make sure it works, if it doesn't, it's absolutely a fraudulent Daytona.
e) Minute Hand
A real Rolex Daytona will have a minute hand that is notably long. The minute hand should reach the minute indicators. Also, newer models of Rolex Daytona will have somewhat rounded hands.
f) Micro-etched Crystal
In 2002, Rolex began putting micro-etched logos on their watches (so earlier models will not have this). The micro-etched logo will be at its 6 o'clock right below where it says "Swiss made", and it is very small. It's hard to see with just the naked eye so it would be better to look for this with a magnifying glass. This minute detail is very difficult for counterfeit watches to replicate, so it is a very good indicator of a real vs fake Rolex Daytona watch.
2. Bezel – Tachymeter Scale
Be sure to check the tachymeter scale on the bezel to see if the font seems amiss or if the spacing is off. There should be accurate and high-quality markings.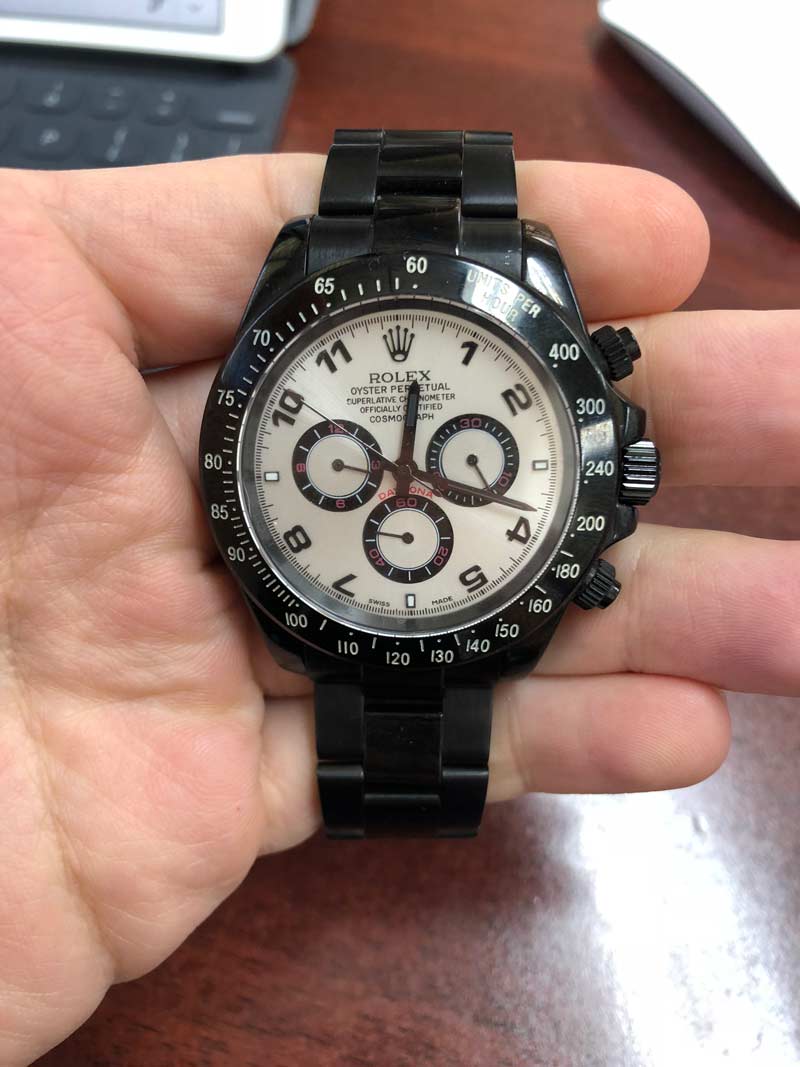 3. Case
a) Engravings
Every Rolex has engraving on the sides of the case at the lugs to indicate the model number and serial number. If the engravings on the Daytona look crooked, poorly done, have visible mistakes, or are missing entirely, then odds are high that it is a replica. Genuine Rolex watches have deep, flawlessly marked serial and model numbers. The lines are extremely fine and solid, and they will glow in the light at an angle sort of like a diamond cut edge does.
On Replica watches, you will notice the engraved numbers usually consist of very light tiny dots; this is because the marking process is low quality. Some fakes will have a sandy look to the numbers; this is due to them being acid-etched.
To find the model and serial numbers, remove the bracelet from the case, then look in-between the lugs on both sides. It's recommended to have a professional do this, as you don't want to damage the watch.
b) Serial and Model Number Matches Materials
Model and serial numbers will tell you everything about the watch. So, another thing to ask yourself when you see the serial and model numbers is, "does it match the watch?" If the serial number is of an 18k yellow gold Rolex, but you have a stainless steel watch in front of you, then you know it's a replica right then and there.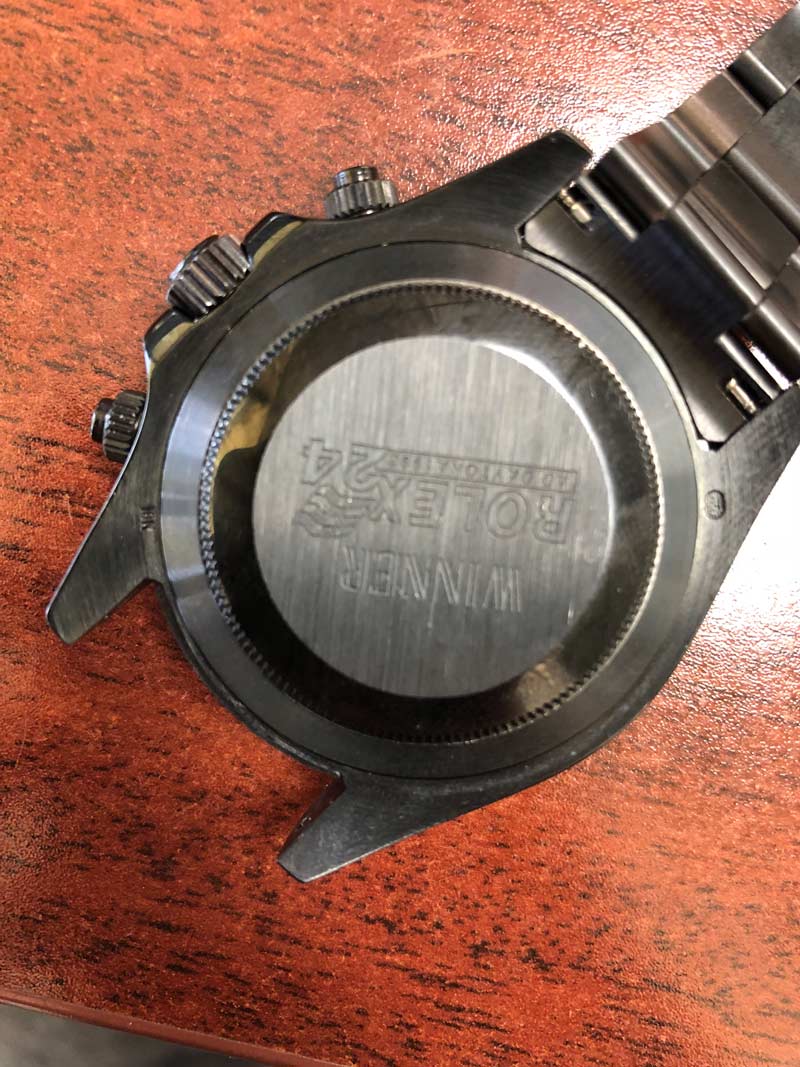 4. Pushers – Chronograph Function
As mentioned above in the Dial section about the Chronograph subdials, all Rolex Daytonas have the chronograph function. An easy way to test if a Rolex Daytona is a fake (this goes for poorer quality fakes more so) is to check the pushers and test out the chronograph function. If the pushers don't work properly, especially on a brand new watch, it's a FAKE.
5. Caseback
a) No engravings
Rolex Daytona watches should not, and does not, have any engravings on the caseback. Furthermore, they do not come with transparent casebacks either. If the Rolex you are inspecting has either, then you already know…put it down and walk away.
EXCEPTION: The Rolex Daytona Winner 24 is the exception as they have an engraving on the back, as seen as the feature of this article (Rolex Daytona Winner 24 1992). However, it is important to note that we have seen many fakes with this engraved on its caseback. This is because a Rolex Daytona Winner is an extremely rare timepiece. So, as mentioned a few times in this article, it has the typical counterfeit backlash. Nonetheless, as with all other engravings, they should be crisp and eloquent and of the best quality.
b) Hologram sticker
Up until 2007, a hologram sticker was placed on the caseback for all Rolex watches. The hologram sticker was green with "Rolex" printed over and over. From 2002-2007 there was a crown in the middle of the hologram as well. Models before 2002 had the serial number in black printed on them. The holograms were 3D and were removable (although some people leave them on, as they worry about it lowering the resale value). So, if you are looking at a post-2007 model and it has a hologram sticker on the caseback, that's wrong. If you are looking at a Rolex in the era of the hologram sticker and it's 2D and doesn't change at different viewpoints, then you know it's a counterfeit Rolex.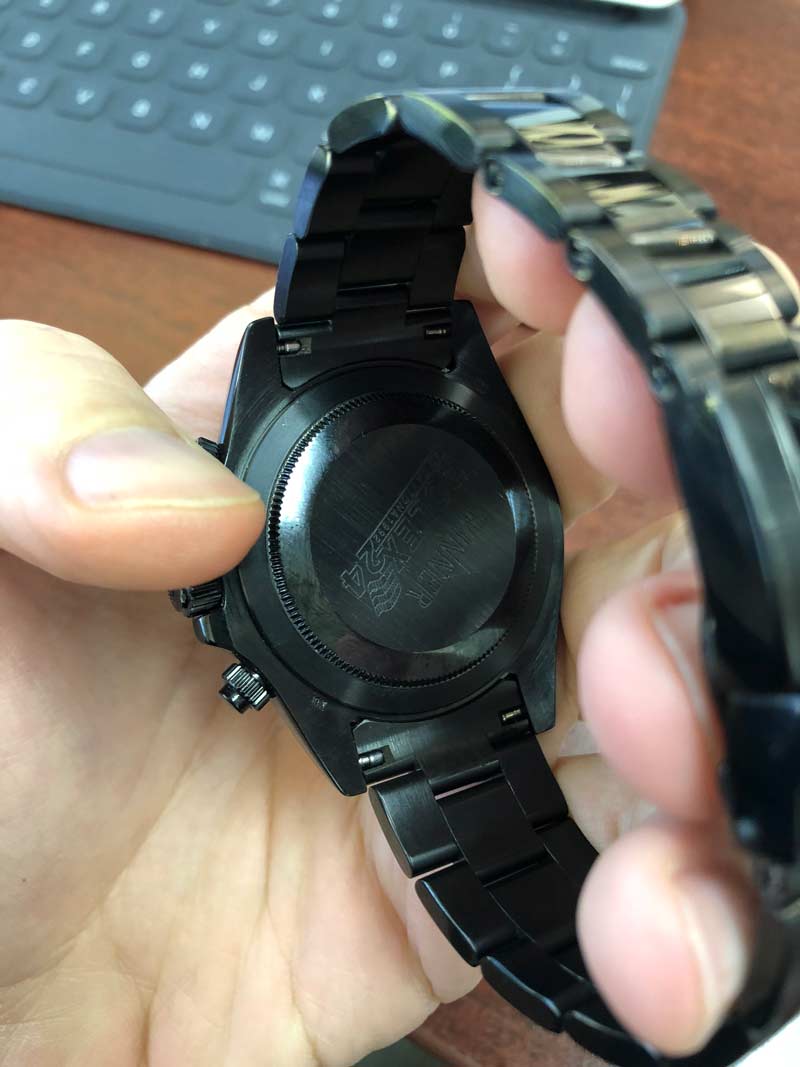 6. Movement
Note: This is a point of the process for checking if the Rolex is authentic that you probably should have a professional do.
Movement for a genuine Rolex should be mechanical self-winding. A Rolex calibre is very unique, so it's essentially impossible for a replica watch to have the same movement. If you have any doubt, this is almost the perfect and most official way to check if the Rolex you are considering to buy is fake are not.
7. Ticking
It's a common misconception that a real Rolex watch's hand must sweep instead of stutter, but in fact, many genuine Rolex watches have minute hands that stutter or ticks. Additionally, some fake Rolexes have a sweeping hand. So, this is not the best way to tell if a Rolex Daytona is authentic or not.
A good way to test the ticking, though, is to put the Rolex in question to your ear to see if you can hear it ticking. If you can hear it ticking, it's likely a replica. Rolex watches are such high quality that the ticking will be pretty much silent.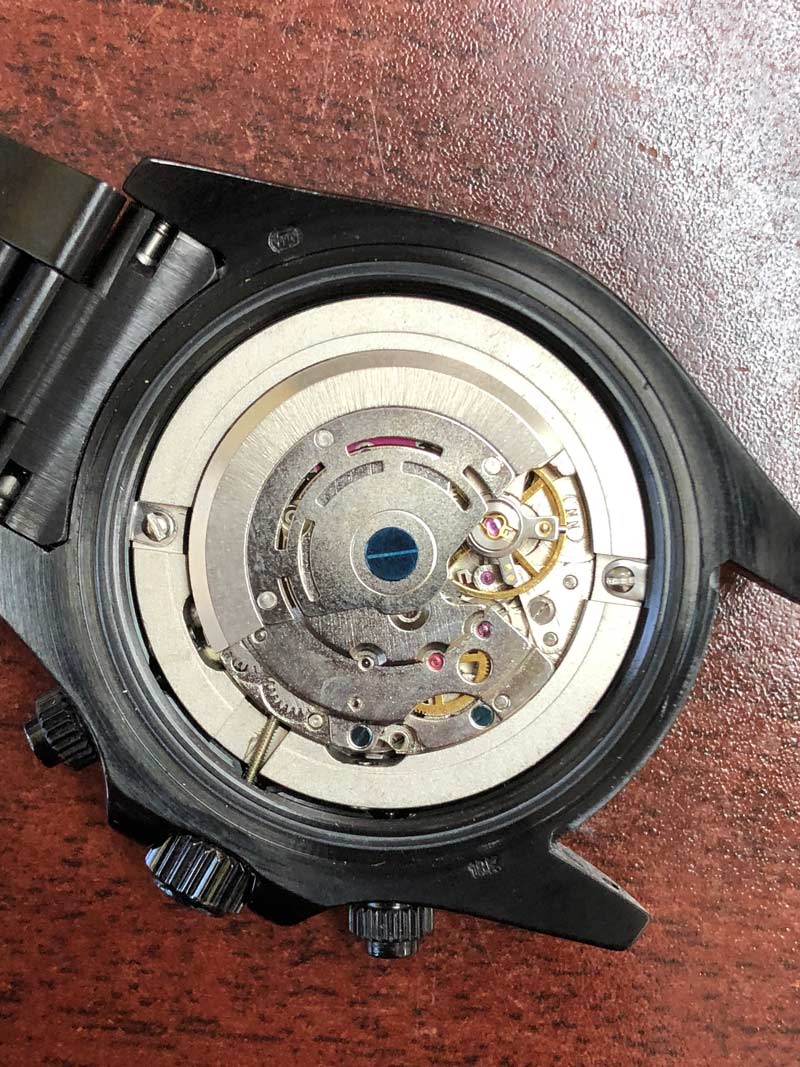 8. Triplock System – Waterproofness
Although the Rolex Daytona was designed with the idea of it being a racing watch, it also has deep-sea diving capabilities. The Triplock System is basically a seal within the threads of the winding crown, which prevents water from filing the watch when submerged. There is a gasket that is visible when the crown is unscrewed completely. Most fakes will not have a properly functioning Triplock System or there will be no seal at all.
9. The Bracelet AND Clasp
Rolex Daytona watches have the classic Oyster bracelet and Oysterclasp. These have a distinct look so they are easily recognizable. If the Daytona watch you are interested in buying has a different bracelet or clasp, or if either seems low-quality, then you can be sure it isn't a real Daytona.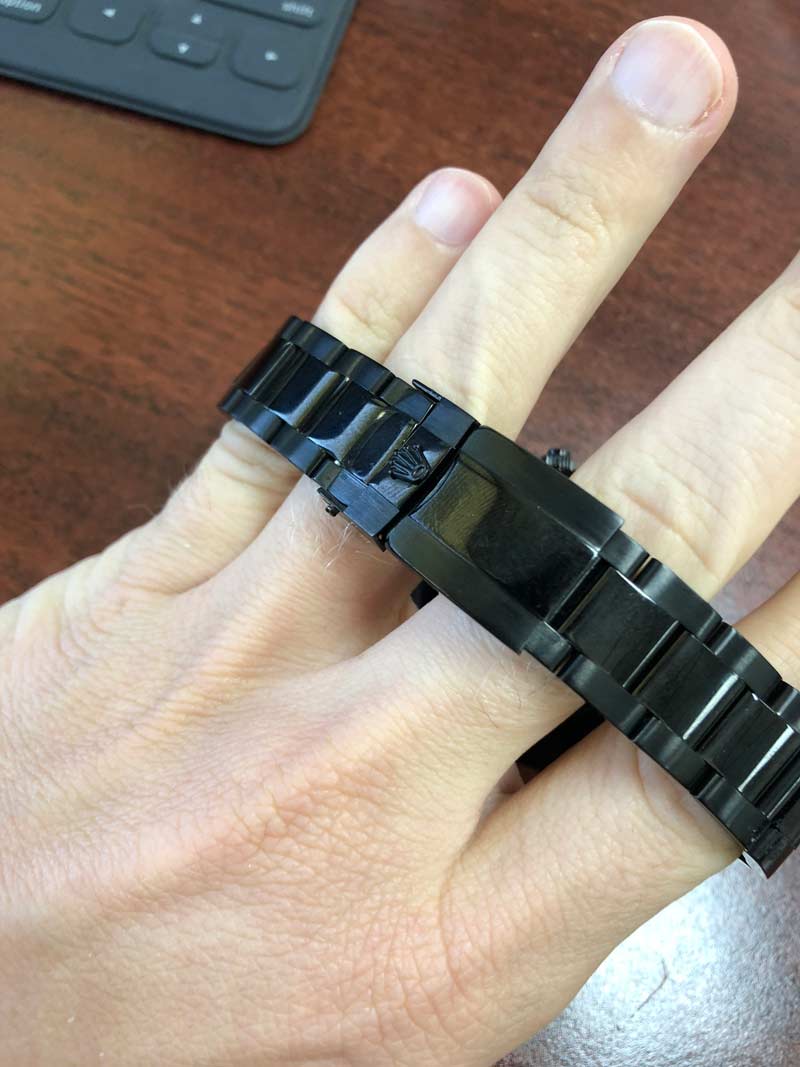 10. Weight Test 
One quick test to see if it is a real Rolex or fake is to pick it up and feel its weight. An authentic Rolex should have some weight to it. Rolex uses the best materials in manufacturing. Conversely, counterfeit watches usually have a cheaper, flimsier construction of materials. If the Rolex Daytona you are holding feels light, you are most likely hold a fake.
11. Price
On average, a Rolex Daytona costs around $10,000USD. If the price of a brand-new Daytona is much less than that, you can assume it is a replica.
Finally…
Rolex is one of the most coveted and prestigious luxury brands on earth. They are known for being made extremely high quality, durable, and stylish. Rolex uses the best steel ever made (which is made by Rolex), "904L Steel". 904L steel is rust and corrosion resistant, beyond any other steel known to man.
Furthermore, Rolex makes alloys and rolls their own precious metals, which ensures premium quality and keeps their integrity intact for every watch that goes out of their manufacturing facility.
Rolex crafts everything so perfectly, that if you notice anything that doesn't look flawless, you can be sure it's not a real Rolex. Make sure you do a thorough inspection of the case, crown, bezel, dial, bracelet, and clasp to see if you can spot anything of inferior quality.

SUPER CLONES
The truth is, fakes have gotten really, really good. For most of what was written in this article, a Chinese manufactured super clone Rolex would pass its test. They call these fakes 1:1 Rolex watches because they are almost identical. It is almost impossible to tell the difference, even for some of the most knowledgeable people in the Rolex game.
Usually, the easiest way to tell if it's a fake or not, for the really good replicas, is to check the movement. However, the Chinese manufacturers can clone the 3135 movements too. Nonetheless, there are still obvious differences. To spot the difference now, for these super clone Rolex watches, you must be educated on the nuances of genuine parts, as there are still very minute details that aren't or can't be copied exactly.
Places you shouldn't buy a Rolex from:
Unless you have a very expert and keen eye for Rolex Daytona's, you should always avoid sites like eBay and Craigslist. These sites are usually plagued with fakes and it is challenging to know if you are dealing with a trustworthy Rolex vendor or owner. For this reason, we highly recommend that you stay away from these types of platforms when buying a Rolex.
The best place to buy a Rolex Daytona (make your life easier):
Even now that you are knowledgeable of all the ways to tell if a Rolex Daytona is fake, you should be aware that knock-offs are getting more sophisticated every year. It can still be quite difficult to identify a genuine Rolex Daytona from a replica.
Your best option when purchasing a Rolex Daytona, whether it is new or pre-owned, is to buy from a reputable and trustworthy dealer. A reputable, certified Rolex dealer will have a certified authenticity report for all of their Rolex watches. So, by going directly to a certified Rolex dealer, you can be sure that the Rolex you are purchasing is real.
Furthermore, it is quite easy to find a reputable, certified Rolex dealer, all it takes is a quick Google search. Do your due diligence on the seller you choose. Reviews online and the Better Business Bureau should tell you everything you need to know.
This is by far the safest way to go about buying a Rolex Daytona, and the only way you can be sure you aren't getting tricked into buying a fake.
Nonetheless, it still doesn't hurt to do your homework and know what to look for yourself, so we hope these tips for spotting a genuine Rolex Daytona can be your guide to being a smart Rolex buyer.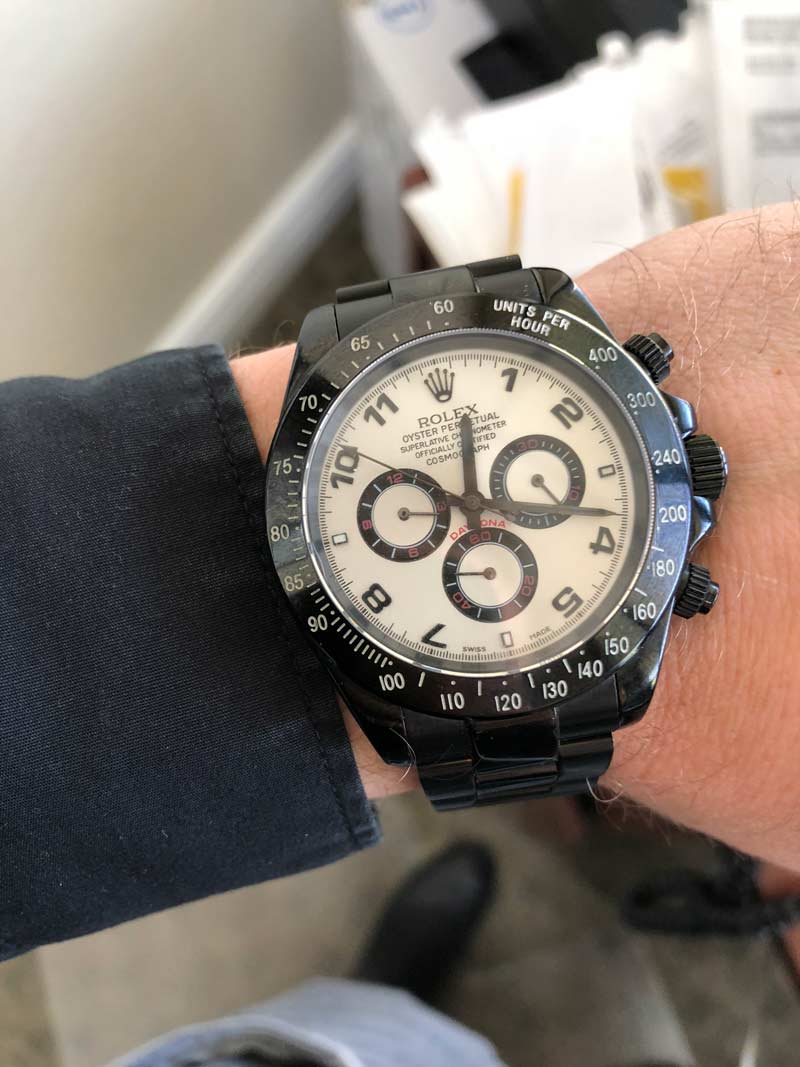 Rolex Daytona Risk-Free Purchase at Diamonds by Raymond Lee & Raymond Lee Jewelers.
If you are looking for a new or used Rolex Daytona, Diamonds by Raymond Lee and Raymond Lee Jewelers of Boca Raton can handle all of your needs. We have a plethora of 100% genuine Rolex Daytona watches for sale at our retail location and online. Diamonds by Raymond Lee and Raymond Lee Jewelers has been in the luxury watch business for over 30 years and we have a BBB A+ rating. Our team of watch experts will tell you everything you need to know about any of our watches. We are always available to answer any of your questions and all of our watches come with a certified authenticity report upon request. Just give us a call at 561-750-7808, contact us here, or stop into our retail location (Monday – Friday 10AM – 6PM and Saturday 10AM – 5PM) to have chat. We look forward to hearing from you.