How To Find A Great Tennis Bracelet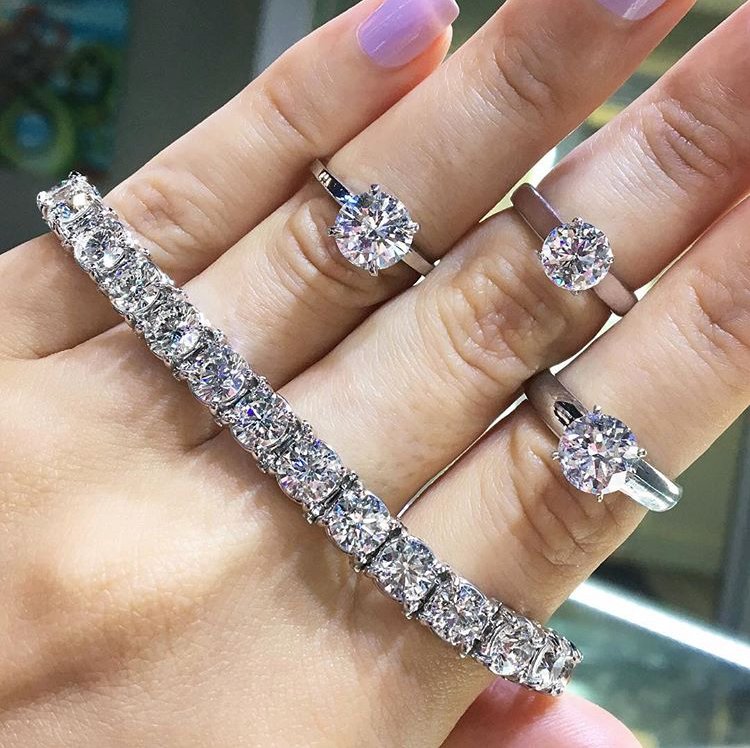 How To Find A Great Tennis Bracelet

A tennis bracelet is a staple piece in many jewelry collections. This can be due to the fact that it is elegant, easy to wear and features a timeless design. Delicate and durable, the bracelet traditionally features a gold or platinum setting and contains many small gems, usually diamonds, linked together in a narrow chain. Today, there are countless variations on these bracelets when it comes to metals and settings. The thickness can also vary featuring a thick or thin bracelet and smaller or larger diamonds.
Tennis bracelet history

The name 'tennis bracelet' refers to the professional tennis player, Chris Evert. Evert was highly successful from 1972 until 1989. She lost her bracelet during the 1978 U.S. Open when the closure of the bracelet snapped.
Evert asked that the game be stopped until the bracelet was found. Ever since then, diamond bracelets have been referred to as tennis bracelets and are worn by tennis celebrities, as well as other celebrities and countless other women all over the world.
Tennis bracelet facts
If you are in the market for a tennis bracelet, finding the right one for you may depend on several factors including personal taste and lifestyle. Some bracelets may serve as subtle, elegant pieces while others can be eye catching statements. You might opt for different jewels or metals that best suit you. You might choose a diamond tennis bracelet that is durable if you have an active lifestyle.
However, despite personal taste, there are things to look for in a tennis bracelet that will help you determine its quality. These are as follows.
Diamond Color
As a general rule, the whiter your diamonds are the higher quality their color is. (Of course, this will be irrelevant when shopping for bracelets with colored diamonds). Diamonds that are nearly colorless are higher quality than those with a yellowish tint, but they will also be more expensive.
However, no matter what color you choose, it's important that all the gems in the bracelet appear uniform in color.
Clarity
Color is more important than clarity in the tennis bracelet, since the stones tend to be smaller and inclusions are hard to see. However, this becomes an issue when you are dealing with bigger stones. If your bracelet features bigger stones, check it closely for dark spots or any damage that may have occurred in the gem.
Metal Matters
Tennis bracelets can feature a variety of metals in their settings although gold, white gold and platinum are most common. The one you choose can be a matter of personal choice, but a yellow gold will work better with a diamond that features a yellowing tint while these tints will really stand out against a platinum or white gold setting.
White gold is generally more expensive than yellow gold because it contains other metals which give it its white appearance. However, the purity of both golds are the same, providing they are of equal weight. Another thing to consider is that white gold will lose its color over time. If you are a fan of the white metal look, you may be best off opting for platinum, which is the most expensive of the three.
Structure
You want to make sure your bracelet is sturdy enough to wear and that it won't break easily. To do this, check how the individual diamonds are mounted in the bracelet making sure the gems won't fall out easily. Bezel settings, where diamonds are held in place with a metal band that encircles them fully or partially are a good choice. The settings should be held with four prongs.
The links of the diamond bracelet should be robust and not easy to break apart if the bracelet is pulled hard.
The clasp should close safely and not open easily. It should be solid so that it does not break or bend.
It's also a good idea for your bracelet to be flexible. If it's too rigid, it can break easily when you twist it.
Where to buy a tennis bracelet
If you are in the Boca Raton area, and looking for a quality tennis bracelet that best suits you, you should check out the selection that Raymond Lee has to offer. Raymond Lee is a well known jeweler who has established roots in the Boca Raton area and has built his reputation there for over 30 years.
Growing with the times, he offers styles that range from classic to modern. His shop contains a wide variety of diamond tennis bracelets in an extensive selection of price ranges and styles. Let's take a look at some of the top picks in tennis bracelets from his stock.
Tennis Bracelet Options

14k Yellow Gold .55ctw Diamond Tennis Bracelet
Starting at $2,095, Raymond Lee's tennis bracelets start with a 14k yellow gold .55ctw Diamond Tennis Bracelet. Thin and elegant, this bracelet fits securely on the wrist, fastened by a quality clasp. This bracelet will look terrific on a small wrist and can be worn on its own or paired with other bracelets or a watch, for more of a glam look. (Note: CTW refers to the carat total weight representing the summation of all diamonds on a particular piece).
This particular bracelet comes in four different varieties. In addition to the traditional diamond and yellow gold, there is also a 14k white gold .52ctw blue diamond tennis bracelet and a 14k white gold .55ctw green diamond tennis bracelet. Both of these offer a unique take on the traditional tennis bracelet offering striking color options. They are both priced at $2,095.
4k White Gold, .50ctw Diamond Tennis Bracelet
One more option is the white gold variation which I described as a 14k white gold, .50ctw diamond tennis bracelet. This piece is available for $2295.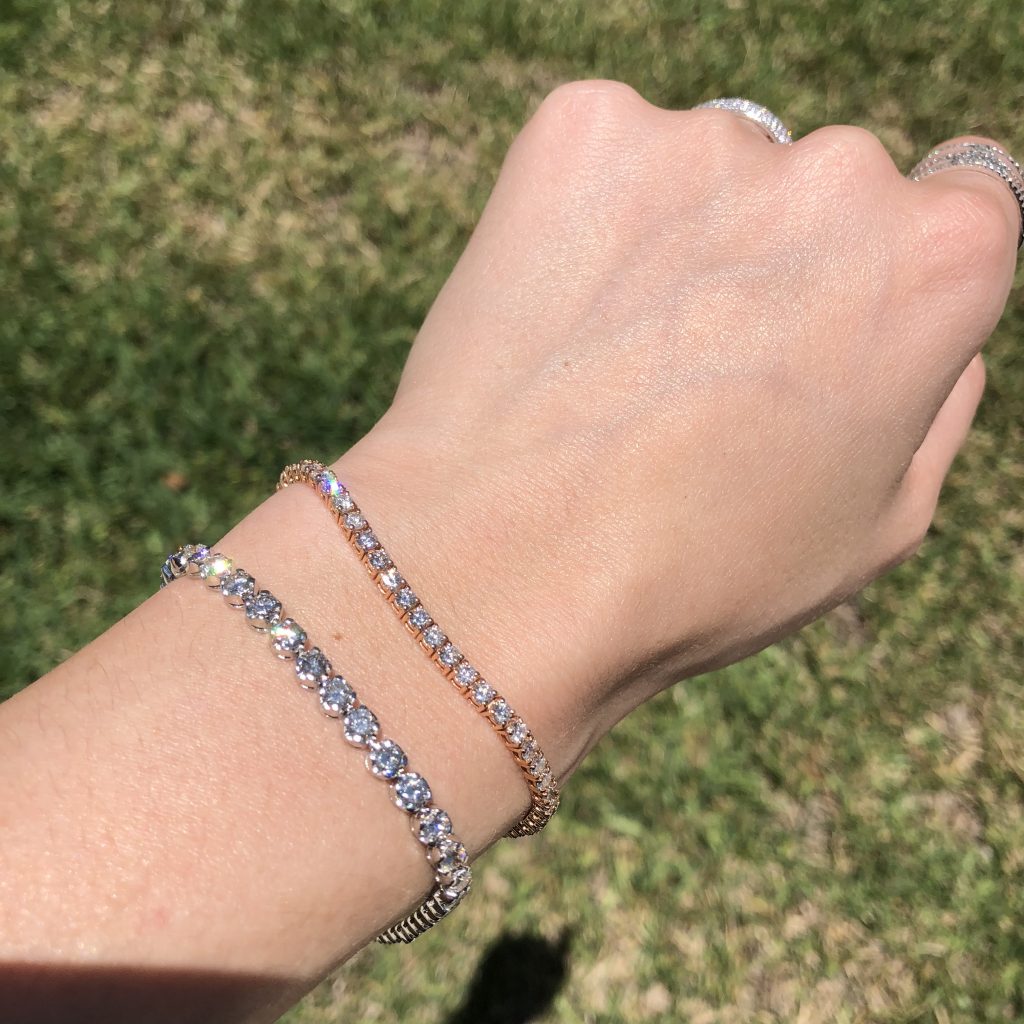 18k White Gold 1.80ctw Round Brilliant Diamond Tennis Bracelet
Moving along, another stunning piece is the 18k White Gold 1.80ctw Round Brilliant Diamond Tennis Bracelet. In this bracelet, you can really see the clarity of each diamond, which is featured in a rounded shape against a white setting. While this piece is bigger than the last batch, it still gives off an air of refined elegance and can be paired with other pieces or worn on its own. A stunning feature is its clasp which is also diamond studded. This unique bracelet can be purchased for $2799.
14k White Gold 2.05ctw Diamond Tennis Bracelet
This bracelet offers a sparkly set of round, brilliant diamonds in a white gold setting. The stones in this bracelet are the largest we've seen so far, really taking the bracelet to the next level in wow factor while still maintaining an elegance that is intrinsic to the tennis bracelet fashion. This beauty is available for $4080.
14k White Gold 3.5ctw Round Brilliant Diamond Tennis Bracelet
This white gold piece features beautiful, large, round stones offset by their setting which cups the gems beautifully. The bracelet appears as a dazzling line of gems that snake elegantly around the wrist. The price for this piece is $4695.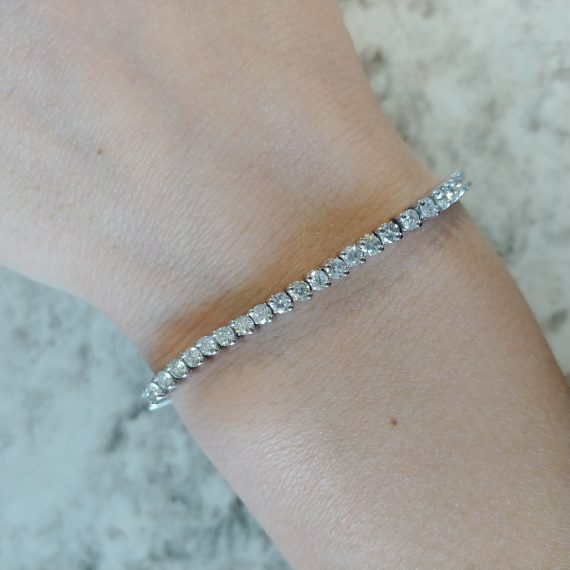 18k White Gold 2.74ctw Diamond Tennis Bracelet
What sets this tennis bracelet apart is it's elegant setting. Each diamond is deep set within its own white gold, square link for a lacey, vintage look. Truly an original take on the classic tennis bracelet, this one makes more of a statement than some of the other bracelets, but still maintains a graceful sophistication. It is priced at $4799.
18k White Gold 4.01ctw Diamond Tennis Bracelet
Closely spaced and square in shape, this band of diamonds sits loosely, yet securely on the wrist. The clarity of its gems is what puts this piece over the top. It's available for $8795.
14k Yellow Gold 8.20ctw Diamond Tennis Bracelet
This stunning yellow gold piece offers contrast as it's round white diamonds are deeply set within square yellow gold links. The different shapes and colors work to complement each other beautifully. This piece is available for $8,995.
14k Yellow Gold 6.36ctw Diamond Tennis Bracelet
Here the diamonds appear in a cluster within their gold settings making them appear almost floral in shape. Diamonds are set in a cross shape in square settings making each link appear like brilliant flower. This unusual take on the classic tennis bracelet is marked at $13,200.
14k White Gold 12ctw Diamond Tennis Bracelet
Of all the pieces visited so far, this one is the chunkiest in appearance, making it more glam or sophisticated, depending on how it's worn. The round diamonds are deeply set in white gold, square links giving off an overall white, glittering effect. This beauty goes for $13,200.
18k White Gold 6.20ctw Diamond Tennis Bracelet
Providing more of a classic look, this string of diamonds will complement any wrist. Available for $13,595.
18k White Gold 7.41ctw Diamond Tennis Bracelet
You can really see the cut and clarity of each diamond in this classic diamond bracelet piece. Featuring rounded diamonds in a square setting, this exquisite piece will cost you $15,995.
14k White Gold 8.62ctw Diamond Tennis Bracelet
These large, brilliant diamonds are featured in a white gold setting that cradles each diamond giving an appearance similar to that of a flower surrounded by leaves. This sophisticated design simply sparkles on the wrist making it a stand out for any occasion. It is available for $18,000.

Platinum 10.39ctw Round Diamond Tennis Bracelet
Another chunkier piece, this bracelet also has a setting that cradles each diamond securely at each corner and works to give off a floral vibe. It is one of the few pieces that features the precious platinum metal and dazzles on the wrist. It is available for $31,200.
18k White Gold 14.12ctw Round Brilliant Diamond Tennis Bracelet
Although classic in design, this bracelet stands out for its seemingly oversized diamonds that show exceptional color and clarity. This piece is available for $37,500.
Platinum 13.20ctw Emerald Cut Diamond Tennis Bracelet
The emerald cut refers to a gem cut in a square shape with stepped facets. On this particular piece, the emerald cut serves as a stand out feature making the bracelet more contemporary in design yet fun and sophisticated at the same time. Made with a seemingly industrial clasp and featuring fine platinum metal, this beauty is available for $49,000.

Platinum 19.54ctw Round Brilliant Diamond Tennis Bracelet
This bracelet's setting creates interest with wider spaces set between it's large, stunning diamonds. Also featuring a seemingly industrial clasp and the precious platinum metal, this piece costs $66,825.
Platinum 49.14ctw Emerald Cut Diamond Tennis Bracelet
Another bracelet featuring the emerald cut, this piece sets itself apart by offering distinct square links which complement the wrist beautifully. It's large gems and unusual setting make it modern and sophisticated while its color and clarity will make any woman feel like a queen. Featuring precious platinum metal, this diamond bracelet costs $299,000.

18k White Gold 24.94ctw Princess Cut Diamond Tennis Bracelet
One of the more popular diamond cuts, the princess cut is square or rectangular while the side on shape is similar to that of an inverted pyramid with four beveled sides. On this particular piece, the cut serves to make the gems sparkle in their square, white gold setting which features distinct links that wrap around the wrist beautifully. Sure to be the piece de resistance of any jewelry box, this bracelet will run you $120,000.
Tennis bracelets are classic pieces and every woman should have at least one in her jewelry collection. When you are shopping for this timeless item, be sure to visit a trusted jeweler who understands the importance and sentiment behind every piece you purchase. With years of experience, Raymond Lee is that jeweler. And, even if you're not located in the Boca Raton area, you can also search his online store to have his lovely pieces delivered to your home.
Check out Raymond Lee's selection of watches, rings, bracelets, earrings and more to find quality jewelry that you will treasure forever.