Gold Rolex watch price comparison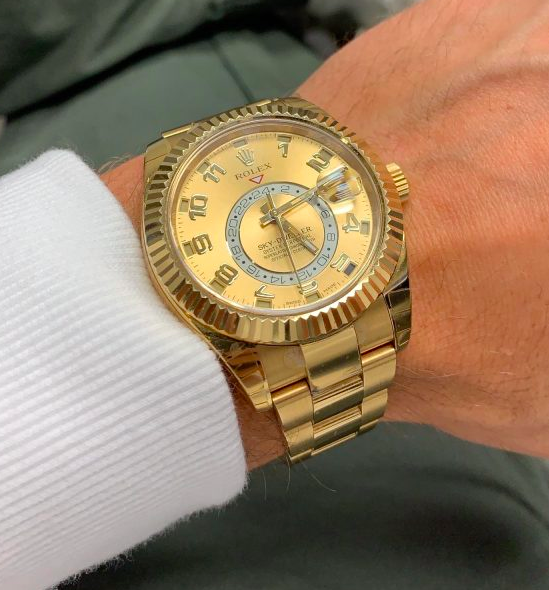 If you are thinking of buying a gold Rolex watch whether for yourself or for someone you love there are some things to take into account. First and foremost is the collection model that you are looking at. When it comes to gold Rolex watch price you want to look at which one of the collections that you are looking to buy. Then the next thing is to look at is the exact model as the different variations between them can mean some serious differences. This is particularly true when a newer model features a significant shift in the functionalities of the watch. Whether it is a Rolex Day Date watch, Rolex Skydweller or a Presidential watch all Rolex watches have their own very unique features and therefore prices. While they are all gold and of course of the highest quality not all are made the same for the price.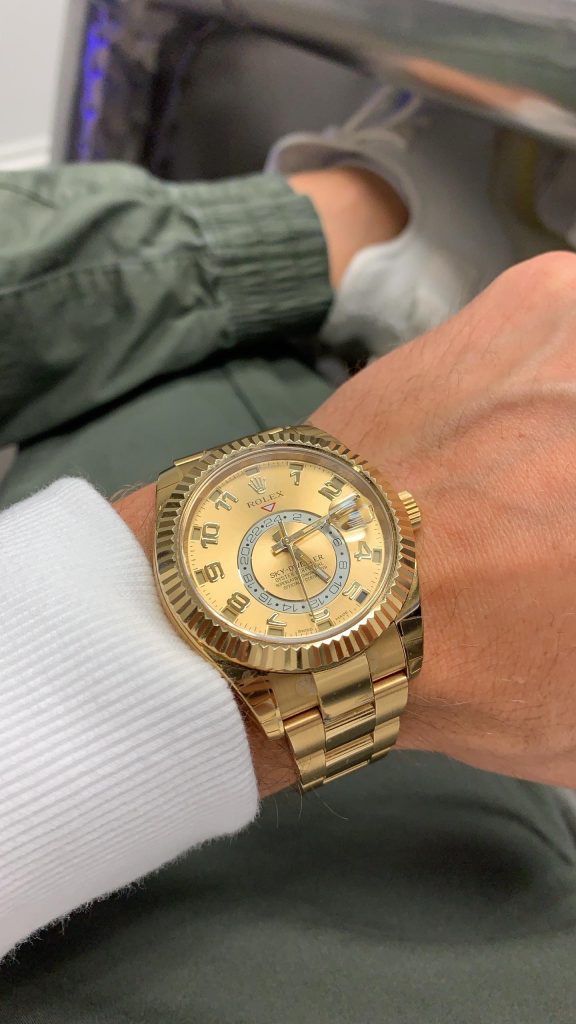 For all the information that you need to know when it comes to Rolex watches including gold Rolex watch price for different models like the Skydweller, Day Date, and Presidential check out the options below. All of the watches featured here are available for purchase at our local jewelry store. You can come and check them out in person most days of the week. Or if you are not local feel free to reach out to us by phone or email and we can help you out. We are proud to have customers from all around the world. Our superior excellence and commitment to quality makes us the premier diamond and fine watch destination in South Florida. Come find out what we are all about and see for yourself how we bring the best ever luxury watch prices for items like gold Rolex watches.
Gold Rolex watch price
The gold Rolex watch price then depends on how complex the watch is. There are the complications, the power of the watch and of course any other special additions to the time piece that all need to be taken into consideration. For example the Rolex Skydweller is a watch that has a higher price range than say your entry level price point of a Day Date watch. This of course does not apply to or include those watches that have unique upgrades or characteristics like precious stones or other additions that also increase the price. If you are wondering how much the price of one of the watches you are interested in can change the first thing to note after diamonds or other gemstones is the dial. If the dial is made of mother of pearl or silver for starters you know that the price will differ from a traditional.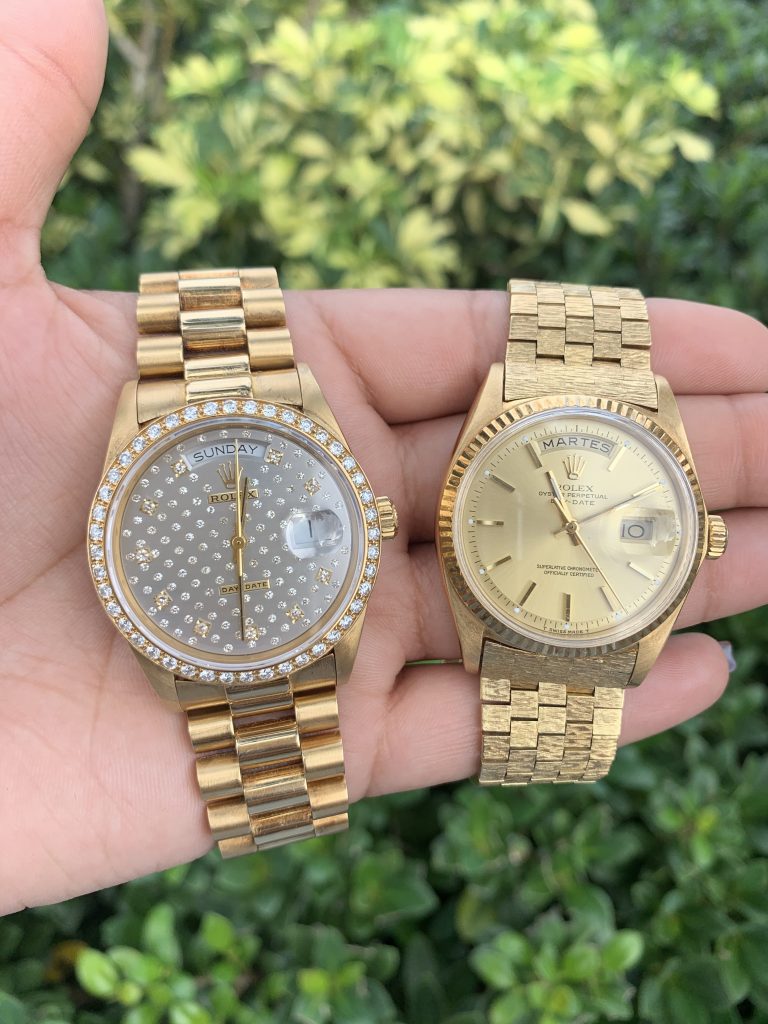 Even a yellow gold or champagne dial is also a good indication that the price will be slightly elevated from a traditional white or black dial face. Further the hour markers on a gold Rolex watch can also be a source of higher price points. When considering gold Rolex watches you should be aware that the prices will be higher than the stainless steel Rolesor styles of course. However they will also come with other special features generally. For example gold Rolex watches will be more likely to have Presidential or jubilee bracelets to accompany them. This is for the additional jewelry style look to the watches. It does also depend heavily on the model of the watch as well. As some of the styles and design of the watches lend themselves more or less to sportive looks or otherwise more daily professional styles. Either way the specific combinations range.
Rolex watch price differences by model
As we have said the prices of different Rolex watches depends primarily on the models. If we take a look at the three different Rolex watch models that we are featuring in this article, namely the Rolex Day Date, Skydweller and the Presidential watches you can see there are shifts in the price range. Primarily based off of their complications as well as the rarity and difficulty in finding each one of these Rolex watch models. Whether pre owned or new the prices shift in small increments or to a higher degree.
$12,995.00 price – ROLEX DAY DATE 1803 18K YELLOW GOLD SPANISH DIAL WATCH
Approximately $14,999.00 price  – 18K GOLD ROLEX 18038 SINGLE QUICKSET BLACK DIAL PRESIDENTIAL WATCH
Price: approximately $33,999.00 – 18k yellow gold Rolex watch Sky Dweller Champagne Dial
As you can see from the price approximations above each one of these gold Rolex watch price points differ depending on the model and how complex they are. As well as the unique features of each one of the watches. To keep all of these Rolex watches comparable we of course maintained some features similarly. For example they are all yellow gold Rolex watches. Also none of them feature diamonds or other precious gems either. Let us go deeper thought and take a closer look at each one of the watches individually. You will note that not all of these watches remain at the same price point when you compare them with others in the same class that have different metals for example.
Then of course there is the question of rarity of the items. As you will see later on with the Rolex Day Date watch there are still ways for watches to be of a unique nature without the addition even of gems.
18k yellow gold Rolex watch Sky Dweller Champagne Dial
When it comes to an 18 carat yellow gold Rolex Skydweller watch the price point fluctuates. In the case of the gold Rolex Sky Dweller the prices vary depending on whether the watch is pre owned or new. As well as whether it is a yellow, white or rose gold watch.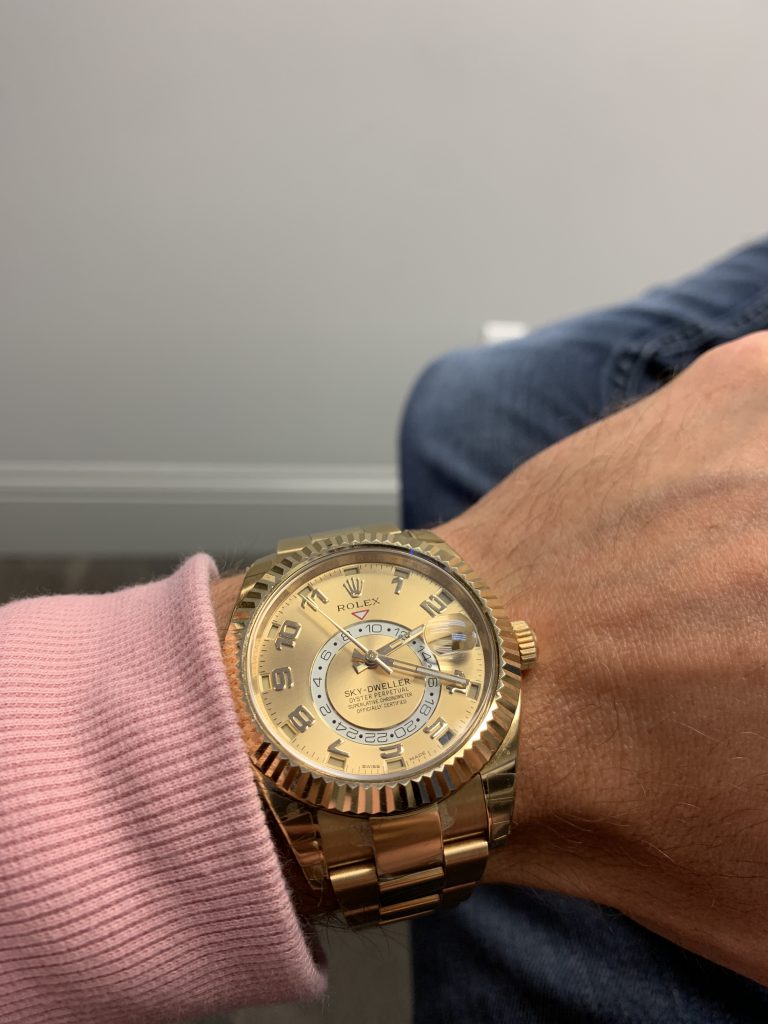 If we have a look at the re sale value of the Rolex Sky dweller watches in the different gold ranges we get something more or less around these price points:
White Gold price: approximately $32,000
Yellow Gold price: approximately $33,000-$34,000
Rose Gold price: approximately $35,000
The bracelet as we have discussed also has a significant impact on the price. Then of course you also have the differences in the bracelets ranging between $32,000 to $35,000 for an Oyster three link bracelet.
This particular model features a sapphire crystal with a date-cyclops augmentation for ease of read. On a champagne dial with the super powerful Ring Command Bezel to change the times and multiple complicated complications paired up with a 72 hour power preserve. This Rolex Sky Dweller with an in-house 9001 calibre movement with seconds, minutes and hours, and 330 feet waterproof capability is a stunning example of how a gold Rolex watch can be both a high level look with an extreme capacity of model status.
A heavy time piece you can feel the solid performance that lies within the large case of the watch. An elegant and easy to wear watch it is perfect for travelling and the likes. With a high functionality through the ring command bezel it is the most complicated of the modern Rolex watches that are currently in production. Its functions are made with the frequent jet setter in mind for ultimate comfort and style.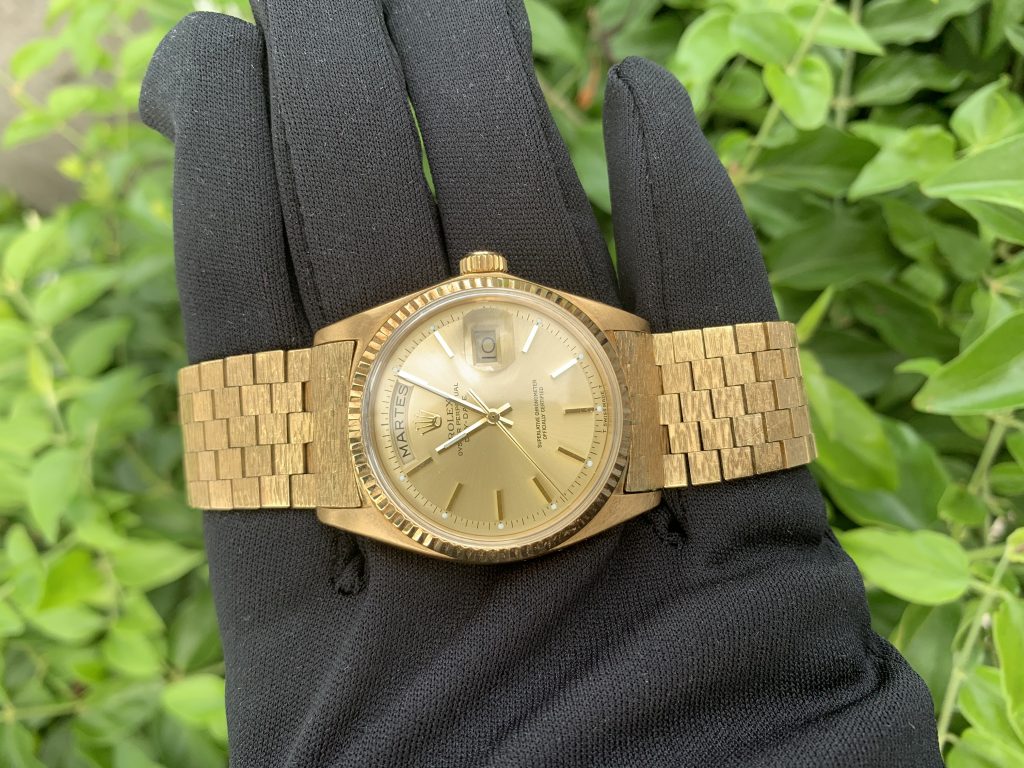 A step up from the first Rolex to arrive to the world and make waves to establish the brand name. The Rolex Day Date watch rivals the original the Rolex Datejust watch. More than just the date the Rolex Day Date also features, you guessed it the day of the week. Located at the 12 o'clock hour mark the wider window shows the day of week spelled out. In this particular 18 carat yellow gold Rolex Day Date 1803 watch the dial features a Spanish week day window.
Known as a Gold Bark Finish band which is the factory band original and not a different brand. The bark finish features 5 18 carat yellow gold links intricately paired up together. The unique finish gives it a flatter and much more jewelry like bracelet style. It is refined and a truly jewelry like gold Rolex watch. If you are wondering where to buy Rolex watches know that you can find exquisite pieces like this one at our store in Boca Raton. We have been here for over three decades bringing iconic luxury time pieces into our curated collection. We would love to welcome you.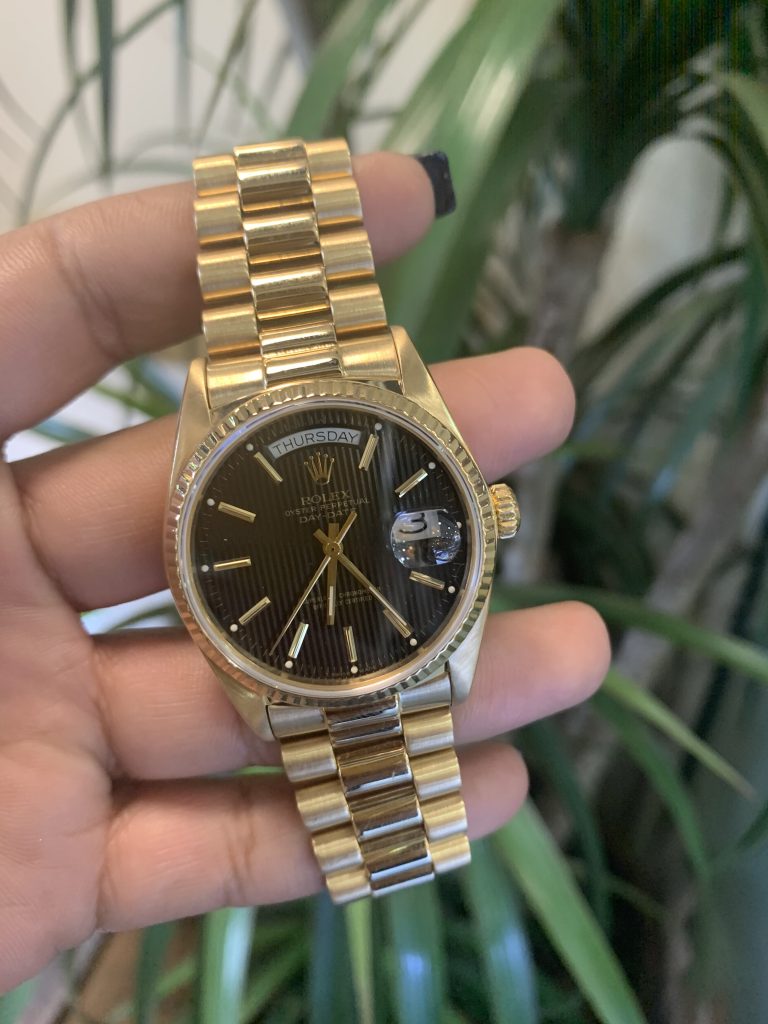 What is in a name? Well just ask the Rolex Presidential watch. It is the classic and ultimate day date gold Rolex watch. It is one like the watches worn by the great men including those that have occupied the White House. In true fashion the iconic Marilyn Monroe infamously gave President JFK for his birthday a gold Rolex Presidential watch and on top of that it is also the one watch that billionaire Warren Buffett has sported for decades. Always reliable and trusted as the iconic classic this gold Rolex watch price point shifts significantly depending on what is really going on with that watch in particular. For example this particular 18 carat 18038 single quickset Presidential watch features a black dial against the yellow gold case and bracelet. Further it has the white windows for the day and date as well as the always recognizable cyclops glass addition.
A 36 millimeter case and gold stick hour marker watch is a unique and lovely piece. More formal and perfect for the business man's daily wear watch it has the original three link gold bracelet as well. The bezel is the classic fixed fluted yellow gold Presidential watch bezel.
Where to buy Rolex watches like the ones featured here? At Raymond Lee Jewelers in Boca Raton, FL. All of the gold Rolex watches featured here are for sale!
Get the best gold Rolex watch price at Raymond Lee Jewelers in Boca Raton, Florida
For when you want the absolute best quality, and service you go to your local jeweler. Where family tradition has been to serve the South Florida community for the last three decades. We are proud to be the go to in South Florida when it comes to fine jewelry and luxury watches like a gold Rolex watch. Our specialty is as always to bring you a curated collection of the world's finest watches for the best prices. Tested and quality assured at our in house state of the art workshop all of our watches are finely tuned. Experienced master craftsmen who have been working with luxury watches for decades take care of each one of our pieces. Always ensuring that you are getting the real deal. And of course that they are running at top notch quality as they are meant to be. Going beyond the regular care and maintenance.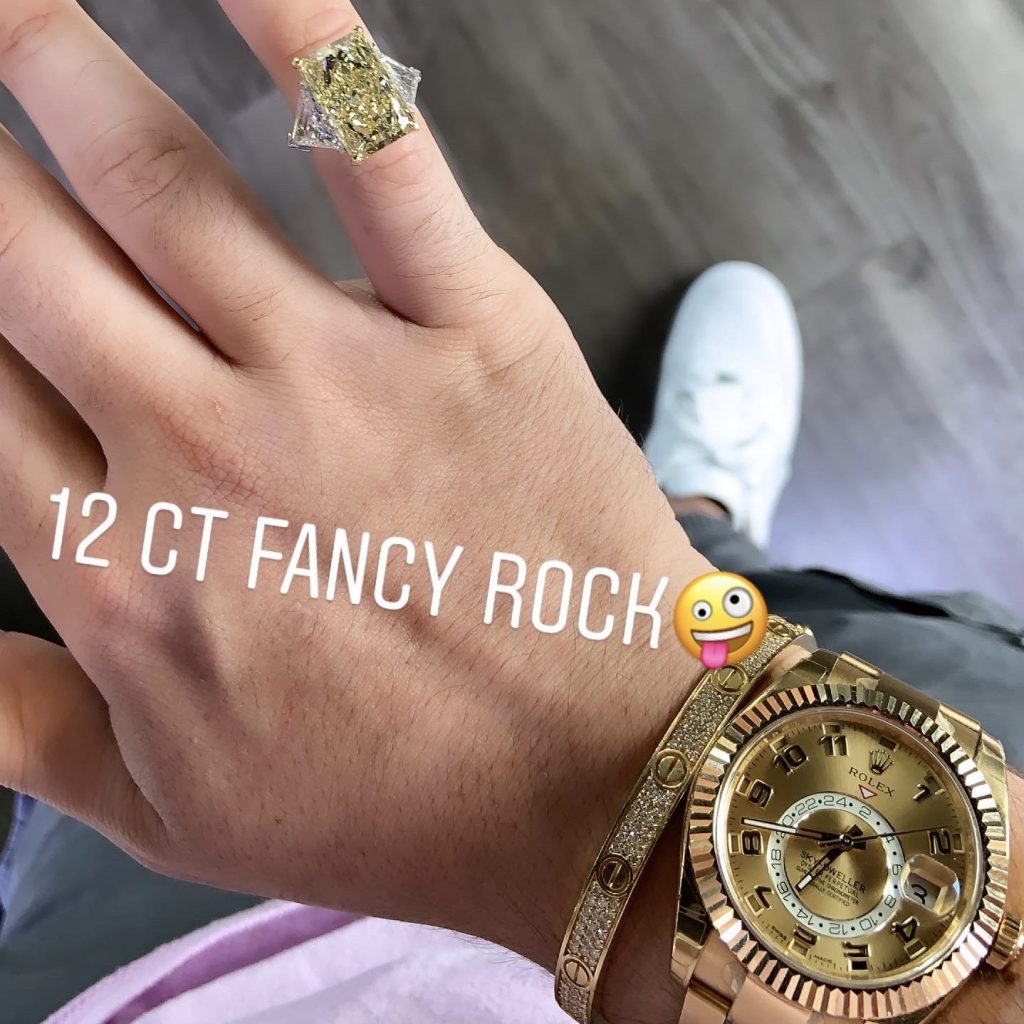 The last three decades have been about transforming and creating unique bespoke pieces in the world. From iced out watches to modified dials for a spruced up look we can do almost anything when it comes to luxury watches. We have crafted gold Rolex watch pairs for a couples' matching set. We have also taken things up a notch turning a jubilee bracelet into a diamond jewelry piece. It is as always up to you watch to do. We are also always finding exclusive limited and special edition pieces to add to our collection. Including but not limited to vintage watches and serialized limited production models. Like the Rolex Pepsi, the Hulk or even the Batman. Any watch with a special touch you can bet we have got one in our collection for you. If you are interested in any of the gold Rolex watches featured reach out to us!
Our location:
You can find us most days of the week at our store where we are happy to welcome you.
Location: 22191 Powerline Rd #12B, Boca Raton, FL 33433
Hours: Monday – Friday 10 am – 6 pm | Saturday 10 am – 5 pm | Sunday Closed
Otherwise you can also give us a call or drop us a line by email. Our Raymond Lee Jewelers family will help you find the perfect piece.
Phone: (561) 750 – 7808
Email: in**@di******************.com