Has Gabriel & Co piqued your interest on your hunt for the perfect engagement ring? Congratulations, we must say, you have good taste! Gabriel and Co creates beautifully unique and distinctive, handcrafted engagement rings that truly reflect the passionate beauty in all of us. Gabriel and Company's stunning engagement ring collections encompass timeless, fashion-forward designs that display impeccable artistry and unwavering technology.
At Raymond Lee Jewelers, we have been in love with Gabriel and Co since their inception back in the late 80s. As a family-centric business, we were immediately drawn to their story of passion, integrity, innovation, trust, and family.
Gabriel & Co. is a family-owned designer jewelry brand celebrated around the globe by jewelry stores, couples, and even other designer brands. They are known for being passionate, dependable, and artistic creators, designers, and manufacturers.
Gabriel & Co's mission is to help couples capture the magic and beauty of commitment with their breathtaking engagement rings. It's undeniable that they pour their heart and soul into every design, many of which you are about to see in this feature of Gabriel & Co., one of our favorite designer jewelry and engagement ring brands at Raymond Lee Jewelers.
In this Gabriel and Co feature, we are going to discuss everything you need to know about the magnificent brand, which includes their history, collections, quality, warranties, prices, and more.
Without further ado, welcome to the world of Gabriel & Co.
About & History of Gabriel & Co.
Gabriel & Co. was founded in New York City in 1989 by two brothers with an entrepreneurial spirit and a passion for fine jewelry.
Those two brothers are Jack and Dominick Gabriel.
Jack and Dominick are sons of a master jeweler from Lebanon. Their father not only taught them everything there is to know about jewelry design and the industry as a whole, but he also instilled in them deeply-rooted values of sentiment beauty and charm, which has been the basis of what Gabriel & Co. is built upon.
The Gabriel brothers have always had an unrivaled desire to excel in the art of making jewelry. They truly understand the purpose of jewelry and what it represents for those who wear it. They believe jewelry is an intimate marking of memorable stages of life, a way to celebrate jubilation and the beginning of a meaningful relationship, and a manner of conveying individualism and personality.
Gabriel and Co.'s mission was, and still is, to create jewelry that's worthy of symbolizing life's most precious moments.
Nowadays, Gabriel & Co. is a world-renowned designer jewelry and engagement ring brand. Lead by Jack and Dominick, the Gabriel and Co. is made up of an impassioned and determined team who are skillfully devoted to producing the finest quality jewelry while also providing unparalleled service.
Gabriel & Co. creates some of the most exquisite pieces of jewelry and engagement rings the world has ever seen. When people thinking about special occasions of love, joy, marriage, and relationship milestones, Gabriel & Co. is one of the first jewelry companies to come to mind…and if it's not for you, it will be after seeing their fine diamond engagement rings.
Have a look at their collections of engagement rings.
Gabriel & Co. Engagement Ring Collections
Gabriel and Company offers a wide yet fastidiously-produced range of engagement ring designs.
From minimalist and refined to highly detailed and unusual, Gabriel and Co engagement rings run the gambit, with each ring standing out beautifully from the next.
In each collection, you will find various kinds of settings, such as solitaire, halo, three-stone, twisted, split shank, and more. They also have all the diamond shapes you could ask for. As for precious metals, Gabriel & Co. engagement rings come in platinum, white gold, yellow gold, rose gold, and mixed metal.
Let's briefly discuss each of the stunningly unique Gabriel & Co. engagement ring collections.
Blush
Although the Blush collection features a variety of styles in terms of settings and diamond shapes, one commonality they all share is their secret touch of "blush" – a delicate pink gold side gallery. The touch of pink gold signifies the lovely blush of the bride when she sees the ring. What's more, all of the engagement rings in the Blush collection have accent diamonds that run along the top of the band. Thus, adding more radiance and shine to ring.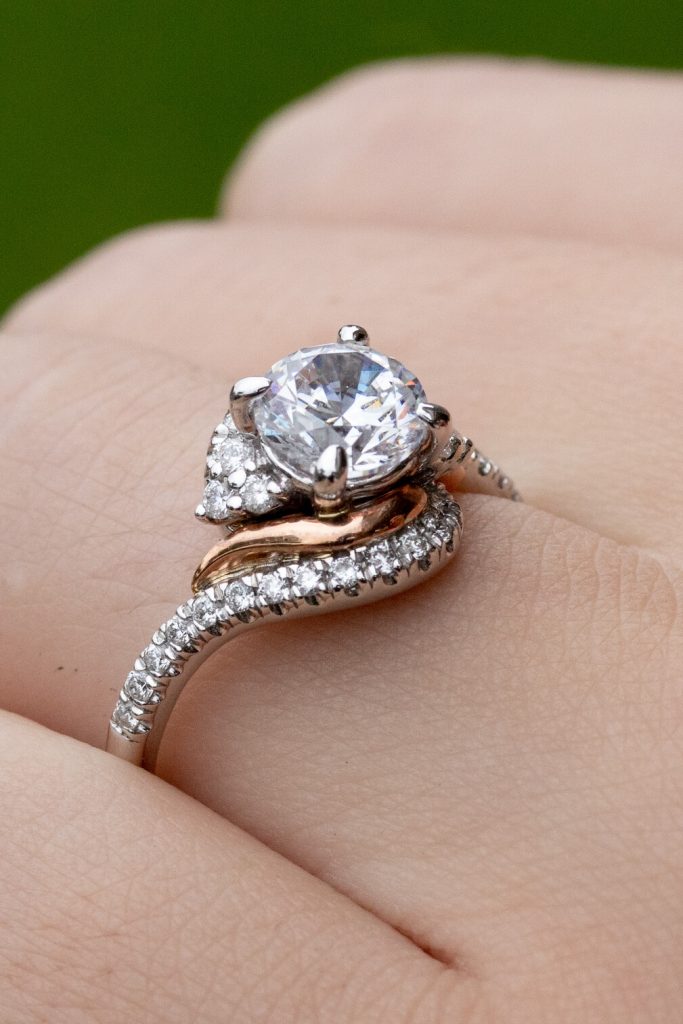 Nova
The Nova Collection has incredibly unique and contemporary engagement rings like you've never seen before. The rings use split shank, bypass, twisting, and various other settings and band designs that have no commonly accepted name (innovation at its finest), which goes to show just how distinct they are. You will find white gold and mixed metal creations using rose gold and yellow gold, each as breathtaking as the next. The Nova collection is for the woman with immense individuality and confidence, a woman who wants to stand out from the rest.
Entwined
The Entwined collection pulls inspiration from the growth patterns of the Earth's most desirable flowers, like the honeysuckle and wisteria. Each ring is meticulously designed, capturing the magic and allure of a personal love story. The signature of Entwined engagement rings is a side gallery that flaunts interwoven vines with diamond detailing that you can't help but sensually embrace.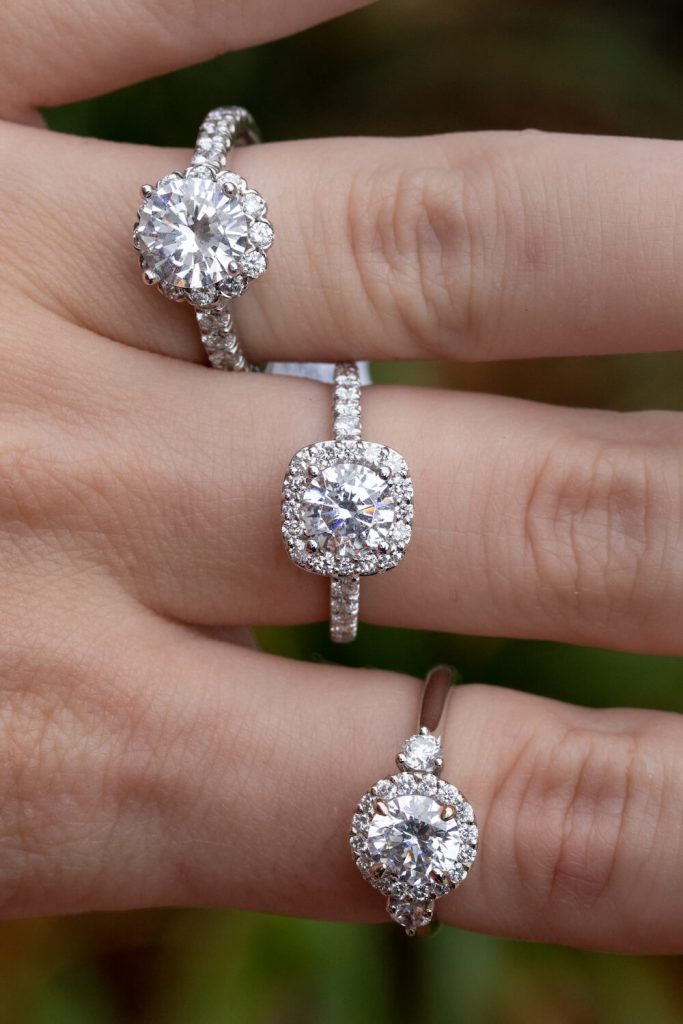 Past Collections (Still available at Raymond Lee Jewelers and Diamonds By Raymond Lee):
Rosette: A collection of engagement rings that embody natural beauty and intricate rose blossom designs.
Riata: An ultra-feminine collection of rope design engagement rings with unparalleled grace and curviness.
Empire: A collection with just the perfect combination of vintage and modern.
Crown: A regal-like collection that features engagement rings with elegant shanks surrounded by a stunning gallery of diamonds.
And that's not all…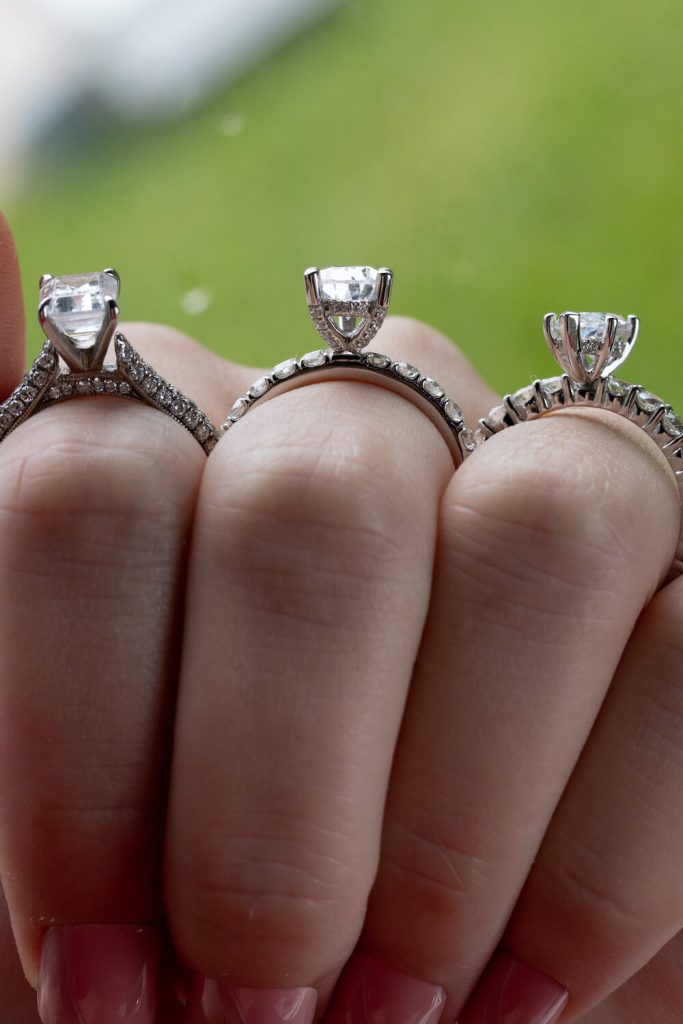 Contemporary Designs:
At Gabriel and Co you can find the most cutting edge designs in the world of fashion. Their modern creations are elegant, sleek, and highly detailed yet refined. Their contemporary engagement rings feature clean lines, sweeping curves and immensely sparkling gemstones that will drop the jaws of all those around you.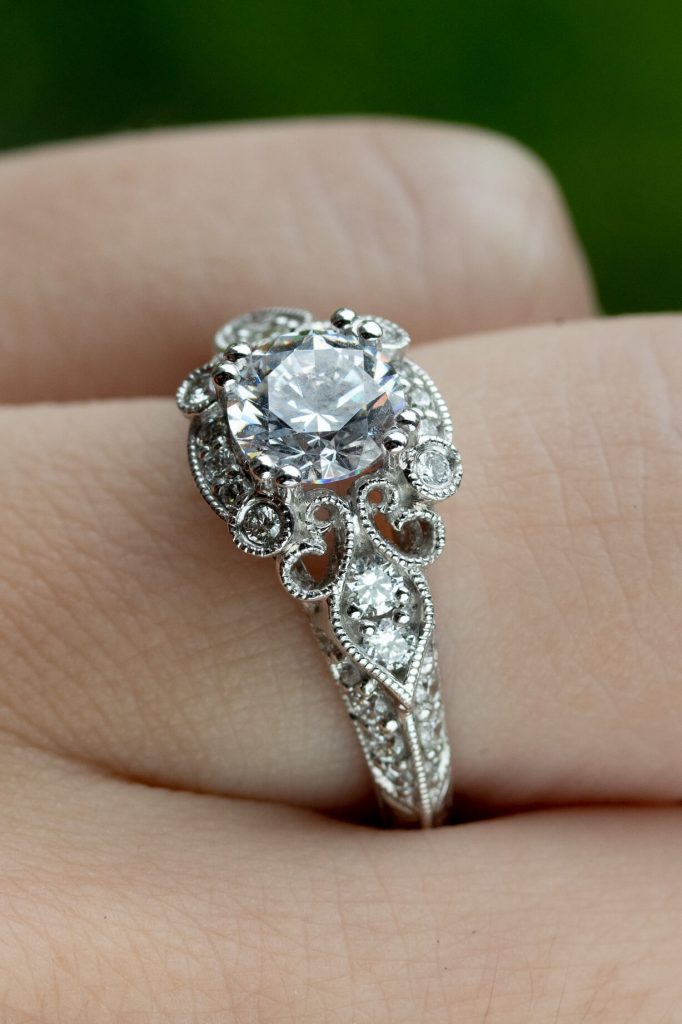 Vintage-Inspired Designs:
Of course, Gabriel and Co places focus on the perennially popular vintage-inspired look. Their vintage-inspired designs are heirloom-worthy, making for the perfect engagement ring to be passed down generation after generation. These rings are ornately and intricately handcrafted with milgrain detailing, scrollwork, and gorgeous engravings that display old-world aesthetics. Although these vintage-inspired rings by Gabriel & Co. look (and are) brand new, they feel decades old in their style. They produce a one-of-a-kind, elegant look that is unequivocally pleasing to the eyes.
All in all, shopping for a Gabriel & Co. engagement ring is simple and fun. Their handcrafted designs come in a wide range of styles, making it easy to create the perfect look for you. Whether you are a bride-to-be that prefers a modern, classic look or you want something more unique and vintage, Gabriel and Co will have the flawless engagement ring for you to obsess over. One that will cuddle your ring finger for a lifetime.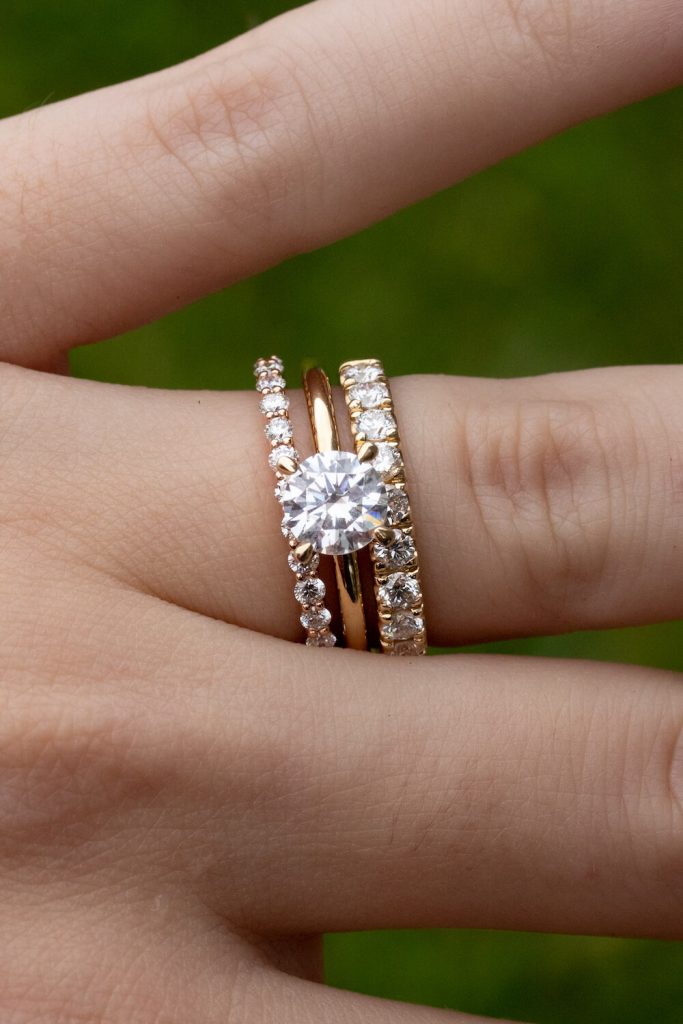 Gabriel and Co has a wonderful collection of wedding rings for both men and women. Moreover, they have stunning anniversary bands, stackable rings, curved bands, ring jackets, and eternity rings. Each ring is handcrafted with different designs, allowing you to have a unique style that is perfectly you.
Gabriel and Co Jewelry
Gabriel and co is also known for their gorgeous fine quality jewelry. They have necklaces, bracelets and earrings that display their commitment to beauty, fashion and sensuality. Their jewelry collections include Art Moderne, Bujukan, Contemporary, Hampton, Kaslique, Lusso, Souviens, and Victorian.
Although Gabriel & Co. is best known for engagement rings, their jewelry lines are extremely popular. Up there with some of the designer greats like Cartier and Tiffany.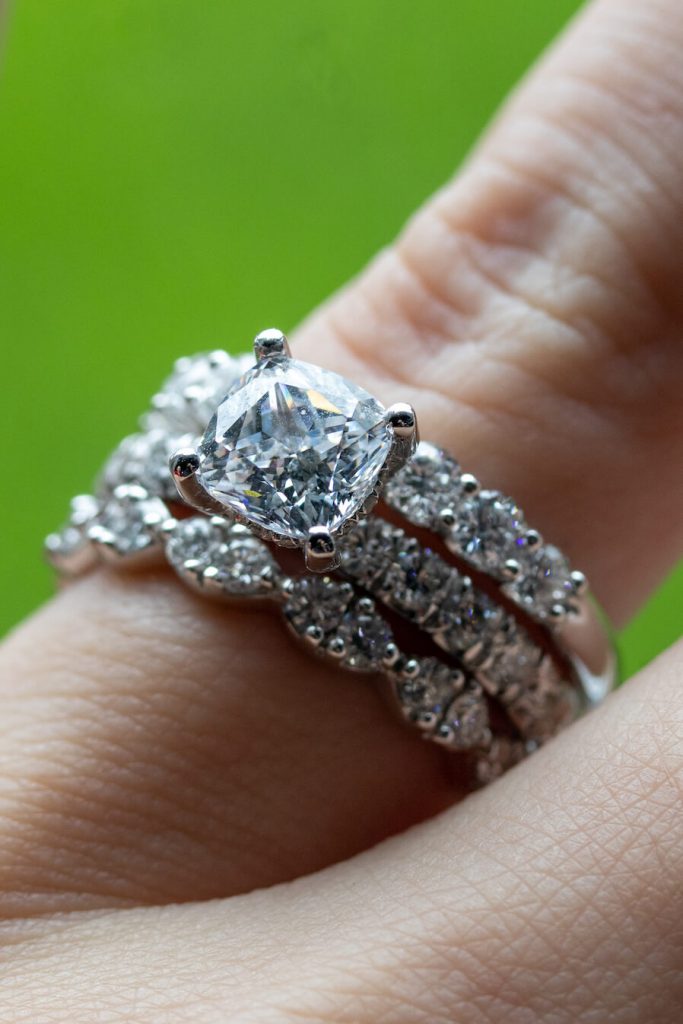 Gabriel and Co Quality
Are Gabriel and Company rings and jewelry good quality?
Gabriel & Co. produces all of their rings and jewelry in-house at their own manufacturing facility. This ensures every piece is of superior quality. All of their rings and jewelry are individually handcrafted with meticulous attention to detail and the styles are created by expert artisan jewelry designers. Their team has over 150 years of fine jewelry experience, collectively.
Furthermore, Gabriel and Co only uses the highest grade of metals and GIA certified diamonds and sapphires. Their quality control standards are uncompromising. Their expert jewelers and gemologists inspect every single ring, piece of jewelry, and gemstone before sending it to independent jewelry stores like Raymond Lee Jewelers in Boca Raton.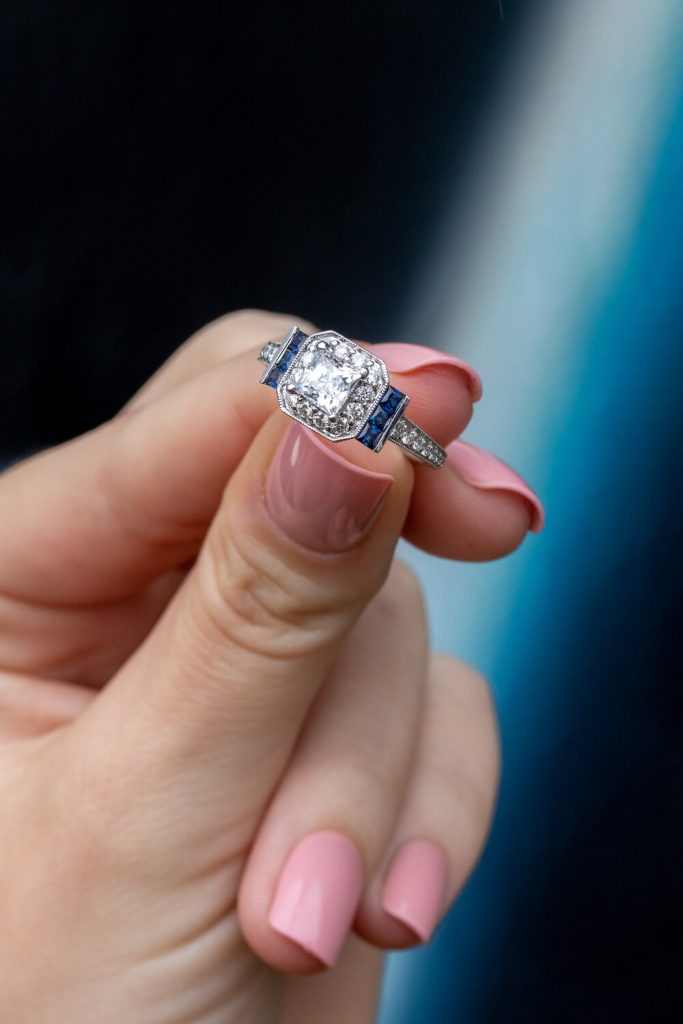 Gabriel and Company Identification number
Gabriel & Co. has a special inventory tracking system for all of their jewelry and rings. Each piece includes a unique laser inscribed serial number. The serial number is trackable as soon as you register it online with your proof of purchase. You can trace it through a 26-step process allowing you to identify the designer, source of the diamonds or gemstones (as well as the metals), QC, shipment information, seller, customer, and more. Because of this unique tracking system, Gabriel & Co. is able to provide one of the best warranty policies in the entire industry.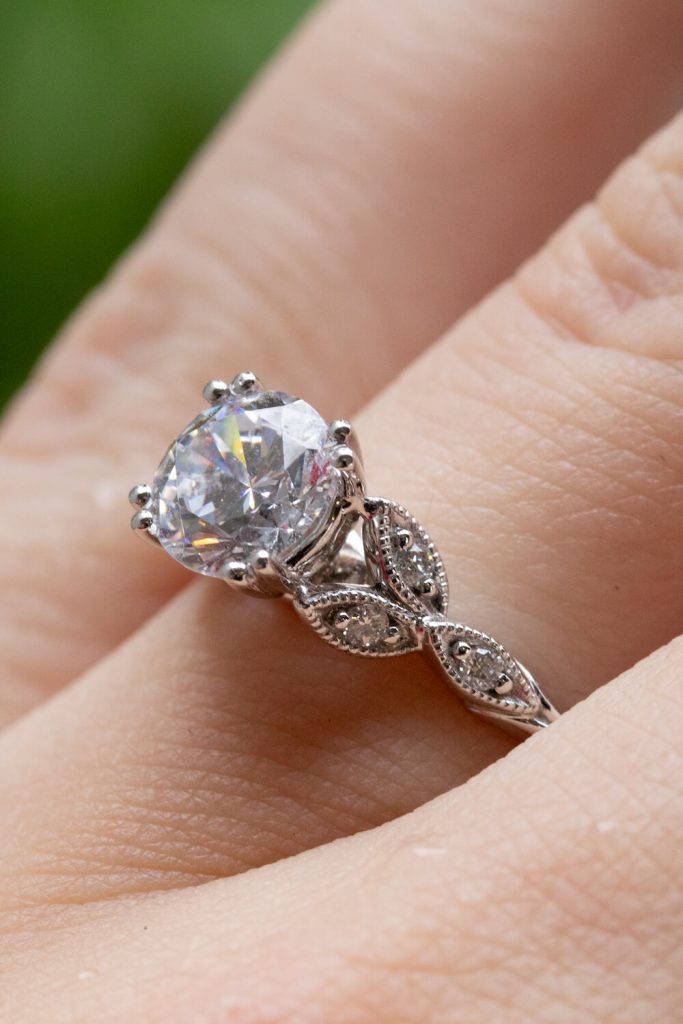 Warranty & Repairs
When you buy a Gabriel and Company ring or piece of jewelry, you will automatically enrolled into a warranty program. This appies to in store (at Raymond Lee Jewelers) and online purchases.
The warranty program includes:
Free Lifetime Warranty for Manufacturing Defects
One Year Warranty for Normal Wear & Tear.
Complimentary inspection and cleaning every six months at our retail partner stores.
What's more, Raymond Lee Jewelers goes above and beyond, offering more warranty benefits as well.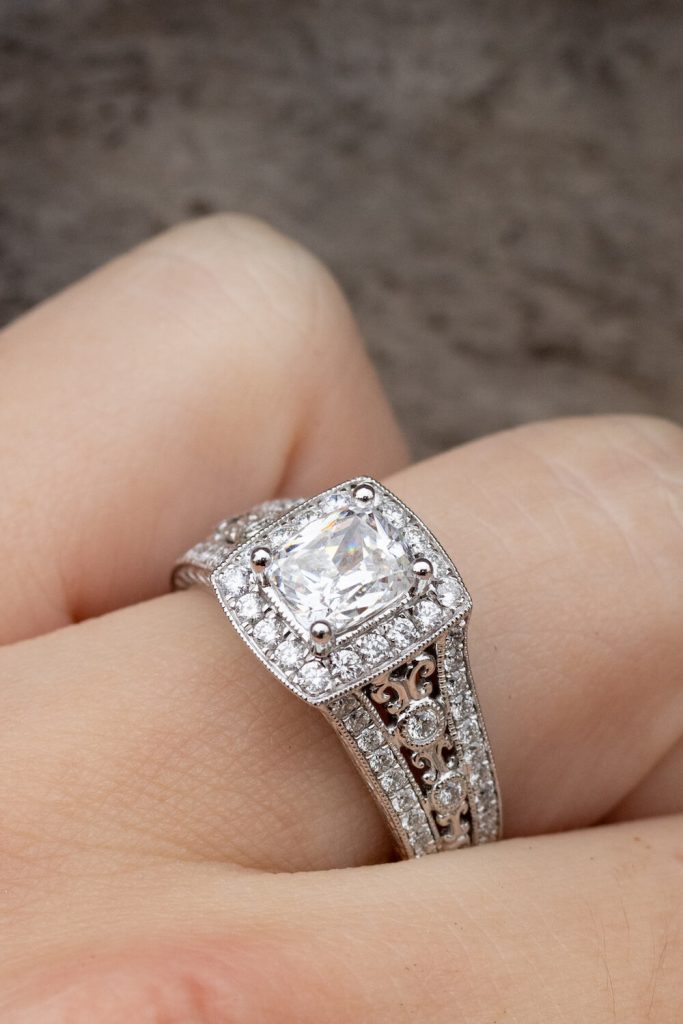 One of the best thing about Gabriel and Co is that they provide incredibly beautiful pieces at an economical price. You can find gorgeous fine jewelry and enchanting engagement rings at a far more affordable price than most other designer brands. Their rings and jewelry range from $100 all the way up to $60,000. And of course, these are all made from precious metals. This means anyone can enter into the Gabriel & Co. club. There is literally something for everyone, both in terms of price and style.
How much do Gabriel and Co Engagement Rings Cost?
Gabriel and Company engagement ring settings range from $500 up to $15,000.
Note: The above price range is for semi-mounted engagement rings, so it does not include the centerstone. It does include the bands and accent diamonds.
At Raymond Lee Jewelers, we have a wide range of diamonds to meet anyone's budget and we will set it in your Gabriel & Co engagement ring at no charge. We also have fully mounted Gabriel & Co. engagement rings for sale so you can come in and choose a ring with the center stone included.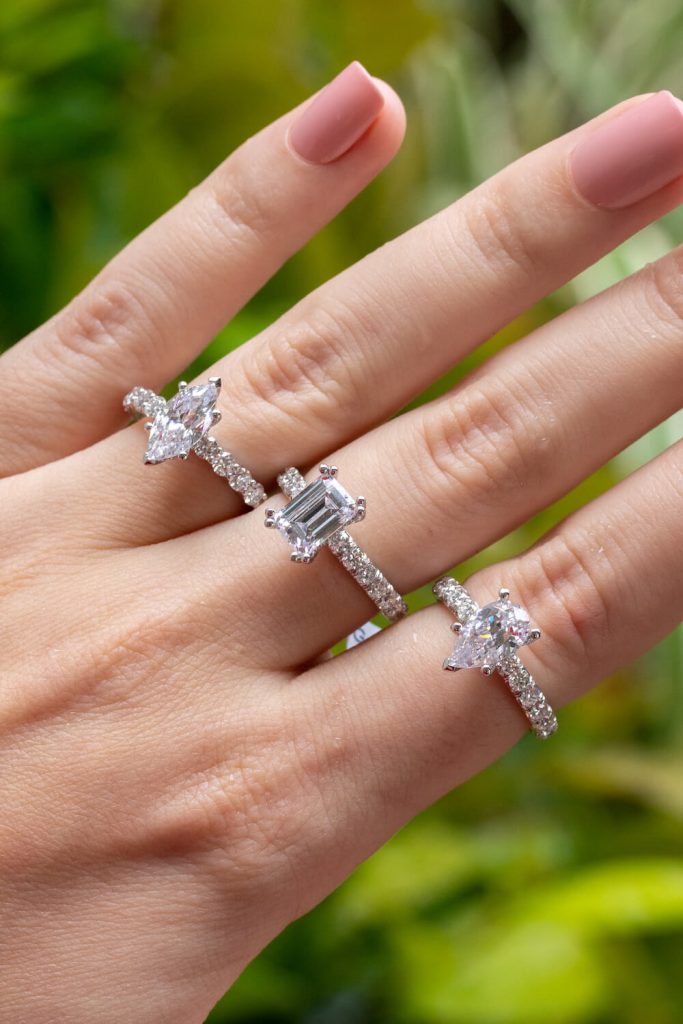 If you are wondering where to buy Gabriel and Co Engagement Rings and Jewelry in Boca Raton or Online, Raymond Lee Jewelers is the only name you need to know. So look no further.
Raymond Lee Jewelers has been selling fine diamond engagement rings and jewelry for close to four decades. We have established an unparalleled reputation here in South Florida. We offer the most competitive prices for Gabriel and co engagement rings. Since shortly after their founding, we've had a strong relationship with Gabriel and Company and we have carefully curated the best and most popular pieces from the wide array of engagement rings and jewelry they offer.
At Raymond Lee Jewelers, we take great pride in providing a magical experience for every woman and man who walks through our showroom doors or orders with us online. Our goal is to help you find the perfect piece to make your (and your significant other's) dream come true.
Raymond Lee Jewelers strongly believes that a once in a lifetime relationship deserves an engagement ring that radiates like the love between you and your significant other. Gabriel and Co offers the perfect selection of engagement rings to make that moment of proposal last forever. A moment that you can revisit every time you raise your hand.
Shop Gabriel & Co. Engagement Rings