A Florida wedding is one that is sure to tout tropical tones. The elegance of South Florida is found all along its coast and it is part of why so many couples choose So Flo as the place to tie the knot! There are venues galore in each and every little town and big bustling city here on the sunny coast. As well as gorgeous settings for every soon to be married couples' taste. From the beach ceremonies to the beach front hotels and absolutely stunning resorts there is a place for everyone here in the sun.
Without a doubt there are two thing that are constant when it comes to weddings here. First happiness, of course, and second is sunshine. Even if you have been privy to our tropical storms and rainy days you know that sky opens up within a few hours and we are back to schedule.
Now there are a few things you need to know when it comes to a Florida wedding. First off Florida is actually a pretty big state. And we have got wedding venues everywhere. Seriously, the most marvelous venues you can think of, everywhere. From the beach all the way inland there are manors, modern estates, and quaint lighthouses dotting our state. So you have got to choose which spot in South Florida you want.
Then although we do not per se have all the seasons we can all agree we at least have two discernable ones. And trust us one is far better for planning a wedding. Finally once you have the spot, the venue and the date (and your match we assume!) it is time to think of the details. One of our favorite details is a bride's jewelry. That's why we rounded up a few Florida reminiscent pieces.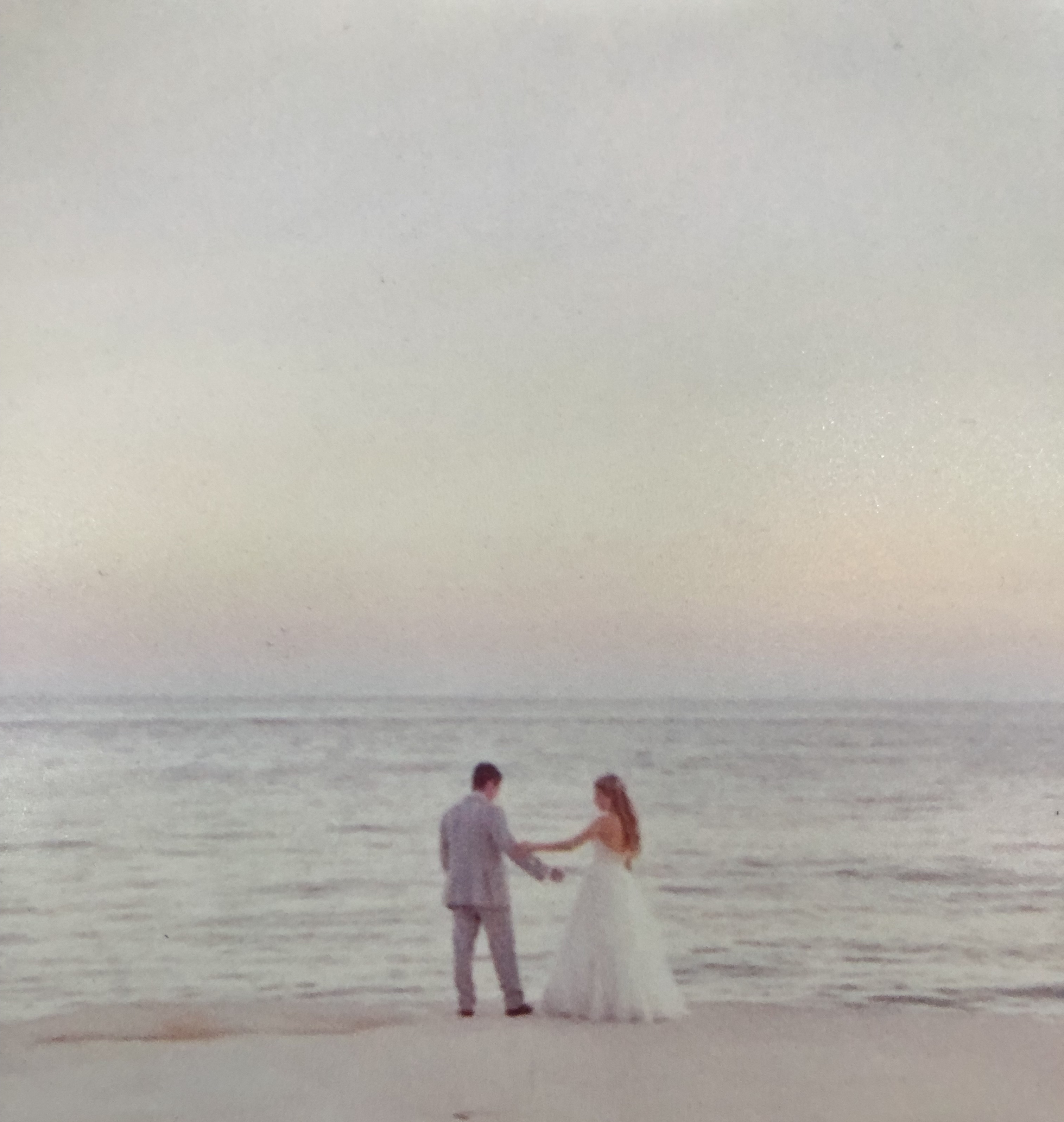 Where to have a wedding in South Florida?
So first things first if you have your heart set on a South Florida wedding you need to be more specific. We have got a whole lot of coast and there are ideal idyllic places to get married at each and every single one of them.
Let us say you want to choose a place that family, friends and wedding guests can all fly into quite easily without having to drive a long way away. And let us say some of those dearly beloveds are coming from overseas. You are going to want to plan for a city with an international airport. And luckily we actually have a couple international airports in the area so your choice is not overly limited. You can have your wedding in Orlando for example. Or if that is a bit too high up for your South Florida ideal there are tons of great venues in Fort Lauderdale. Both of those are great options with accessible international airports.
On the other hand if you are keeping it local you can host your dear ones at a beautiful wedding venue in Boca Raton. Our own home and close to our hearts we may have an extra soft spot for Boca. However, the venue options here really are extraordinary and if anyone you have invited is coming from out of state not to worry. There is also an easily accessible airport from right there in town.
So here we go on a small tour of the South Florida wedding venue scene. Before we forget though the time of year you decide on is also crucial. As everyone probably knows the summer might not be the best time. Due to the unreliable weather, storm potential, humidity and heat. It's probably best to avoid end of June to August.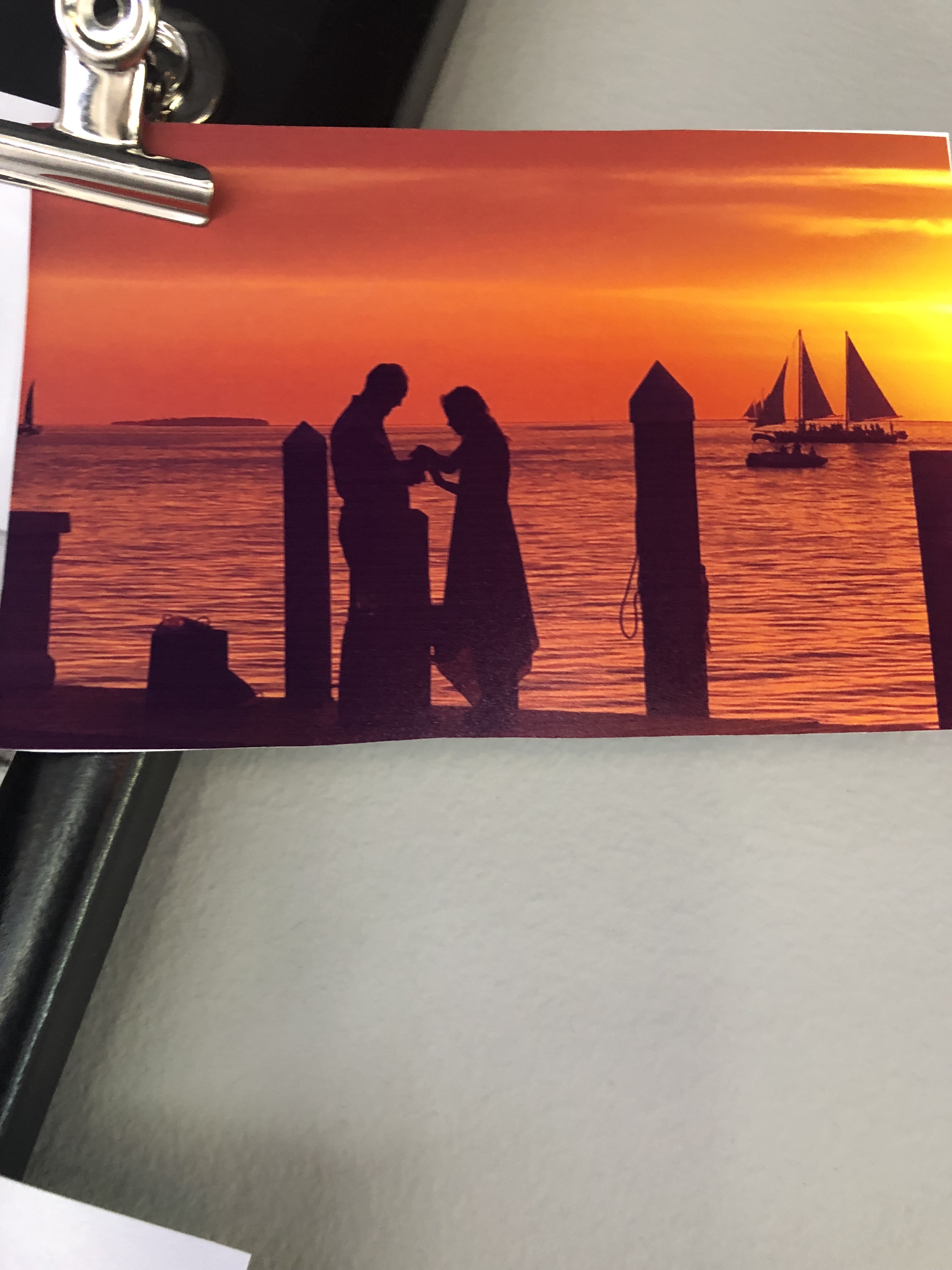 Timing is crucial: specially when there are few seasons
Before we get to all of the fun of locations and venues it would be dire if we forgot to go over the weather. Florida has some beautiful sunshine as we have covered. However it also has some truly awesome thunderstorms. Although I think we can all agree they are not that awesome when it is someone's wedding day. Therefore let us do a bit of due diligence first and set out the best months to have a wedding in South Florida.
First off it is not July. We repeat the Florida summer can sometimes feel as if you are on the surface of the sun. Which if you are swimming and breezing by it is delightful. However if you are trying to have a wedding not so much. Therefore the best months to get married in South Florida are March through May and then November through to December. Although these are not set in stone.
We have all seen the weather announcer get it wrong and can you blame them? As the saying goes the weather is unpredictable! But if you are flexible those are the most advised months to get married in South Florida.
However, if you plan it right even in July a South Florida wedding can be incredible. Think end of day with the sun setting and that wide open sky a mirage of colors. Or mother nature showing off as reflections shine across from your waterfront venue. Without a doubt there is a place and a time for everything.
Final thought on the best time of year to get married in South Florida: winter can actually get chilly! So if you're dreaming of an outdoor wedding with light fabrics and open air entertainment do remember the cold fronts that come through it can get cold.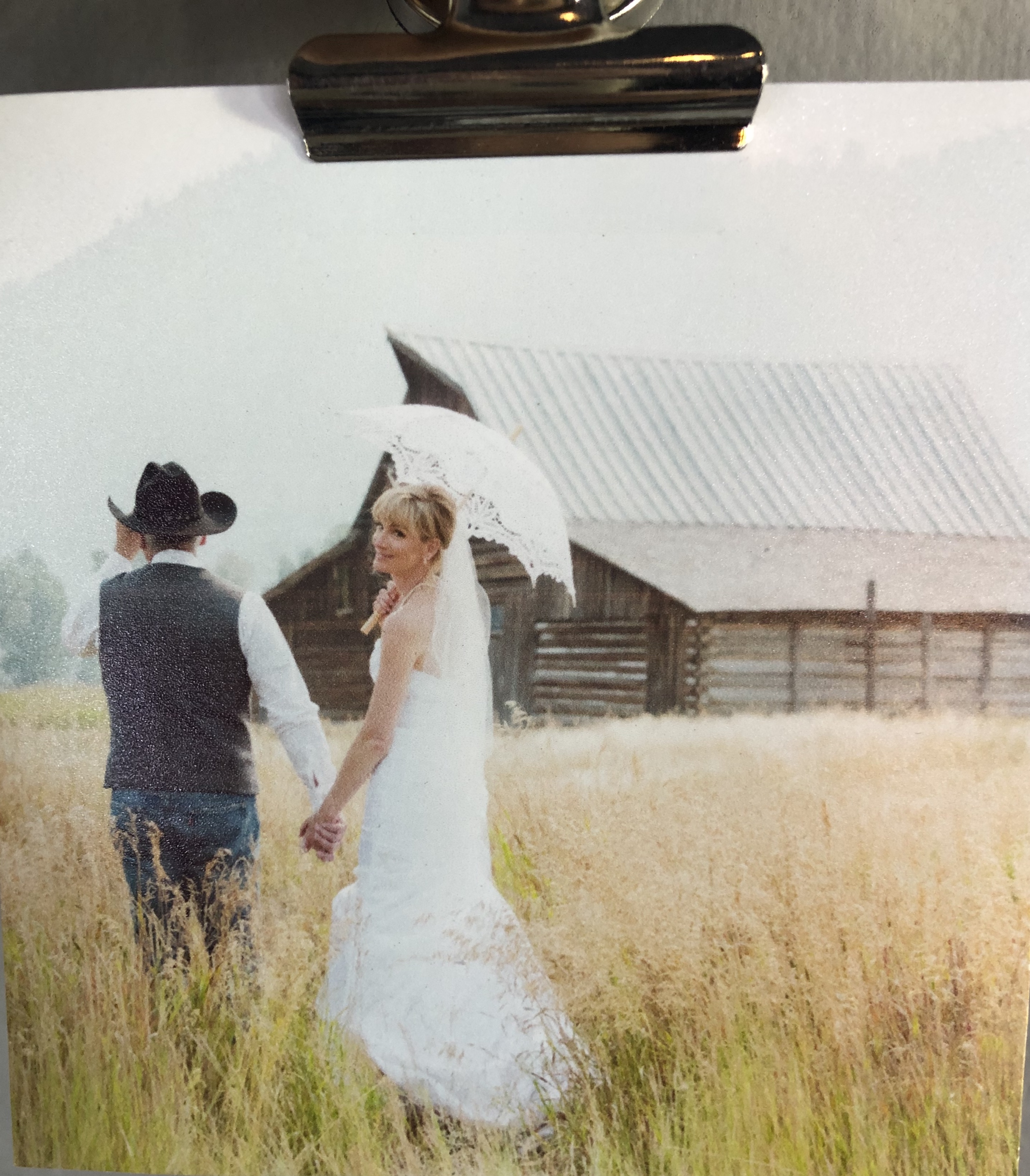 Orlando
Okay Orlando let us get back to Florida wedding planning. In Orlando there are plenty of venues and they are all international airport accessible. Now an obvious note, an Orlando wedding will not feature the ocean, however, it can absolutely still be a waterfront venue.
Cypress Grove Estate House
There are stunning places like the Cypress Grove Estate House. Although inland this incredible venue in Orlando offers a series of diverse settings for your ceremony and celebration. From a beach, and waterfront to garden and park there are plenty of outdoor options to choose from. As well as the historic venue that has the capacity for up to 200 guests. This venue has trees and groves for photos as well as food & catering and bar & drinks.  You have everything you need at this estate for your absolutely perfect day.
To remind you forever of these flowering fields we recommend these white gold nature inspired diamond earrings. The delicate diamond flowers hold a dangling diamond pear shaped feature. These will bring back memories of your moments in the Cypress Grove Estate House gardens for sure.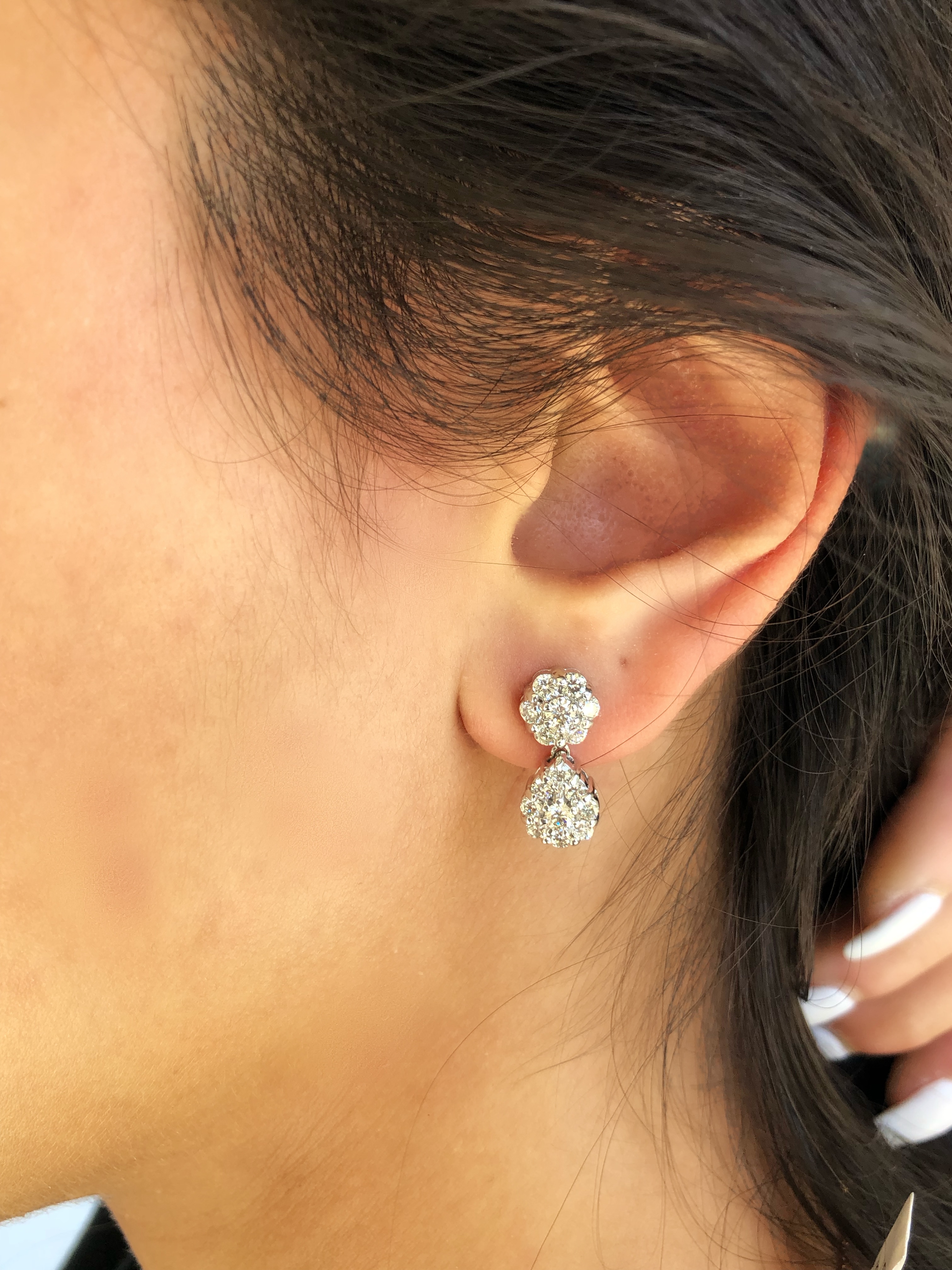 The Waldorf Astoria
On the other hand for a different kind of wedding, there is the renowned Waldorf Astoria in Orlando. This venue has ballrooms, a restaurant and country club beyond the hotel. They of course offer all of the venue services as well as on site accomodations. For the luxurious wedding of your dreams this venue has capacity for over 300 guests. With indoor and outdoor event spaces as well as covered outdoor spaces the Waldorf Astoria is a guaranteed gorgeous Orlando venue.
For a statement wedding at a place like the Waldorf Astoria we recommend a statement necklace. One with the color and fun that this venue has as well as the vibe of this city. Take for example this tanzanite and diamond necklace. It is 14 carat rose gold with 32.5 carats of tanzanite and 0.78 carats of diamonds. This dangling darling is perfect for a low cut gown or mermaid style wedding dress.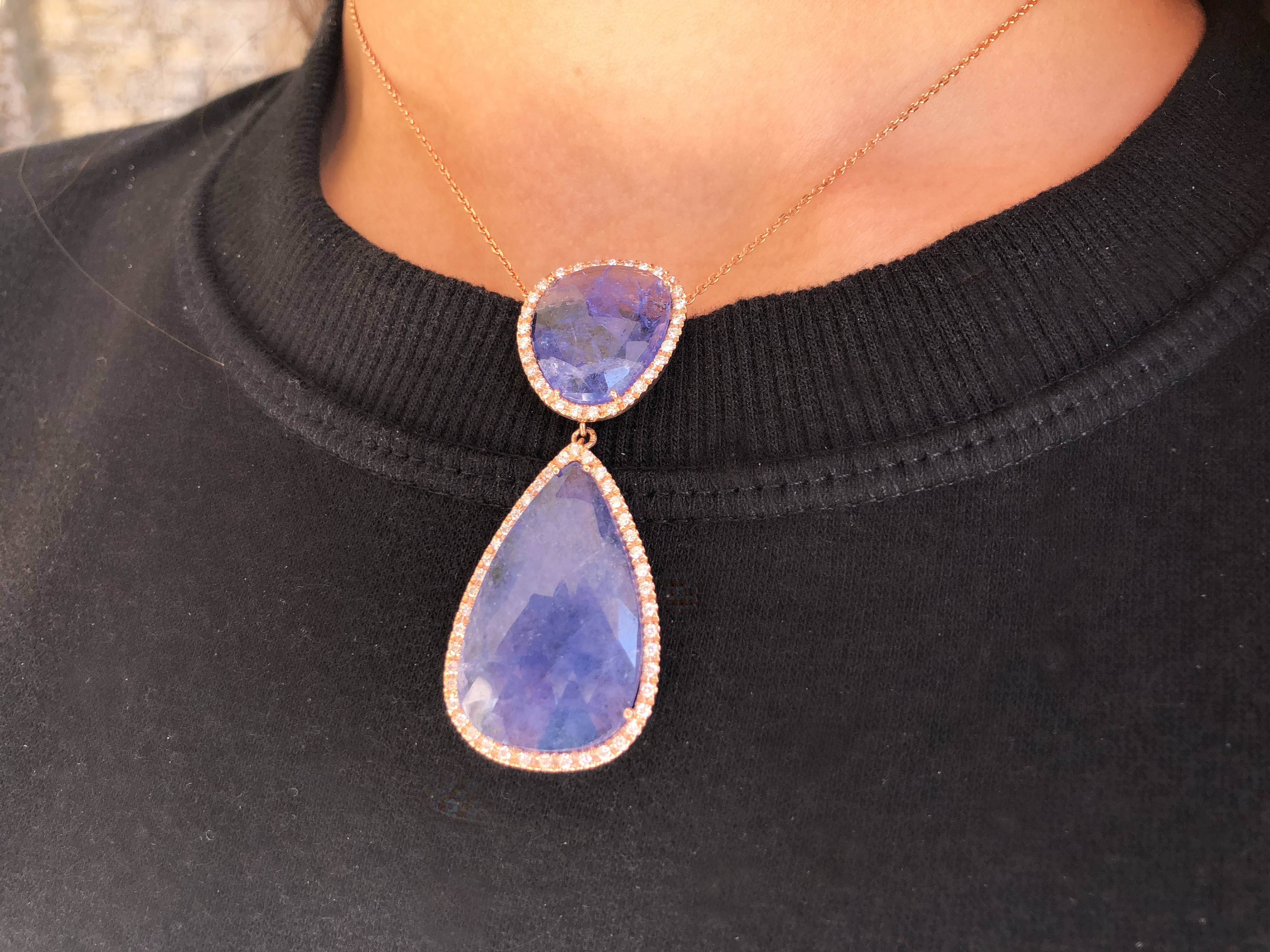 14k Rose Gold 32.5ctw Tanzanite And 0.78ctw Diamond Necklace
Fort Lauderdale
Another great option if you are looking for a city to get married in South Florida that boasts an international airport it would be Fort Lauderdale. Further down the coast and tentatively close to the beach this city has so many venues to offer.
Now the best venue in Fort Lauderdale for your wedding has to be the Marriott Harbor Beach Resort and Spa. With an enormous capacity they can host upwards of 300 guests and feature on site accommodations for after the celebrations.
The picturesque and private setting offers a few different areas within the hotel including the beach, waterfront or of course the hotel ballroom. Speaking of the ballroom they have a brand new 10,000 square foot Ocean ballroom. For a day or sun set wedding this ballroom can shine in the sun.
That is why for this venue we recommend a little drop of sunshine in your jewelry. Like the 18 carat white gold and 4.3 carats pear shaped fancy yellow diamond drop earrings. These feature threee large cushion cut diamonds with accent diamond halo features leading down to the star. Like the golden yellow of the sun the yellow fancy diamonds at the end of these earrings truly shine and also feature an accent diamond halo feature. 

The Addison
Finally our very own Boca Raton. The place that to be quite honest with all of you we would prefer you all got married at! That way we could have our favorite brides and grooms close by. For diamond emergencies or not we at Diamonds by Raymond Lee really do get heavily invested in your wedding journeys. Bringing both your lives together may not be our line of work. But oh do we enjoy helping you find the perfect rings and jewelry to seal the deal.
Beyond that first moment we also provide a series of services (and are always adding to our extensive curated collection) so that we will hopefully see you again. As you need to maintain and service your jewelry or perhaps your fine watches our Diamonds by Raymond Lee family is here. Further, it does not stop there. We also offer bespoke services like addition of jewels, diamond and gemstone sale and unique jewelry crafting. Whatever you may want or need we are here. Always striving to offer superior service and impeccable quality.
Now the venues in Boca Raton are plenty but we thought we would show case the venue. It is a five star diamond award winning event venue and it is a historical landmark of our city. It is the Addison. Built by Addison Mizner, the famed architect, in 1926 the Addison served as an example of his vision for Boca Raton. This 1920s estate is now the premiere Boca Raton wedding venue. It has all the grandeur and glamour of the 20s with old world charm and elegance. As well as banyan trees that are over 100 years old.
It is the perfect setting with room for more than 300 guests. You can host them in the historic venue, garden, backyard or ballroom.
Rings to remember the Addison wedding of your dreams
A wedding at the Addison is for sure an incredible venue in Boca Raton. Now to remember your big day in the 1920s glamorous estate we suggest nothing more than diamonds. Oh and some rubies as well if you want to capture the color and passion of the moment.
Both Gabriel & Co. wedding bands these rings are unique, just like the Addison, and have that modern yet by gone era feel. The patterns and shapes in these bands makes them singular, and unlike your traditional wedding bands. They can also be stacked up with other rings not just your engagement ring.
First we recommend the Gabriel & Co. 14 carat rose gold and 18 carat diamond band. It has a unique pattern setting for each one of the diamonds and a beautiful milgrain detailing. Further it is available in 14 carat yellow or white gold as well.

Gabriel & Co. LR4748K45JJ 14k Rose Gold 0.18ctw Diamond Band
On the other hand to truly take a piece of the 20s with you from the gorgeous Addison venue a band with rubies is a dream. Another Gabriel & Co. diamond wedding band this one has a unique geometric feature design. The 14 carat white gold ring has approximately 0.4 carats of rubies in an Emerald cut and 0.37 carats of brilliant white round cut accent diamonds.

Gabriel & Co. LR4572W44RA 14k White Gold Ruby & .37ctw Diamond Band