Another Diamonds and Donuts South Florida Car Show in the books and it was a huge success. Diamonds and Donuts Boca Raton is starting to be recognized as the best Boca car show AND even one of the best Palm Beach and South Florida Car Shows.
We got a massive crowd this past Sunday for our Diamonds and Donuts Boca Raton charity car show event, which supported the Broward County Boys and Girls Club. It's great to know that people love Diamonds, Donuts, Cars and Coffee as much as we do.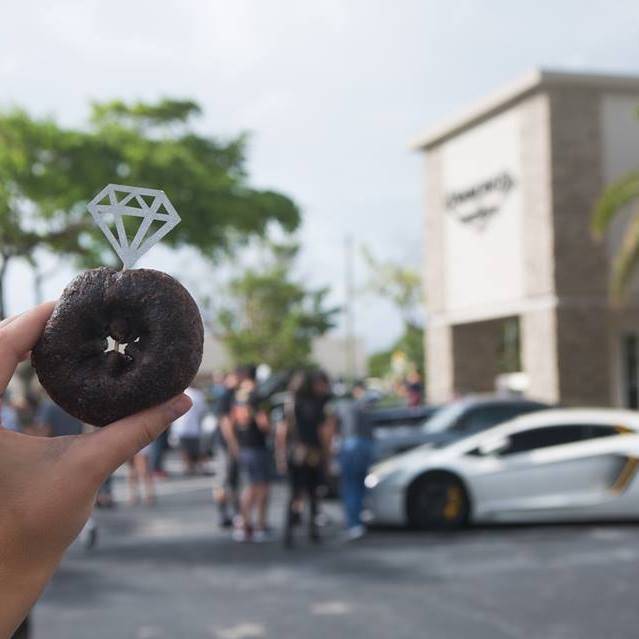 We had some incredible cars show up. Everything from classics, exotics, supercars, sports cars, luxury cars, and muscle cars were there. It was like every elite South Floridian with a top-of-the-line car made an appearance. We feel extremely blessed for all of the support and for the fact that our South Florida car show is such a hit.
There were so many incredible cars at Diamonds and Donuts, such as the McLaren 650S and 570S Spider, a Corvette ZR1, the new Lambo Urus, and a brand new Ford GT, a pack of Lamborghinis, and a whole gang of Dodges and Chevys too…just to name a few. Below we will show you pictures of some of the cars that were there, with a few special features that we wanted to write about. We always choose a number of cars to write about in our Diamonds and Donuts monthly car show recap. So, if you don't see yours, just let us know at the next one and we will be sure to feature your car. If not, you might just see yours featured next time anyway.
It's time to rev up our engines and take a victory lap…
Diamonds and Donuts Boca Raton Car Show Victory Lap Recap
McLaren 650s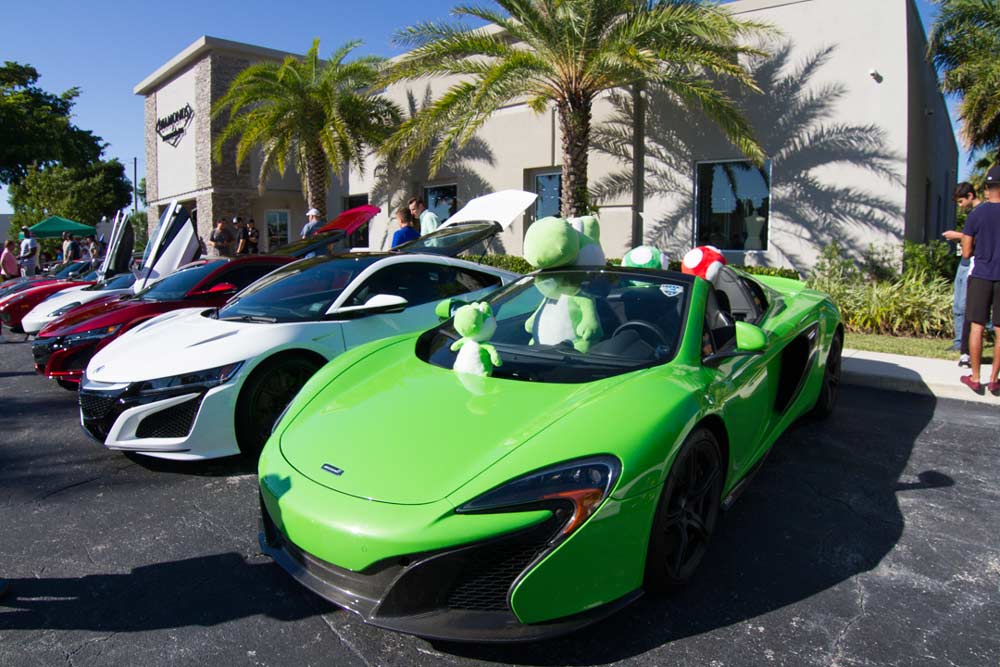 The heart of the car contains a 650-PS (641-hp), hence its name. Furthermore, it has a 3.8-liter twin-turbo V-8 coupled with a seven-speed dual-clutch automatic. The 650S has a top speed of 207 mph. Furthermore, it has an impressive acceleration of 0–62mph in 3.0 seconds (0-60 in 2.9 seconds) and a whopping 0–124 mph in 8.4 seconds.
Dan's green McLaren 650s is exuberant, full of character and a whole lot of fun to drive. It's surely one of the greats. We were honored to have him and his car at Diamonds and Donuts. You'll likely spot his green 650s at a few other South Florida Car Shows, such as the Concours d'Elegance, as he is active in the South Florida car community.
Corvette ZR1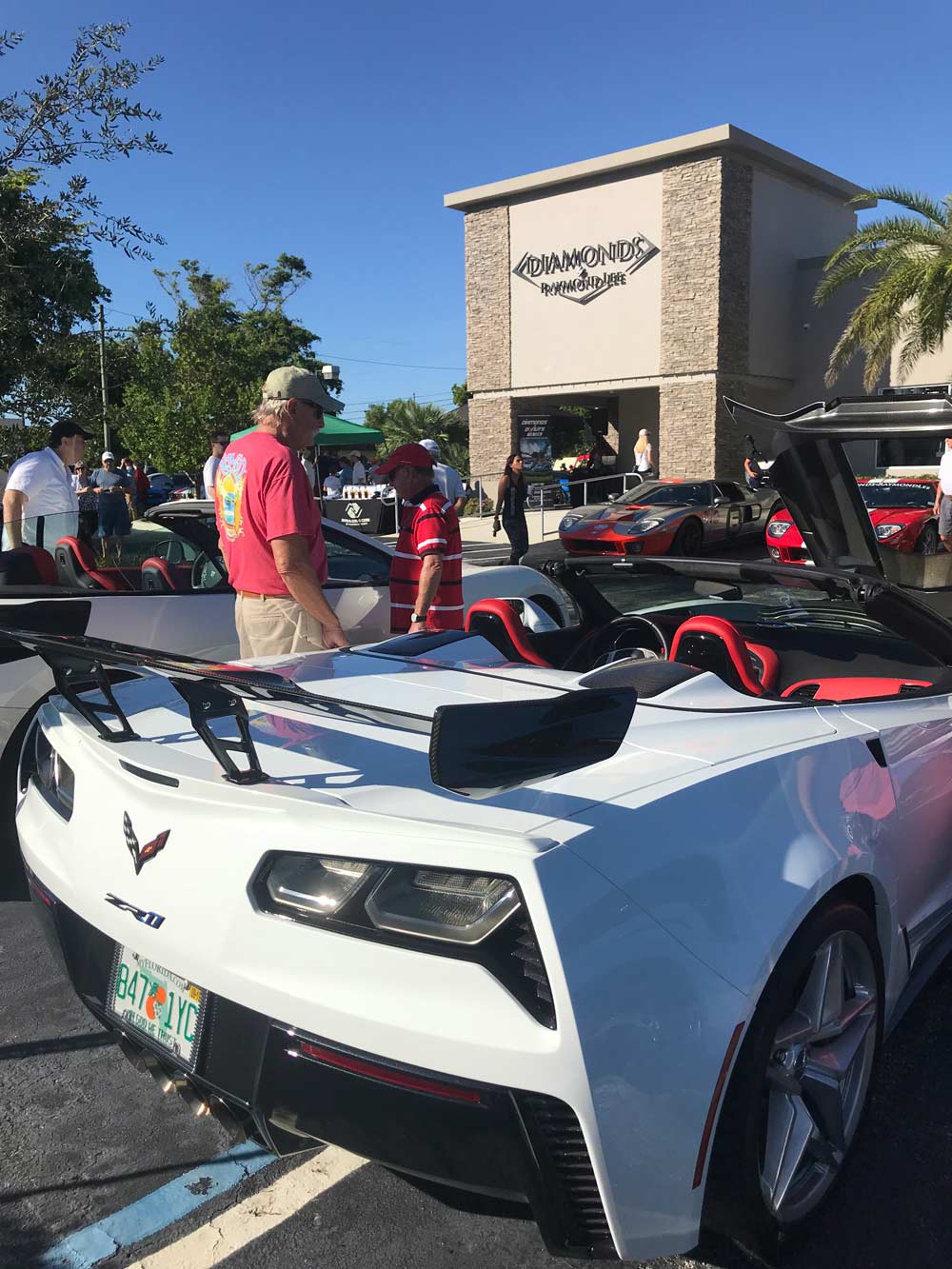 We had one of Chevy's latest Corvette come out in attendance with us, the Corvette ZR1. Top speed goes 212 mph, 0-60 in 2.85 seconds, factory equipped with a 6.2L v8 supercharged, 755HP stock!
This is the fastest and most powerful car ever built by the finest American car company – General Motors. The ZR1 is the epitome of Corvetteness. It's got power, pace and a hell of a lot of capability. Furthermore, it's not all about speed, this Vette is super pleasing for slo-mo cruising.
The base price on this bad boy is 122,000 bones, and if speed kills, I don't want to live anymore. Driving off in a Corvette ZR1 into the sunset is pure heaven.
White Ford GT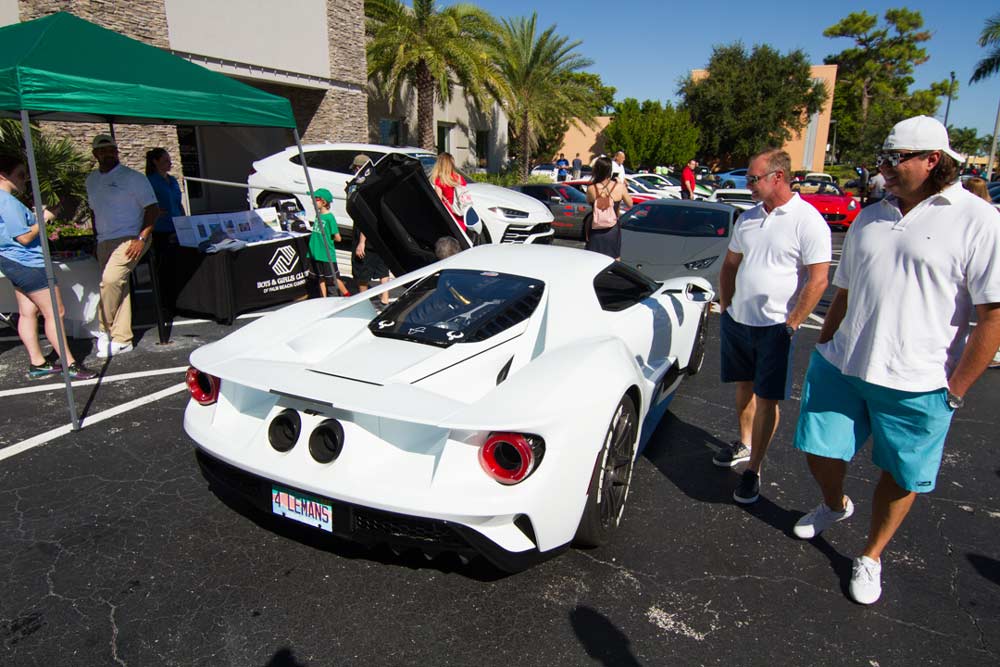 One of our biggest supporters Brian (stormy_56) brought out his white Ford GT again. Rain or shine nothing ever stops this guy from bringing out this supercar. Luckily, the sun was shining brightly on this Diamonds and Donuts South Florida car show.
The NEW Ford GT Twin Turbo V6 has a heavy price tag of $450,000. The twin-turbo 3.5-liter V-6 has a seven-speed dual-clutch automatic that runs this supercar at 647 hp. It's made with a carbon-fiber construction and an adjustable suspension. Plus, the active-aerodynamics elements allow the new Ford GT's to perform extraordinarily well. There are only 1000 of these made, so it was a real blessing to have Brian and his "Twin" at our South Florida car show again.
McLaren 650s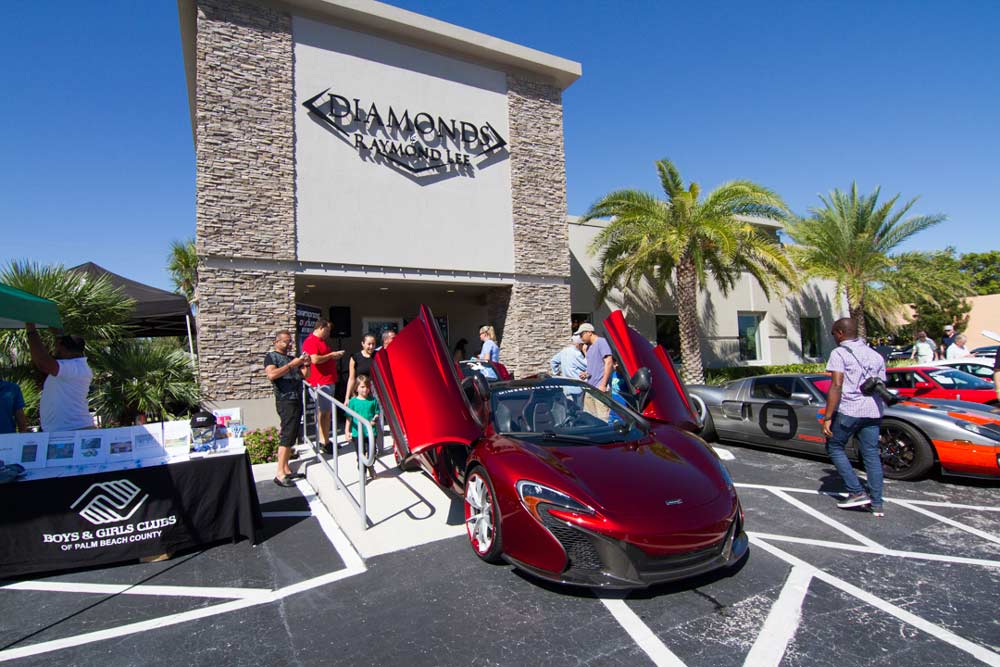 Betty (@boop14) brought out her McLaren 650s (aftermarket wrap and spoiler) as well as her brand new Lamborghini Urus!
Let's run through this Country Singer's McLaren 650s specs first.
The McLaren 650s is impressive on and off the track. Its superb power spoils the driver with speed. You need no fear when accelerating because the juice from this 3.8 liter provides massive boost pressure. The response is immediate with a heavy surge of torque in the upper midrange. Take this on the highway if you want to rock your world.
The base price is 460k USD, not to mention the aftermarket wrap and new spoiler she fitted her supercar with.
Lamborghini Urus!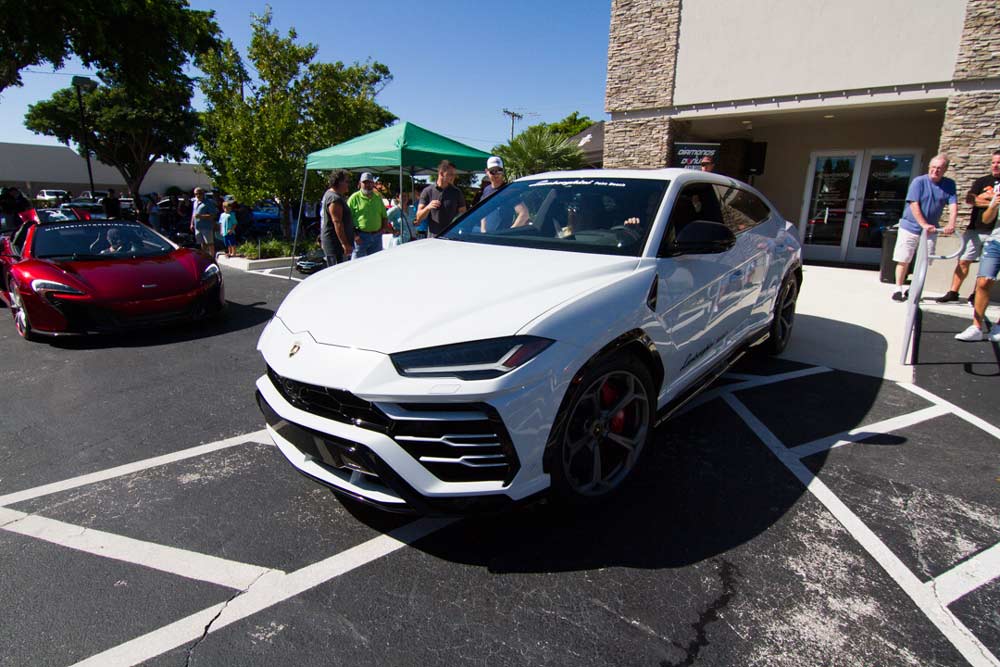 Now for the brand spanking new Lamborghini Urus.
If the best super sports car and the best SUV had a baby, it would have a URUS. It has the soul of a sports car and the functionality of an SUV.
The Lamborghini Urus is our planet's first "Super Sports Utility Vehicle". It is extremely unique with its intense proportions, undoubtedly Lambo design, and impeccable performance.
The Urus merges a V8 bi-turbo engine with max power output of 650hp. This makes for the best weight-to-power proportion in the SUV market. It also means the Urus is unparalleled in performance levels. Its 8-gear automatic transmission, along with its 4-wheel drive setup (AND active tongue vectoring), permits the driver to drive exceptionally well, like a pro, at all times.
The Lambo Urus starts at $200,000…Did we mention it's almost as fast as a Huracan Performante? It reaches a top speed of 190 MPH. What other SUV do you know that can manage that? None, that's right, because this is the fastest SUV in the world!
2018 Mustang GT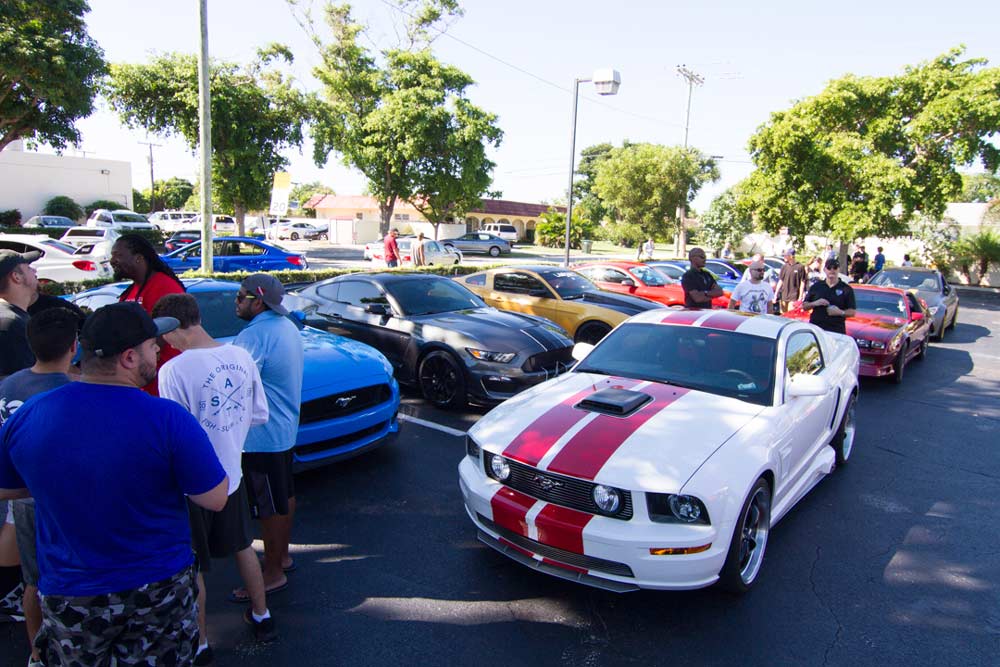 Another classic American beast made an appearance thanks to @snow550. The 2018 Mustang GT has a new 7400 rpm V8 engine with serious capability. We are absolutely gaga for V8s and this one is no exception. We love that the GT's conventional cross-plane V8 revs 400 rpm more than its previous model.
That's not all that rose in the 2018 model. Torque, cornering grip, and compression ratio did as well.
The Ford Mustang GT hits zero to sixty in 4.3 seconds. Ford's pony car starts at $25,000, however, they offer a myriad of performance packages that boosts not only the car up, but the price too.
Tri-County Mopars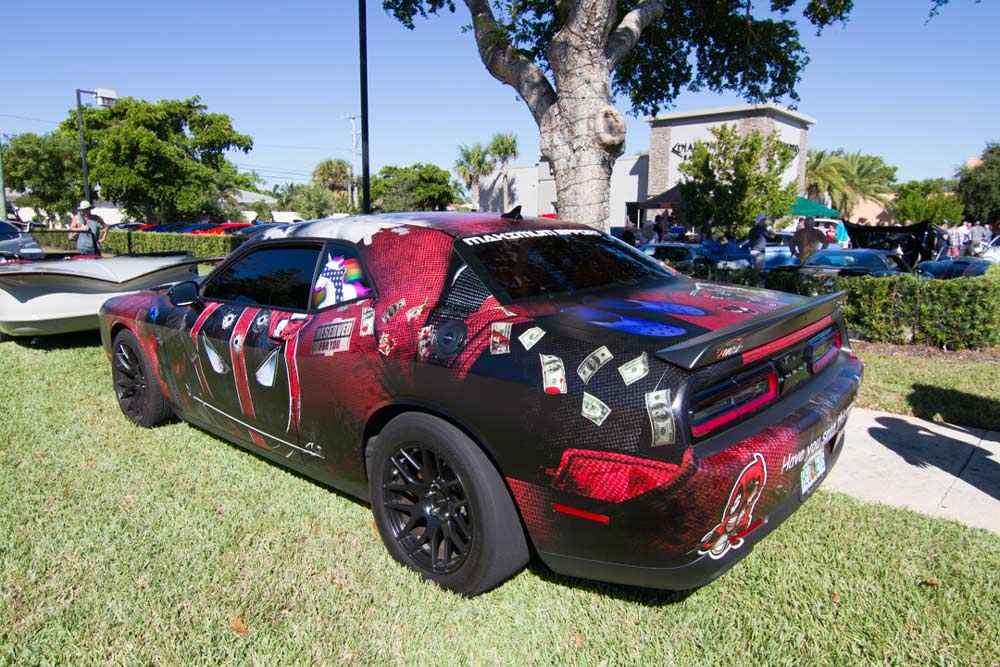 Tri-County Mopars brought a big group of Dodges as they usually do. We can't thank them enough for all the support. Classic American cars at a new, yet soon to be classic, South Florida Car Show.
Additionally, this time there was also a large abundance of Ford Mustangs that rolled through.
We didn't get the name of this gentleman, but he surely was a big fan of Dead Pool. He had his Charger on the scene with its custom Deadpool wrap, which was done extremely well. It's awesome seeing muscle cars with a theme like this one. Especially since Deadpool was such a badass movie.
Nissan GT R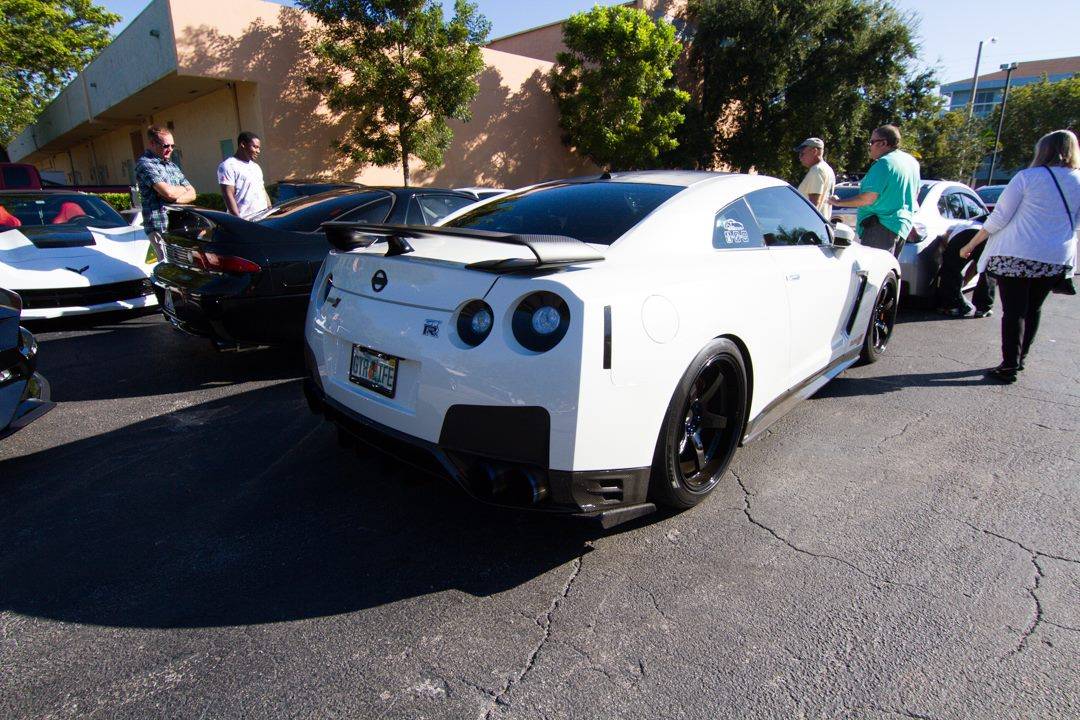 Commonly known as Godzilla, the Nissan GT-R has one of the most powerful base engines among luxury sports cars. Furthermore, it has top-notch road grip and steering ability. All of this means the car is seriously track ready.
Additionally, the new Nissan GT-R has undergone a serious interior update. This is something that many people are ecstatic about and something that was lacking in past years. Moreover, they significantly reduced unpleasant noises. Again, all of this means something, and that something is, this car is off the charts.
It's got a starting price of $100,000. It's a 2-door, V6 turbocharged engine, 196mph top speed, zero to sixty in 2.7 seconds beast named Godzilla.
Honda Civic Type R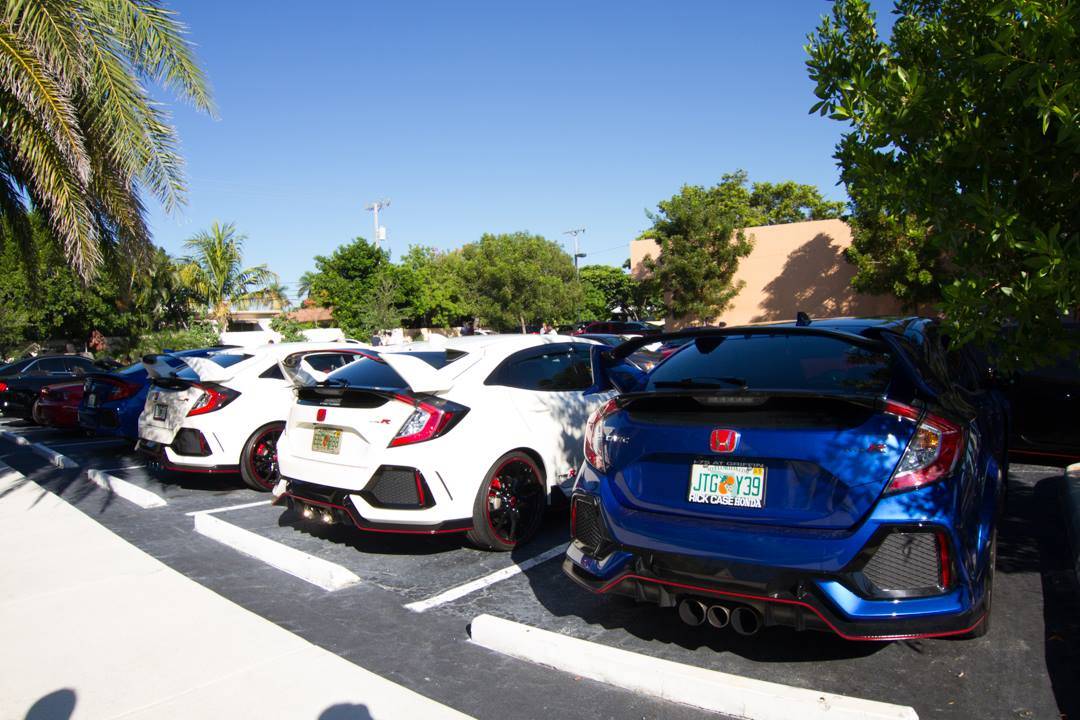 The Honda Civic Type R is a 2.0-liter turbocharged hatchback. It's not just any hatchback, it's the most fierce front-drive hot hatchback on the market today.
It steers very steadily, has awesome body control, and is pretty damn fast and highly gratifying. The Type R has a top speed of 164 mph and a bottom line price of $35,000.
Chevy Camaro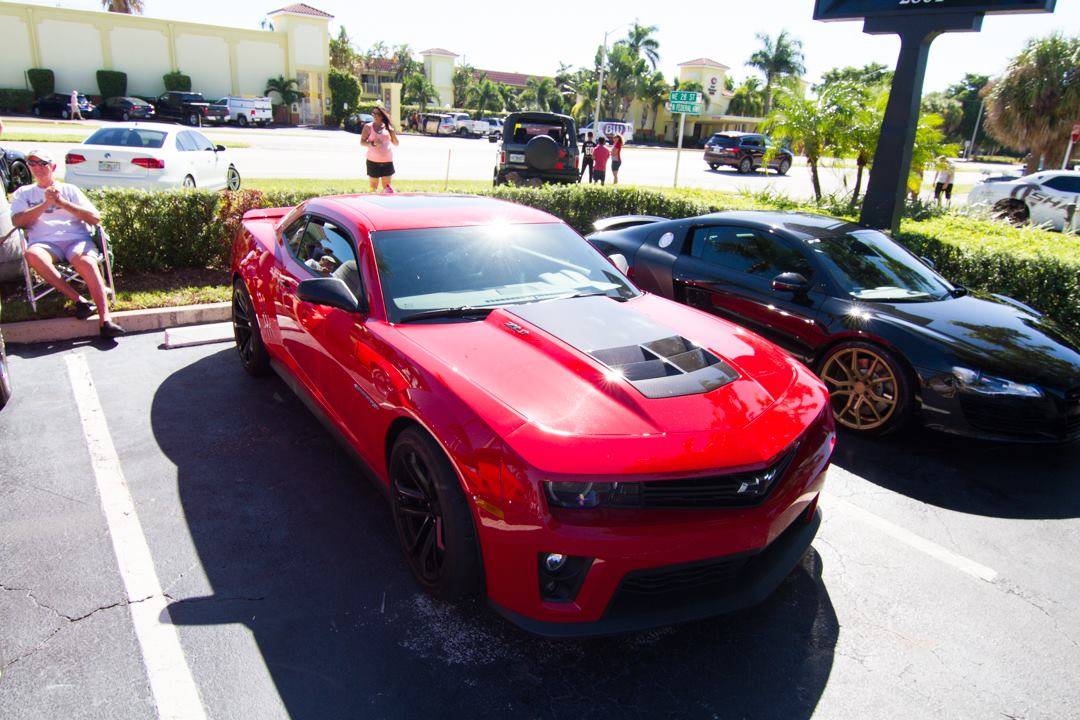 The Chevrolet Camaro is an iconic car that captures the joy of driving perfectly. It provides an energetic engine and fantastic chassis experience that only expensive sports cars can double.
The Camaro starts at $25,000, which is quite inexpensive for the motivation to drive that it provides. It's available in a 455 HP with 455 lb-ft torque. The Camaro ZL1 goes 0-60 in 3.5 seconds, which for the price, you really can't beat. All-in-all, it feels good to be in America.
Audi R8 Coupe 2015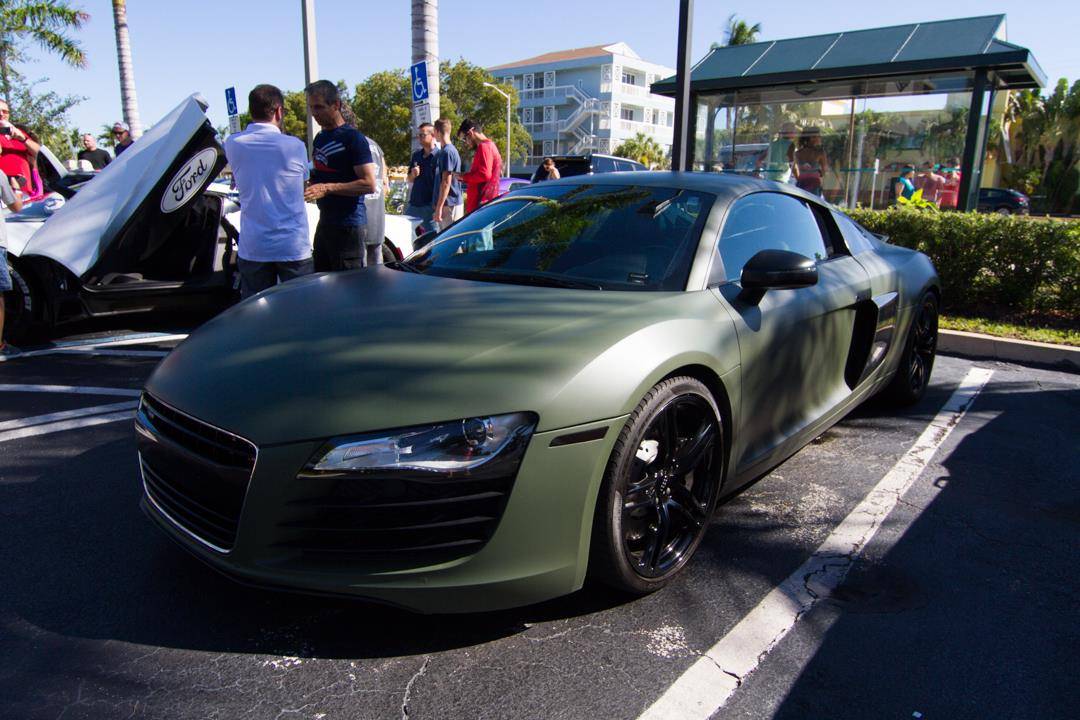 Thanks to Italian power and German precision, the Audi R8 is a supercar made for daily driving. The 2015 Audi R8 is comfortable, approachable, and a whole lot of fun to drive.
The base R8 has 420hp with a 4.2-liter V8 engine. The same engine as the Spyder convertible model. The interior is full of luxurious touches, which includes a superb audio system with Bluetooth, navigation, and real-time traffic, plus premium seats and interior room stimulate drivers "need" to stay in the car.
The Audi R8 Coupe has an MSRP of around $120,000.
Rolls Royce Dawn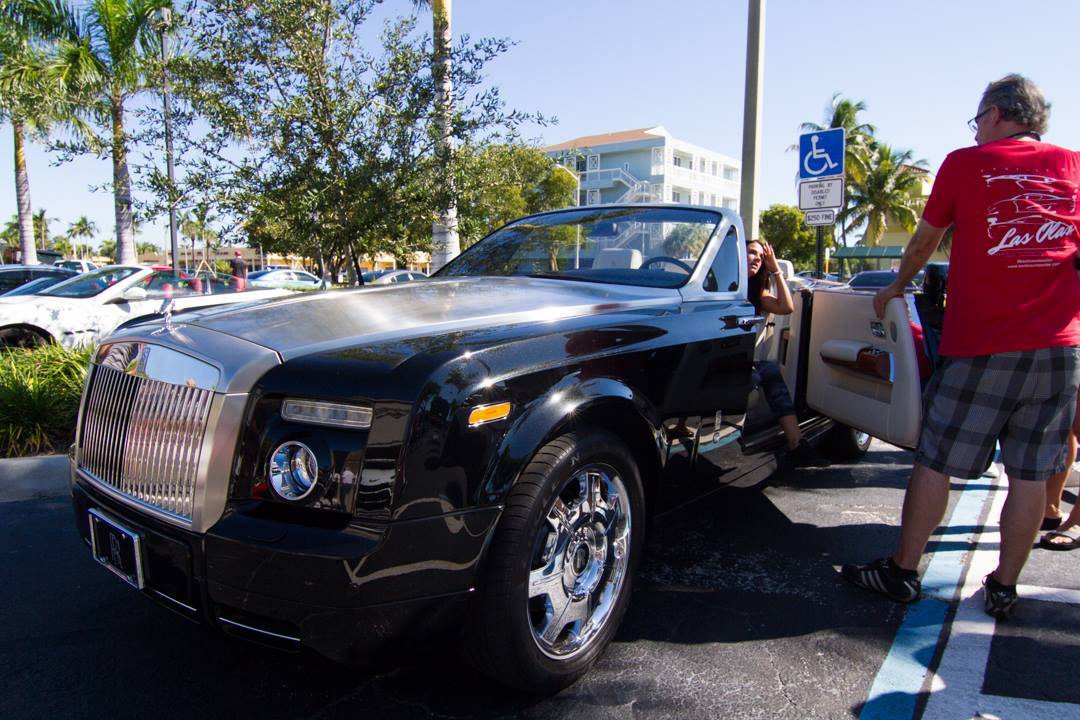 You might consider the Rolls Royce Dawn as a Wraith with its top off. Both have the platform and mechanicals in common. It has the exact wheelbase and twin-turbocharged 6.6-liter V12 engine driving on the exact eight-speed automatic gearbox.
However, the Dawn is every bit its own model and has a completely unique character. Rolls Royce made the dawn to be "the most social of luxury dropheads".
With that being said the Dawn has less power than the Wraith. The engine is more like the Ghost, with 563bhp at 575lb-ft of torque. Nonetheless, it's still Rolls-Royce's most powerful convertible.
The price tag starts at $340,000…pure luxury.
Saturn Impreza WRX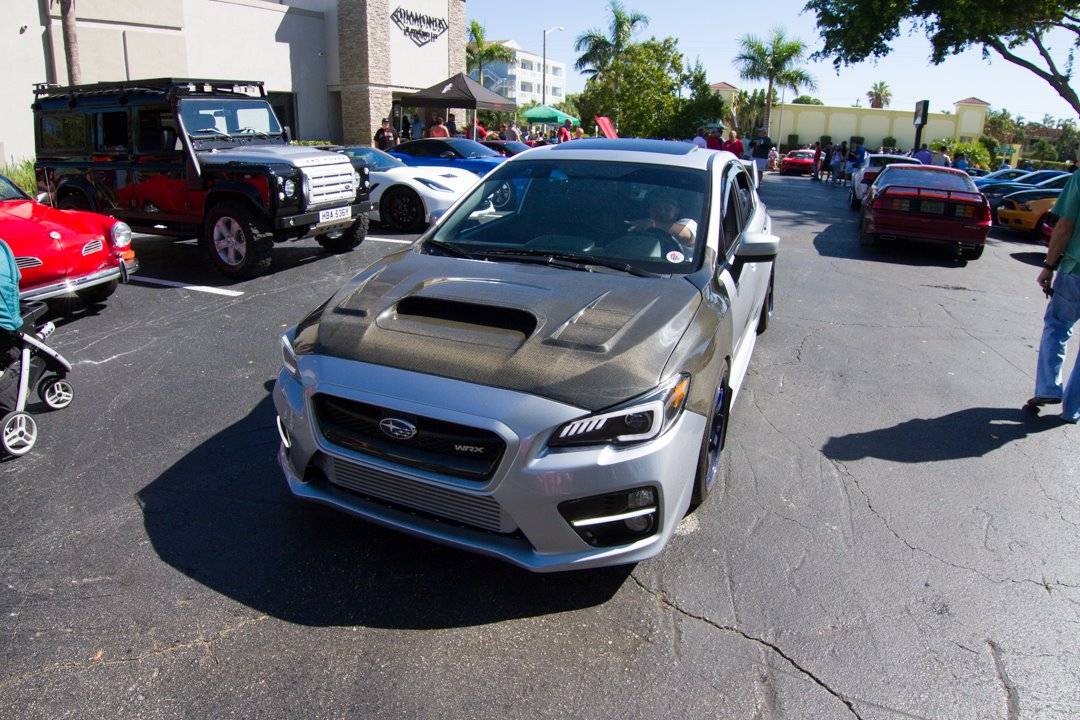 The WRX uses a fine turbocharged 2.0-liter flat-4 engine equipped with a twin-scroll turbocharger, intercooler, and a direct injection.
Other features include an automatic climate control, a flat-bottomed steering wheel, heated front seats, a sunroof, keyless ignition, Bluetooth, and a high-end audio system with nine 440 watt speakers.
The Subaru WRX has a top speed of 155 mph and it can sprint to 60 mph in 5.9 seconds.
McLaren 570S Spider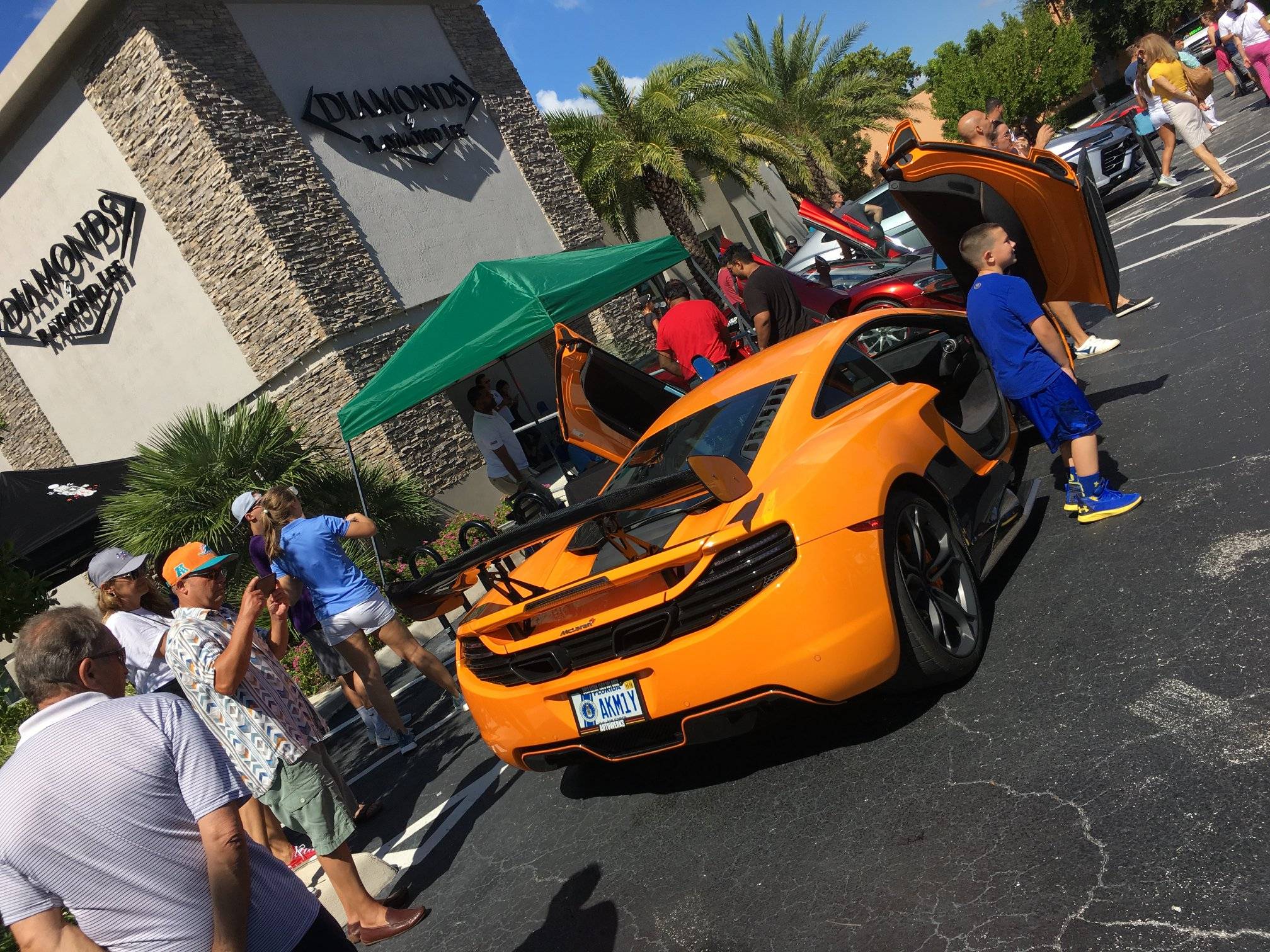 The McLaren 570S Spider changed from a fixed roof to a retractable roof, which means you can lower it at speeds up to 25mph.
The 570S Spider reaches a top speed of 204mph and goes 0-62mph in 3.2 seconds. Although, the top speed with the roof down is 195mph.
It has a 3.8 liter twin-turbo V8 engine, and it generates 570PS (or 562bhp); therefore giving it its name, the 570S.
The McLaren 570S's V8 runs via a seven-speed, "seamless shift" dual clutch auto gearbox, and has a power-to-weight ratio of 375bhp per ton. This grants the supercar the ability to whisk from 0-124mph in a mere 10 seconds.
The 570S Spider is priced at just over 200k USD, which is around 200k less than the 675LT Spider, and 120k less than the 650S Spider, making it more "attainable". Nonetheless, if you see someone whipping this lovely supercar around, you already know they are one of the elites. 
Porsche 718 Cayman GTS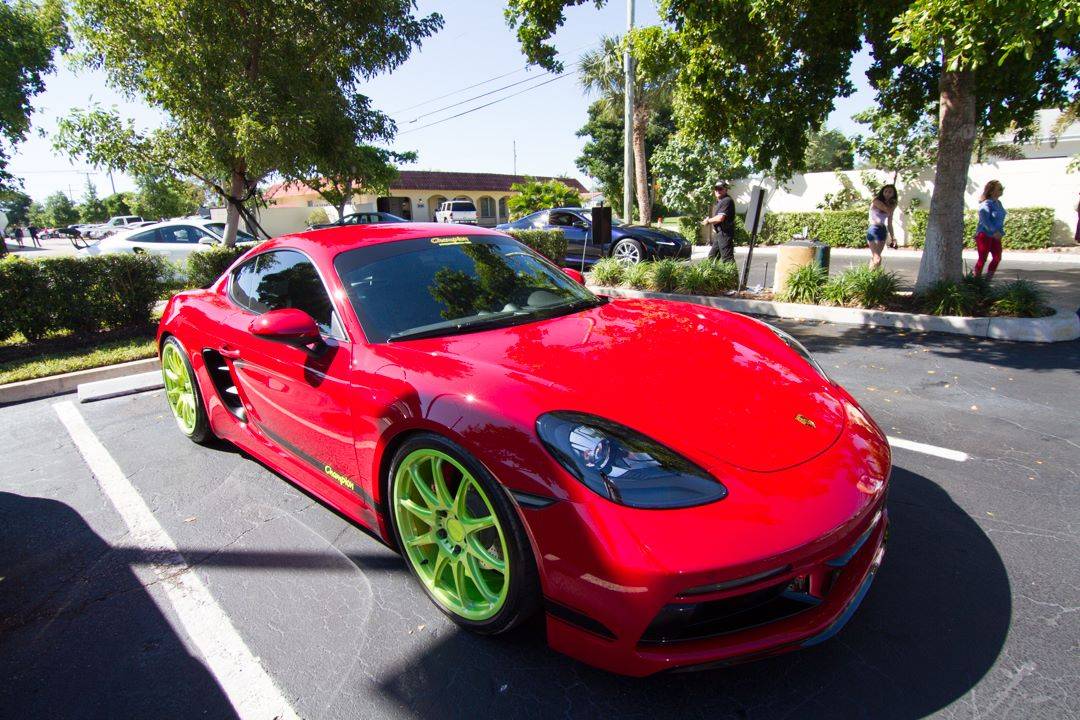 Porsche has been making some serious performance cars lately. The 718 Cayman GTS is no exception.
This 718 Cayman GTS is easily the most all-around variant of Porsche's mid-engine sports cars. It's an amazingly comfortable daily car, and it definitely won't embarrass itself on the track.
It's equipped with the larger 2.5-liter flat-four turbo engine, which the Cayman S also has. Yet, it's been slightly enhanced to 361bhp, which is a 16bhp increase from the S variant. The 718 Cayman GTS has a top speed of 180mph, and a 4.6 second 0-62mp time, identical to the S.
All in all, if you want to own this luxury sports car, you need to cough up $80,000.
Jaguar F-Type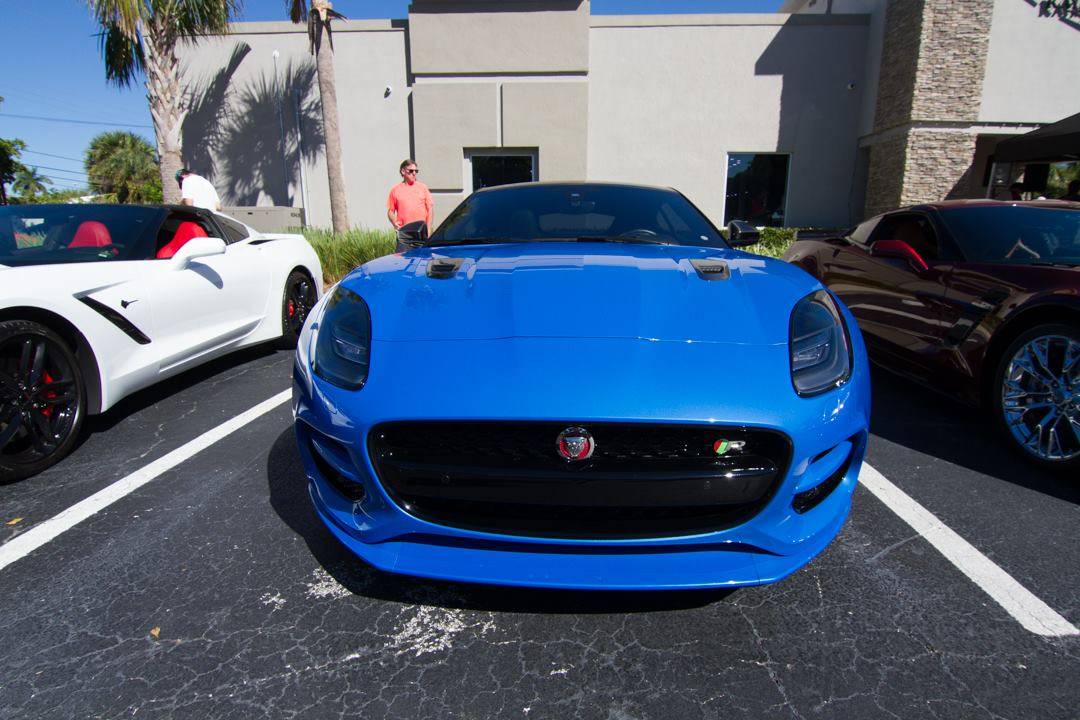 The 8-speed dual clutch, RWD, 4 cylinder convertible Jag called the F-Type, surely brought a Jaguar roar to the party.
The Ultra Blue Metallic color is extremely pleasurable to the eye, not to mention, the car, in general, is too. From the long hood to the wide back haunches, the F-type is a complete stunner.
The driving experience is as good as it looks too. The 5,000cc engine produces a top speed of 186mph (200mph on the SVR) and achieves an acceleration of 0-60 mph in 4 seconds.
You are looking at around $100,000 if you want to be able to park this Jag in your lot and call it yours.
Lamb of Palm Beach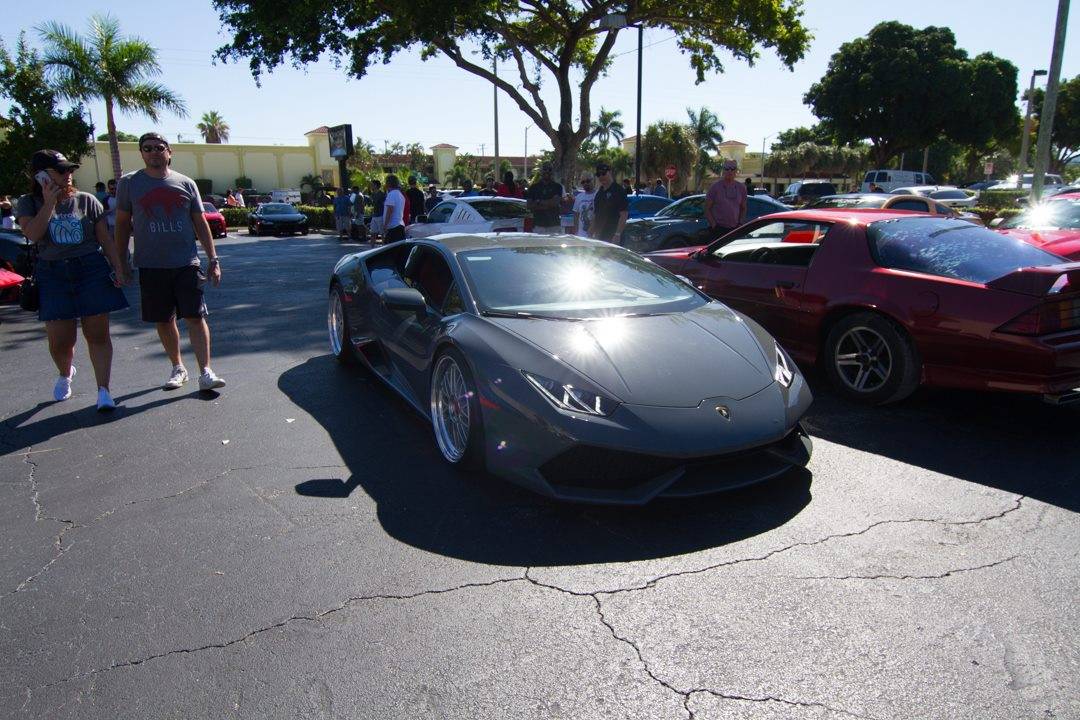 Lambo of Palm Beach came through in the clutch with a pack of Lamborghinis. We are really thankful that they always come to support Diamonds and Donuts and our monthly charity efforts.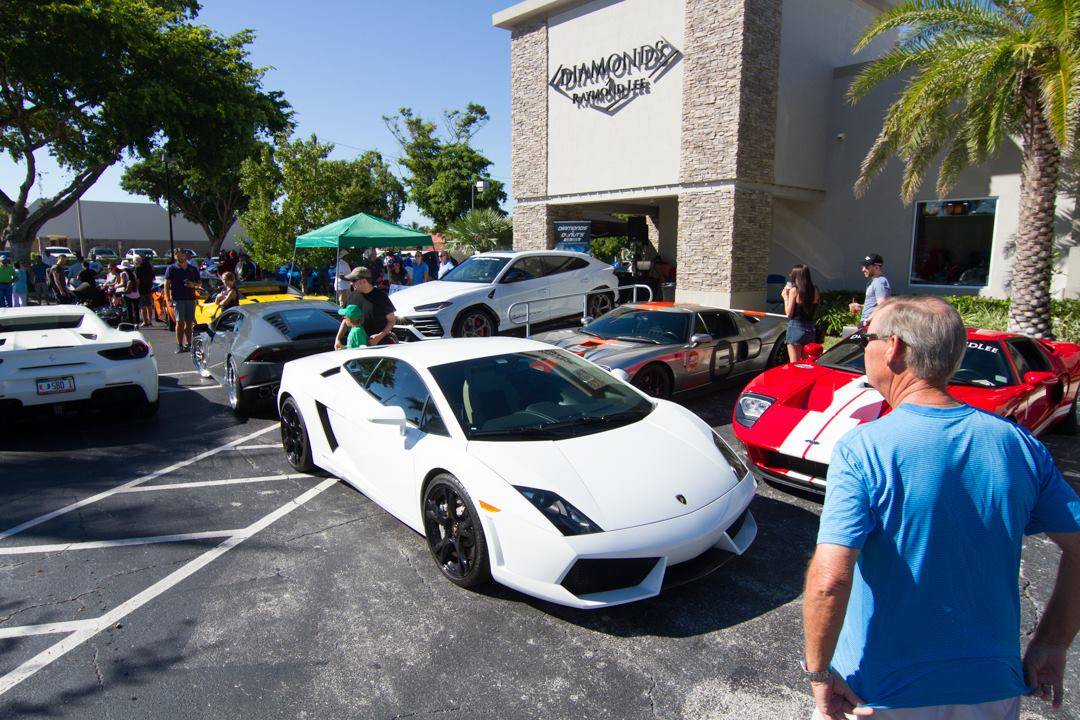 Custom Land Rover Defender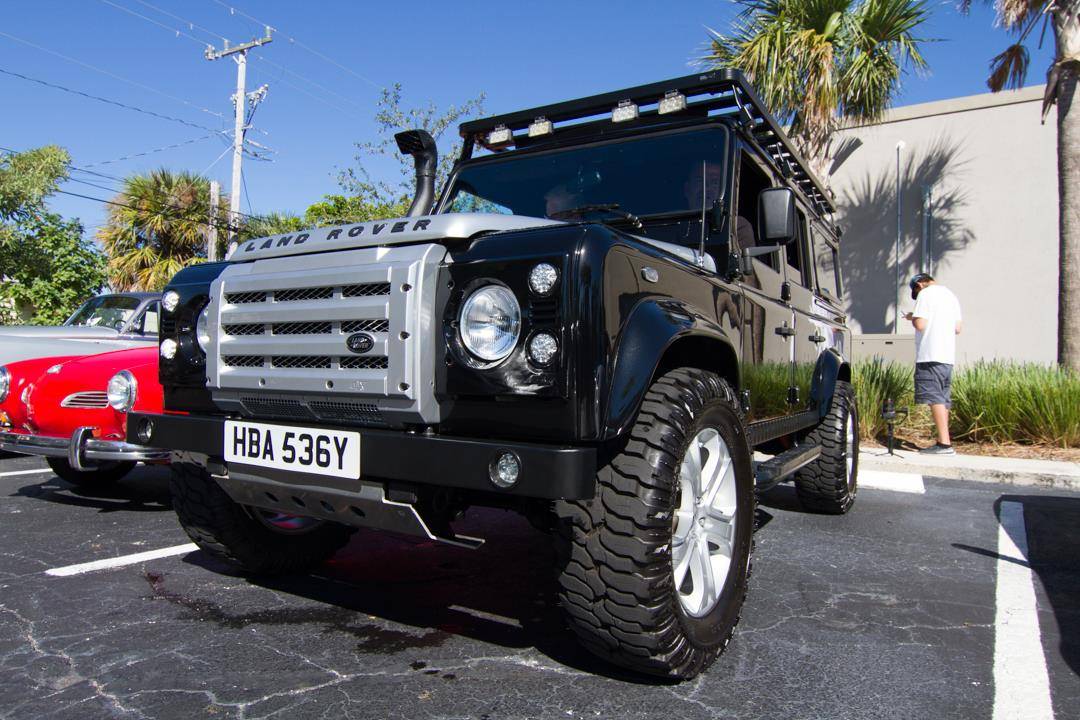 One of the toughest, strongest, most beastly vehicles on the premises was the Custom Land Rover Defender. A snorkel and a roof rack aren't all that was added to this beast. We'd love to get in touch with the owner to learn all about this Defender. It's an absolutely charming, handsome, son of a gun of a vehicle.
The Defender has a 2.2-liter four-cylinder turbo-diesel, six-speed manual transmission, and a heavy-duty four-wheel drive system. The base price is around $70,000, plus on-road costs. 
Mob of Mini Coupes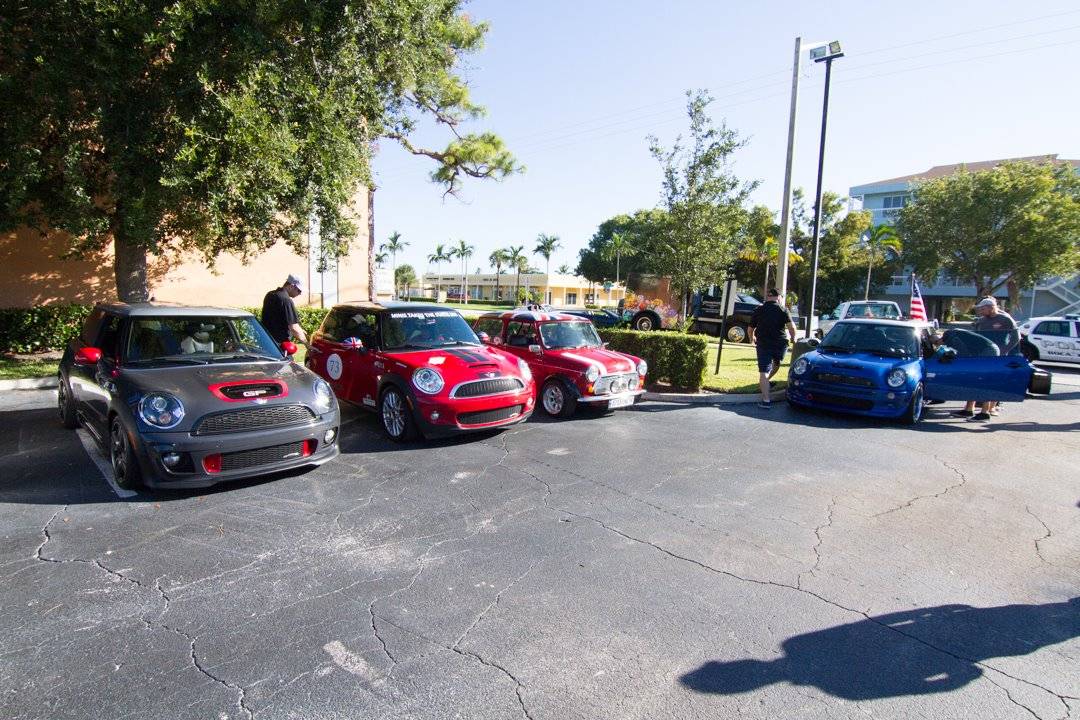 A mob of Mini Coopers showed up as well. Mini Coupes are a lot of fun to drive.
They are quick and make fast turns without an issue. Not to mention, they can park pretty much anywhere. We are glad they decided to come and park at Diamonds and Donuts Boca Raton.
Mini Coupes are highly customizable. They offer various options to play around with when choosing a car, which means you can make identical models really unique from one another.
Furthermore, they are super affordable, great on gas, AND they require less frequent maintenance. Since we are talking about value, it's important to note they have a great resale value as well.
Mini Cooper's pricing ranges from a little over $20,000 to $38,000. Nonetheless, if you want to add some money to this range of prices, go ahead and add multiple options to upgrade your Mini.
Mini cars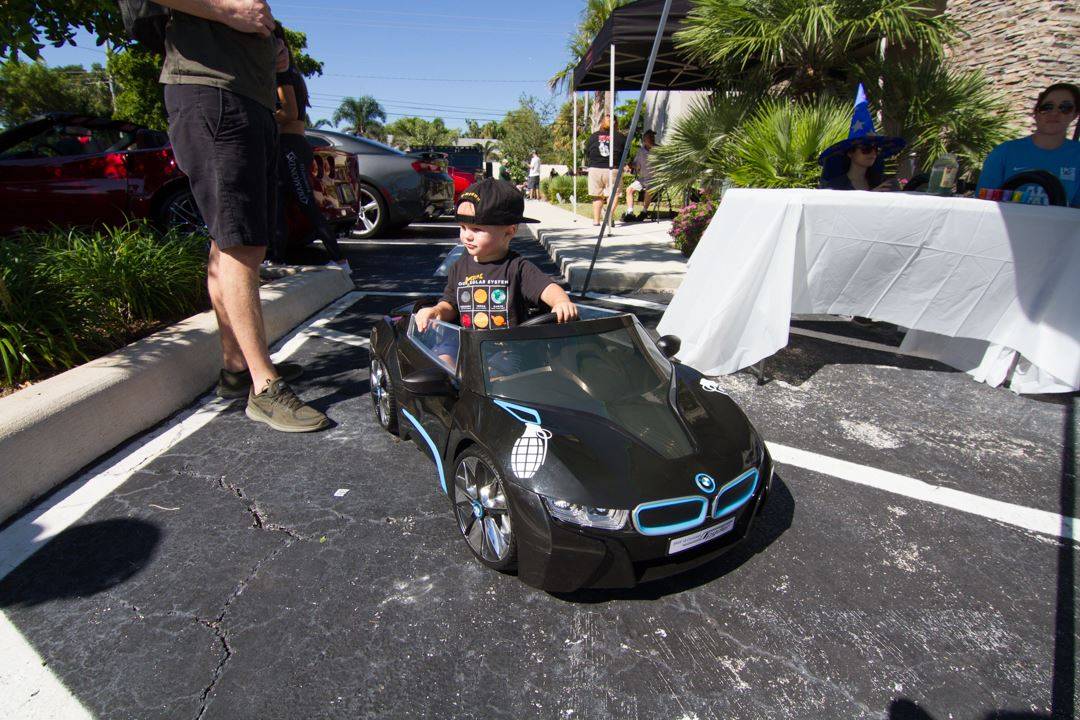 They weren't the only mini cars that rolled in. We had the Hanna Boys at our South Florida Car Show driving their mini BMWs and Corvettes. They always "take over the car scene" as nothing is more adorable and badass at the same damn time as a couple of boys with a passion for cars. These boys are always riding dirty, and we love it.
Motorcycles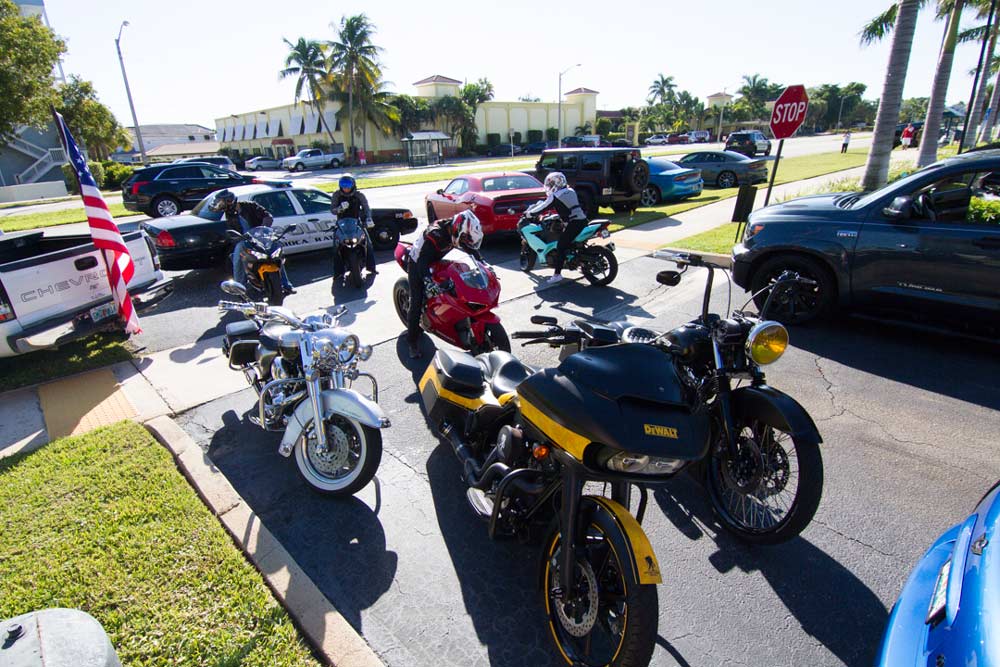 All kinds of motorcycles came through too thanks to @fldrives.
You can see all of the photos on our Diamonds and Donuts Facebook page here.
This Month's Charitable Contribution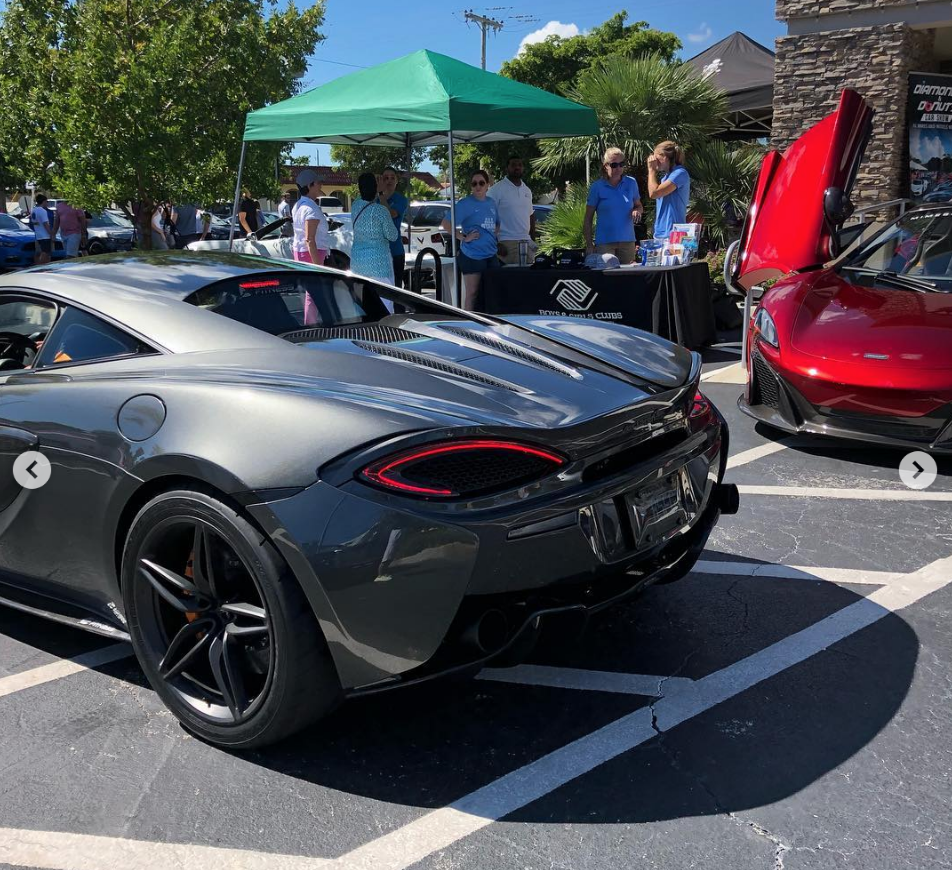 The Boys and Girls Club of Palm Beach County was our beneficiary this month. We sold tickets for an incredibly tasty BBQ in which all the proceeds went to the charity.
If you aren't familiar with the Boys and Girls Club, they are a non-profit organization that works extremely hard to supply children and teens with opportunities they likely would not have otherwise. The Boys and Girls Club of Broward County provide South Florida's youth a secure environment to thrive in. They give children and teens an opportunity to take part in transformative programs, which help them develop character and mental growth, and personal health.
A number of our past events have raised contributions for the Boys and Girls Club so that we can participate in helping the youth of our community do incredible things, as we believe all kids deserve a chance to be successful.
Local Vendors at our Diamonds and Donuts South Florida Car Show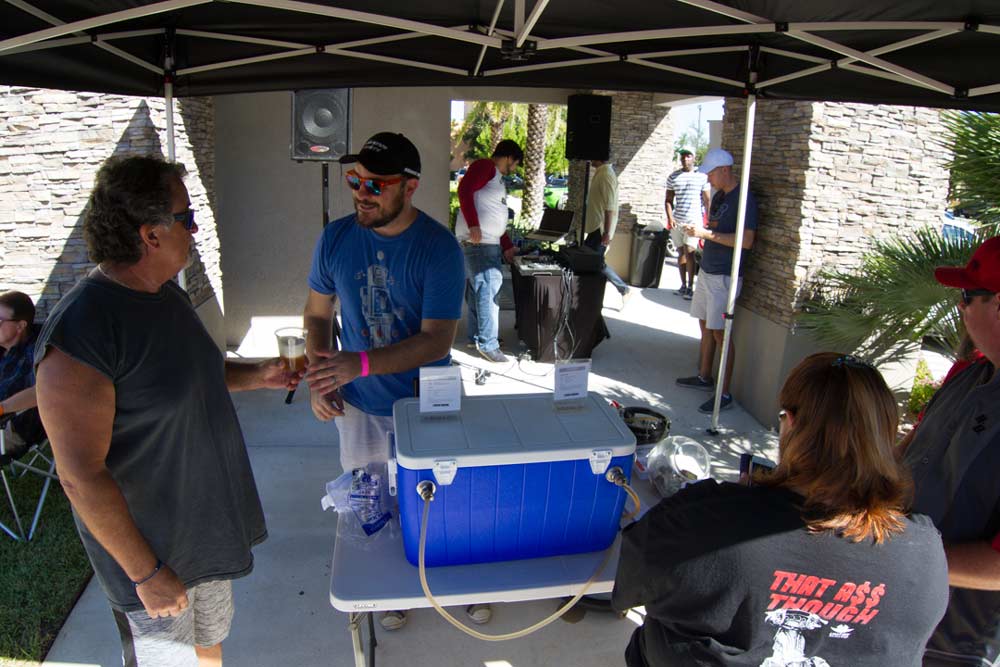 For the first time ever we had a local brewery that came out on site to help support the cause! Robot Brewing Company (@robotbrewingco) located in Boca Raton, Florida came out and did a beer tasting for all of our guests.
There were also other local vendors who came to take part in our South Florida car show, offering tantalizing snacks, delicious coffee and more things our local community love.
Appreciation & Accolades to Diamonds and Donuts South Florida Car Show Sponsors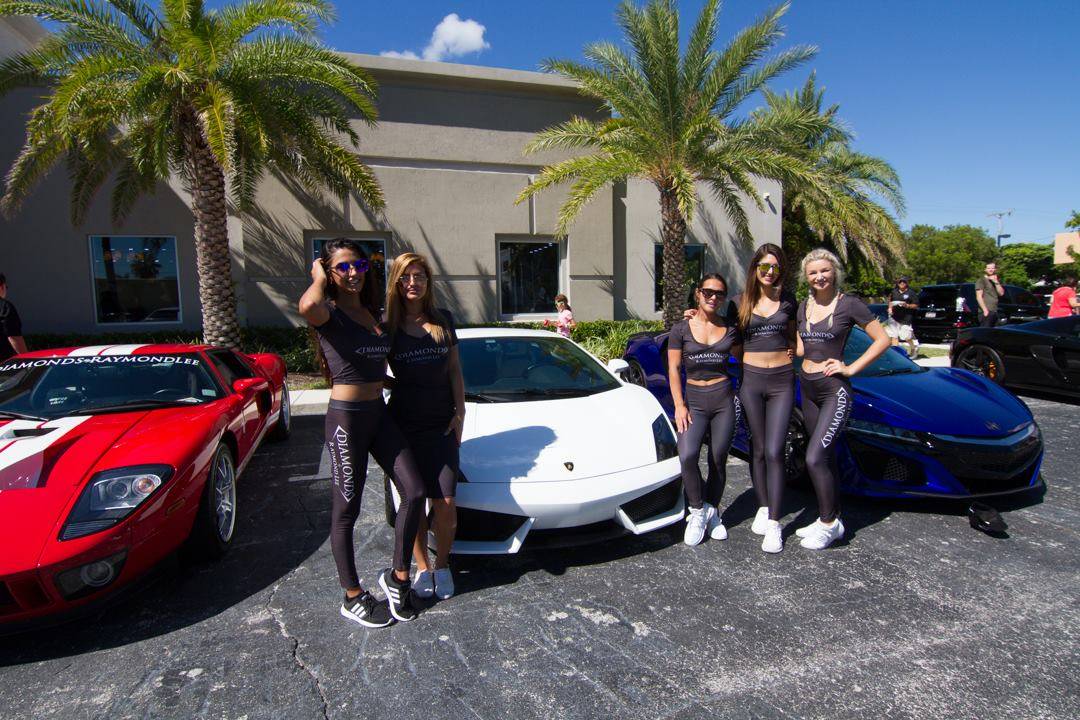 We want to show our appreciation and accolades for all those who joined us at Diamonds By Raymond Lee on October 21, 2018, for our Diamonds and Donuts Boca Raton car show.
We are endlessly thankful for our community and all the organizations within that work with us, a lot of who do so on a monthly basis, to put on our fantastic South Florida car show. Also, we want to give a huge shout out to the Tri County Mopars, Robot Brewing Company, Lambo of Palm Beach, all of the incredible vendors, DJ Lite Bites, and every car owner who blessed us with their presence.
Furthermore, we want to give a super special, big thank you to the spectators and any passersby, as without you this car show wouldn't be the same. You all are incredibly supportive and are truly part of what makes this car show event so special.
Without all of you, this event wouldn't be possible. We absolutely love spending time with all of you each and every month. Seeing all of the glorious cars at our Boca Raton Event – Diamonds & Donuts Car Show – makes our year fly by and we couldn't be more grateful.
About (History of) Diamonds and Donuts Boca Car Show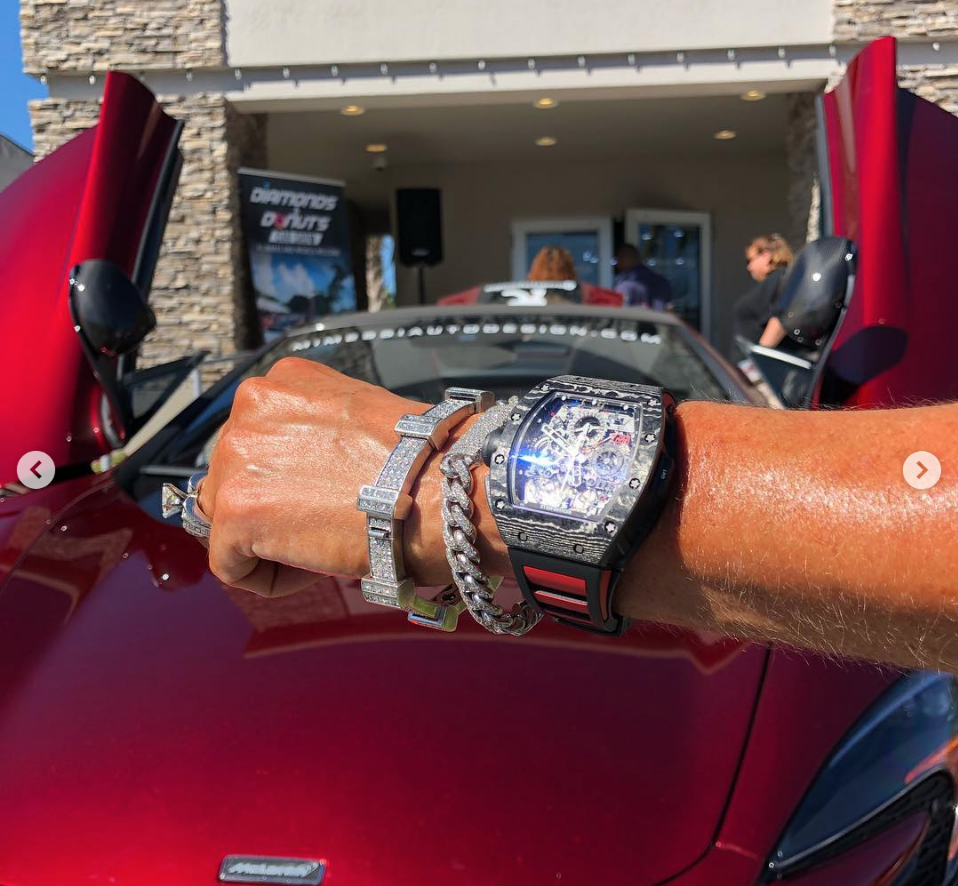 30 years after founding Raymond Lee Jewelers, and subsequently Diamonds by Raymond Lee, Diamonds and Donuts Boca Raton South Florida Car Show was originated. Diamonds and Donuts, a charity car show, began in April of 2017 in an effort to connect the grandeur of collector and exotic cars with luxury diamond jewelry and designers. The ultimate goal was to put on an awesome event while simultaneously supporting local causes.
Amazingly enough, our efforts have been successful as Diamonds and Donuts has been a major hit. Not only that, but in a matter of a year and a half, we are now one of, if not the, best car shows in South Florida. This is a huge feat as you probably can imagine, South Florida car shows get a ton of amazing cars, as that is the nature of living in an exotic, beautiful place with many elite members of society.
Charitable Efforts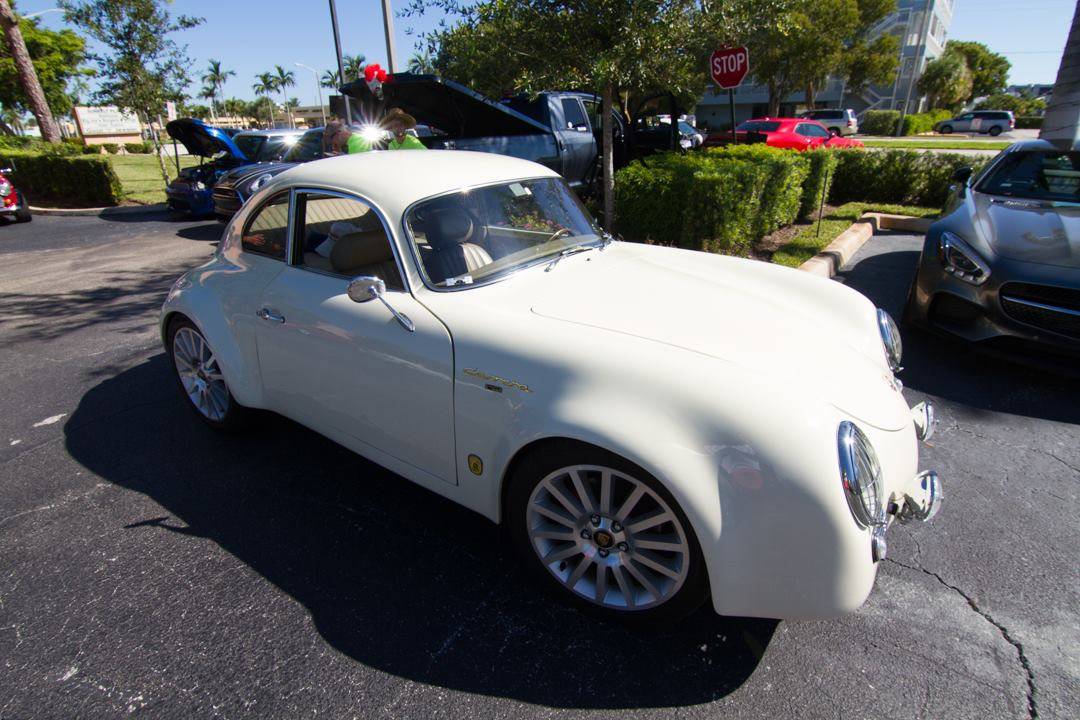 Most importantly, due to our car show being a success, we have been able to raise money for a multitude of causes that touch home to our community, our country, and us. Diamonds and Donuts Boca Raton has raised money and made charitable contributions for the Boys and Girls Club, Military Heroes, and Local High School.
The ability to take an incredibly fun event with the most exquisite diamonds and cars and combine it with giving back to causes we care about makes our South Florida car show very valuable. We don't plan on stopping our monthly car show and we hope it only continues to grow.
Moreover, the feedback has been outstanding. Our Diamonds and Donuts Instagram and Facebook page have been steadily growing and it has been a super valuable place to stay in touch with everyone. It has allowed us to develop not only an offline community but an online one as well. Be sure to follow us so you can see all the cars and people who take part in Diamonds and Donuts.
"Awesome event awesome cars and bbq was delicious and at a great price" – snows550

"Great event, will be coming again. Lots of fun and lots of cool ass cars"

"Thank you for having us!" lambopalmbeach

"It was an amazing day! Thank you for having us!" lowpurpleharley

" We had a blast!" the_hanna_boys

" Had fun. Can't wait for the next event." _javialfonso

"Super cool event" fabio_icg
Lastly, we want to say, and as you've already noticed from the pictures above, we get some AMAZING cars at our event. Some notable vehicles from our past events are: Ferrari 458 Speciale, Lamborghini Aventador, McLaren 650S, Ford GT Twin Turbo V6 (aka Stormtrooper), McLaren 720S, 718 Cayman GTS, Huracan Performante Spyder Rolls Royce Wraith, Aston Marin Vantage, and so many others, including some of the best American made cars ever built.
When is the next Diamonds and Donuts Boca Raton South Florida Car Show?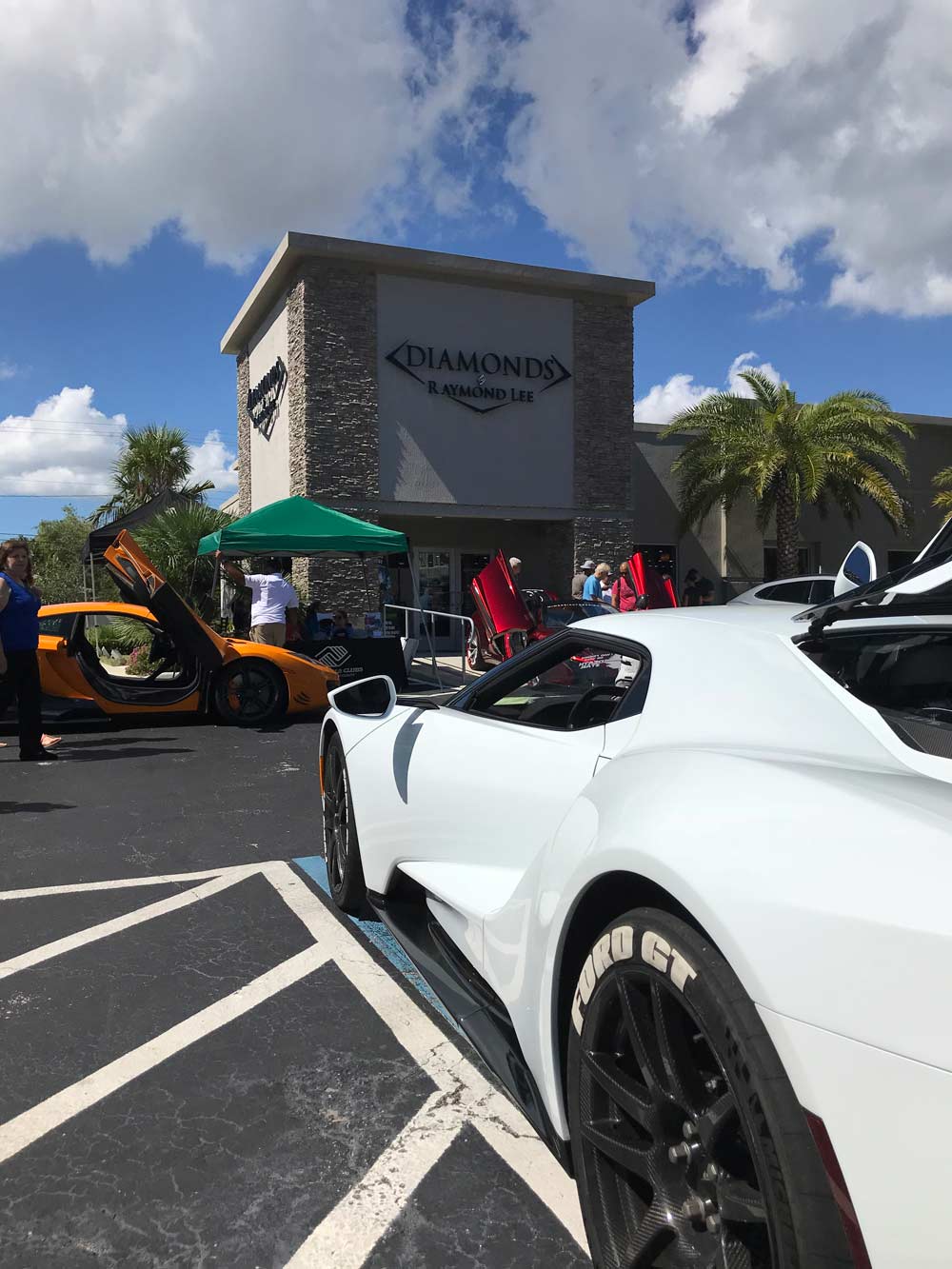 Join us on Sunday, November 18th from 9 am – 2 pm for the next Diamonds & Donuts car show + breakfast snacks + a jewelry giveaway + live DJ + Thanksgiving Food Drive and much more!
Charity BBQ benefiting Boys and Girls Club. All you can eat BBQ with a donation, wristbands will be sold during the event.
You don't want to miss out on the next Diamonds and Donuts car show, it's going to be another big one. We hope to see you there!
How to JOIN the next Diamonds and Donuts Boca Raton Car Show?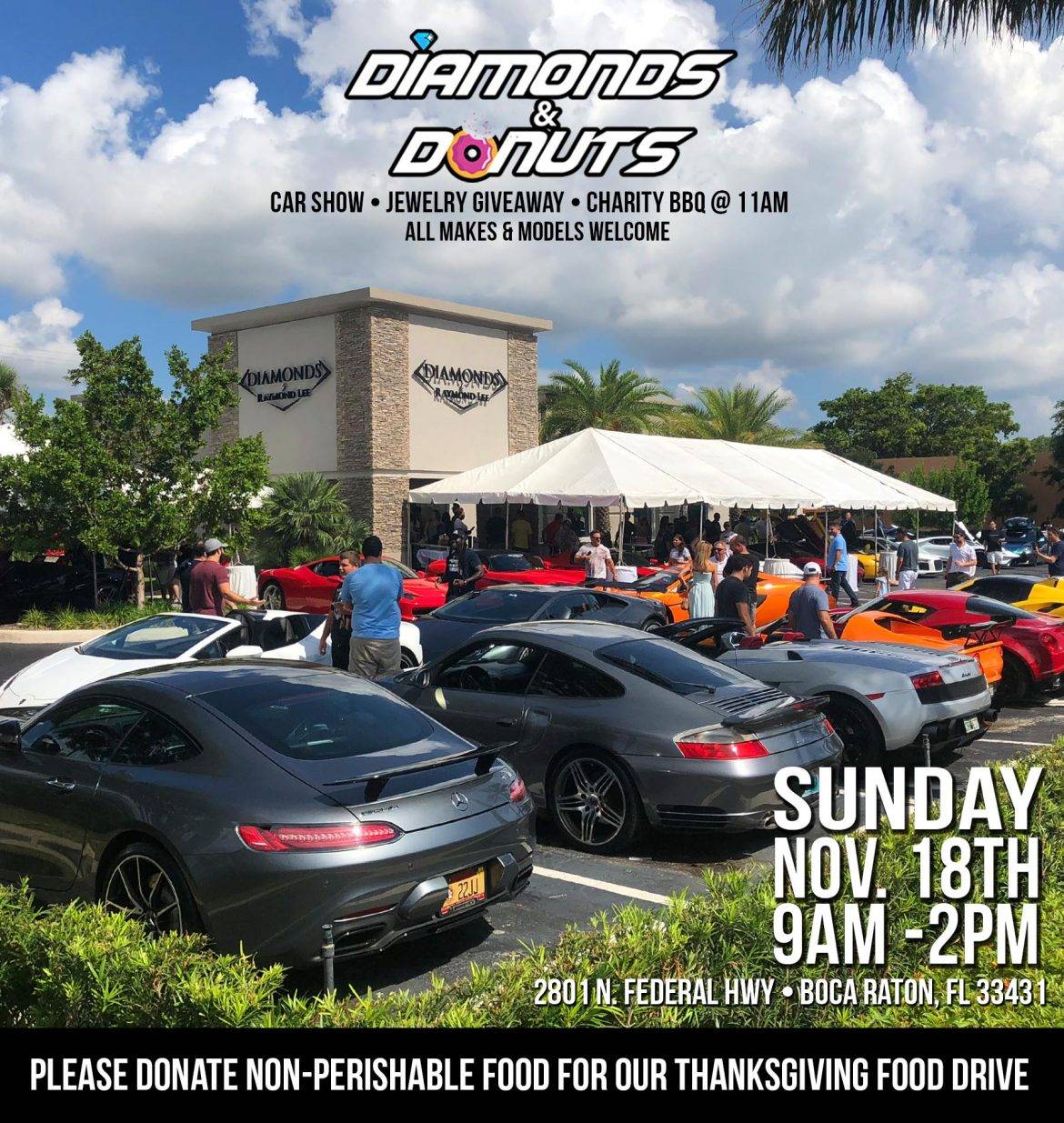 Our South Florida Car Show, Diamonds and Donuts, is free for spectators and any passersby. Our car show is also free for anyone wanting to present their car, and it doesn't matter the make, model or price. However, we do require reservations for those who want to display their car as we need to arrange parking. Nevertheless, it's entirely FREE.
Car owners share stories of their cars and what makes them special. They also breakdown specific features and aftermarket upgrades if they have done any. Everyone networks over shared interests – cars, coffee, donuts, jewelry and giving back to the community. There are so many philanthropic individuals in South Florida that it's incredible.
A community of car enthusiasts in South Florida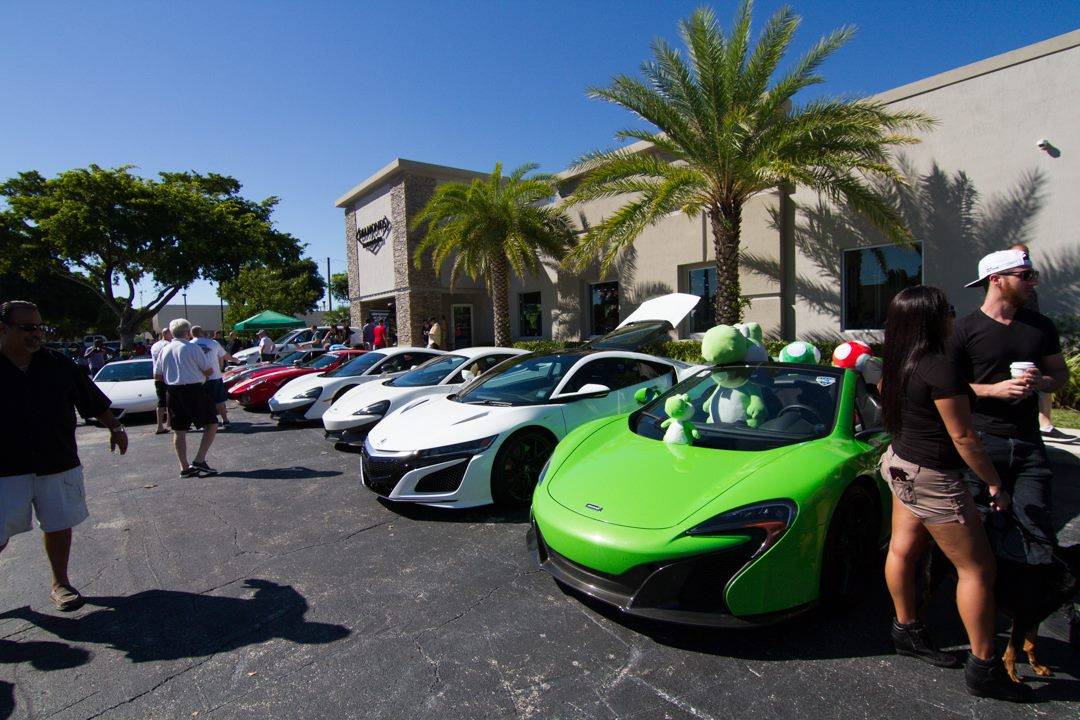 Most of our attendees are residence of South Florida who finds out about Diamonds and Donuts through word-of-mouth and the Diamonds and Donuts Instagram page, which has shown to be a great place to connect with people and build an online community of car enthusiasts.
Also, we use our Diamonds and Donuts Instagram to publish pictures and stories of every event. There you can also find videos from the event. And, if you follow the hashtag #diamondsanddonuts you can see other's posts.
This is a must-see event in Boca Raton. We are one of the best car shows in South Florida and we hope that you will stop by to see all the incredible cars (McLarens, Ferarris, Lambos, and more exotics and supercars to feast your eyes on) while enjoying some delicious food from local vendors.
It's been proven that Diamonds and Exotics go together like two peas in a pod. It makes sense since they have decisive similarities, yet no one has done this combination for a car show before. We are the first, and we love it.
Note: The BBQ is all you can eat and it comes with a small donation. Giveaway raffle tickets and wristbands will be sold during the event. If you plan on joining, please sign up here.
About Diamonds by Raymond Lee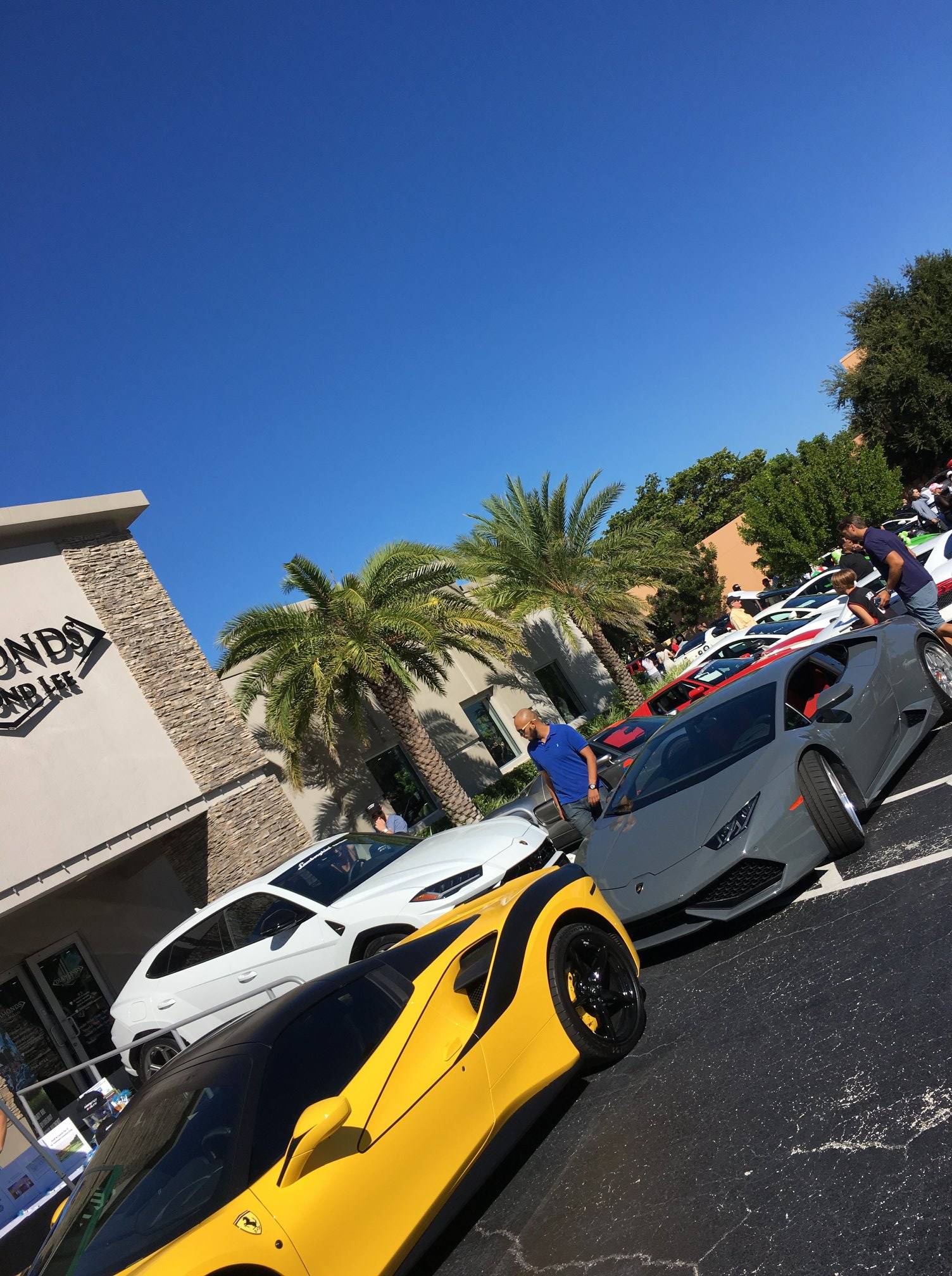 At the core, Diamonds by Raymond Lee is all about family. We are a family owned and operated business with a long history in the fine jewelry market. Diamonds by Raymond Lee sells wedding and engagement rings from high-end designers, such as Tiffany and Tacori. They also sell designer watches, as well as platinum, gold, and other precious metal and gem jewelry from top designers, like Cartier, Rolex, Audemars Piguet, and many, many others.
We are known as South Florida's premiere estate jewelry, luxury watch, and diamond boutique. Diamonds by Raymond Lee takes old traditions that never go out of style and combines it with modern, contemporary trends and innovations. This enables us to meet the needs of people of all ages and of all generations. Furthermore, we respect and treat everyone equally. So, no matter who you are, you are more than welcome to come by our retail store or Diamonds and Donuts cars show in South Florida. Just pop in and say hello!
If you have any questions, don't hesitate to contact us.
We'd love if you connect with us on social. Check out our Instagram and Facebook and follow us!
We hope to see all of you at the next Diamonds and Donuts Boca Raton Car show. Our goal is to become the best car show in South Florida, which would be an impressive feat since South Florida car shows are some of the best cars shows in the world!