Wearing a diamond fancy eternity ring will convince you that accessories are essential. It is the perfect ring for anyone who believes that fashion rules the world. It is also the right piece for the ones who think our appearances introduce us.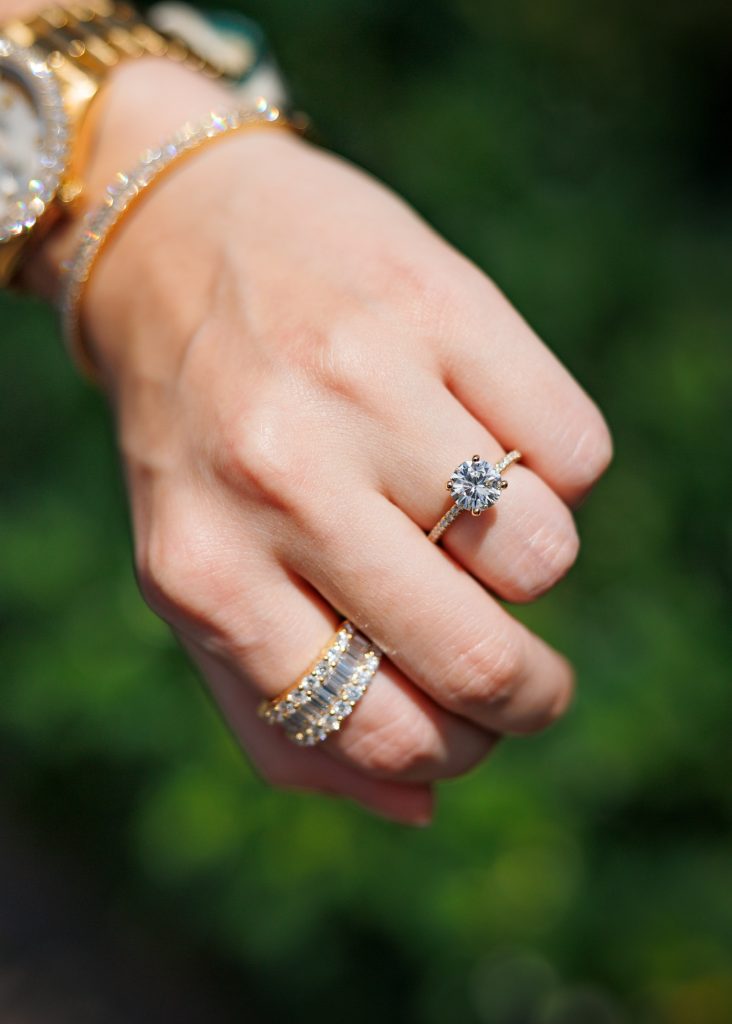 The essence of a man is indeed in his character, value, and belief. We also agree that we should connect with others because their good heart, and soul. But the world doesn't always work the way it should. Humans are vain. So, it is no surprise that things like your appearance determine how people relate to you.
This is why you do your best to look great if you care about leaving a good impression on people. Of course, you should also work on the things that matter ultimately like the way you treat others. At the end of the day, looking your best, and being on your best behavior are two things that tell society who you are.
When you are trying to make an impression with your appearance, you should focus on standing out. This way, people remember you for being beautiful, which is great. But they also remember you for being outstanding, which should be your goal every time you step out.
A diamond fancy eternity ring is one of the most exquisite pieces that you can have. It has unique features that make it stand out among other dress rings.
The diamond fancy eternity ring has gained popularity based on its uniqueness. Over the years, it has proved itself among jewelry lovers as one of the best. Having exclusive features is not for all luxury accessories. But it is certainly for a diamond fancy eternity ring.
When an average man hears about rings, an engagement ring comes to mind. There is nothing wrong with that. To date, engagement rings remain the most popular, and one ring many people are always happy to have.
Nevertheless, there are other rings people aspire to have outside engagement rings. There are also many "Dress rings" out there for people! Mostly, people wear dress rings for the aesthetic. A dress ring like a diamond fancy eternity ring enhances your style and personality. It is the perfect fit for everyday outfits, and should also be the go-to ring for special occasions.
Are you unmarried, and single but would like to show off your style with a solid ring? You are lucky. There is no ring out there that will help you achieve your goal more than the diamond eternity ring.
The diamond fancy eternity ring has an 18k yellow gold metal – a distinct feature. If gold yellow is a color that resonates with you, then this ring is to your taste. It represents the color in the truest form. So, when you check it, all you see is gold. But, of course, the diamond fancy eternity ring is not only pure gold. As it is with other gold accessories, an alloy is present and contributes to the longevity of the ring.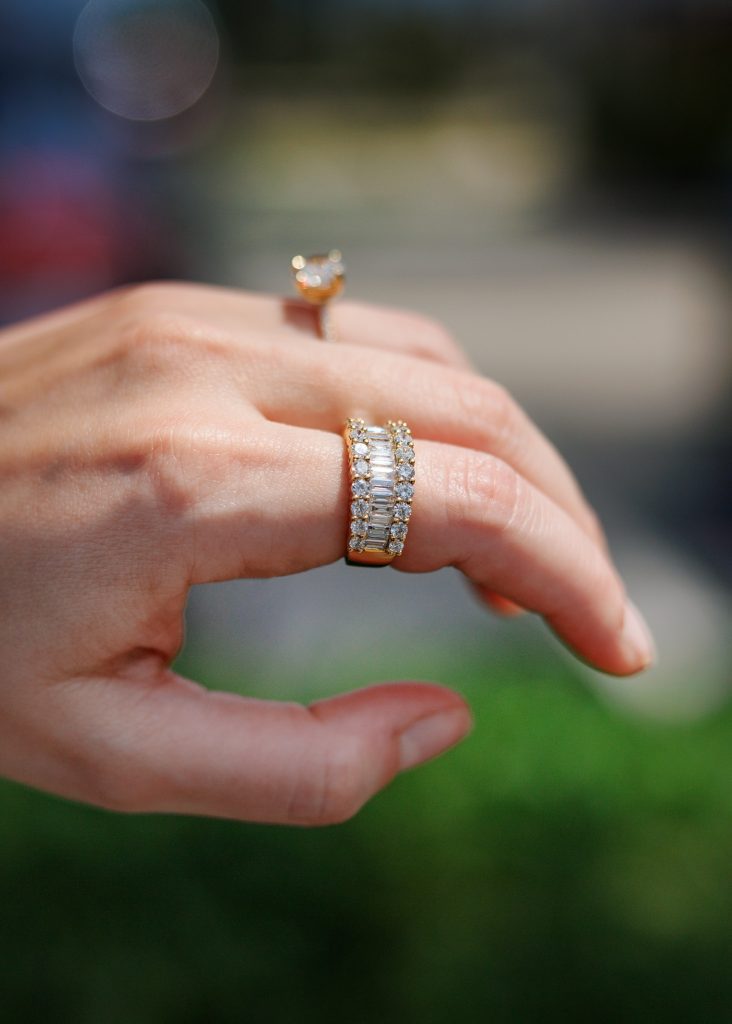 Are you wondering what 18k yellow gold means? Well, it does mean that the ring contains about 75% pure gold. The remaining 25% of the metal consists of alloy! The presence of alloy doesn't change the fact that 18k gold has the highest amount of gold content. In the fashion world, 18k gold is the apex, used only for high-end jewelry. This means that the diamond fancy eternity ring is one of the high-end pieces of jewelry.
Diamonds are popular gemstones because they have stood the test of time. After so many centuries, decades, and years, you can't deny that diamonds are high-end stones. They are the go-to stones when people want hard and colorless gemstones. The strength handles longevity. And, the lack of color is what indicates its perfection. We can determine the colorlessness of a diamond based on a scale between D – Z.
D represents the highest form of colorlessness. And as the scale goes down, the level of colorlessness reduces. This means that a diamond with a color scale of D is without blemish, and the one with Z has visible flaws. Since the diamond fancy eternity ring belongs to the F scale, we can categorize it as nearly colorless. While there is a presence of color, it is not visible to the naked eye. The 'VS' behind the F in this ring means 'very small'. This implies that the inclusions are very small and almost insignificant. To see them, you may need an artificial magnification, and even then, it isn't a big deal.
The Diamond fancy eternity ring is a baguette. It is a unique shape among others. A baguette diamond may not be the most popular stone shape you will hear in this time and age. But there is no denying that it is one of the unique ones.
It has a rectangular, thin, and elongated shape. At first glance, you would think baguettes are square. A closer inspection and you will realize they have elongated and thin shapes.
We all know the average diamond cut has about 50+ facets. The baguette is different because it has about 14 facets. This is why it is useful as a side stone for engagement rings. But of course, the designers have done their best to arrange the baguette shape uniquely. Because of their creativity, we have the diamond fancy eternity ring.
You've probably heard of halo, prong, or double halo settings if you have ever read about engagement rings. These settings are popular so it is no surprise that we sing their praises often. But they are not the only exquisite setting for rings and other accessories.
We have settings like Channel, which is not popular, but just as functional as the popular ones. A diamond fancy eternity ring is one with a channel setting. From just looking at the ring, you know that this is no common style. A channel setting is a clean style of setting, which contains metals that ought to house a row of diamonds. To achieve this, the jewelers have cut the channel into metals.
The channel setting contributes to the elegance of the ring. What most people do not know or talk about is that it does more than add to its beauty. The channel setting also ensures that the row of diamonds is safe.
A lot of things have happened since 1960. So, no one expects that the design or even the name has remained unchanged. But there is no denying that the first eternity ring appeared first in 1960. Thanks to DeBeers, someone who made an effort to sell smaller diamonds to people.
She didn't only conceive the idea, or do things halfway. DeBeers' marketing strategy to sell smaller diamonds was phenomenal. So, many people couldn't ignore her and the diamond eternity ring.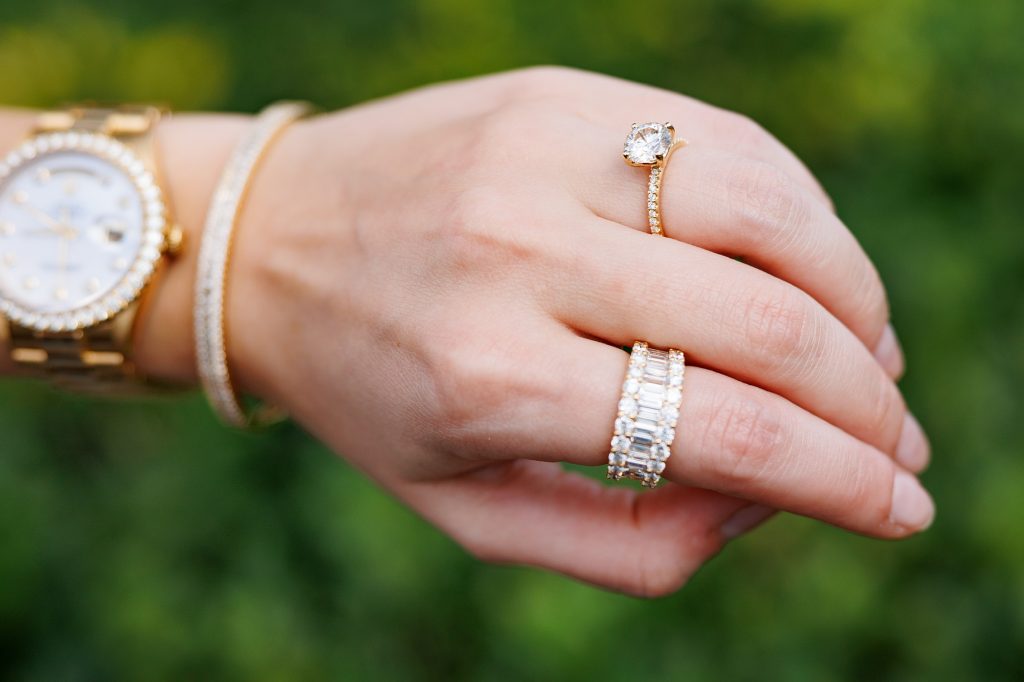 One of the strategies for selling this was that it would be the perfect gift for anniversaries. People mostly bought the ring when they celebrated their 60th anniversary. Today, people use the ring to celebrate different years and milestones in marriage. We now recognize the ring as the eternity ring today.
An eternity ring, which is a set of repeating patterns of a gemstone, is one of the most popular. It is no surprise that this has different models, designs, and modifications. One of the special modifications is the diamond fancy eternity ring.
The diamond fancy eternity ring should be on the list of things you should buy for yourself. It is one of the best dress rings out there, with a diamond stone, and an ideal price. If you wish, you can also get for a loved one to celebrate them or a milestone in your relationship.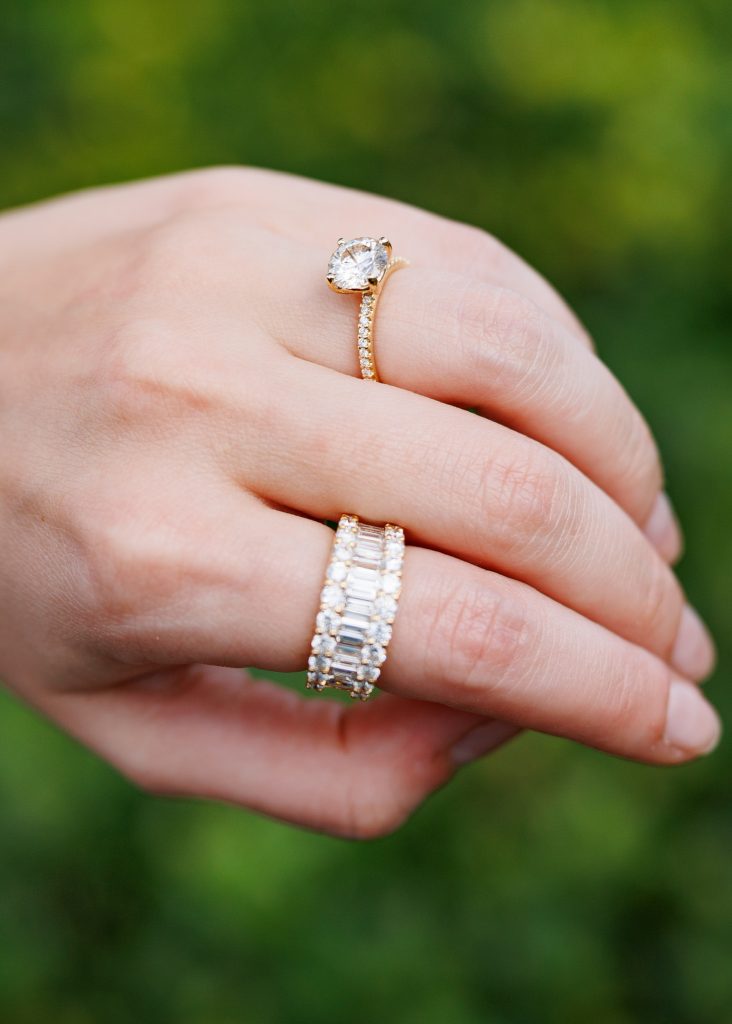 The excitement that comes from knowing the benefits of the ring can be overwhelming. So, we understand your eagerness to buy. But you need to be sure that you are getting the best of this ring whenever you decide to buy it. To get the best, you should do the following:
Confirm European Diamond Reports (EDR) Certificate
EDR is one of the most reputable certification companies for diamonds. The organization wants the best for all diamond users. So, they have programs to confirm the originality and authenticity of the stones.
A typical process with the EDR involves diamond grading reports and jewelry reports. The process also includes polishing solutions and diamond consulting. The organization renders these services to ensure that diamonds are authentic.
When you decide to get this ring, ensure it has followed the right process. Getting the certificate from EDR that shows that your diamond is fit for use is the go-ahead you need.
"If wishes were horses, beggars would ride." Sometimes, our bank account cannot afford our dreams. This is sad but life is not fair, and sometimes, we will have to deal with the reality. So, it is not enough that you think the diamond fancy eternity ring is perfect. Can you afford it?
It is not the end of the world if after you check your account, you realize you cannot afford it. There is always a next time. All you need to do is work towards gathering the amount to buy the ring of your dream. With time, you would have the budget for it.
Getting a diamond fancy eternity ring is sadly not for everyone. You know yourself better than everyone else. Of course, the diamond fancy eternity ring is universally acceptable. Many people can also attest to the fact that the ring has one of the best qualities. This still doesn't mean that it is the ring for you.
It is important that you love everything about this ring before you buy it. You also want to be sure that it blends with your personality, and body type. After doing your personality test, the answer should lead you to either buy or not. Letting your conviction determine this is better than buying because of peer pressure.
Final Thoughts
Getting a dress ring for yourself, and a loved one is something you should try at least once. A dress ring may not be an engagement ring or wedding ring. But it is a ring. Who does not like to wear one as an accessory? You are lucky that you know about a diamond fancy eternity ring, which is a type of dress ring.
Few people have the privilege of getting a special ring like this. So, if you ever get an opportunity and privilege to buy one, consider yourself blessed among peers. The diamond fancy eternity ring is bold, and the most gorgeous dress ring you will ever see.
It has some special features that make it stand out, and stand the test of time. So, you wouldn't need to worry about making a lasting impression on the people around you with this one. You also may not need to worry about its longevity. With a F-VS diamond scale, and one of the best settings in this time, and age, the ring will be with you for as long as you want.
Whenever you decide to discard it, the value of the ring is high enough that you can pass it to another person. You can also sell a diamond fancy eternity ring at a good price if that is something you ever want to do.