Diamond and Sapphire Ring: Get Kate Middleton's Look!
Have you seen Kate Middleton's infamous diamond and sapphire ring?
The Royal Family has been on a lot of our minds lately. As both William and Harry reach marrying age, we all wonder about their futures, how their families will grow, and what it's truly like to be inside the walls of the monarchy.
Fashionistas take careful notes of the fashions that Meghan and Kate are wearing noting the latest styles, quick to adopt them into their personal wardrobes. One piece that has been under the fashion microscope is Kate Middleton's diamond and sapphire ring.
This diamond and sapphire ring was given to the Duchess upon her engagement to Prince William. Read on to find out more about the world's most famous blue diamond and sapphire ring and how you can get the look for yourself.
Fun Facts About the Royal Engagement Ring

Meaning
Although this ring is beautiful and significant of the love William and Catherine have for each other, it also holds a special, more significant meaning. The ring previously belonged to William's mother, Princess Diana. The Princess died an untimely death in a car accident August of 1997. William gave the ring to Catherine, ensuring his mother didn't miss out on his wedding day.
Size
The ring was originally sized for Diana's finger, as a size I. When Catherine received the ring, it was sliding around on her finger and had to be resized. The Crown Jeweler, G. Collins and Sons, resized it to an H by placing small platinum beads inside the ring's band.
Specifics
The royal ring consists of a 12 carat oval blue sapphire, cut into facets. It is surrounded by fourteen solitaire diamonds and features a setting of 18K white gold.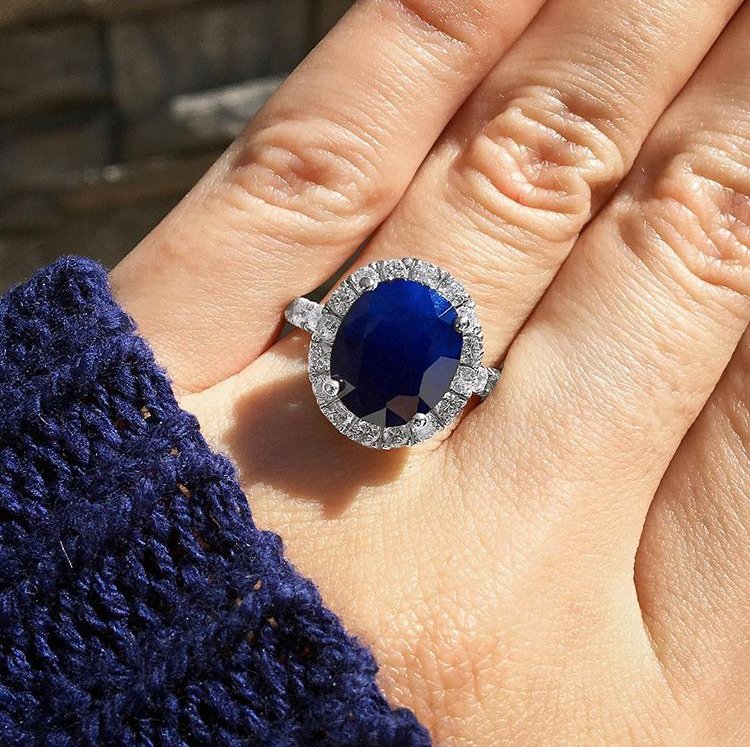 Ownership of the Ring
When Diana and Charles divorced, Diana returned the ring to her ex-husband. It was stored in Kensington Palace. When Diana died, Charles allowed their sons to take something from their mother's possessions as a means of remembering her. It was actually Harry who chose the ring, while William chose a gold Cartier watch. However, upon the engagement of William and Kate, the two switched possessions. Harry, who always loved Kate as a sister, was happy to give the ring to the couple.
Facts About the Ring
The Ring Was Not Custom Made: When Charles first proposed to Diana, he let her choose the ring. The ring was chosen from a selection of rings he requested to have shown to her. The ring she selected ended up causing a scandal because she picked one that was already created as opposed to having one custom made.
Engagement Outfit to Match
When Kate and William were interviewed on television to announce their engagement, Kate wore a sapphire blue silk jersey dress, which matched her ring perfectly. The dress was made by one of the Duchess' favorite London designers, Issa.
The Most Sought After Diamond and Sapphire Ring
Despite what most people thought of Diana's choice, the ring quickly became the most sought after engagement style. After William and Kate's engagement, the sales for diamond and sapphire engagement rings went through the roof again, with jewelers all over the world frantically seeking enough supply to keep up with customer's demands.
Increase in Price
The engagement ring, which was created by Garrard & Co, the Crown Jeweler, was worth 28,000 pounds in 1981, when the Prince Charles first proposed. It is now valued at 300,000 pounds, a ten fold increase in price.
Matching Earrings and Pendant
Apparently, the Princess loved her ring so much, that she had matching earrings and a pendant created to complete the set. The new accessories were first seen by the public eye during a ceremony at St. Paul's Cathedral to commemorate the withdrawal of British troops from Afghanistan. The set includes a pear shaped diamond and sapphire cluster pendant as well as matching earrings.
The Proposal
When William proposed to Catherine, he wanted it to be a special occasion. He decided to propose while the couple was on vacation in Kenya. He carried it around in a rucksack with him for three weeks until finally finding the perfect time and location for popping the question.
Why Buy a Sapphire Ring?

Although Catherine's sapphire ring is one of the most famous engagement rings in modern history, this wasn't the first time a royal chose a sapphire to represent an important element of their lives. In fact, the British Royal Crown Jewels feature many large sapphires.
The sapphire also has a deep history in the ancient Persian culture. Back then, it was believed that the earth was created atop a very large blue sapphire and that the sky was blue because it reflected the gem. Other cultures cite the gem as having calming and healing properties.
Today, the sapphire is believed to symbolize wisdom, virtue, good fortune and holiness for royals. In an engagement ring, the sapphire can stand for faithfulness and sincerity.
What to Look for In a Diamond and Sapphire Engagement Ring

If you are a fan of sapphire and are thinking of having the gem as the main stone in your engagement ring, you should know what to look for when making your purchase. Here are some things to think about when choosing your ring.
Cut, Color and Clarity
Color
Sapphires come in a variety of colors. Blue is the rarest and most valuable. The richer the color of your sapphire, the more valuable your ring will be. A perfect sapphire will appear as a cornflower blue without any modifying colors like gray, green or black. This will cause the gem to have a different hue.
Cut
The cut of a sapphire isn't as important as the cut of a diamond because it's harder to see the inclusions in the darker stones. However, no matter the shape of the stone, the color should look even with a consistent sparkle. An oval cut gem has an heirloom feel while a round bezel setting will give off a more modern vibe.
Clarity
There is no standardized quality grading system for colored gemstones, but is rare to find a natural sapphire without inclusions. It is unlikely you will find one that is flawless, but as long as there are no severe inclusions, you should be good.
Finding the Perfect Hue
Sapphires come in a number of hues and different ones can serve to complement your skin perfectly. Sapphires with pastel undertones will complement lighter skin tones while classic royal blue is great against olive complexions. If you have darker skin, go for a deep cobalt.
Heat Treatments
Buyers should be aware that sapphires found close to thermal venting in the earth will produce a more saturated color. This is due to natural heating. Some can be treated with heat to enhance the richness of their color. Naturally vibrant sapphires that don't require any treatment are more expensive and harder to find.
However, you don't have to obsess about finding these natural beauties as the heat treatments will not affect the quality of the gem and can even strengthen the chemical makeup. However, buyers should make sure they are dealing with a reputable jeweler who uses standard treatments and does not dye their gems.
Cleaning and Care
Sapphires are durable gems, but require special care. Experts recommend using warm water, mild soap and a soft bristle toothbrush for every day cleaning. To really get your gem to shine, take it to a jeweler for an in depth cleaning at least once a year. While taking your ring in for a cleaning, be sure to ask your jeweler to check the security of the stone as the prongs can loosen over time.
Other Features of Your Ring
Diamonds
Most fashionistas will know the 4 Cs of finding the perfect diamonds; carat, cut, color and clarity. These won't be a huge factor if you have smaller diamonds in the setting of your sapphire ring. If you do have larger diamonds however, then you'll want to look at them carefully to make sure these gems are good quality as well.
Cut
The cut of a diamond refers to its proportion, finish and polish. These help to determine the fire and brilliance of the diamond. An ideal cut diamond is round or princess cut with ideal proportions and excellent polish and symmetry ratings.
Clarity
The clarity refers to the diamond's clearness and purity, making sure the gem has no inclusions, or at least none that are visible to the human eye. A diamond that is nearly flawless will have an F rating while ones with inclusions will have an I rating.
Color
It is best for a diamond to be colorless. Diamonds that are yellow in color will not be worth as much as those that are clear. However, if you do go with a gem that is yellowish in appearance, a gold band will offset this well. If you are opting for a white setting, you will want to go with a clearer diamond as the yellow tint will be more noticeable against the white. Diamonds can have color ratings of J, K and L with J being the closest to colorless.
Carat
Carat refers to the weight of a diamond with one carat equivalent to .20 grams. The larger the carat, the pricier the diamond, although the other C factors can also serve to increase or decrease the gem's value.
Metal Type
When it comes to a sapphire and diamond ring, white settings are more suitable and therefore more popular. Therefore, you are likely to be looking at a white gold or platinum setting for your ring. White gold is more expensive then yellow gold due to the fact that there are extra metals added to give it its white appearance. Unfortunately, the white appearance of the ring can also fade over time which is why platinum may be a better option for your setting. Platinum is also more expensive than white gold.
Getting the Princess' Look
Buying the Princess' style for yourself, one great option is the Platinum 8.56ct Ceylon Sapphire and Diamond Cocktail ring at Raymond Lee Jewelers. Ceylon Sapphires come from Sri Lanka, known as the island of exotic gems. While the country produces various types of gemstones, the sapphire is the most celebrated and desired.
The large sapphire gem is surrounded by 2.65ctw of round, brilliant cut diamonds that rate F/G in color (virtually colorless) and VS in clarity meaning they are very slightly included. The total weight of the ring is 6.8dwt (10.6g). It measures 7/8" in length, ¾" in width and 3/8" in height. The band and setting are platinum, one of the most valuable metals when it comes to fine jewelry.
The ring is a size 6.5 and comes complete with a Raymond Lee Jewelers presentation box. It can be purchased for $36,995, discounted significantly from its original price of $55,995.
Where to Buy a Diamond and Sapphire Ring
Of course, the diamond and sapphire ring also comes with the same standard guarantees as you would expect from any Raymond Lee purchase. The jeweler's 30 plus years of expertise have made them stand out as the premier jewelers in the Boca Raton area. And while they may have been around long enough to build up a great reputation in the jewelry industry, they also pride themselves in keeping up with the times, offering jewelry that can be classic or modern, appealing to a wide variety of tastes and sensibilities.
If you are not in the Boca Raton area, you can still enjoy a great shopping experience with Raymond Lee Jewelers. Visit their online store to shop sapphire and diamond engagement rings as well as a variety of jewelry including bracelets, earrings, necklaces and more.
Sapphires are such beautiful stones and the perfect choice for a woman who wants to explore alternate looks in engagement rings. And besides, who wouldn't want to look like a princess. Consult a trusted jewelry expert like Boca Raton's Raymond Lee to find the best choice for your sapphire engagement rings and all your fine jewelry options.