Designer Wedding Jewelers: Gabriel & Co.
Exquisite traditional design alongside cutting edge modern jewelry pieces all made using the latest technology and finest materials available. That is the Gabriel & Co. guarantee. This is a company that produces designer jewelry particularly for engagements and weddings. Further, their reputation is of excellence and emotional renderings. Also a family business their focus is on unique productions that speak to the importance of each jewelry worthy occasion. Meant to be cherished for a lifetime each of these designer jewels is crafted with dedication to the emotional connections that underlie it.
History and Tradition
The Gabriel & Co. brand was founded in 1989 by the Gabriel brothers Jack and Dominick. They took their personal vision of the value, both material but more importantly emotional, that jewelry carries and established their brand. Accordingly their official site says their story is one of passion, family, service and love. This ideology is imbued within each and every piece they design. Moreover, their deep awareness of the real meaning behind jewelry, a commemoration, whether of love, an occasion or incredible accomplishments, is translated into gorgeous designs. Their dive into the world of jewelry making was not a randomly selected one. Additionally, as a family passion their father Elias Gabriel was a master jeweler who taught them the art of the craft. More than a decorative sparkle their designs are crafted with a deep emotional connection to each piece.
Engagement Rings
The beginning of the rest of your life starts here, with a stunning engagement ring and a question. Gabriel & Co. with their focus on the emotional and spiritual elements embodied in pieces of wedding jewelry are ideal craftsmen for engagement rings. Furthermore, they offer a range of rings from the classical traditional single stone ring to intricate modern rings with in a variety of colors, cuts and arrangements. Here are a few of our favorite in some differing styles. Also, you can find our full range of Gabriel & Co. offerings as well as other iconic designer wedding jewelers on our site or at one of our convenient locations.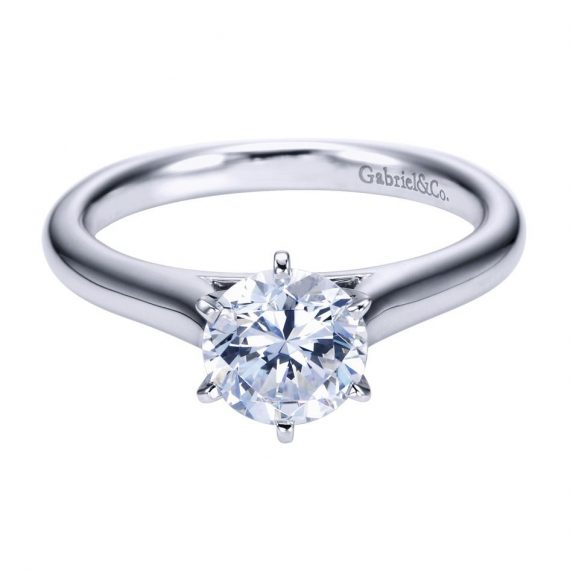 First, a tried and true classic iconic solitaire diamond engagement ring set in 14k white gold. Additionally there is nothing like the traditional timeless design.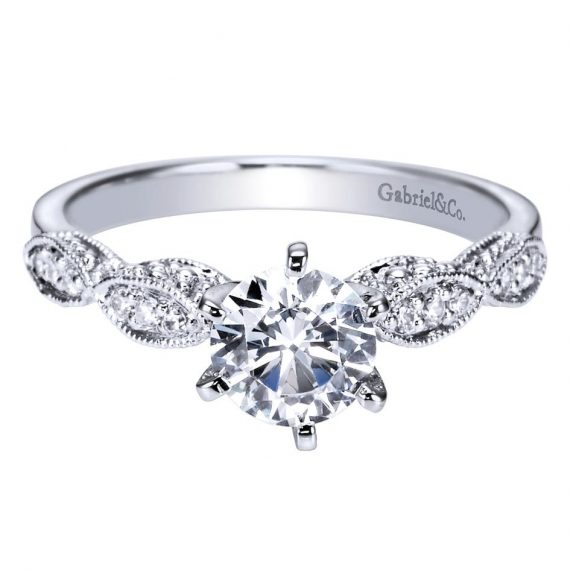 Second, a Gabriel & Co. icon this slight variation of the classic solitaire features Victorian stylization and milgrain details with accent diamonds.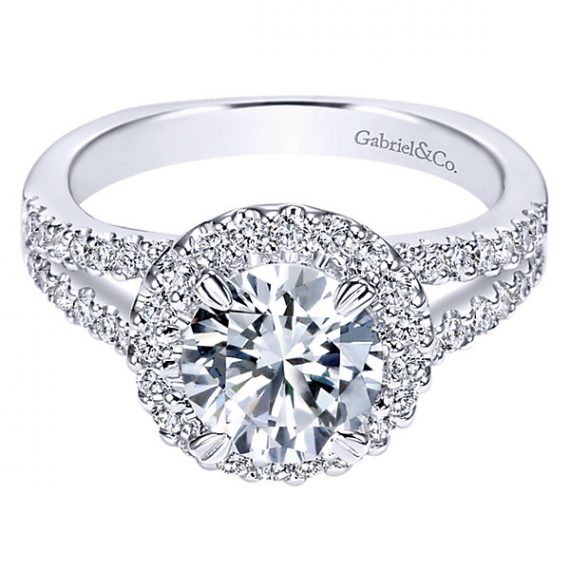 Third, a glowing halo solitaire with accent diamonds all around the center diamond stone. Also, this ring has double bands with round brilliant pave set accent diamonds.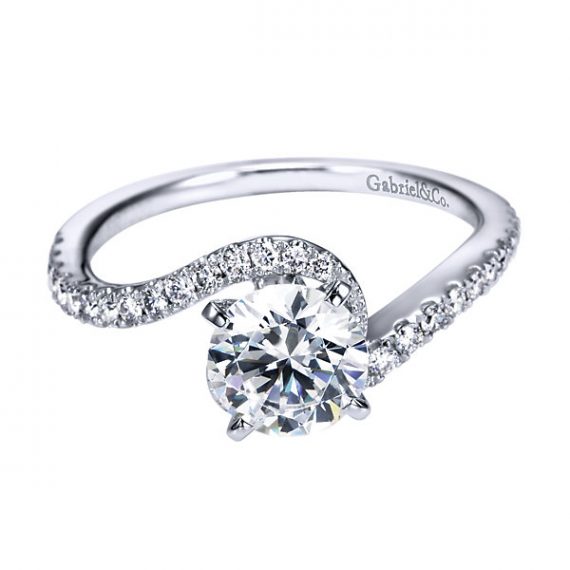 Next, is an innovative and modern design with a swooping swirl feature. Also, the band encrusted with accent diamonds gives this uniquely shaped ring stunning sparkle.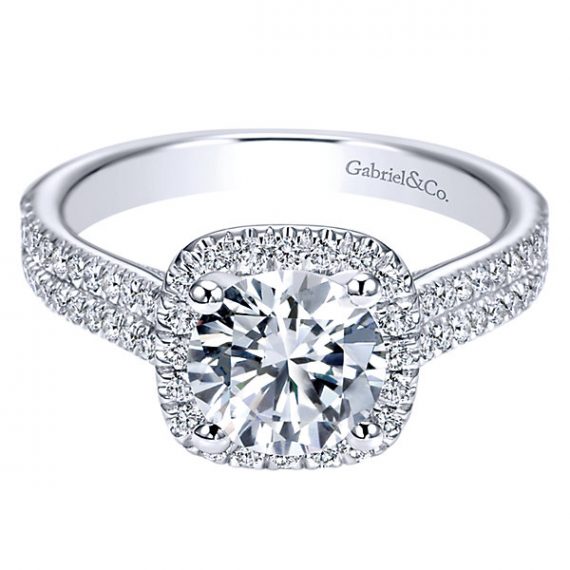 Another, modern halo diamond engagement ring this 14k white gold setting has a double row of accent diamonds along the band. Furthermore, the large center stone is of an extremely high clarity and quality.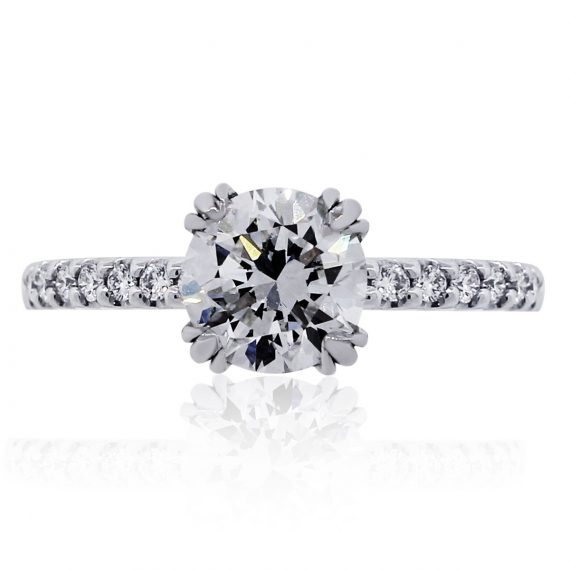 Finally, a solitaire with flair. Furthermore this ring features a band with accent diamonds all the way around. Short of being an eternity band this is a lovely iteration of the solitaire ring.
Custom Jewelry and Diamond Search
Additionally to ready made engagement rings we also have a unique offering. Also, for those who wish to create their own design for an engagement ring we offer custom jewelry crafting. Our master artisans will work with you on bringing to life the creation of your dreams. Further, we source our very own finest quality materials and forge unique pieces of your dreams. Additionally along with this service we also have our cutting edge diamond search. In order to provide diamonds for those custom rings or to take center place in a setting we provide diamonds of the highest quality in every cut and clarity. Overall, our innovative online platform allows you to search the thousands of precious diamond types from the comfort of your computer or if you prefer during a visit to one of our stores. Finally, you can access our diamond search function and begin looking for your perfect diamonds by clicking here.
Wedding Bands
Finally, the big day and the absolute moment of commemoration of your commitment to one another. Gabriel & Co. has throughout the years designed and crafted some of the most delicate, modern and gorgeous wedding bands available. Additionally, taking advantage of every available material and creating some of the most unique wedding bands out there Gabriel & Co. has made some of our very favorite bands for that special day.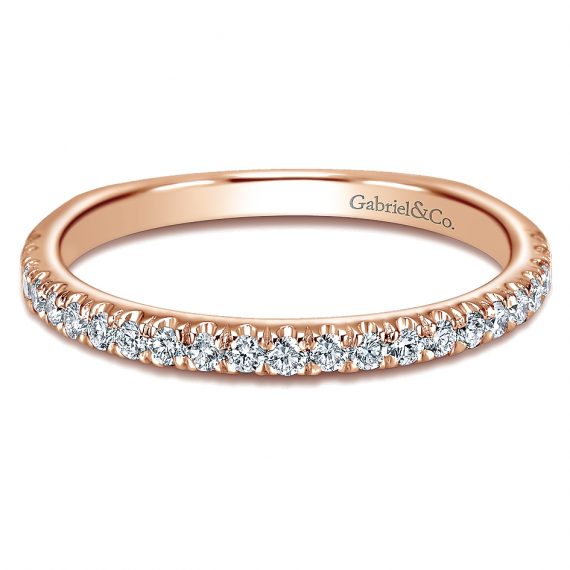 First is a 14k rose gold diamond wedding band. Overall, these rose gold bands are becoming ever more popular as couples move away from the traditional yellow and white gold.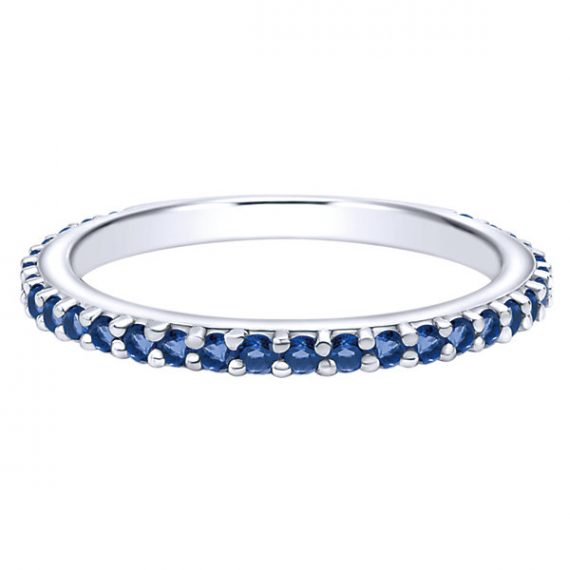 Next is a truly unique wedding band featuring sapphires in 14k white gold. Overall this band is colorful and modern with the infinity band design.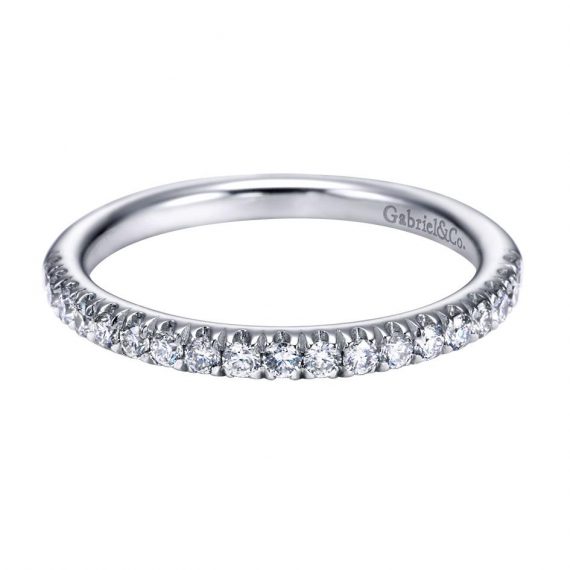 Another traditional band design this 14k white gold band features approximately 0.30ct of diamonds. Furthermore this slender band easy to wear stacked with other rings including your engagement and in the future anniversary band or even bands.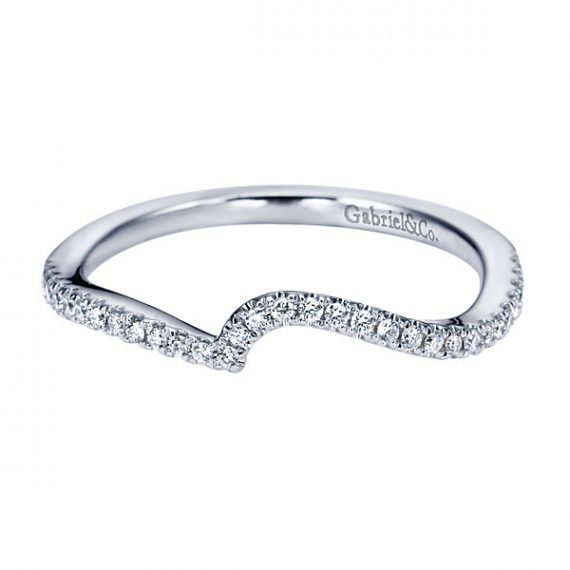 Next is a modern and unique 14k white gold wedding band. Another innovation in jewelry design this one has a curve and point at the center of the band.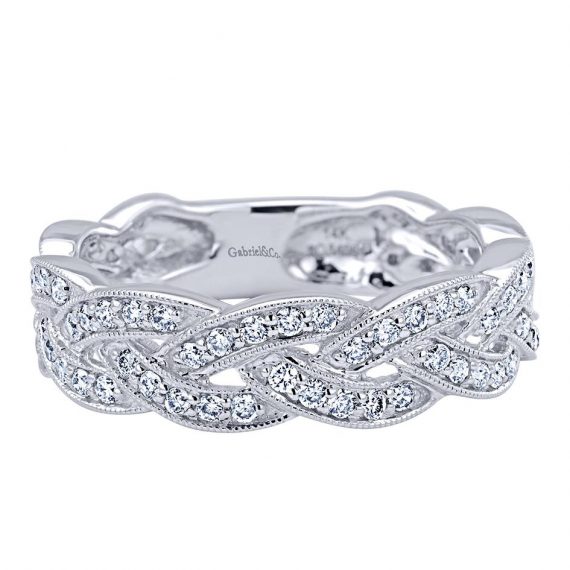 Finally a stunning and unique design this diamond braid band features interlocking 14k white gold bands in a braid pattern with approximately 0.58ct of accent diamonds wrapping around the ring.
Anniversary Bands
A celebration of your commitment, Anniversary bands mark an eventful progression of time spent together. Traditional, classic designs featuring white diamonds in single rows an anniversary band can be paired elegantly with engagement rings and wedding bands. They can also be worn on the right hand. Either way it is a strong symbol of your continued commitment and a celebration of reaching real milestones, together.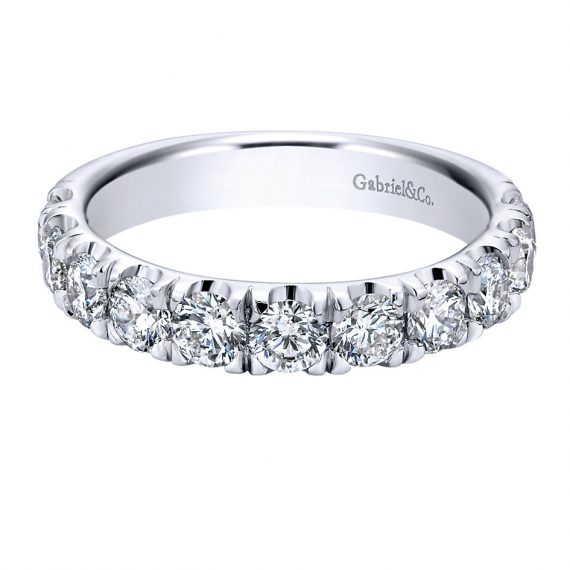 First is the traditional diamond French pave anniversary band. This classic and simple design can be worn comfortably with engagement and wedding rings.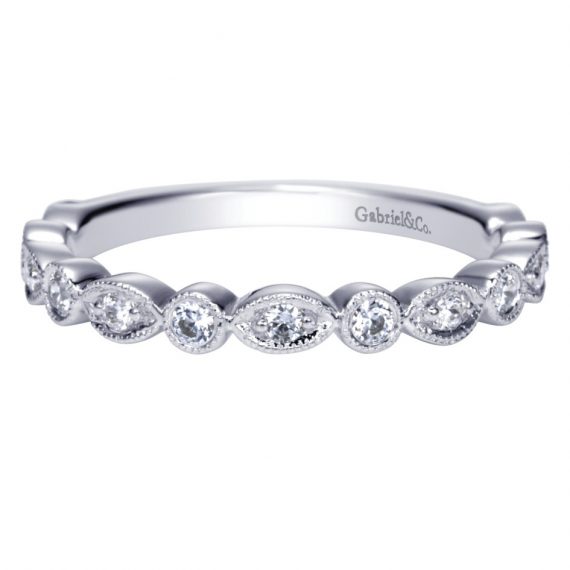 Another version of the Anniversary band this one has a unique Gabriel & Co. design. This single row band has milgrain details and a unique shape perfect for stacking with your engagement and wedding rings.
Bracelets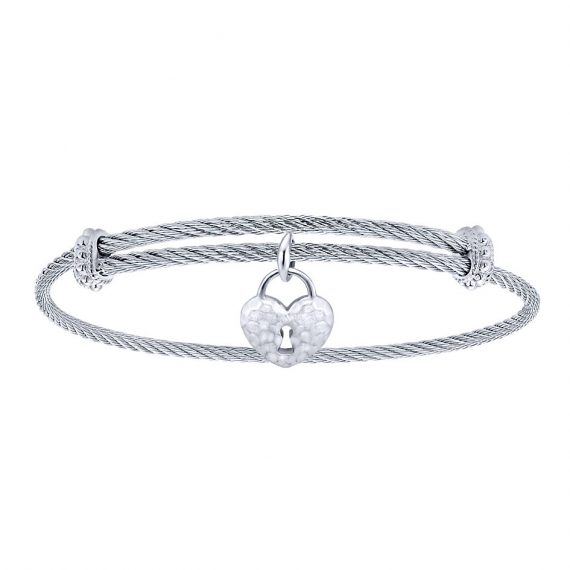 First is this delicate and gorgeous steel and silver heart charm bracelet. There are a range of different charms for this bangle bracelet, including ones with gem accents and initial inscriptions. Each one comes in either steel or silver or a combination. Refined and fun these bangles can be worn stacked together or individually for a nice touch.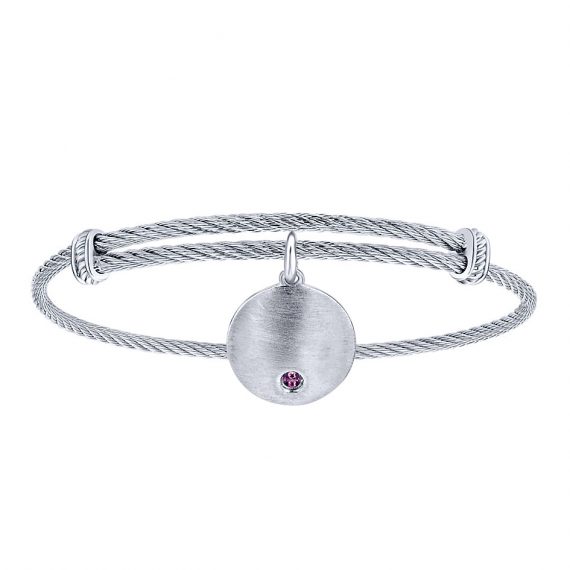 Next is one with a delicate Amethyst accent on the heart charm.
There are also other unique bracelets featuring gemstones: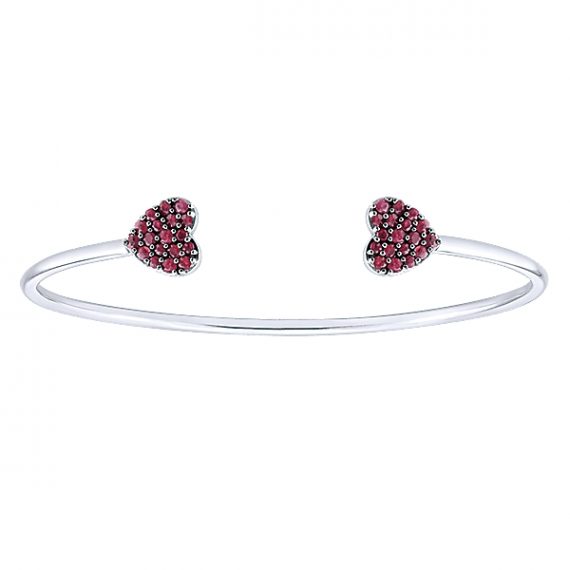 First, an open ended bangle with gorgeous ruby encrusted hearts at each end. This bangle can be paired with others or worn on its own.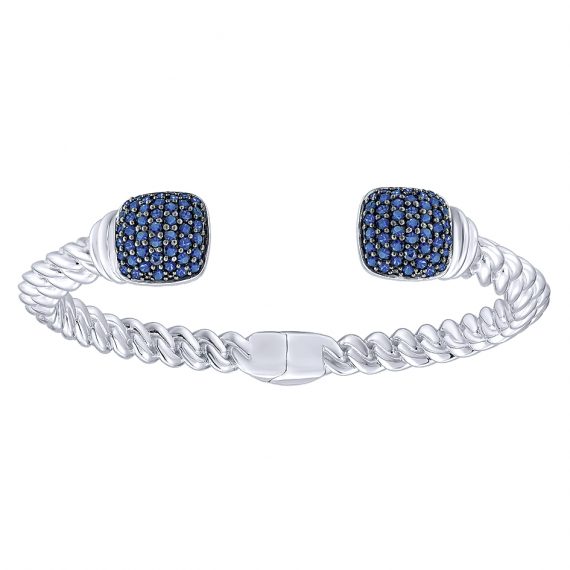 Next is another open ended bangle but this time with sapphires on each end. This bangle also has a unique roped design leading to the square ends.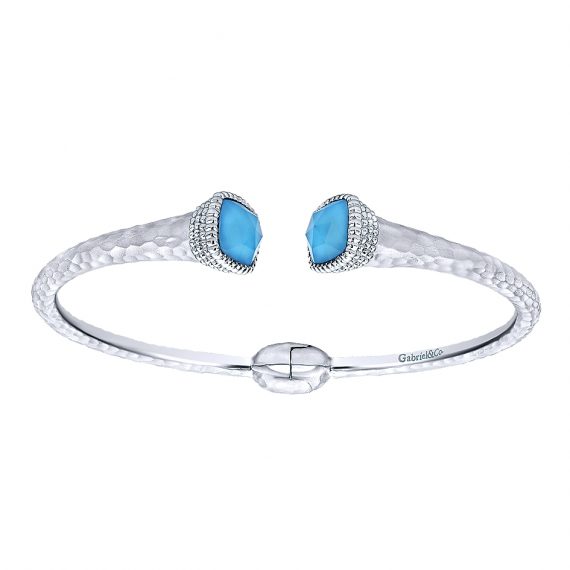 Finally the last open ended bangle for this post is part of the Temptation collection. This hammered style bangle features rock crystal and turquoise on either end of its opening.
Earrings

First is a gorgeous pair of earrings from Gabriel & Co.'s Mediterranean collection. The flowering natural design drop earrings have at the center of each drop diamonds and also features accent details around the edges. The delicate flower shape is romantic and classical.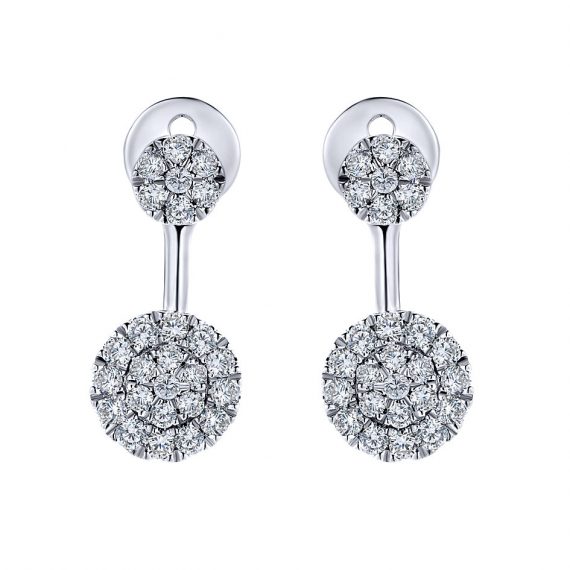 Second is a dynamic duo of rounded drop 14k white gold diamond earrings. Surrounding a central stone each one of the drop circles are preceded by slightly smaller version studs. These drop earrings are a modern take on a simple classic.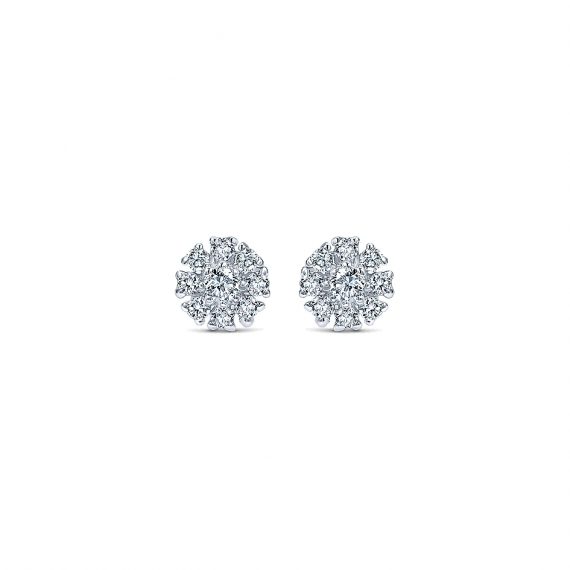 Third, a different take on classic earrings like the above, these 14k white gold diamond stud cluster earrings are intricate and indicative of a natural organic design. Blooming like flowers the diamonds are intricately set in the cluster surrounding the center stone of each.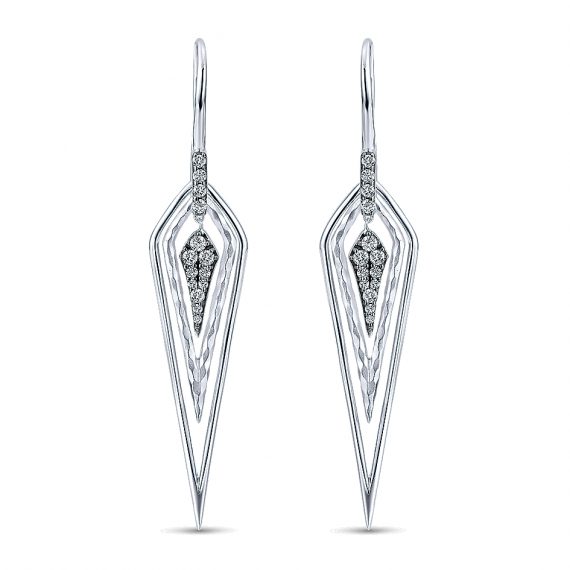 Fourth are stunning and strong statement white sapphire drop earrings. The highly modern design and straight lines are accentuated with silver white sapphires. The repeating geometric pattern is broken by unique hammering details in the middle and then with the stone settings in the center.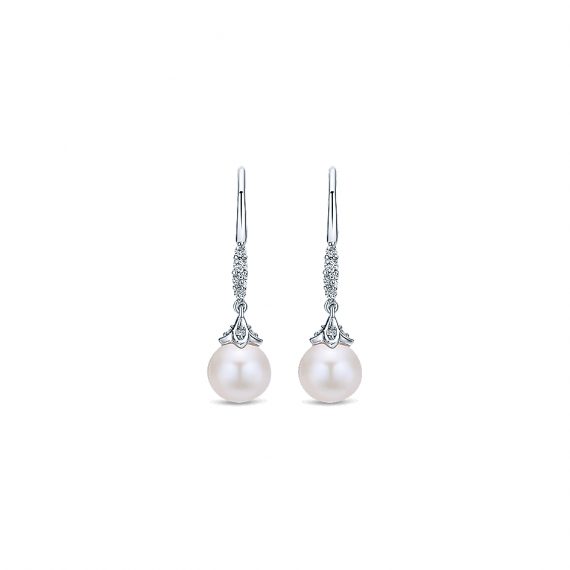 Next is a pair of classic pearl drop earrings in 14k white gold. These single pearls drops are accented by diamonds in an intricate floral setting hanging above. The shimmering diamonds are on the pearl setting and the drops.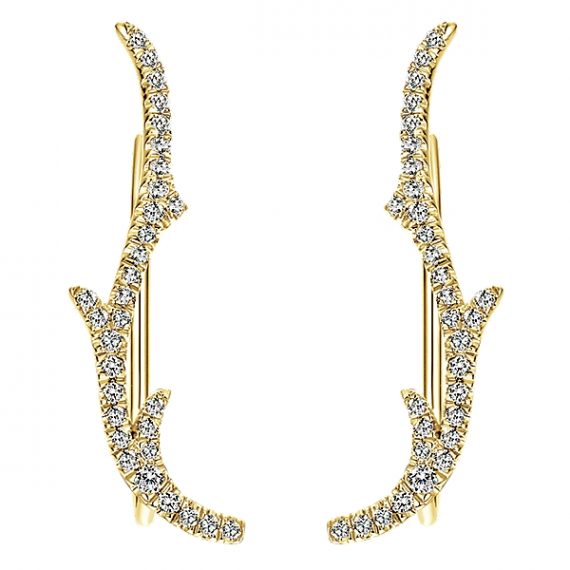 Finally, these modern and graceful ear cuffs are available in 14k yellow or white gold with diamonds. The latest trend in earrings and bringing a delightfully sleek look these are somewhat like studs in that they do not hang from the ears but are infinitely more prominent and stunning. Below is a simpler but similar design in a 14k white gold with diamonds.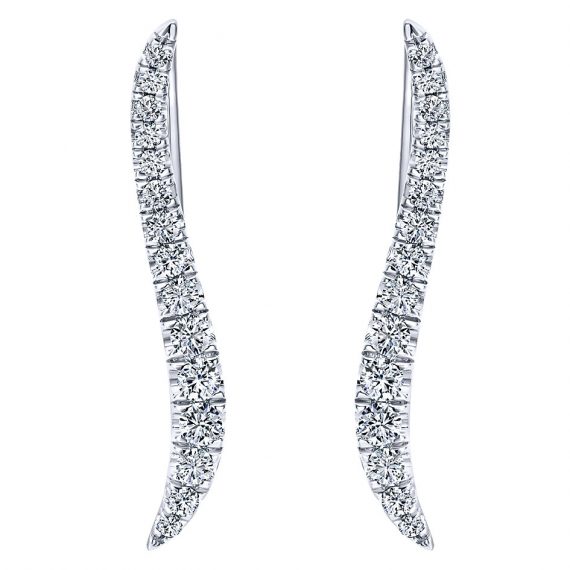 Another ear cuff this one has smooth curves and delicately set diamonds to rest along your ear for an added bit of glimmer. Additionally this type of new ear cuff looks absolutely incredible on brides with semi-updo or up-do hairstyles.
Necklaces
While not all brides choose to wear necklaces on their wedding day there are a wide variety of gown necklines that not only allow for one they actually call for them. These are a few that go well with either deep cut or swooping necklines as well as with straight or modern cut necklines that are becoming ever more popular.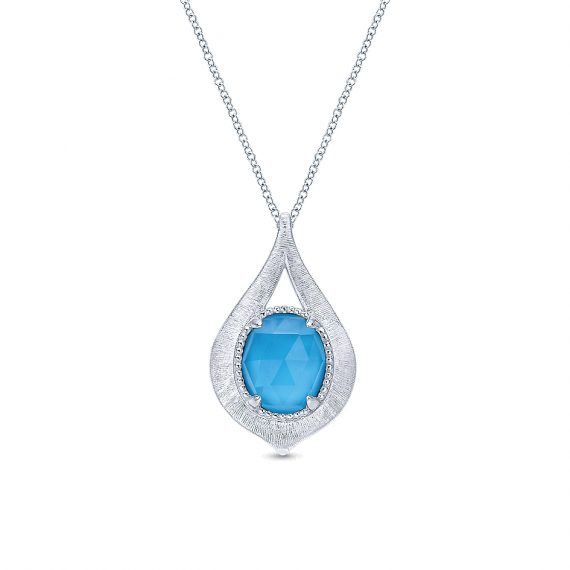 First is a lovely silver rock crystal and turquoise necklace. The center stone is surrounded by bubbly milgrain design. Additionally to the bright and colorful center stone this necklace's pendant has a gorgeous textured design all around.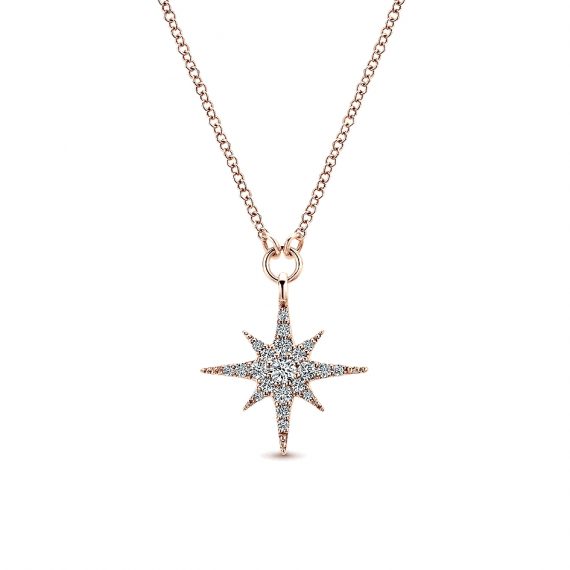 Next, this Starburst beauty which is available in 14k pink, yellow or white gold, comes with 0.25ct of round brilliant diamonds. Also the modern shape and with a bright center stone diamond this necklace is a delicate statement piece.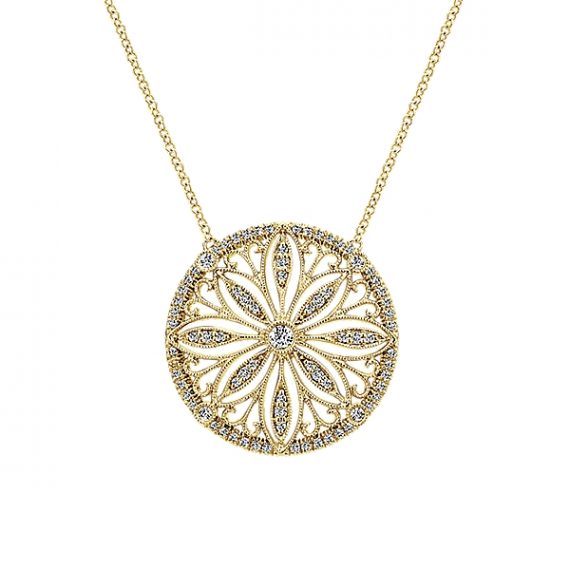 Another gorgeous design this 14k yellow gold floral diamond necklace is full of intricate detailing and design. Additionally the organic shapes and round edge make this romantic piece ideal for those with a classci but romantic style.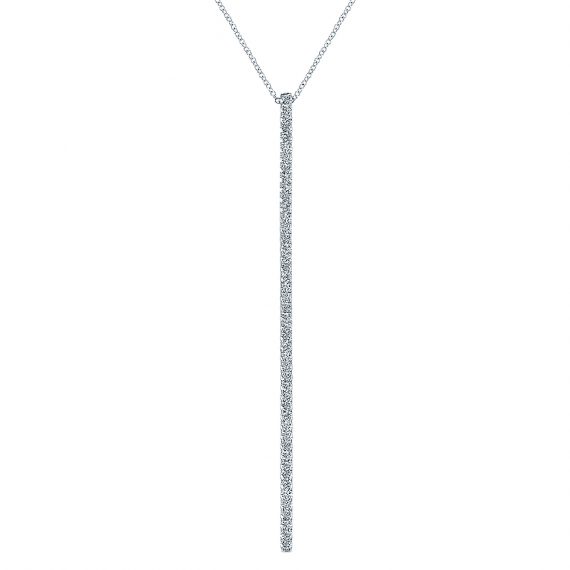 Finally a modern and sleek necklace that accentuates a plunging neckline. This incredible necklace with a string of diamonds dropping down in a fine line looks absolutely spectacular with strapless or plunging gowns. Furthermore for the modern bride to wear on her big day and any day afterwards this necklace is a sure choice.