Cute Proposal Ideas
Surprising that special lady in your life with an engagement ring is a surefire way to make proposing special. Even if you're not the most romantic fellow out there, or even if you're not creative, you can make the proposal truly memorable.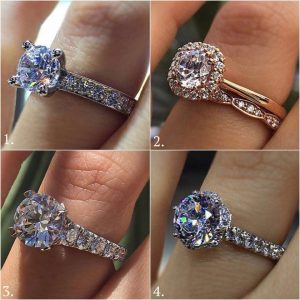 Here are a few ideas to help you:
1. A Scavenger Hunt
This idea is ideal for the lady who likes mysteries and games. Create a scavenger hunt that begins in your home. Maybe make one or two the clues lead to places inside your home. The next few clues should take her in different parts of the city — maybe in spots that she has fond memories of with you. The final clue should lead her to a romantic location where you're knelt down on one knee holding one of the most gorgeous engagement rings Boca Raton has to offer!
2. Crossword
If your soon-to-be fiance enjoys puzzles like crosswords, why not give her a puzzle to solve? There are websites and puzzle companies that will print you off a crossword with any saying you want it to such as, "It's been an amazing __ years, and I want to spend many more with you. So will you marry me?" There are other types of puzzles besides crosswords that you can customize as well, so you're not limited to crossword puzzles. Make sure you're standing in the room when she finishes the puzzle. As soon as she finishes, you can surprise her with her dream ring.
3. Go to Da Club
Does she have a favorite spot where you and her go to shake your groove things? Ask the DJ to play a slow love song and have him or her dedicate it to your lucky lady. Be sure to call ahead of time or at least talk to the dj before your request – he's not going to throw off the vibe of the party unless you've got a great reason. And a smooth tip pressed into his palm always helps.n
4. A Special Flight
Adam and Taryn get engaged on JetBlue from JetBlue on Vimeo.
Why not surprise her with a romantic one-night getaway a flight away? You can fly to a bistro in another state or even go to a destination where you and she can just enjoy the night. Ask the pilot if it's okay to use the loud speaker on the way to your destination. Ask the big question over loudspeaker and get ready for a planeful of congratulations – and at least one fellow passenger will treat you to a celebratory toast.
5. At the Movie Theater
Are you two always going to see the latest blockbuster? Why not make this special moment happen at the movie theater? Create an ad and ask your local movie house to feature the ad on the previews. The ad should state her name and ask if she will marry you (just so no other couples are…confused.) The guy above ran with the bride's favorite show, The Bachelor, to create his very own special rose ceremony.