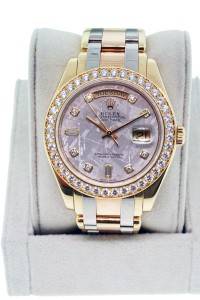 It can be hard to shop for a man, but probably one of the best, safest gifts to give a man is a watch.  The only difficult part about purchasing a watch for the man in your life is to determine what style and brand would be suitable for his personality and taste.
What kind of personality does your man have? Is he calm and passive or is he outgoing and flashy? For those who are more laid back and calm, a black or brown leather watch may be the best option, whereas a more outgoing guy would be better suited with a silver, titanium or gold watch.
Another factor to consider when choosing a watch is how sporty or game-oriented your man is. Today, there are many sport watches that show high style, mode and strong stability.  These watches are water proof and tend to be in high demand.
Does your guy prefer his watch to be digital, wind up, solar or automatic? Does he want it to just tell the time, or would he like for it to have functions for the date and alarms? All are important questions you need to consider when shopping for a watch.
The watch is not just about telling the time anymore. It is now a fashion accessory that has come into its own, so it is important to take the time to do your homework and make sure that the watch you purchase for your guy is the right one for him. Raymond Lee Jewelers offers a great range of
preowned watches
for any man, no matter what his preferences are. Visit our website to see the huge variety of watch brands that we offer.