Where to buy Vacheron Constantin watches
Wondering where to buy an iconic Vacheron Constantin? Well if you are lucky enough to be in sunny South Florida or are visiting our slice of paradise we have Vacheron Constantin classic watches for new and experienced collectors alike. This renowned watch brand with its exclusive history and tradition of excellence is one of our absolute favorites. Particularly when it comes to their classic designs in yellow gold and leather bracelets. The company itself has been around for far longer than most. With over 260 years of excellence Vacheron Constantin is a brand of time pieces you can trust among the world of haute horlogerie. The original works of art made by the hands  of master craftsmen continue on the tradition of Swiss watchmaking. Innovative movements with powerful precision and potent machinations are matched together with craftworks that are truly a vision of time. Watches for the connoisseur and collector.
Throughout the last two centuries, yes you read that correctly, centuries, Vacheron Constantin has been producing exquisite timepieces. Each one with their very own personality and design. Whether you are an enthusiast, expert or collector these are high power pieces that truly have been leaders in the world of watchmaking. From the aesthetically stunning look to the impressive technology packed into these small cases the brand shines. Their philosophy is one that has been handed down with tradition. It is based on superior quality and pushing the boundaries that exist. They are a uniquely strong manufacturer of luxury watches and are responsible for some of the watch making world's firsts. Committed to always improving and producing better and better products we identify with the Vacheron Constantin. On a personal level and professionally. Our family owned company may not have been around for centuries, yet. However, that is what we're building.
Why buy Vacheron Constantin watches?
When considering to buy an haute horlogerie watch there are a few important things to note. First whether you are an enthusiast, first time buyer, avid collector or expert is of course the brand name. Depending on the type of watch you are looking for, your reasons for purchasing and yes your own personal style and preferences the brand will play a big role. Now for those looking for a heavy hitter, strongly established brand that creates some of the world's very finest watches a Vacheron Constantin must be in the running. These watches are made to this day by some of the world's best master craftsmen in the world's always capital of watchmaking, Switzerland. Further they are committed to creating watches that live through the times no matter how long it has been. These are watches at the cusp of innovation. Pushing the boundaries of possibilities and fine craftsmanship.
Founded in 1755 Vacheron Constantin is the world's oldest watchmaking manufacturer. It has always been reinventing its brand and creating fine new styles that are groundbreaking when it comes to technical, aesthetic, artistic and human qualities. Every watch is imbued with the company's passion, stylistic ingenuity. The earliest known Vacheron Constantin was a silver pocket watch. Through the next 260 years this silver pocket watch became the tool of men out to conquer the skies, exploring and passionately creating in the world. The company's creations are physical representations of the exacting standards of Fine Watchmaking. From the complications that came down since 1790, the workshops of Vacheron à Genève dates from the end of the 18th century. As more and more innovative technology came from the brand and gorgeous forms like the Tonneau watch they expanded to North America and beyond. The progress in watchmaking did not stop there though.
Innovations in fine watchmaking
In 1901 Vacheron Constantin had the very first calibre with the Hallmark of Geneva. This is only one amongst their achievements and accolades though. Because a while after a century they also created the world's most complicated watch ever made. The 2015 achievement Reference 57260 is an exquisite example of what is possible when a brand is always committed to doing better if possible. And hold it true that it is always possible to do better.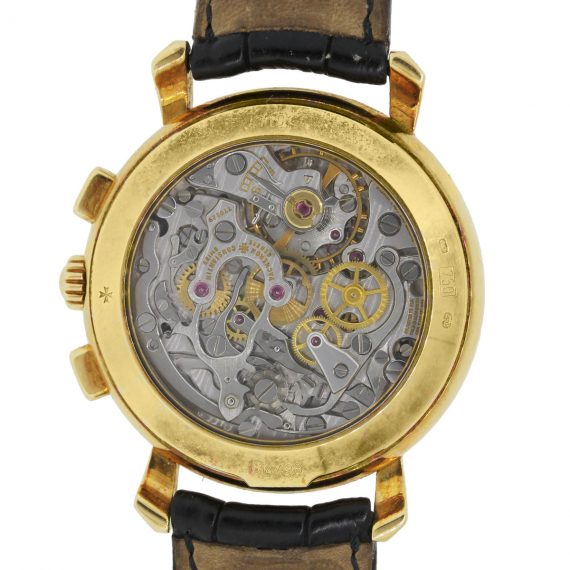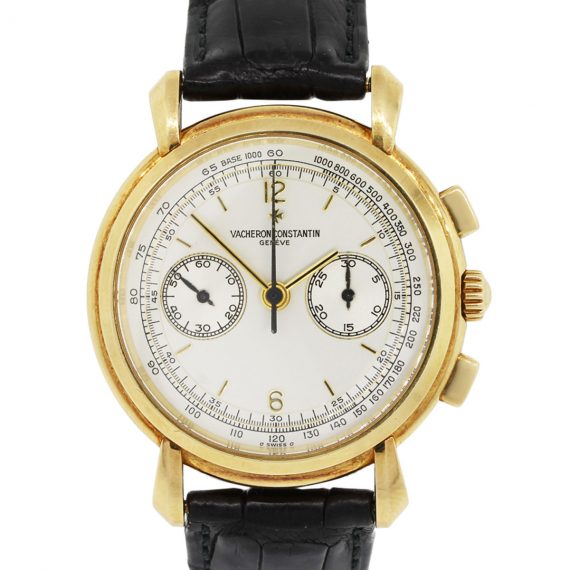 First in the Vacheron Constantin comparison we are looking at an incredible skeleton back 47101 Historique 18 carat yellow gold watch. It has in it the history of Vacheron Constantin and the endless creativity imbued in his brand. This line has been around since 1755 and renders some lovely iconic models. These contemporary reinterpretations of classic looks draw on the heritage of the high end Maison. Each one of the legendary creations from Vacheron Constantin are revived in the continuation of the Historique collection. Further the fine watchmaking models bring these classic iconic looks into the twenty first century with rigorous technical sophistication. Refiguring the daring aesthetics and widely adored styles with the latest engineered movements these watches are at the edge of innovation. It is the look that has made Vacheron Constantin a collectors' favorite for years. Paired with the patented tech that pushes the watch making world further.
This unique time piece has a very retro look with a 37 millimeter case. The 18 carat gold case holds a silver chronograph dial with two sub dials. Further this iconic classic has mechanical wind movements. The white dial shows a stark contrast with the black chronograph and gold hour markers. Also the hour and minute hands have a yellow gold and black design for a light touch matching the case. The star of this watch though is the skeleton back. Here you can see each and every single movement of this watch. From the gold pieces to the large visible screws each detail of this watch is on view. Finally the watch strap is a traditional black alligator leather Vacheron Constantin strap. It has an 18 carat yellow gold tang buckle to match the case as well. Finally the classic watch has a fixed bezel and wide open lugs.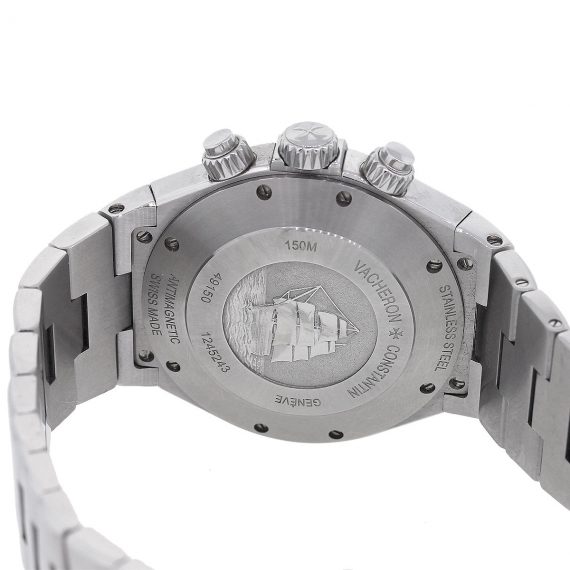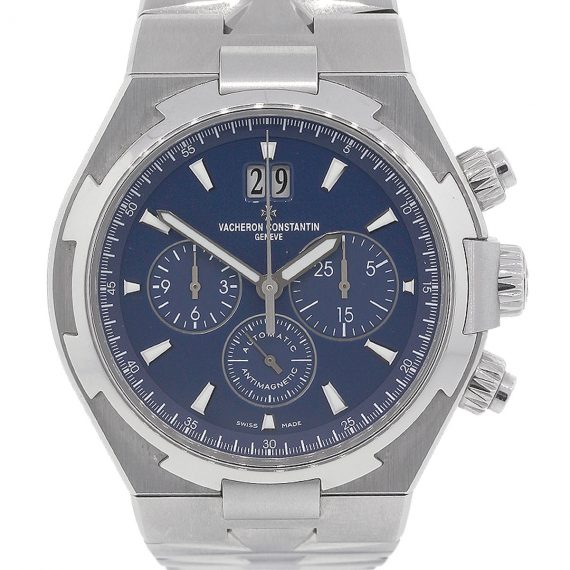 Now for a much more modern look is the Overseas blue chronograph dial Vacheron Constantin watch. This modern beauty is a traditional stainless steel large 42 millimeter case. It has an impeccable smooth stainless steel bezel and monochromatic bracelet. To finish it all off it also has a stainless steel double fold clasp. A true men's classic stainless steel watch the blue dial gives it that touch of uniqueness. Particularly with such an interesting dial. The blue chronograph dial has silver luminescent hands and hour markers. As well as a date window at the 12 o'clock mark with a white background for enhanced legibility. Furthermore the watch has three sub dials. Each one of these display part of the automatic movements of this watch. It also has two push buttons flanking the turning and bevelled crown. Although a rather large watch case this time piece fits comfortably on your wrist.
The Overseas Collection is a flight in watch making. Truly a unique and spirited collection it was completely reinvented in 2016. Still maintaining the spirit of travel and a wide openness to the world as Francois Constantin himself had. The Overseas collection is designed in the same vein as the founding philosophy. It is casually elegant while still comfortable and at the edge of fashion and design. The watch's aesthetic is matched by its powerful timepieces ready to assist any overseas traveller. An absolutely perfect daily companion this classic stainless steel modern watch has interchangeable straps and bracelets. This feature allows you to change up this watch's look at a moments notice. We even have some exclusive luxury watch rubber straps and bands that go perfectly with the changing fashion and styles of our world. This watch is ideal for a travelling man, the classic yet sportive look transitions well.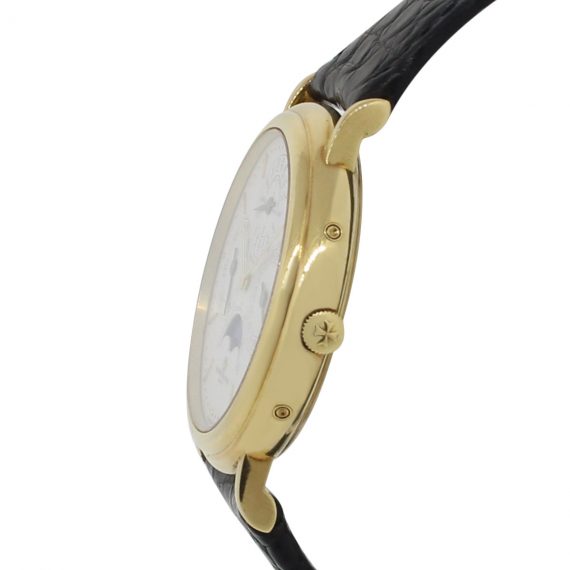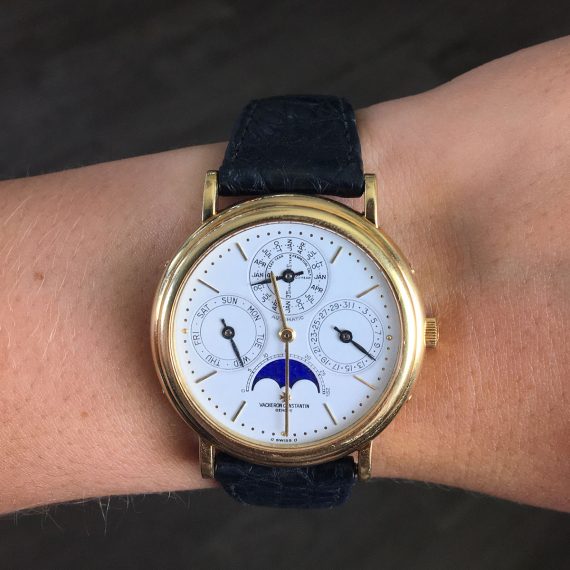 Another incredible Vacheron Constantin is this perpetual calendar 18 carat yellow gold watch. The impeccable 36 millimeter case watch has powerfully precise machinations and draws upon the brand's strengths. With automatic movements this watch keeps time for long with exquisite Geneve movements. It also has powerful aesthetics drawing on a classic combination of 18 carat yellow gold and a white dial. This complicated watch has a smooth gold bezel surrounding the scratch resistant sapphire crystal. Beneath which we find three sub dials on the face and a moon phase located at the 12 o'clock mark. Further the watch has matching yellow gold hour markers and show minutes, seconds, day, date and month. All in one watch face. When it comes to the bracelet this watch has a magic classic look. The iconic black Vacheron Constantin bracelet with an 18 carat yellow gold tang buckle that fits a 7 inch wrist.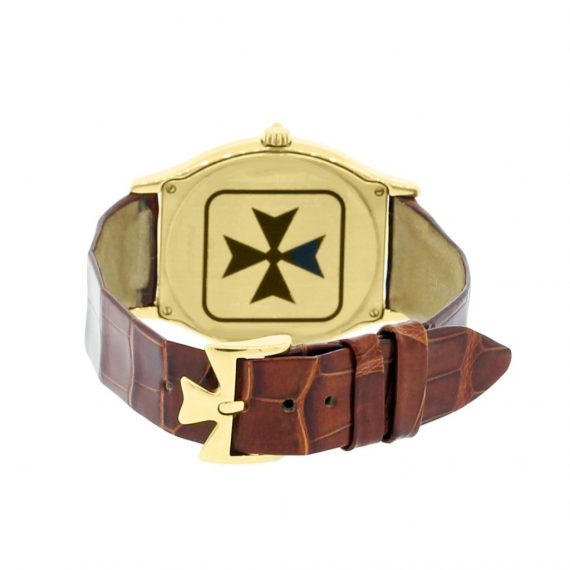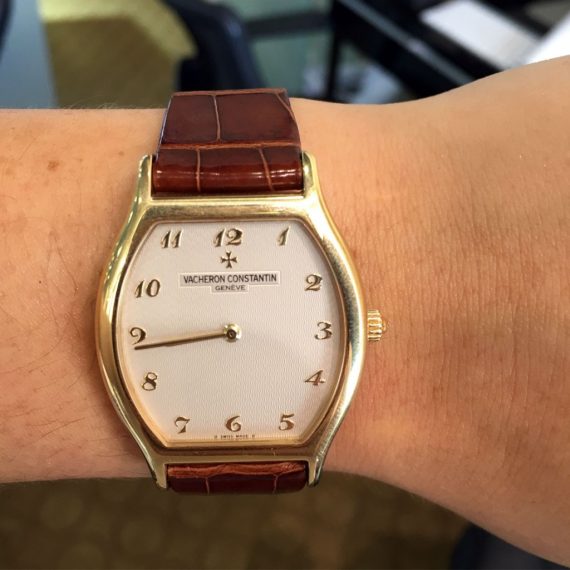 Finally the tonneau case watch. This specific Vacheron Constantin time piece is a gorgeous ode to the 1912 design. From the very first tonneau shape to now well over 100 years the 32 millimeter unique design is immediately identifiable. It has a smooth 18 carat yellow gold fixed bezel surrounding the non traditional shape. Further it has a classic ivory dial with beautiful gold Arabic hour markers. The clean look is very vintage and with a brown crocodile leather bracelet this watch is a classic. Traditional in looks and modern with style it is a gorgeous classic watch for formal or work occasions. Finally the brown crocodile strap finishes off with a unique buckle clasp. This one is in the classic Vacheron Constantin cross logo shape. On the back of the case you will also find the cross insignia in black. It comfortably fits a size 7.5 inch wrist.
Overall this watch is a true classic not unlikely to be found in strong renowned collections that feature more vintage pieces. It is an icon of the Vacheron Constantin style and has the classic tonneau curves. The barrel shaped watch is a unique look and fits comfortably following the shape of your wrist. Although this one does not have complications it is still a classic watch with a clean face and incredibly delicate yet resistant machinations within. It is an office watch, a fine dining and light travelling type of time piece. One for a classic gentleman out enjoying himself.
Where to buy Vacheron Constantin watches? Diamonds by Raymond Lee in Boca Raton, FL
If you are looking for some of the finest Vacheron Constantin watches for men then you have the right place. Diamonds by Raymond Lee is a family owned company. We have been serving the South Florida community for the last three decades with some of the world's finest watches and men's luxury accessories. Our master craftsmen have abundant experience working with haute horlogerie brands like Vacheron Constantin. Further they are always ready to inspect, care for and maintain these watches. Of course always using the finest brand materials in any repairs or replacements. We have a very similar philosophy to Vacheron Constantin as well. We are committed to superior service and absolute excellence. Always providing the finest watches and most welcoming service possible. Our diamond and watch experts are consistently training and gaining deep knowledge when it comes to our and our clients' watches. Superior service, it is our passion.
For Vacheron Constantin watches that are guaranteed fine quality and tested Diamonds by Raymond Lee is the place. We carry a wide curated range of fine time pieces that include several models from this make. Our craftsmen inspect them and maintain them in perfect condition. For a refined make like Vacheron Constantin the collectors' item watches are inevitable pre owned and we make sure the ones we are carrying through are in impeccable condition. We use the latest technology and most innovative techniques to ensure they operate as intended. Long long after you have had them. For the aficionado and wide range collector we carry bespoke modification capabilities and a reliable staff as well. We know that when it comes to powerfully precise time pieces the team is like that of a race car. The support matters. And we are here to be that strong team supporting your time pieces.