Top 10 Vintage Inspired Rings of 2019 (Styles From Classic Jewelry Eras)
Here is everything you need to know about vintage style rings and our top 10 vintage inspired rings of 2019.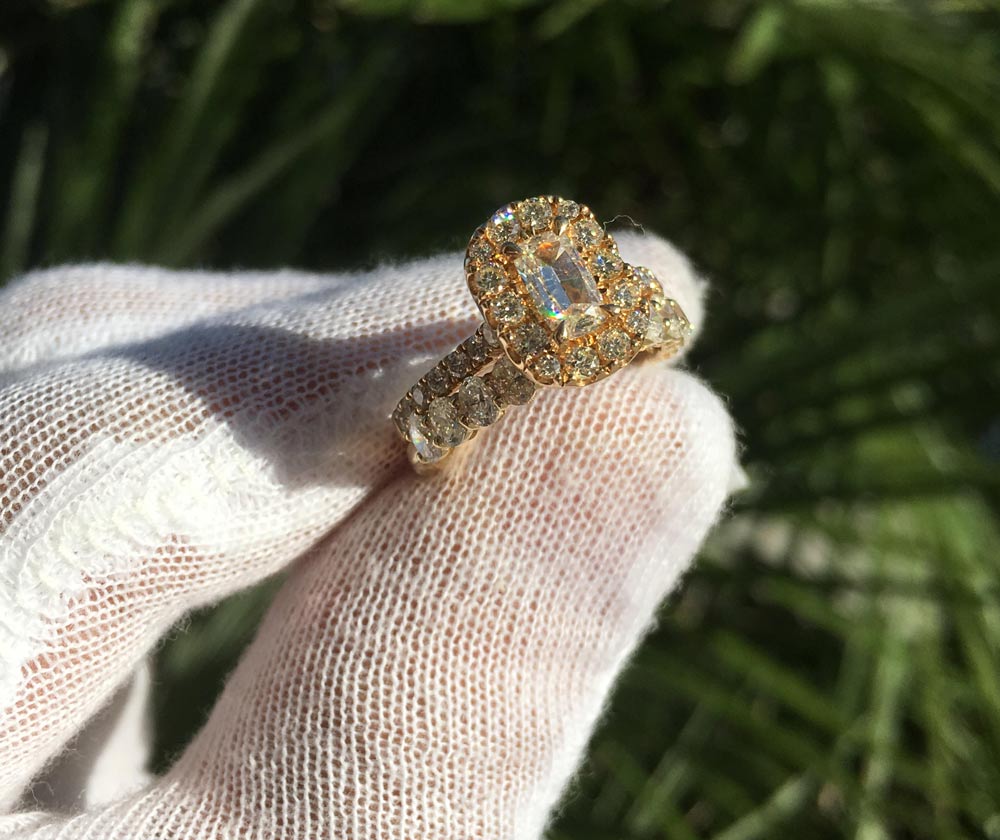 Vintage rings have always been highly desirable. Vintage jewelry is one of those things in life that never goes out of style. There will always be a place for "history" in the fine jewelry industry, especially when it comes to rings. Styles come and go then (more often than not) come back again.
Unfortunately, it's not easy to get your hands on real antique and vintage rings. But fortunately, modern designers and jewelry companies create rings using inspiration from the past.
Certain time periods of the past are particularly attractive to pull inspiration from. These time periods that greatly influence modern designs are known as the classic jewelry eras, and these eras span from the early-1700s to the mid-1900s. Design elements, materials and settings from these times can still be found, and are quite illustrious, in modern ring creations.
In this article, we are going to dive into each of 5 classic jewelry eras, explaining the popular features of rings from each era, while showing you examples of modern ring designs that contain these features. We will attempt to show you as many examples of correlating vintage-inspired rings as possible.
Note: Not all design elements from these eras are popular in modern designs, but a surprisingly large number are, and those that aren't, we expect will be at some point. 
At the end of the article, we will show you our picks for the 'top 10 vintage inspired rings of 2019'. Finally, we will explain about our custom ring design service, for those who want to create their own unique vintage inspired ring(s).
5 Classic Eras of Jewelry
Most modern ring designs and vintage-inspired rings take inspiration from the following eras.
Georgian Era Rings
The Georgian jewelry era was from 1700 to 1830, the time during the ruling of the four King George's in England.
High-end rings from this special era were usually made from 18k gold or silver.
A distinguishing aspect of design was the use of many different stone sizes and shapes on a single ring. The most common stones of the time were (foil-backed) diamonds, garnets, emeralds, ambers, sapphires and topaz.
Due to the lack of technology, the stones were cut using archaic tools, and it was a difficult process. The techniques of this time could produce Old Mine cuts, cushion cuts, single cuts, oval cut, table cuts, and rose cuts. Gems were often set in clusters.
Popular motifs (designs and patterns) were of flowers, bows, and various scrolling patterns.
Many modern rings take inspiration from the Georgian era. After all, it was the beginning of the classic jewelry periods.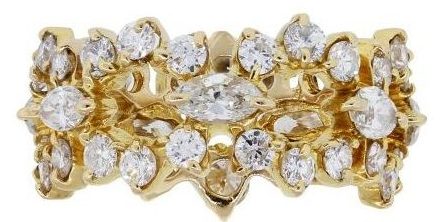 18K YELLOW GOLD 0.97CTW DIAMOND SPIRAL BUTTERFLY RING
Victorian Style Rings
This era was named after the esteemed Queen Victoria and it spanned her entire reign (1835-1900).
Rings of this time were crafted around the style and taste of the Queen herself. To give you an idea, Queen Victoria's wore a snake motif ring with an emerald stone (her birthstone) as an engagement ring.
During the Victorian era, people had the desire to wear rings that contained their birthstone.
Victorians were very fond of horticulture. You can see this clearly by the designs of many popular rings during this time.
Adding flower and even bouquets ring designs to a modern ring is a good way to represent the Victorian era.
Another Victorian-esque feature of modern rings is the heart shape. The shape of a heart was very appealing to people of this time, as it is still to this day. Heart shaped rings and two pear shaped diamonds joining at the tips is a very clever and clear way to express love, especially for an engagement ring. Nowadays, this is one of the more fashionable, albeit not as commonly seen, styles for engagement rings of the modern age.
Popular rings from the late 1800s had a crossover design, where two bands would wrap around each other. This is another style that passed the test of time and is still very prominent in modern vintage style rings. Many rings use some form of a twisting band and shank.
Lastly, the Victorian era brought us the creation of the diamond solitaire setting. Furthermore, diamonds became widespread, due to the discovery of the vast amount of diamonds in South Africa. This was truly the dawn of "diamond are a girl's best friend".

TIFFANY & CO. PLATINUM DIAMOND HEART RING
It should be noted that the Victorian era has 3 different periods:
Romantic Victorian (early)
Beyond snakes (the eternal symbol of love…we know, crazy right?), other popular motifs were angels, crosses, clovers, flowers and love knots. Designs were also influenced by cultures such as the Greeks, Celtics and Romans. Rings had stones of diamonds, rubies, emeralds, sapphires, pearls, turquoise, amethyst, pink and gold topaz, and corals. Silver and high karat gold was still the go-to precious metal.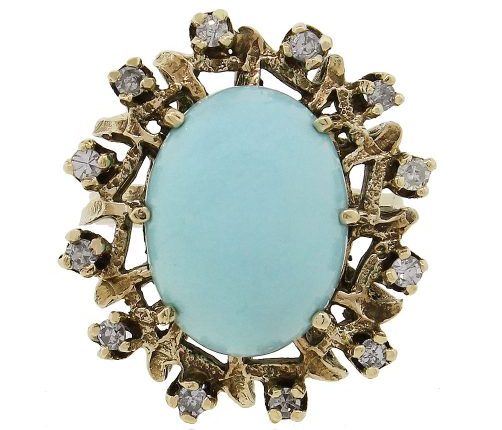 14K YELLOW GOLD 0.30CTW DIAMOND & CABOCHON TURQUOISE RING
Grand Victorian (mid)
Motifs of nature, such as animals, acorns, flowers, and geometric shapes and stars were illustrious at this time. Egyptian designs, fine granulations and enameling techniques took the lead as well. During the Mid-Victorian era, there was an introduction of more stones like black onyx, jet, opal and black glass. Moreover, the use of rose gold became very popular. Dark, rustic-style rings were also very intriguing during the Mid-Victorian era.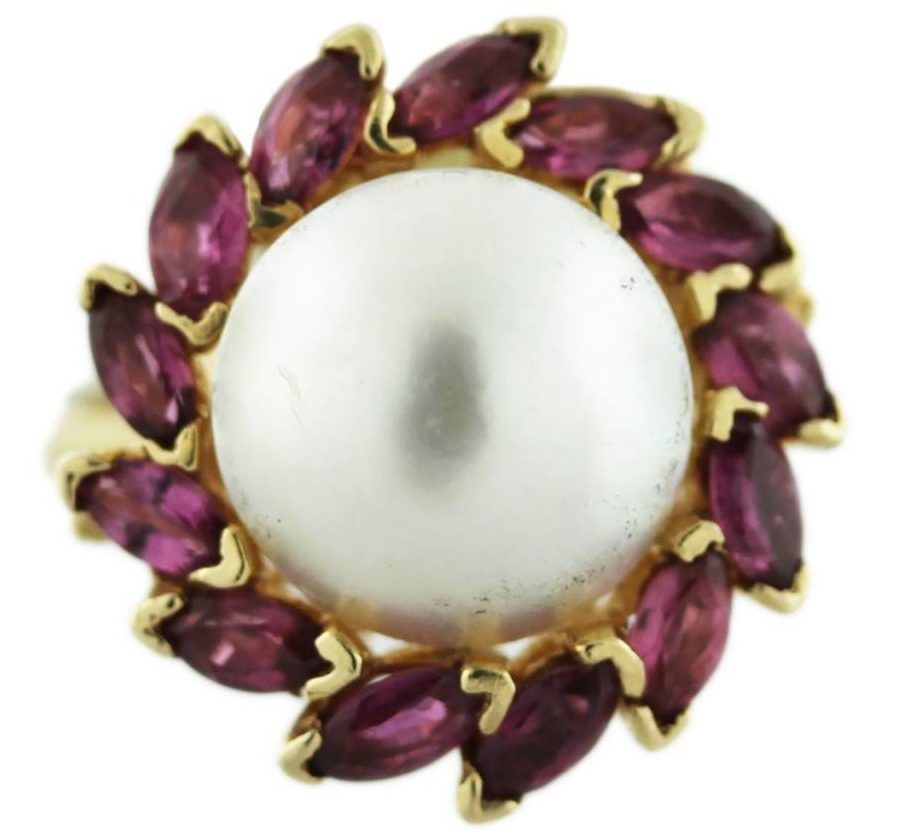 14K YELLOW GOLD MABE PEARL RUBY RING
Aesthetic Period (late)
The designs of this time were more "breezy" and delicate when comparing them to Mid-Victorian rings. Most rings had a cluster of gems in previous eras, but during the Aesthetic period, the solitaire engagement ring became the most popular. This was also the time when platinum became the most luxury metal of choice for rings. Motifs were of nature, hearts, bows and ribbons, horseshoes, moons, and marquise shapes.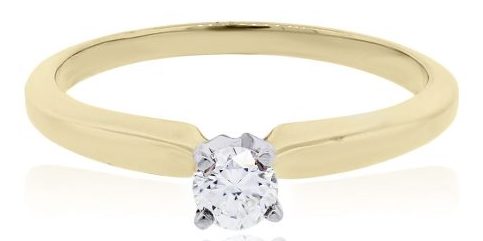 14K YELLOW GOLD 0.10CT ROUND BRILLIANT DIAMOND SOLITAIRE RING
Art Nouveau Era Rings
The Art Nouveau era wasn't a particularly long era. It started in 1985 and ended in 1915. Nonetheless, the Art Nouveau era left a huge imprint on the history of jewelry.
Nouveau rings took inspiration from a diverse range of elements from its time. Whiplash lines, enameling and colorful gems were common features in Art Nouveau rings. Additionally, it was during this era when rings began to make use of platinum.
Today, modern vintage style rings take similar inspiration from this fascinating era.
Elements of Japanese art made for gorgeous, never before seen, asymmetrical rings. Free flowing lines and nature were big design aspects for motifs of the Art Nouveau era.
The whiplash design is a unique element that modern vintage style rings commonly draw. A whiplash design looks like a cracking whip. It is dynamic, graceful and powerful in appearance, and it symbolizes the connection of two lives. For us, modern rings with whiplash designs keep the Nouveau era alive in our hearts in minds.
The animal kingdom was a favorite subject for rings of this time. Birds like peacocks, swallows, and swans were elegant choices, among other animals like bats, butterflies and dragonflies. The designs made these animals appear whimsical and sensuous. More inspiration was pulled from nature in the form of exotic flowers and curling lines.
Enameling techniques were also trendy at this time. Enameling creates an enchantingly romantic look. There were several methods of enameling, such a Cloisonné, champlevé, basse-taille, and the most popular, plique-à-jour, which made jewelry look like stained glass.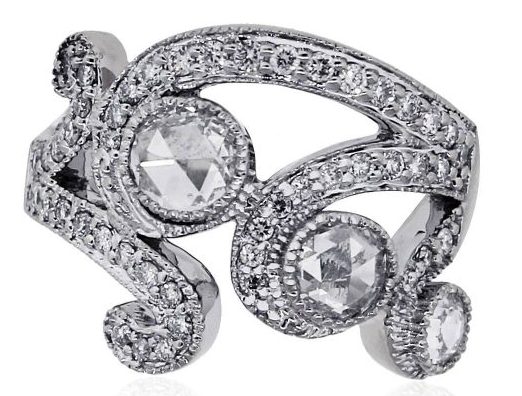 18K WHITE GOLD 2CTW ROSE CUT DIAMOND RING
Edwardian Era Rings
The Edwardian Era spans from 1901 to the onset of World War 1 in 1915. The Edwardian era is very influential for modern ring designs. Elements of this time are seen in tons of modern engagement rings.
Affluent women of the Edwardian era would attend wealthy card parties, masquerade balls and extravagant dinners donning platinum, diamond and pearl rings.
Ring designers were intent on displaying social power and grandeur through elegance and sophistication. With that, many designs were symmetrical and full of details. These features made for a powerful look. Appearance wasn't the only thing powerful, the structure of the rings was too, as gems were set in platinum metal which is super strong.
Companies like Cartier and Tiffany were globally recognized and they used wreaths of flowers, scrolls, tassels, ribbons and feathers as inspiration for motifs.
The marquise cut was the most prestigious shape of the era.
Furthermore, a "white on white" monochromatic feel was the illustrious option, pairing diamonds and pearls together with platinum and white gold.
Modern engagement rings are heavily influenced by the white on white look using flower and scroll motifs with intricate details. So although the era was brief, it has one of the most powerful influences on modern designs.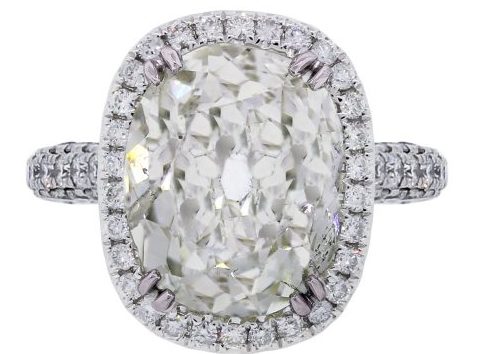 18K WHITE GOLD 10.09CT ANTIQUE CUSHION DIAMOND HALO ENGAGEMENT RING
Art Deco Era Rings
The Art Deco era spanned from the 1920s to the 1940s, and it is still has a strong presence in modern jewelry. In fact, it is one of the most popular styles for 2019.
Art Deco rings were elegant and timeless, producing the sensation of glamour and sophistication.
Abstract designs with geometric lines using diamonds and gems with contrasting colors was the vogue look. Again, something that is still mainstream today.
Motifs took the shape of rectangles, marquise, baguettes, shields, diamonds, pears.
In terms of diamonds cuts, the most common were emerald cuts, asscher cuts, and round brilliant cuts.
A great choice for an Art Deco feel is a ring with three stone rings. For example, a diamond can be the centerpiece of a ring with two baguette sapphires on either side. Rubies and emeralds are also great options. If you want to make even more colorful contrasts symbolizing this era, use gems like lapis lazuli, turquoise, coral and jade. Platinum, yellow and white gold were popular in Art Deco design.
However, if you want to go typical Art Deco, you can choose a platinum ring with a colorless diamond in a pave multi-stone setting. This was a go-to combination in the 20s, 30s, and 40s. Monochromatic looks are superbly Art Deco. So, a black and white ring could the perfect style to exemplify this prominent era.
Even though many Art Deco rings still exist and aren't too difficult to get your hands on, it might make more sense to have a new ring custom made to the look of the era. You can ask your jeweler to use shapes like triangles, squares and rectangles to create the look of Art Deco.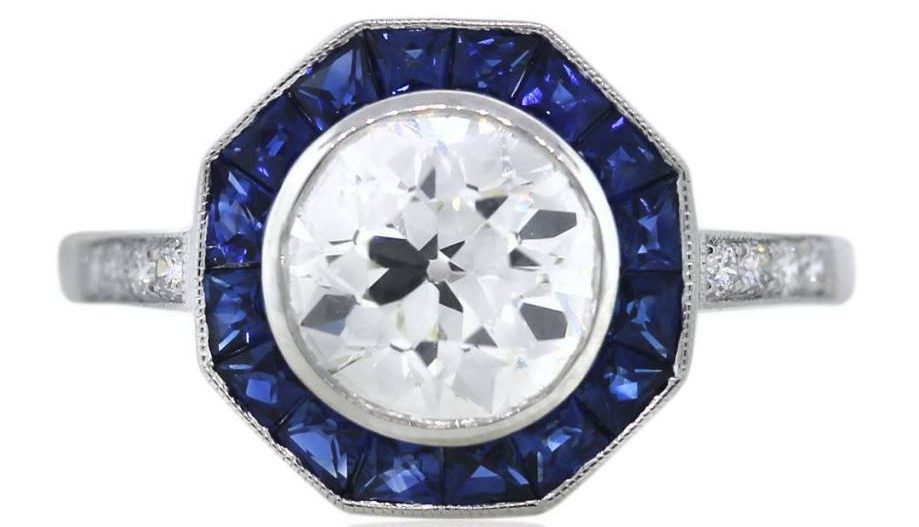 PLATINUM OCTAGONAL ART DECO DIAMOND AND SAPPHIRE ENGAGEMENT RING
Our Picks for the Top 10 Vintage Inspired Rings of 2019
1. 14K TWO TONE GOLD 6.16CT UNTREATED COLOR CHANGE GIA CERTIFIED SAPPHIRE RING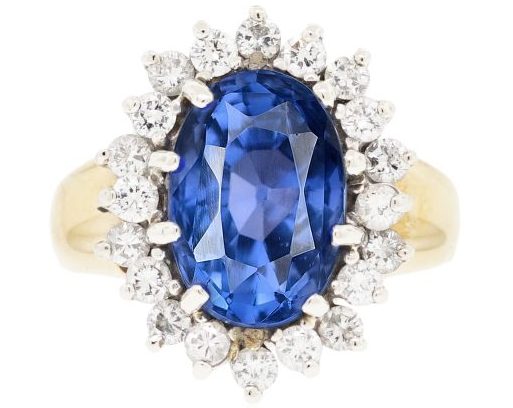 2. PLATINUM 4.80CTW SAPPHIRE DIAMOND VINTAGE RING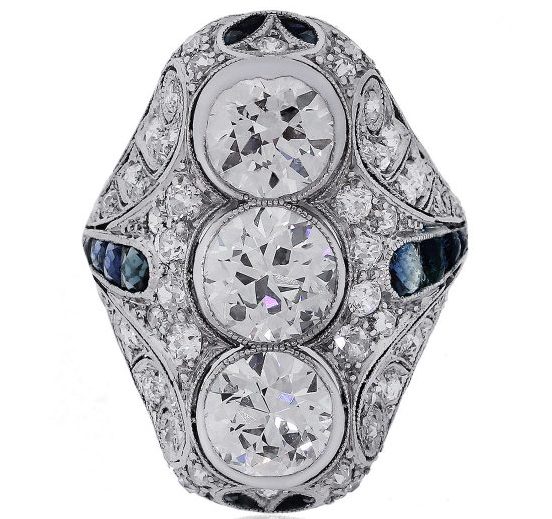 3. 14K TWO TONE 2.5CTW ROUND DIAMOND AND MARQUISE CLUSTER RING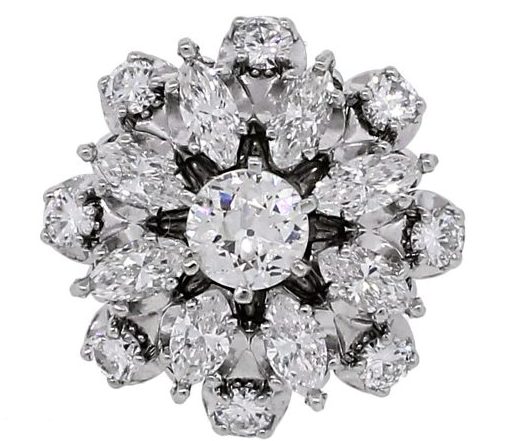 4. 18K WHITE GOLD 0.54CT ROUND DIAMOND AND 0.59CTW EMERALD FLOWER RING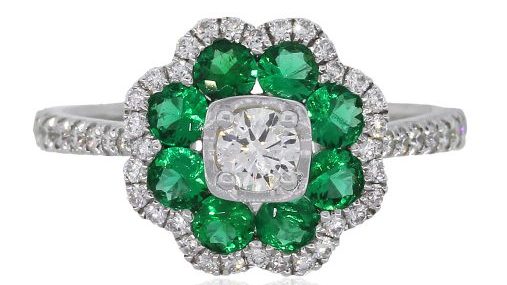 5. 14K WHITE GOLD 0.40CTW DIAMOND CROSSOVER RING

6. 14K YELLOW GOLD GARNET BUTTERFLY RING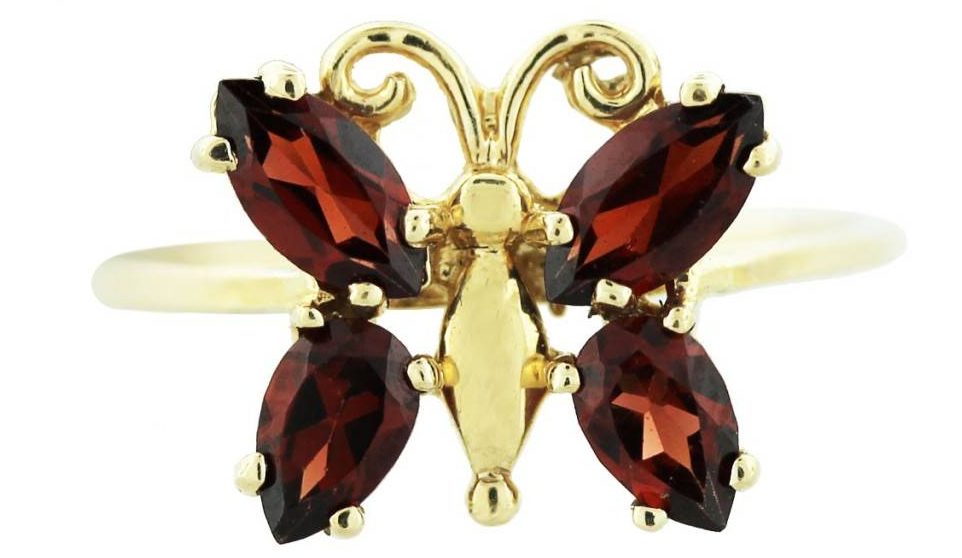 7.  PLATINUM 1.35CTW DIAMOND VINTAGE DIAMOND RING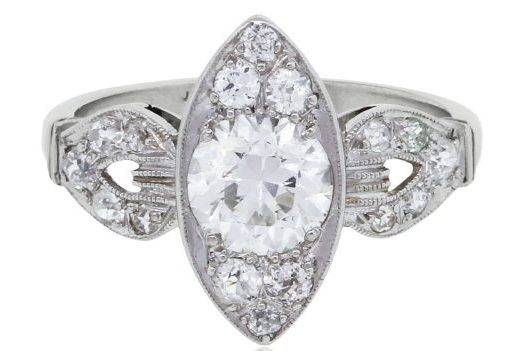 8. 18K WHITE GOLD TAHITIAN PEARL AND DIAMOND RING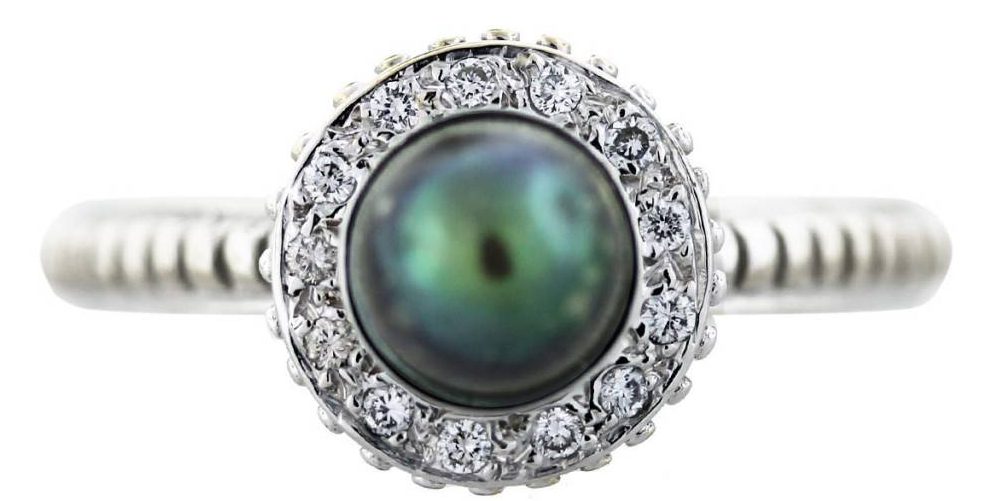 9. PAOLO PIOVAN 18K WHITE GOLD 3.50CTW DIAMOND ELONGATED SNAKE RING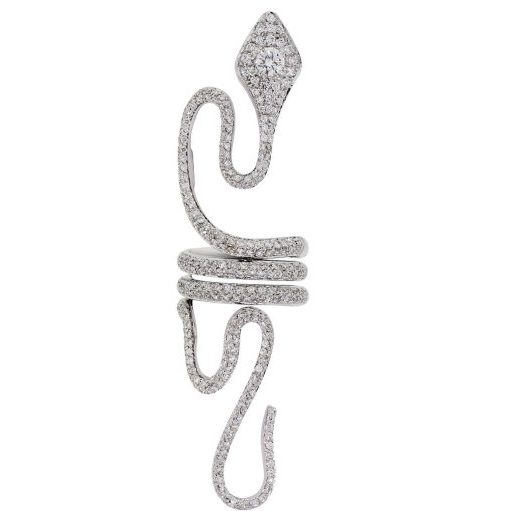 10. 18K TWO-TONE 4.01CT GIA HEART SHAPE DIAMOND RING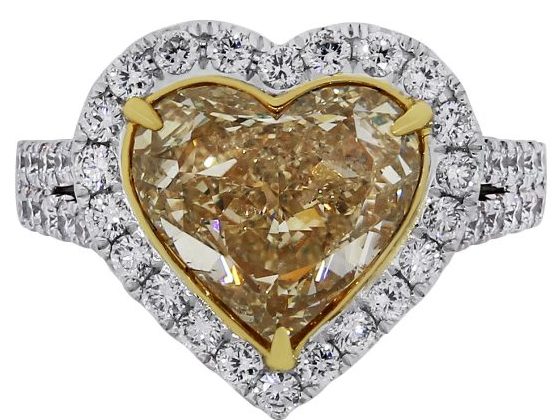 Custom Ring Designs in Boca Raton
Many times, women have a vision for a ring that they just can't seem to find. Luckily, custom ring design services are the real deal, and they won't cost much more than buying a production ring from a jewelry company. In some cases, if you know a good jeweler (like us) it will be even less, as the brand name isn't attached to it – it's just pure materials and a creation of your own mind.
At Raymond Lee Jewelers in Boca Raton, we do custom ring design at a very competitive price, and of course of the highest quality. We have satisfied tons of clients over the past 5 decades by making their dream ring a reality. We use the finest materials, metals, and gems and can meet the needs of essentially any budget. You can read a recent blog post about our custom ring service here.
If you want to talk about having a custom ring made, contact us here or give us a call any time –561-750-7808. We look forward to hearing from you.