And we're not talking your average diamond here. Joseph Lau, of property firm Chinese Estates Holdings, snapped up two diamonds headlining major Geneva auctions at Sotheby's and Christie's last week.
Lau, who is a Hong Kong real estate maven and "fugitive from justice" (for evading a 5 year jail sentence for bribery and money laundering in Macau) first started shopping on Tuesday.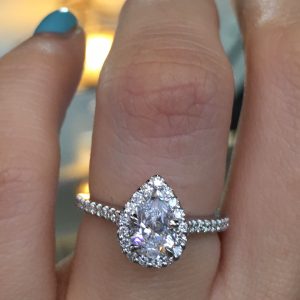 At Christie's Geneva, an anonymous bidder purchased a 16.08 ct. pink diamond at Christie's for $28.5 million, setting a record for a fancy vivid pink. He named the diamond the "Sweet Josephine."
Next, The "Blue Moon" diamond, a 12.03 fancy vivid blue broke records at Sotheby's Geneva, selling for $48.4 million and making it the world's most expensive diamond. It garnered the highest price per carat of any stone, ever, according to auctioneer David Bennett. It beat the records for the Graff Pink and the defaulted sale of the Pink Star. Lau promptly renamed the diamond the "Blue Moon of Josephine."
So who is Josephine? Mr. Lau's 7 year old daughter. This isn't the first time the doting dad has showered his daughter in diamonds, either. In 2009, he bought the 7.03 ct. blue diamond at Sotheby's for $9.5 million and dubbed it the Star of Josephine.
In 2014, Lau bought the 9.75 ct. blue at Sotheby's for $32.6 million and christened it the Zoe diamond, in honor of his older daughter. He also snagged "The Zoe Red" for her, a 10.1 carat ruby , for $8.4 million, or $835,000 per carat – the second place record holder for a ruby at auction.