Accessories more than your clothes truly set a statement about your style. Men's accessories are not add ons, they tell a man's story. From the ostentatious statement pieces to the subtly refined classics there are luxury accessories for every man's style. We have put together a list of some of the very best men's luxury accessories from our curated selection of men's jewelry and timepieces. Also, included in this list are some belts and buckles for those occasions that call for them. Determining your masculine style and translating that to your jewelry is a path of discovery and creation. These are just some of the options that can be matched and swapped to show the world who and what you are all about. 
Fashion Rings
First, we will look at some of the best of men's fashion rings. While some people assume a man's ring is solely to be worn on a pinky or for those who are NBA Championship winners, we believe there is a fashion ring for each man's preference. From the rings featuring several carats of diamonds to those sporting only single dark tone gems we have included a few of the wide range of gemstone men's rings we offer. Most men will wear simple traditional wedding bands that do not clash with other jewelry or outfits. Therefore, a fashion ring worn solely for looks can be a little bit edgier. Here there are also those in pure metal with extravagant or simple designs.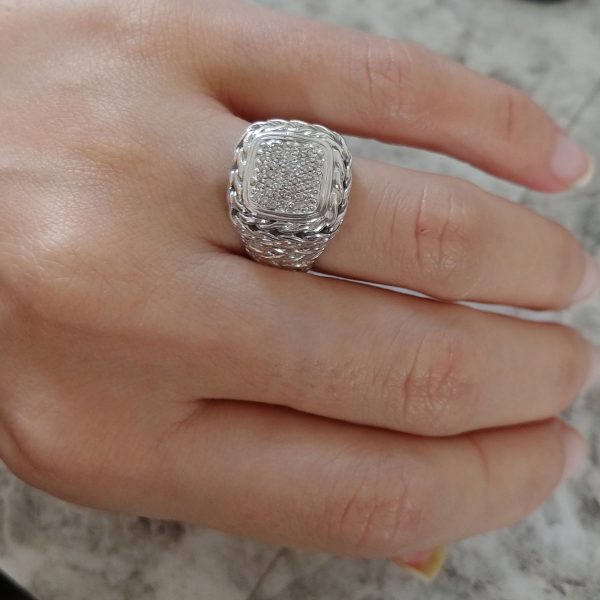 First, a John Hardy designer ring in the classic stainless steel chain design. This large jewelry piece has approximately 0.25ct of diamonds in the center surrounded by the winding chain design. While this is a large and intricately designed ring it is masculine and can be an accent worn every day. It has a comfortable fit and weighs enough to give your hand a certain presence without becoming cumbersome.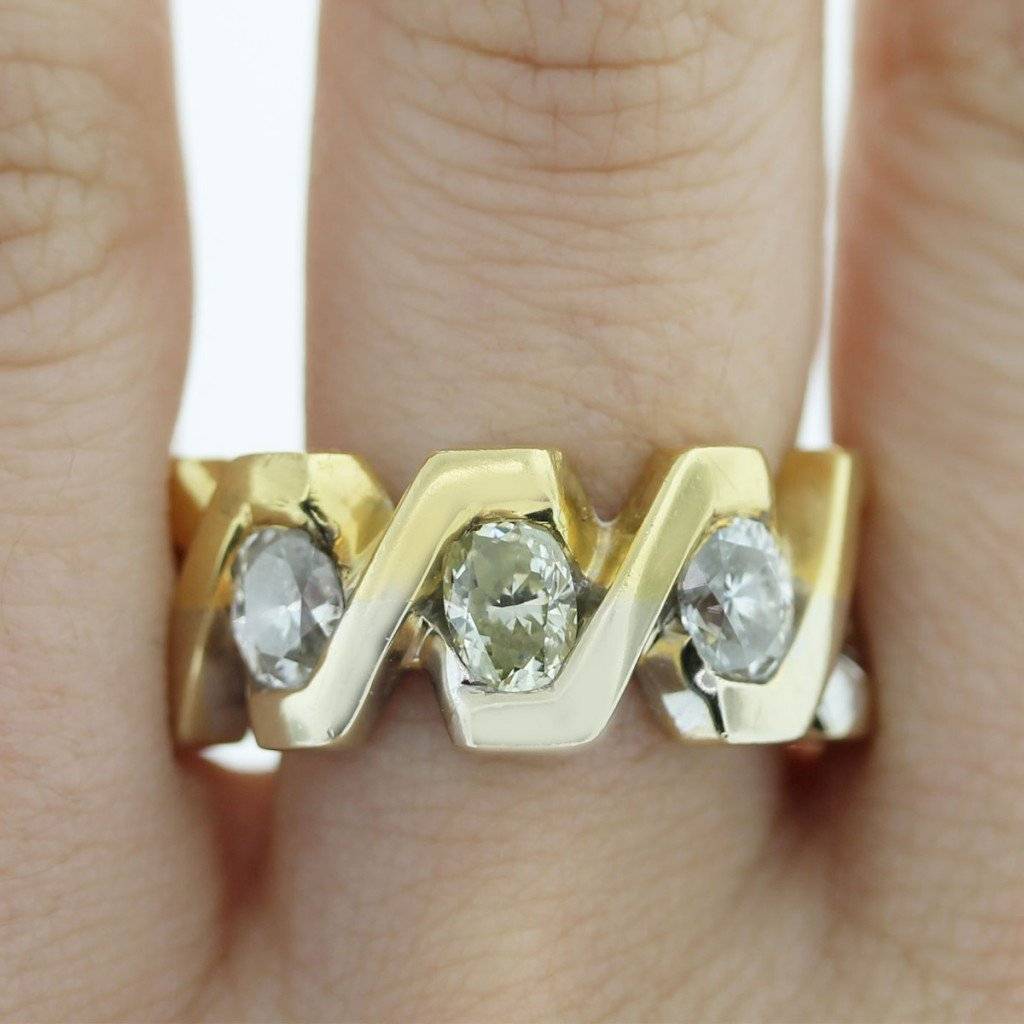 Second, is a stunning and intricately designed 18k two tone geometric ring. This ring features three center stones within the geometric design. Also the two tone detailing is subtle blending from the bright yellow gold. The three center stones contrast against the design and color. Each one is an oval cut diamond culminating in approximately 2.25ct. The center oval cut diamond is a fancy light yellow while the other two diamonds alongside it are G/H in color.
v
Another designer ring this Roberto Coin Appassionata 18k white gold ring features lovely interlocked bands. The design and texture of this ring give it flair while staying true to a traditional and polished style. For a man looking to accentuate his style without wearing a ring that is too prominent this is the perfect choice.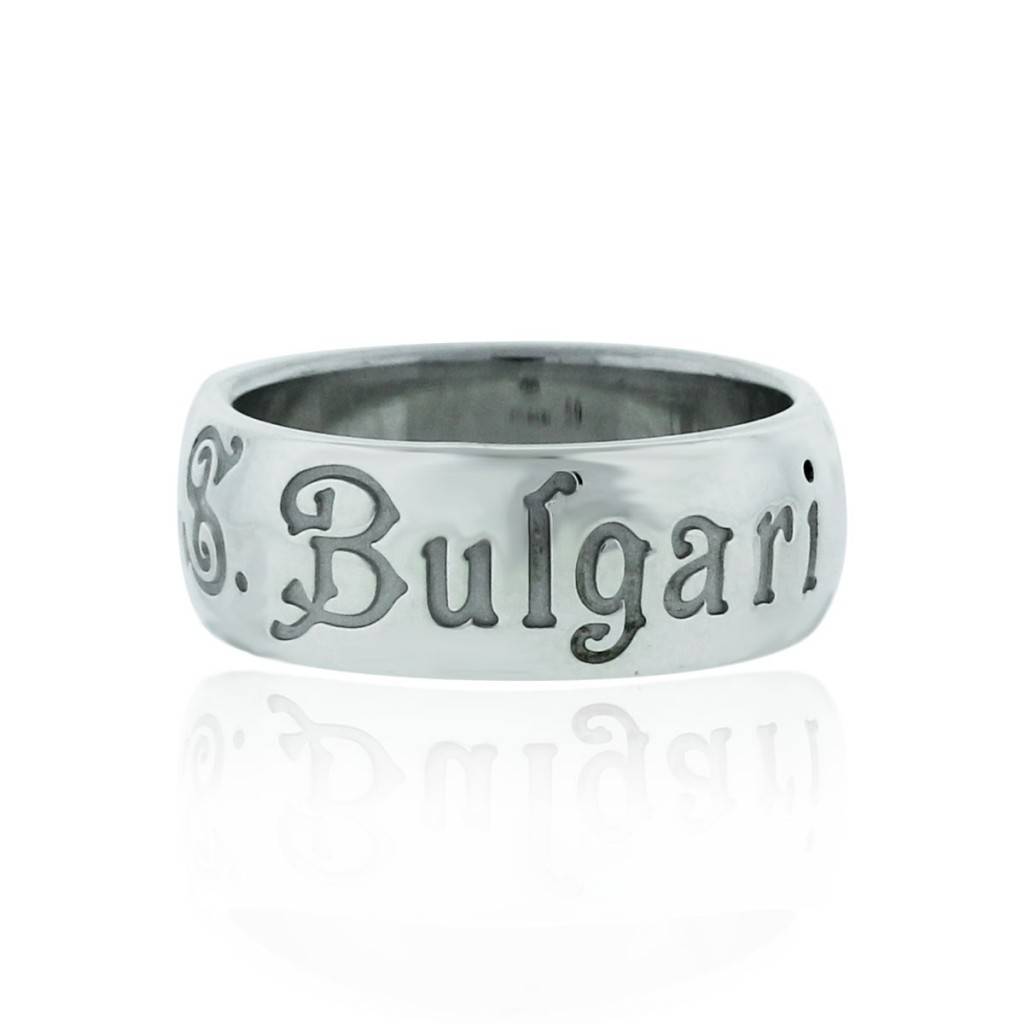 Finally, a Bulgari brand sterling silver ring with gorgeous script inscription and motif engravings. This unique ring is made in Italy with all the expertise and quality that that statement entails. Polished sterling silver and withholding the engraving otherwise smooth ring is a daily wear accessory that is paired and easy to combine with other more prominent pieces of jewelry. Furthermore it is unique in that this ring is a Save the Children foundation item. Engraved on the inside with the organization's logo and name this ring is more than a fashion item.
Bracelets
A well known and widely worn accessory for men is of course the bracelet. There is an infinite number of bracelet designs from luxurious jeweled bracelets to simple understated gold or silver bangles. Iconic luxury jewelry brands and even fashion houses create these easy to wear and mix and match items for men of any and every taste. Here we are showcasing a few of the bracelets in our collection of men's jewelry and accessories. There are similar ones with either more or less jewels. Also, some of these are available in different colors, materials or patterns. Please check out our full range of items for more options.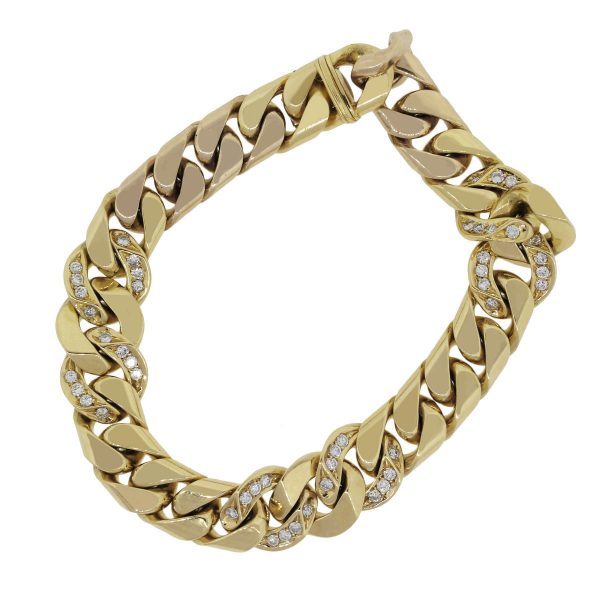 BULGARI 18K YELLOW GOLD 2CTW DIAMOND LINK GENTS BRACELET
First is a jeweled 18k Bulgari designer yellow gold diamond link bracelet featuring 2ct of round brilliant diamonds. This bracelet features a hidden tongue clasp and diamond sets at three intervals. This thick chain link bracelet has a strong presence and uniquely masculine feel. Although it is quite thick it can be worn alongside timepieces or other bracelets of different chain link designs. Glamorous and heavy it makes an entrance while still remaining a classic.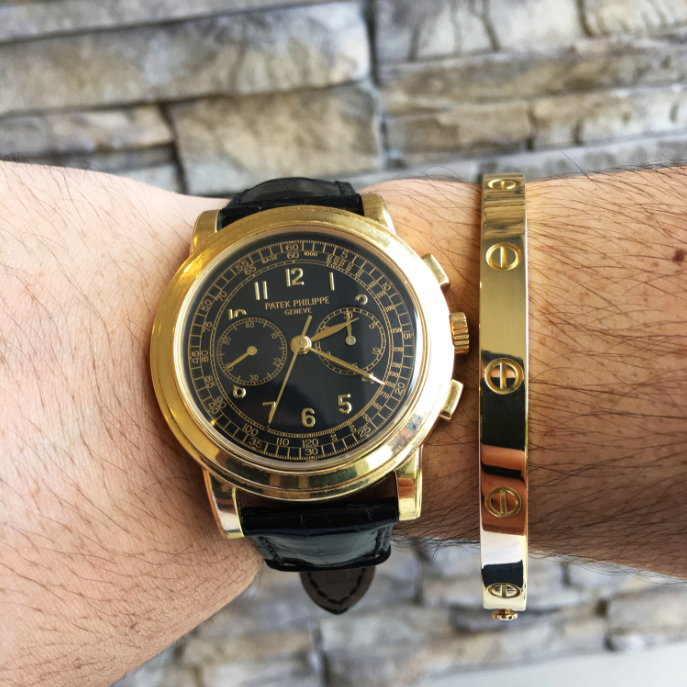 Next, is the iconic Cartier Love bracelet. These 18k yellow gold bangle bracelets instantly recognizable and can be paired with almost any other jewelry. Above you can see it paired with a lovely Patek Philippe watch but it can just as easily be worn on its own or with timepieces that feature jewels. There are several different versions of this bangle bracelet including ones with diamonds and even colorful gems.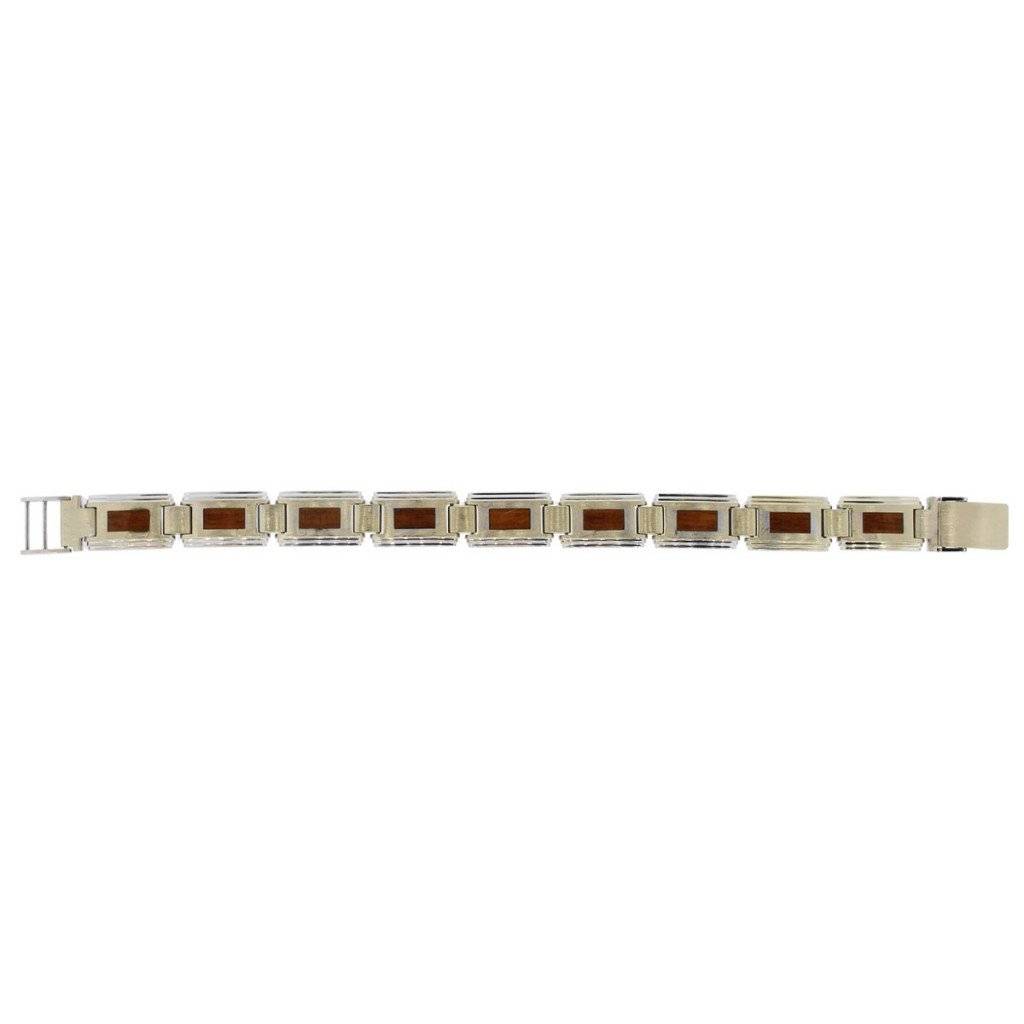 Another, men's bracelet is this unique IBGOODMAN designer 18k white gold bracelet with wood inlay. The dark wooden inlay is present in all nine links of this masculine and organically inspired accessory. This casual look can be worn day to day and accentuate more natural earthy men's styles. If you are looking for jewelry that is unique and understated this is the piece.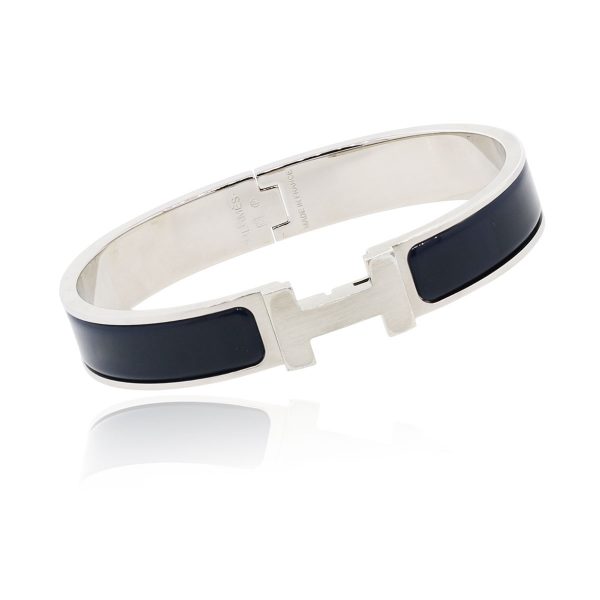 HERMES CLIC H NAVY ENAMEL PALLADIUM GENTS BANGLE
Next, an iconic Hermes enamel bangle for gentlemen. This dark navy blue clic H bangle bracelet is the unisex design made timeless and instantly recognizable. Like the Cartier Love bracelet above this bangle is also worn by men and women stacked with other bracelets or along with watches. It is made in brushed palladium material and is an absolute must have luxury acessory.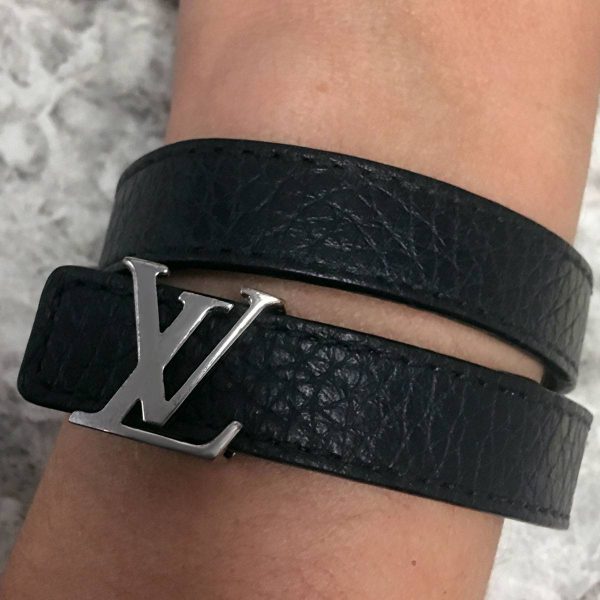 Finally, a gorgeous and unique Louis Vuitton double wrap leather bracelet. This iconic brand bracelet is made from the finest black and brown leather with stainless steel buckle. The unintrusive look is modern and casual without being overtly flashy.
Luxury Statement Watches
Perhaps one the most iconic of all men's accessories are statement watches. Further, we have upped the ante here with ultra luxurious versions of these statement watches. They not only have a strong presence they are also large, jeweled and produced by some of the most renowned watchmakers in the world. Also, of course utilizing the Swiss expertise of Horlogerie. Truly show stopping and jaw dropping these four watches are the best of men's accessories and they are all available at Raymond Lee Jewelers. In fact, while this limited selection is curated purely for this post we carry a wide range and variety of timepieces from the world's greatest brand names. Check out our site or visit us at one of our showrooms to take a look for yourself.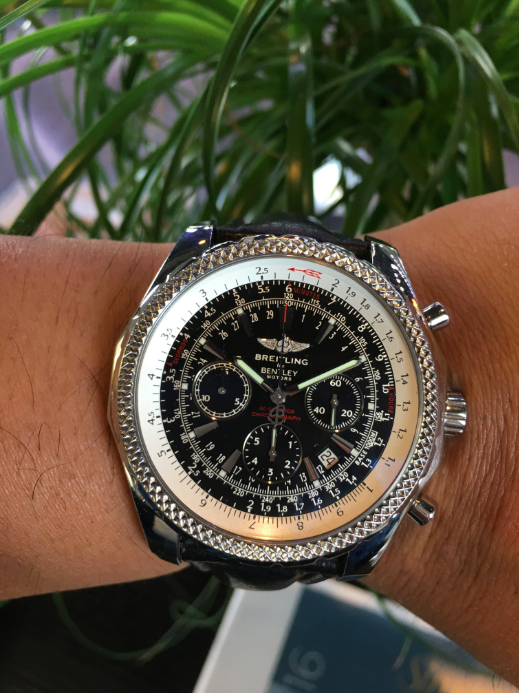 First, a melange of two incredible power players Breitling and Bentley. The Bentley and Breitling partnership started off with Bentley's emphasis on using only the very best and finest materials in their cars. For precise and powerful timepieces on their dashboards they turned to aviation inspired Breitling. From there their partnership has only grown over the years culminating in these gorgeous Breitling for Bentley large face dial watches.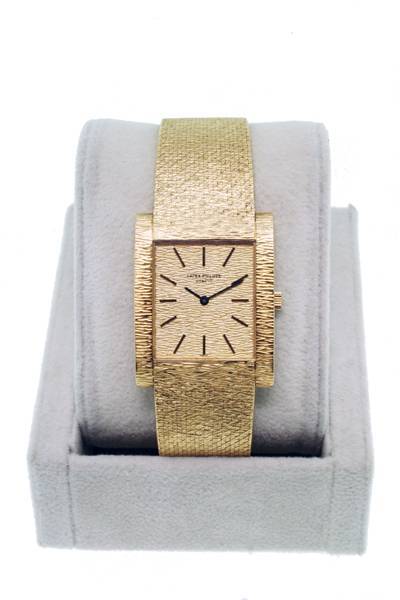 Next is a timepiece that is more jewel than watch. Covering the entirety of this Patek Phillipe classic vintage 18k yellow gold watch is a designed textured pattern. The 26mm dial features minimal black time markers and a matching textured gold dial. A simple and elegant watch this one easily flows from formal to informal and from daytime to evening seamlessly.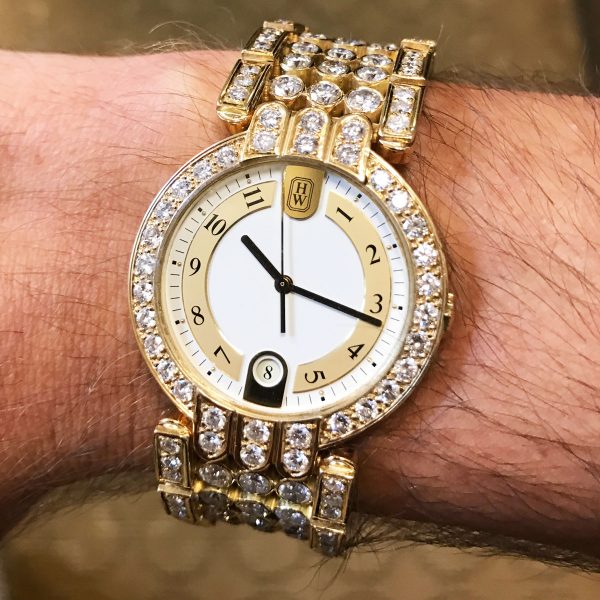 Next is a regal looking Harry Winston jeweled Premier 18k yellow gold diamond watch. This one is more than a timepiece it is truly a piece of jewelry. Accordingly, the entire bezel and half of the bracelet are set with brilliant round diamonds. The luxurious 34mm dial features the numbers in gold offset by the cream dial. Also, this timepiece features a date window located at 6 o'clock.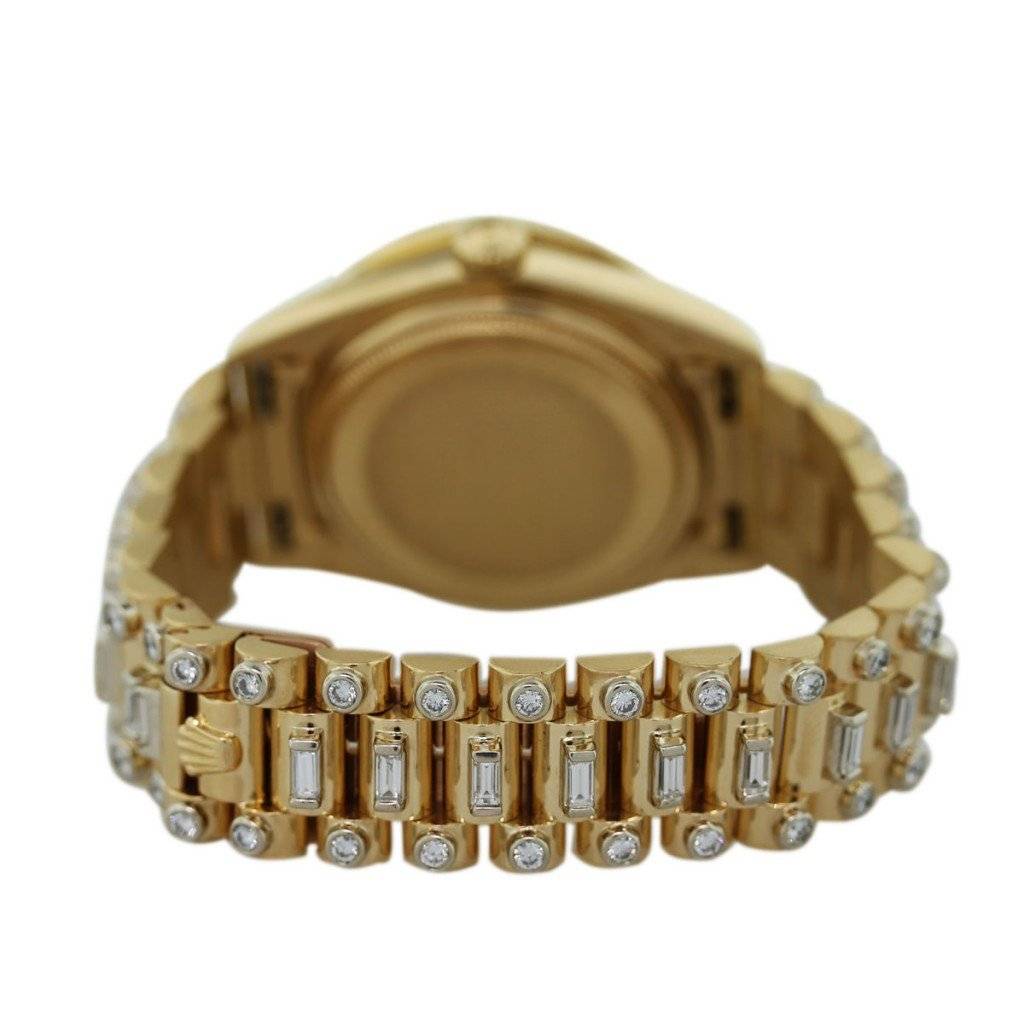 Finally, a fully gilded jeweled Rolex Super President featuring 15ct of diamonds cut into round brilliant and baguette shapes. This vintage Day-Date Presidential model in 18k yellow gold has a truly unique luxury bracelet featuring aftermarket diamonds. Further, each diamond is set individually wrapping around the entirety of the watch's bracelet. Also, the bezel features 24 baguette cut diamonds and there are more diamonds in the dial between each of the hour markers. This is a sumptuous black dial watch unique to any other Rolex of its model. Overall it is an accessory for a man with a strongly opulent style who sports gems in the multitude.
Belts and Belt Buckles
The accessory that at times is purely a necessity, belts and belt buckles form any part of a man's style. From leisure outfits to suits and ties a refined luxury accessory may not immediately be pegged as the belt but we beg to differ. It does not have to be an ordinary part of your outfits whether to work or out. Belts and belt buckles can also be an integral part of your style. These fashionable luxury belt and buckle below are some of the options that men have to wear differentiated and unique accessories, even if its main purpose is to maintain your wardrobe.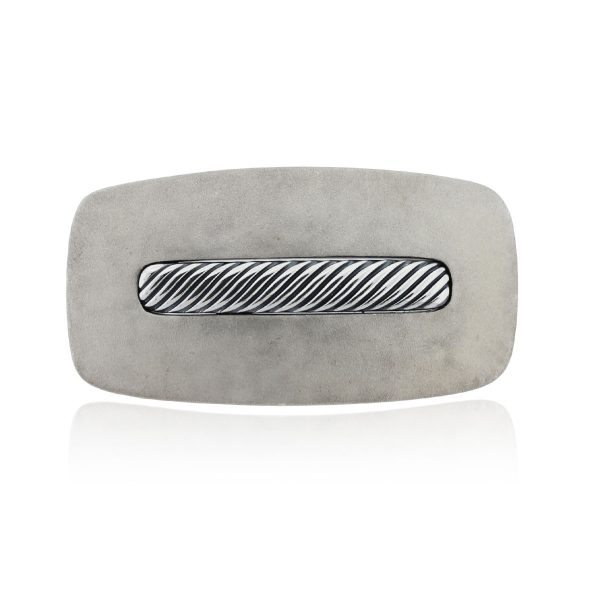 First is a sleek and modern styled David Yurman designer sterling silver sand blasted belt buckle. It features the iconic David Yurman rope pattern in the center while the surrounding area of the belt buckle is a textured sand blasted sterling silver. Simple and clean this belt buckle can accentuate any style. This buckle looks great with fine leather in any color including unique adventurous dyes such as maroon or even brighter tones such as green or orange.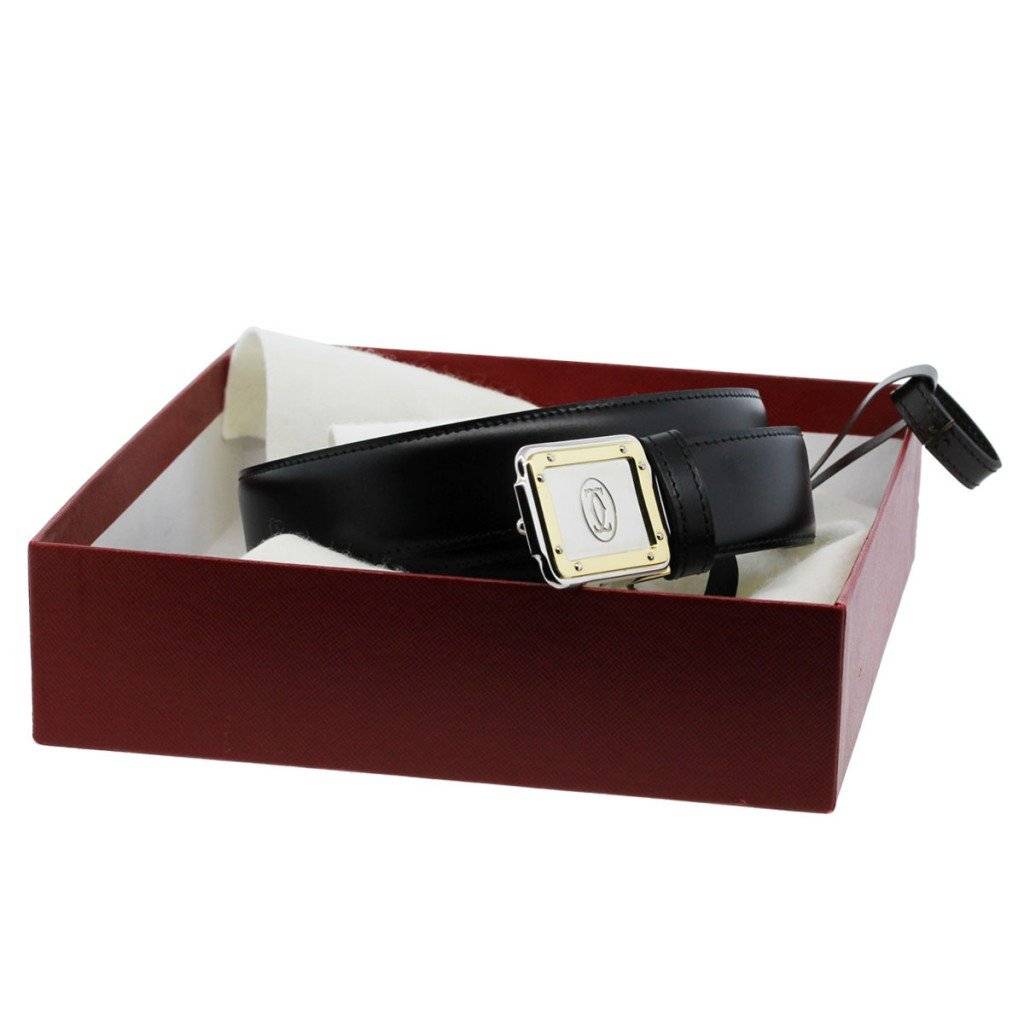 Another Cartier original this Santos two tone resversible gentleman's leather belt features the iconic brands Santos design. You can wear this reversible two tone buckle using either the black or brown fine leather side. This 18k yellow gold and stainless steel buckle is a classic formal style with a modern spirit. Inspired by the aviation pioneer Santos Dumont this Cartier belt makes for a wonderfully special gift.
Final Thoughts
Finally, from all of the men's luxury accessories, we offer at Raymond Lee Jewelers the best ones are those that match style. The ones that effuse your personal preference and feel inimitably you. While some say that it is difficult for men to find jewelry the truth is it is difficult to establish who you are with jewelry. It requires a deep understanding of what your personal style is. Also, depending on the moment in life or event you are preparing for your preferences will sway. We all have diverse personalities and depending on the occasion in varying styles so regardless of your taste in accessories there is always an opportunity to sport items 'out of the box'. Do not let trends and taboos hold you back when showing your masculinity through luxury accessories.
Also, do not forget to check out all of the unique offerings we have at our conveniently located showrooms and online. We at Raymond Lee Jewelers strive to always provide superior service and unmatched excellence in quality for our curated collection. For the past 30 years we have been dedicated to serving South Florida and we are determined to continue bringing joy to our customers for at least the next 30 years as well. Therefore, you can count on us to bring you the very best of the best. We hope you will visit us to try on some pieces you may or may not currently sport.