How To Sell My Rolex: The Complete Guide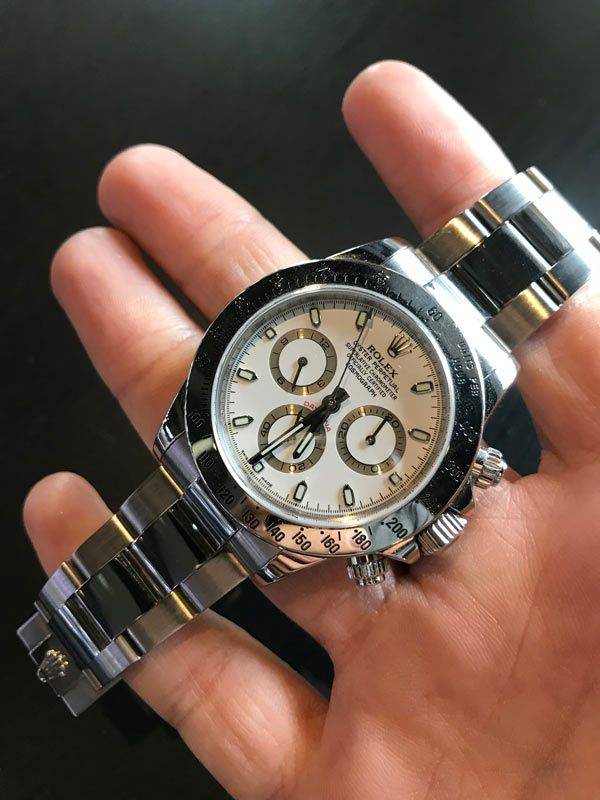 For those of you wondering "how to sell my Rolex for the most money", we wrote this article to be your complete guide to selling an expensive Rolex at the best price.
If you have an authentic Rolex watch that you've decided to let go, it's only right that you get a decent amount of money for it. The problem for most people is they don't know where to start. You may have questions such as "where can I sell my Rolex?" and "how much is my Rolex watch worth (with or without the original box and papers)?" If you have any concerns, you really don't need to, the secondary market for Rolex watches is booming and a Rolex pre-owned watch will always sell well. You can easily get the best value that you rightfully deserve if you know where to go to sell used Rolex watches (hint: an authorized Rolex dealer)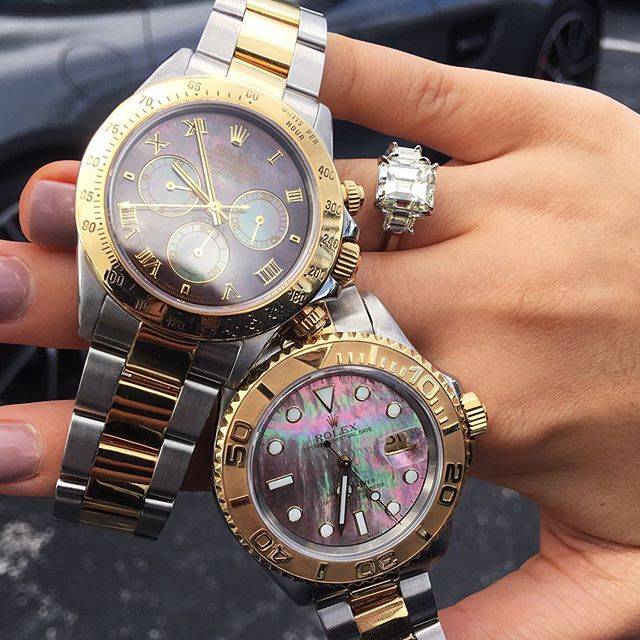 In this how to sell a Rolex guide, we will cover the following:
Who buys used Rolex watches?
The best way to sell a Rolex.
Where is the best place to sell a Rolex?
How to sell a used Rolex online?
When should you sell your Rolex?
How to prepare your Rolex to sell?
How to find a Rolex model number and serial number (with and without papers).
How much is a Rolex worth (factors that determine the price)?
Getting a Rolex Appraisal & Quoted.
Best selling Rolex watches.
Whether you are looking to sell a Rolex Presidential, Submariner, Oyster Perpetual, Milgauss, or any other expensive Rolex, the information provided in this extensive guide will apply to you.
Let's get started.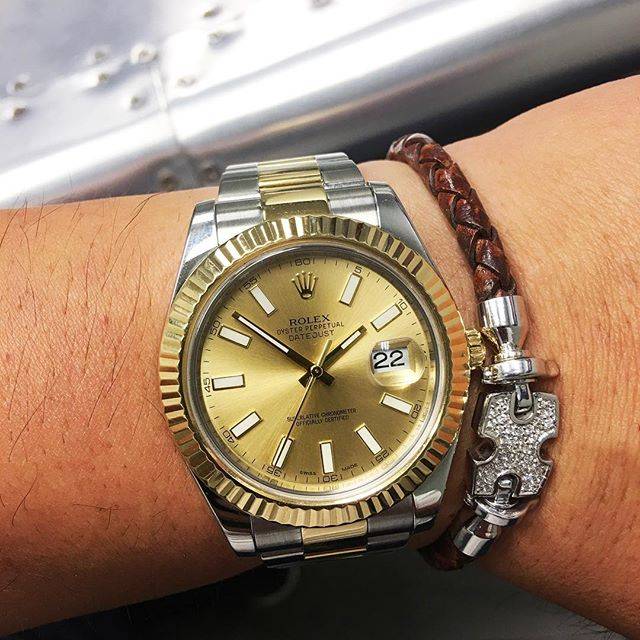 Who Buys Used Rolex Watches?
There are a few options for ways to sell your Rolex. Let's start with places to avoid when selling a Rolex.
eBay
Although eBay is a great option for those who have a well-established seller account, it is a bad way to sell a Rolex for those who do not.
Here's why:
People looking to buy a Rolex on eBay will only want to buy from a trusted seller.
You need to set up a PayPal account (this one isn't really bad, but it can be inconvenient).
eBay is full of counterfeit watches. So, other seller's pricing will affect the way you can price your Rolex, as nearly identical Rolexes can differ by thousands of dollars.
There are hidden fees and commissions that go to eBay, plus shipping, which takes away from your profits.
You could wait a long time for someone to actually buy your Rolex. So, if you are looking for cash quickly, don't get your hopes up on eBay. There is a chance it might not ever sell.
Worst of all, a big concern that comes with selling a Rolex on eBay is that after you complete the transaction and the buyer receives the Rolex, they could claim that there is something wrong with the Rolex and demand their money back. eBay is known for siding with buyers. It's a tough marketplace for sellers. The real problem with this is that the buyer may send your Rolex back in a deteriorated condition. They could even remove pieces like links from the band and replace them with different parts. Without an expert eye, you would never even know it. That is until you try to sell it again to someone who is an expert.
Craigslist
Many people successfully sell expensive things on Craigslist. However, if you have ever sold anything on Craigslist then you know it is full of scammers. This means you must meet a buyer in person and deal with hard cash. There is literally no other way. The buyer will be a complete stranger and there are really no safety measures. At best, the buyer will haggle you for a lower price than you should sell your Rolex for. With that being said, doing a transaction for an expensive Rolex watch with a complete stranger is never recommended.
Pawn shops
Compared to the above options a pawnshop already seems like a great option, but in fact, we have a better one…We are getting there, but first, let us explain why you should avoid a pawnshop:
A pawnshop is inherently known for offering the lowest price possible. Their goal isn't to give you the best price, it's to get you to sell your Rolex to them for the best price. They don't consider building a long-term relationship with customers.
They aren't experts in watches (at least the majority of pawnshops

), which means they will offer you a lower price because they can't be sure what it's even worth. Pawnshop owners will want to play it safe, which means they will offer you less than they really should. 
By all means feel free to get a quote from a pawnshop, but we recommend that you do not pull the trigger on selling your Rolex until you've gone to an expert.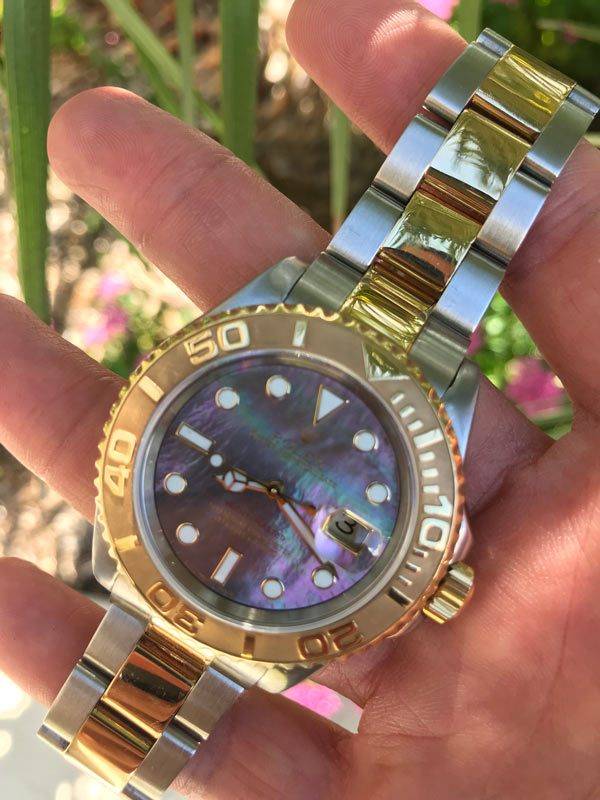 The Best Way To Sell A Rolex
Jewelers (local or online):
This is by far the best option for selling a pre owned Rolex watch. With that being said, make sure that the jeweler/jewelry store is trustworthy and reputable. It's not difficult to figure this out.
Check if the jewelry store has a physical location, a watch expert on staff, and good reviews and a BBB A+ Rating. Many people leave reviews for jewelers on Google, Yelp and with the Better Business Bureau. So do your due diligence before choosing which jeweler to go to. Not all jewelers are created equal.
Where is the best jewelry store to sell a used Rolex watch? Raymond Lee Jewelers in Boca Raton (We buy Rolex watches online TOO!)
Raymond Lee Jewelers is a family-owned business that has been buying and selling luxury jewelry in South Florida for over 30 years. We are BBB A+ Rated and we have an unwavering dedication to our community in Boca Raton. We are also involved in our online community and we have a following on social that amounts to over 550,000.
Our goal is to build relationships with our customers and offer the maximum price when buying your Rolex. We can offer the best price because, for one, there is no middleman – we are the direct source to the end customers. And two, we know exactly what your watch is worth so we know exactly what we can sell it for. We have a watch expert and GIA Graduate Gemologist on staff at all times who can tell you everything you need to know about your watch and give you a competitive price for purchasing it.
One of the largest collection of Rolex watches in South Florida
Raymond Lee Jewelers has the most extensive collection of Rolexes in all of South Florida. The reason isn't just because we love Rolexes, it's also because they are a great investment and most people decide to sell to us as we give the most money when buying used Rolex watches.
Make an appointment or stop in to visit us anytime M-F from 10am-6pm and Saturday from 10-5pm. You can call us now for a rough quote – 561-750–7808.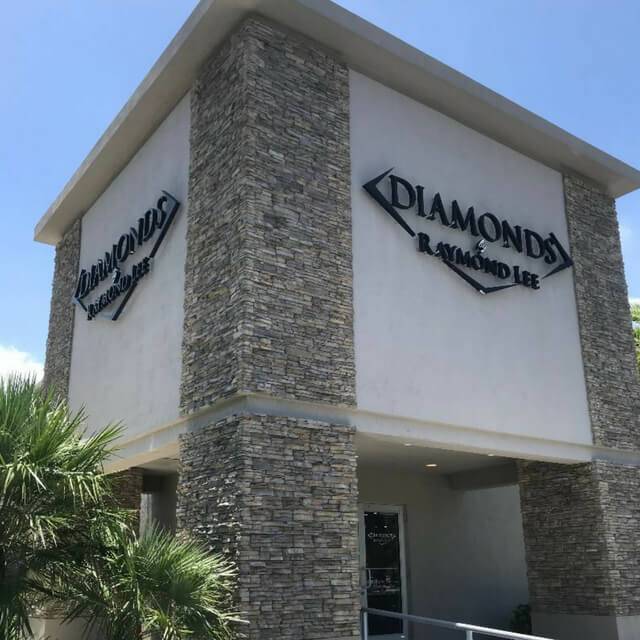 How to sell a used Rolex online? Raymond Lee Jewelers online process for selling your Rolex.
Fill out our online form and in the 'message' section let us know that you want to sell your watch to us.
We will email you back shortly requesting pictures and any documents that you may have.
We will coordinate the purchase of your watch from there.
Once we have all the information, we will make you an offer and provide assurance of the sale.
If you accept, we will send you a prepaid label to ship the item to us. The label is for overnight, fully insured shipping to our store in Boca Raton (Raymond Lee Jewelers).
From there, we send you a check or bank transfer (depending on your preference) the same day we receive your watch.
We make sure the sale/purchase of your watch is intimate and we follow up with a phone call and/or email (depending on what you prefer) to finalize everything. We strive for 100% satisfaction in both efficiency and experience.
Sell my expensive watch online (blog post).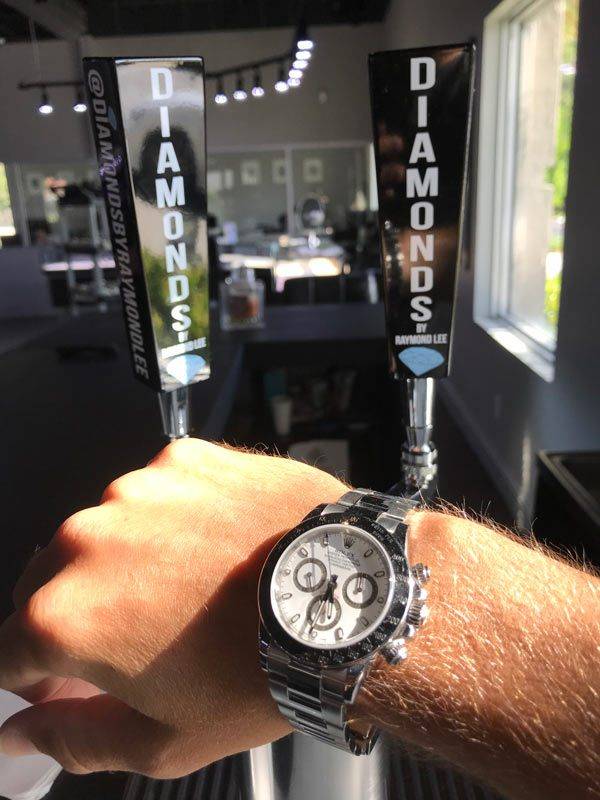 When should I sell my Rolex?
Just like stocks, gold, and currency, the market value constantly fluctuates. However, with Rolexes, the market doesn't usually have any dramatic changes. Therefore, a few weeks or even months won't make much of a difference. So, sell your Rolex when it makes sense for you.
Note: If you recently purchased a new Rolex model and for whatever reason, you've decided you need the cash back, try to sell it before the newest model comes out because once it does the price for the past model will fall.
If you have a limited edition or antique Rolex that you are considering to sell, a short period of time won't make a difference. Sell it when you get the right price or when you need the cash.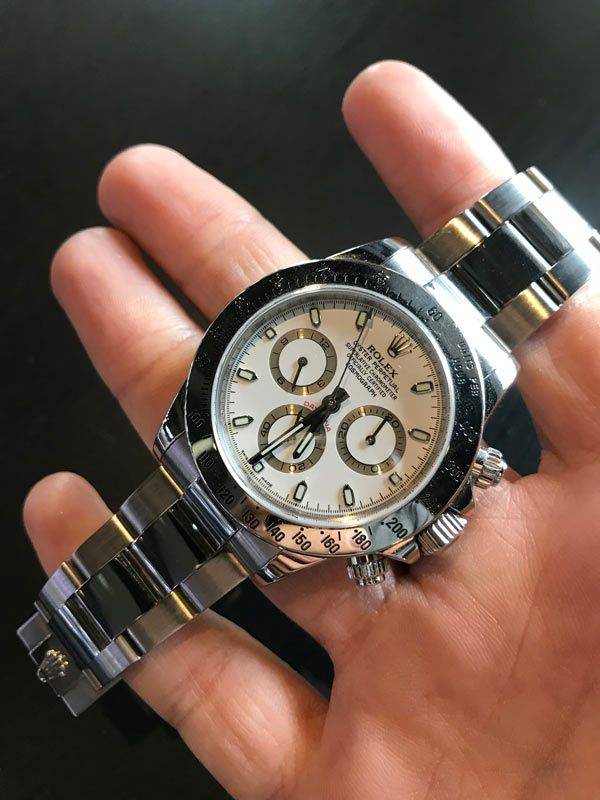 How to prepare your Rolex to sell.
1. Collect your Rolex's Paperwork (certification and bill of sale).
Locate your Rolex's model number and serial number by using your watch's paperwork.
What if I don't have my Rolex's paper?
Having papers that show its certification and bill of sale can lead to a better price when selling to a collector, however, when selling to a jeweler this is a non-issue as they know they can authenticate it professionally when reselling so they won't mind if you don't have it. If you want to sell a Rolex without papers to a collector or a personal buyer, they will likely want it to be authenticated from a jeweler before purchasing.
Put simply, selling a Rolex with papers just makes life a bit easier.
If you don't have the paperwork that came with your Rolex, a jeweler like Raymond Lee Jewelers will use their Rolexmaker to remove the case of your Rolex and thoroughly inspect the movement inside. That will be the first step to make sure your Rolex is authentic as even papers can be, and are, faked. It's the movements and parts that make up the Rolex that will decide its value, so don't sweat the papers, especially when selling directly to a jeweler.
The biggest issue with not having your Rolex's paperwork is that it will be hard to find out your model and serial number without taking it to a professional, as the watch must be opened to find out these numbers (this will be explained in more depth below). It's best not to do this yourself unless you are confident you can do it without damaging anything. The model and serial numbers will tell you everything you need to know about your watch so you can get an idea of its value.
How to find a Rolex's model number (aka reference number)?
The model number is a 4 to 6 digit number. If you have the correct paperwork for your Rolex, you can find the model number on the papers. However, if you don't you will need to check the side of the Rolex's case, which is found between the lugs at 12 o'clock. To locate this number you must remove the bracelet or strap.
What does Rolex model number mean?
The model number of a Rolex will reveal all the crucial details regarding your watch such as the collection (Daytona, Submariner, Datejust, etc.), movement (quartz or automatic), material (stainless steel, gold, platinum, two-tone, etc.), production date and more. Once you have your model number you can search for it on Google and find out all the above information.
How to find a Rolex's serial number?
The serial number is also on the paperwork, but again, if you don't have that you must locate the serial number by removing the bracelet or strap. The serial number is located on the case between the lugs at its 6 o'clock.
What will knowing a Rolex's serial number tell you?
The serial number is specific to that exact watch. It will indicate your watches production date (approximately). Since 1987, Rolexes use one letter followed by six numbers. The serial number can also tell you what the model number is.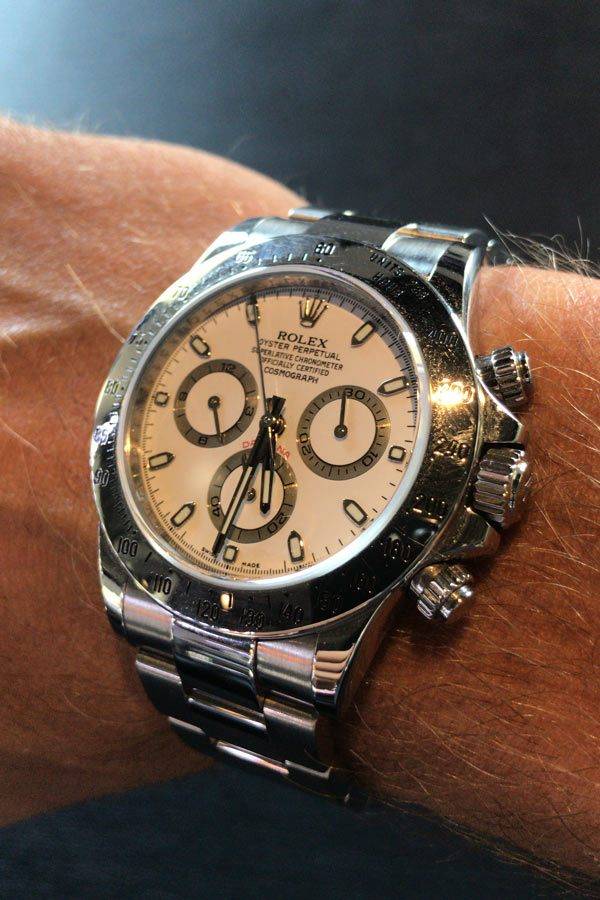 2. Prepare your Rolex's original box.
Just like your Rolex's original paperwork, the original box has a value of its own. Rolex boxes themselves can sell for hundreds of dollars. Having the original box for your Rolex will increase your final price substantially.
3. Gather any service and warranty papers with receipts if you have any.
If you had your Rolex cleaned, repaired or any parts replaced, bring these along with you. This can speed up the process as they serve as proof of what the watch has undergone through its lifetime.
This will also show the jeweler that you are honest and value their time, which could help you secure the maximum price for the sale of your Rolex. As much as you want a trustworthy jeweler, a jeweler that buys jewelry wants a trustworthy seller.
4. Round up any spare links or parts that have been replaced.
If you haven't had any work done on your Rolex, you can skip this (and the 3rd point above). However, if you have, bring these parts with you even if they appear to be old and/or damaged or deteriorated as they could still be of value. Rolex collectors value a Rolex with original parts and they may rather have the old, original part over the spotless new part. Having these pieces will help the jeweler resell your watch and they might even be able to repair it beyond what you thought capable.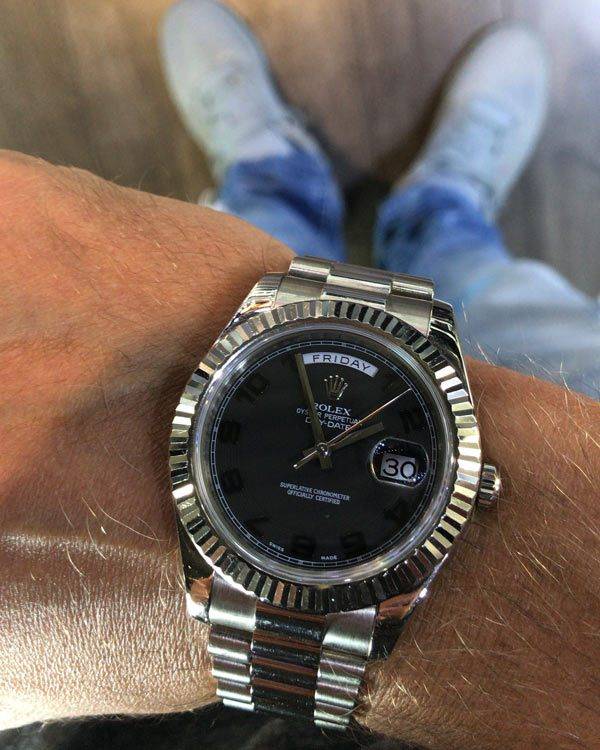 5. Determine your Rolex's value
It's best to go to a jeweler with an understanding of what your Rolex's value is. Knowledge is power when it comes to selling your expensive watch.
You don't necessarily need to know the valuation if you are dealing with a trusted jeweler but it is helpful to know how a used Rolex is valued before selling it.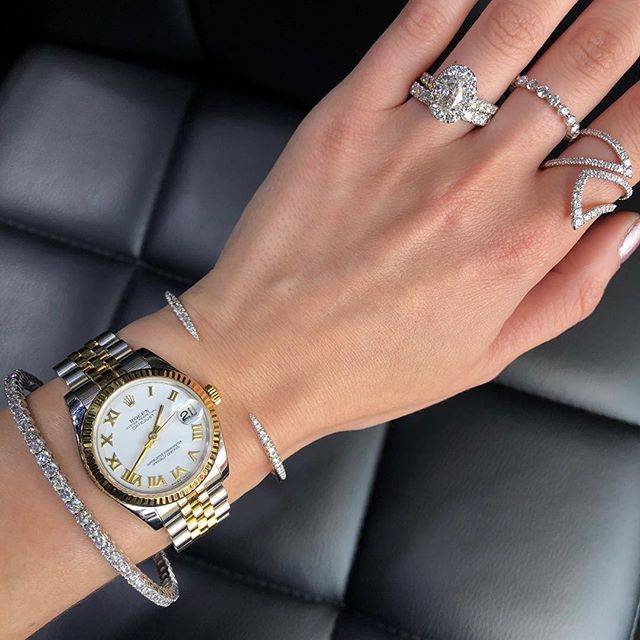 How much is my Rolex worth?
There are a few factors to determine a Rolex watch value. Below is the answer to the common question, "how to value my Rolex?".
Age:
This is dependent on the model. Most Rolexes will decrease in value as soon as they go from new to used, similar to a car. However, certain high demand, limited edition and/or antique Rolex watches will increase in value.
Condition:
Second hand Rolex watches are not all equally valued as each has a story of its own. A used Rolex may have a few dings while another was rarely ever worn so it has a perfect condition. The condition of your watch will be a big determining factor when valuing your Rolex. Common issues are droopy bracelets and non-functioning clasps, gauges (many light scratches can be polished out. Note: have a professional polish your Rolex. Don't take the risk of deterioration), scratches on the glass, and issues with movement. These issues can be repaired but they will be deducted from the baseline valuation.
Rarity:
Many newer Rolex watches are commonly available a couple of years after production, yet some models may only have a limited number produced. The more unique your Rolex is, the higher the value will be.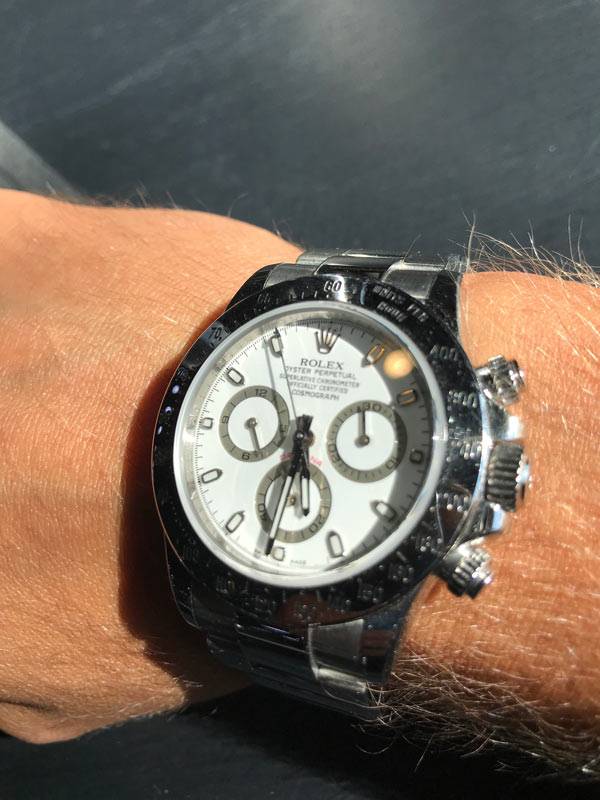 Materials:
Certain precious metals are more expensive commodities than others, such as platinum, yellow and white gold, and diamonds. The value of the intrinsic metal used to make your watch will determine the overall price of your Rolex.
Box and Papers:
The original box and papers that come with your Rolex will add value to your Rolex when selling. The box and papers alone can add up to a few hundred dollars.
Movement:
Another feature that will determine your Rolex's value is the type of movement – quartz or automatic. Due to the many intricate mechanisms used for automatic movement, a Rolex with automatic movement has a higher value than a Rolex that uses quartz movement.
Market Demand:
If a Rolex is considered a collectible, a jeweler or any buyer for that matter should pay a premium price for it. Conversely, if it is a Rolex model that doesn't sell well, the offer will be much lower as it is likely to sit on a shelf for a while before finally reselling.
It's not all about rarity in this case; certain models are in higher demand than others. Further below we have listed a few of the best sellers – models that retain the most value, and some are even appreciating assets.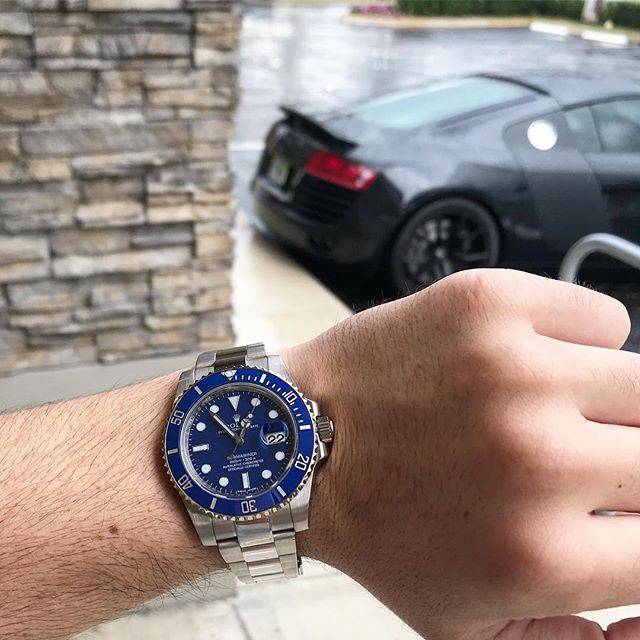 6. Take it to a jeweler to have your Rolex appraised and get a quote. Sell it if the quoted price is right for you!
Rolex Appraisal & Quote
Receiving an accurate quote for your Rolex can be a big concern for many people. This is why taking it to a trustworthy jeweler is essential. Again, make sure you do your due diligence before dealing with a jeweler. You won't have to worry if you are getting ripped off this way.
If you'd like an appraisal from Raymond Lee Jewelers, contact us for an appraisal and we will email you the information we need to give you an accurate estimate. You can also visit us in person or send us your watch for an exact quote, as we will need to check the watch thoroughly before making an offer.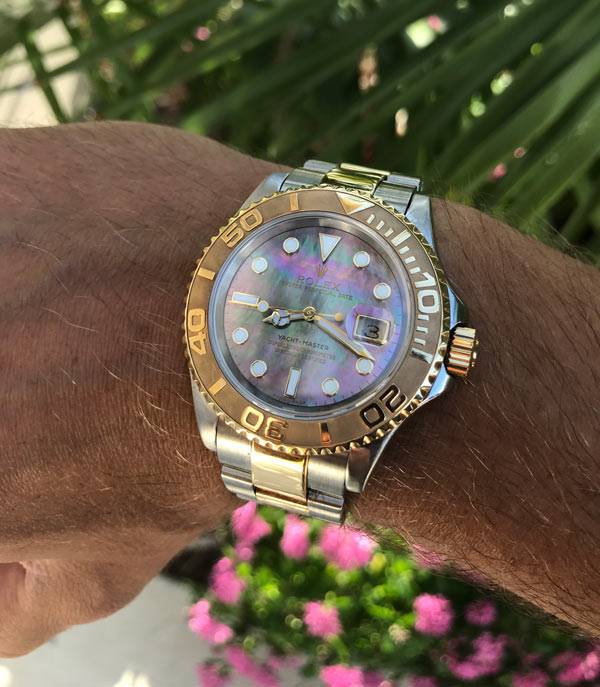 Which Rolex holds its value the best?
Best selling Rolex watches:
Day Date models
Rolex Submariner
Yacht Master
GMT-Master
Rolex Daytona
Most popular Vintage Rolex Watches:
Submariner 6200
Explorer II Ref 16550
Datejust Ref 1601
"Paul Newman" Daytona
Milgauss Ref 6541
GMT Master Ref 6542
Submariner 5513, 5514, 5517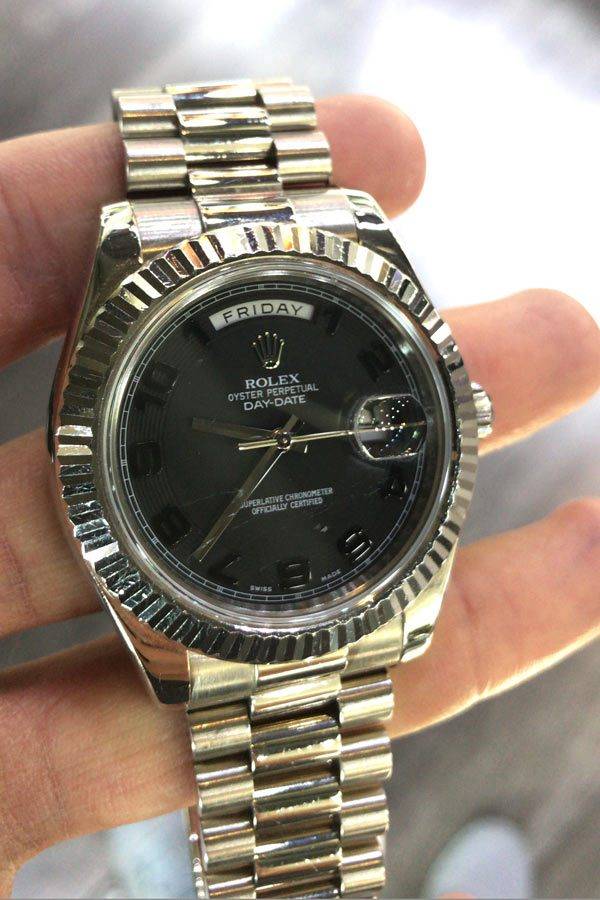 Why you should sell your Rolex to Raymond Lee Jewelers:
We pay the maximum, full market value for your Rolex.
Reputable and transparent. Having been in the business for over 30 years, we have learned how important this is for keeping a healthy business.
Pressure free, expert appraisals.
We happily answer all of your questions and concerns.
You get paid the same day in cash (or bank transfer if selling your Rolex to us via online).
Sometimes it's not easy letting go of an iconic Swiss-made luxury watch that is Rolex. But as long as you get the best price, it's absolutely nothing to fret over. People do it every day. If you have any questions, please feel free to contact us. We hope this guide to selling a Rolex has been helpful.