8 Reasons Why Halo Engagement Rings Are NOT Going Out of Style & Unique Contemporary Halo Engagement Ring Examples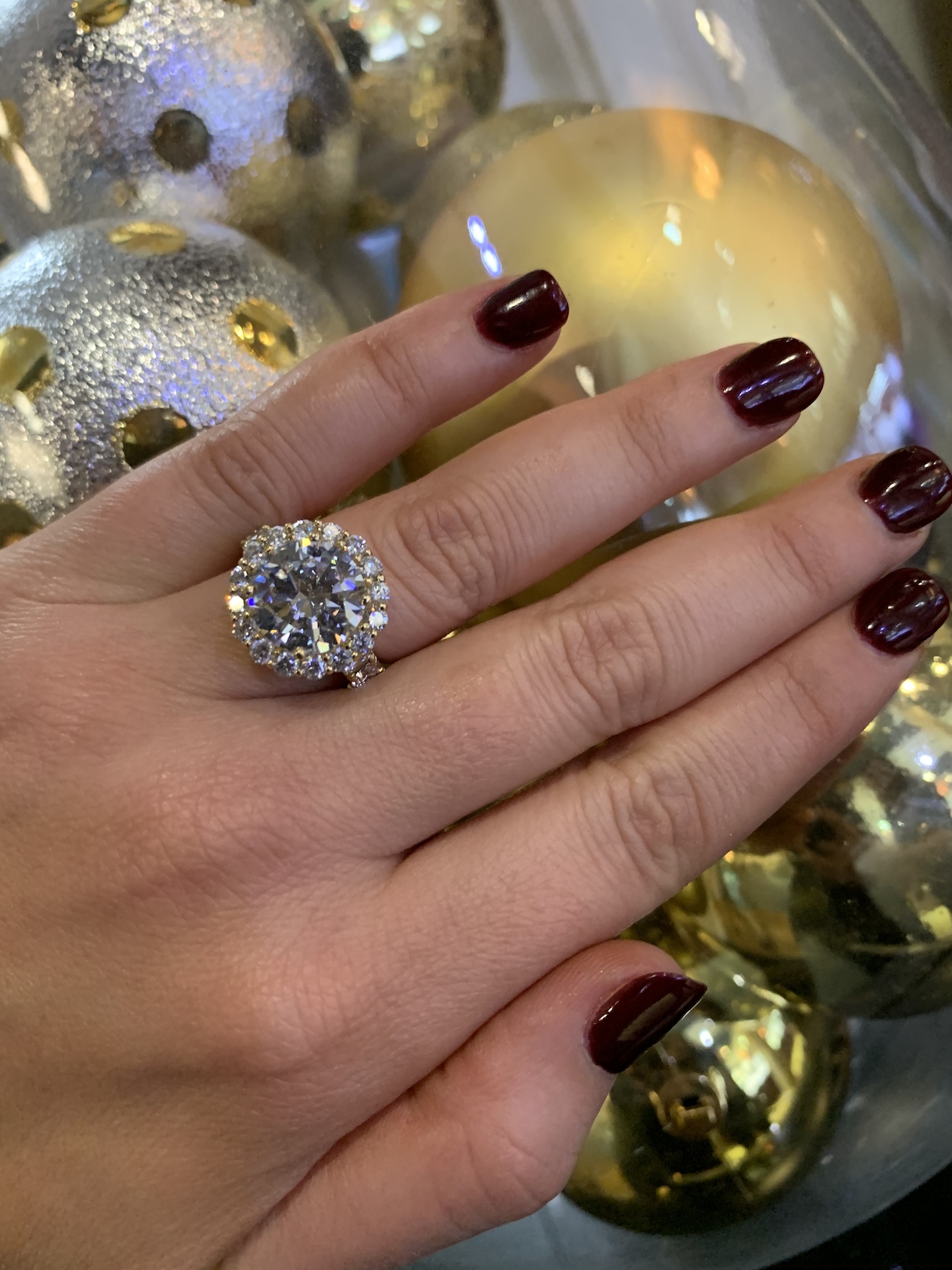 There has been a common thread lately about halo engagement rings going out of style. So, as experts in the engagement ring realm, we want to address this in a thorough manner. First, the answer to "are halo engagement rings going out of style?" is a resounding NO. Halo diamond engagement rings are still as popular as ever (if not more thanks to unique contemporary halo engagement ring designs). Not only are they still one of the most sought after types of engagement ring setting, but they are also evolving in unique ways, making them even more appealing to the modern bride. The allure for halo engagement rings has never been stronger. Read on to find out why…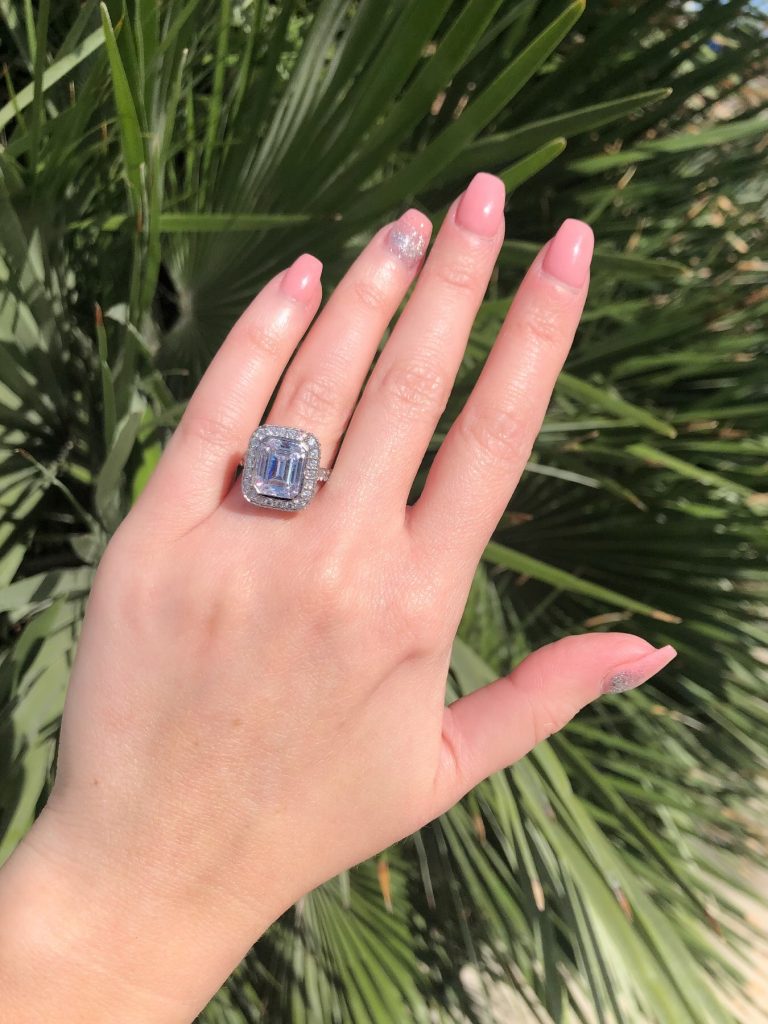 A Classic & Timeless Style
The halo engagement ring is far from a fad, and the history of this popular engagement ring style proves that beyond reasonable doubt.
Halo engagement rings can be dated as far back as the Georgian jewelry era (1714-1837). Then, they became even more popular in the Victorian era (1837-1901). That said, these "ancient" halo engagement rings were not exactly what we consider to be a halo engagement ring in modern times.
The contemporary, classic halo setting of today was first introduced in the 1920s during the Art Deco era. These contemporary halo engagement rings feature concentric circles or shapes surrounding a centerstone. They are symmetrical and have geometric patterns.
Since the 1920s, the halo engagement ring has remained the second most popular engagement ring style each and every decade. Of course, they've gone more or less in favor throughout the years, but their perennial popularity is undeniable. You can see this by looking at Hollywood celebrities. Generations upon generations of celebrities have adorned their newlywed-fingers with halo engagement rings.
So, with such a long and rich history, it is truly paradoxical to call halo engagement rings a fad or even consider them to be out of style. The halo engagement ring is timeless, so any statement otherwise is absurd. They will always remain fashionable, just like the solitaire engagement ring. The setting is too engrained in the industry, and moreover, it is a setting that just makes sense. It is so versatile in terms of design. It's too broad of a category, too large of a subset. Moreover, it is functional! Thinking a halo engagement ring will go out of style is like thinking a sneaker will go out of style. When we get into our '8 reasons why the halo engagement ring won't go out of style' below, you will better understand what we mean.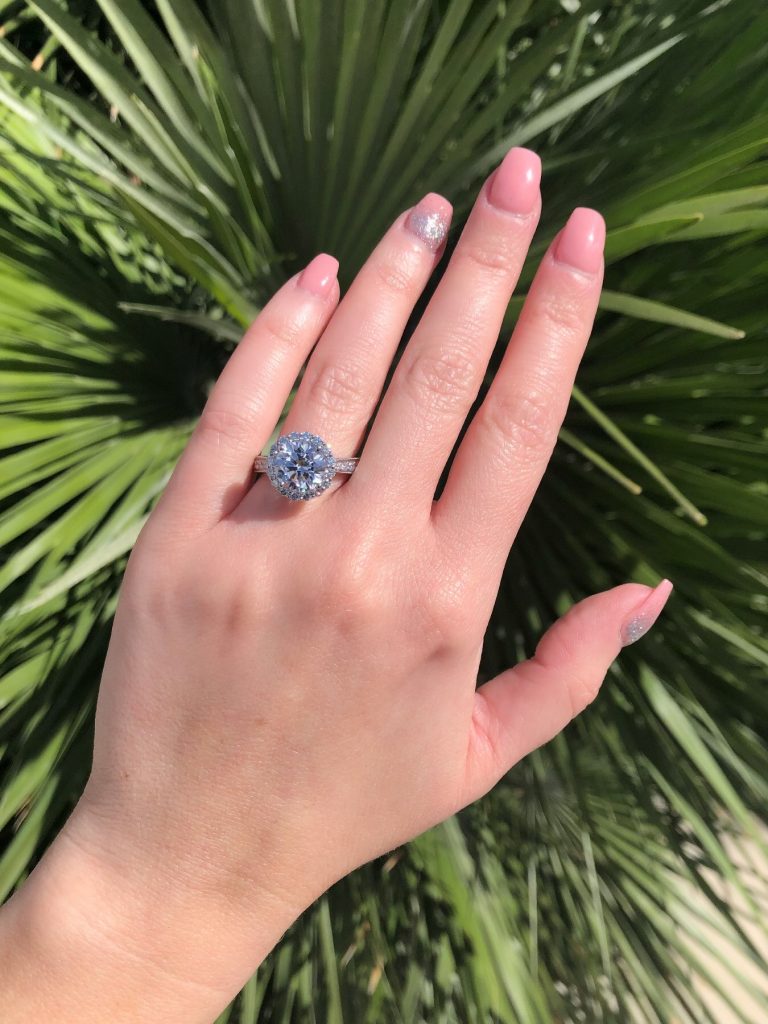 Modern Halo Engagement Rings
In the 2010s, the halo engagement ring was at the height of its popularity, becoming especially ubiquitous.
Nowadays, we are, in fact, seeing a change, but that change isn't in the popularity of the halo engagement ring, it is in the designs.
Contemporary halo engagement rings feature very unique designs, bringing the presence of the Georgian and Victorian era to the classic Art Deco composition. But it is more than just that, we are also seeing halo engagement rings that are like nothing the world has ever seen before. It's the perfect amalgamation of the past, present and future.
And, although the classic halo engagement rings that we've known and love for decades are still in style, the new halo engagement rings we are seeing from top designers and private label jewelers are changing the game. We believe it is very likely the halo engagement ring will take the top spot for "the most popular engagement ring setting", simply because of the setting's protean, multifaceted nature.
Unique & Contemporary Halo Engagement Ring Examples
Let's have a look at some contemporary halo engagement rings first, so you can see the versatility of this timeless setting.
Triple Band Halo Engagement Ring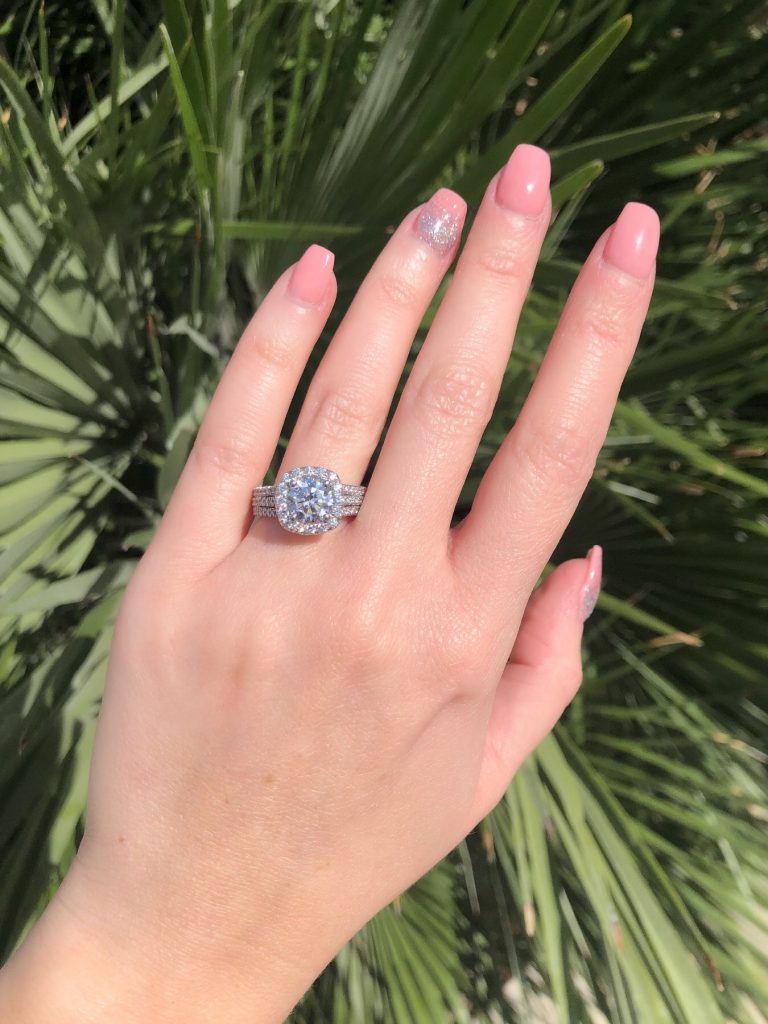 This halo engagement ring takes the beauty and allure of the stylish split shank to the next level. It features three rows of diamonds that come together to create an extraordinary impact of sparkle. A halo setting is only right for a triple band of this expanse.
Flower Motif Halo Engagement Ring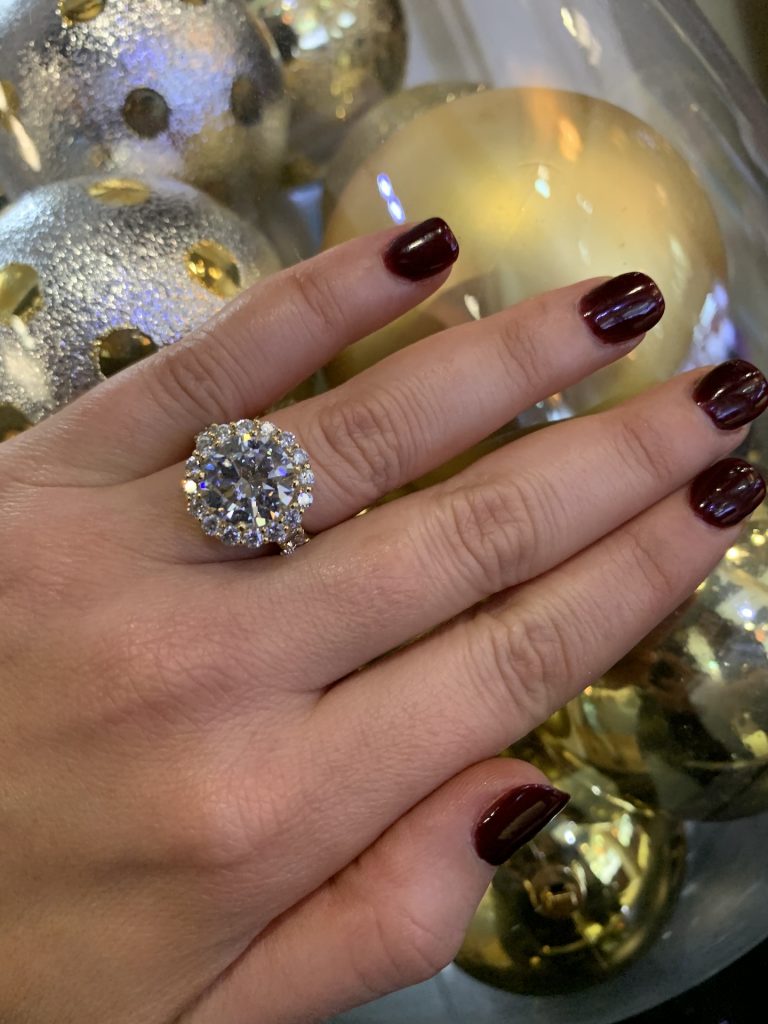 This halo engagement ring has a wonderful mix of vintage and modern. The shared prong open gallery setting allows the contours of the halo to undulate gently, creating a floral-like appearance. The design is reminiscent of the Victorian era, yet the fire and scintillation is undoubtedly of the cutting-edge time that we call "the present".
Split Shank Double Halo Engagement Ring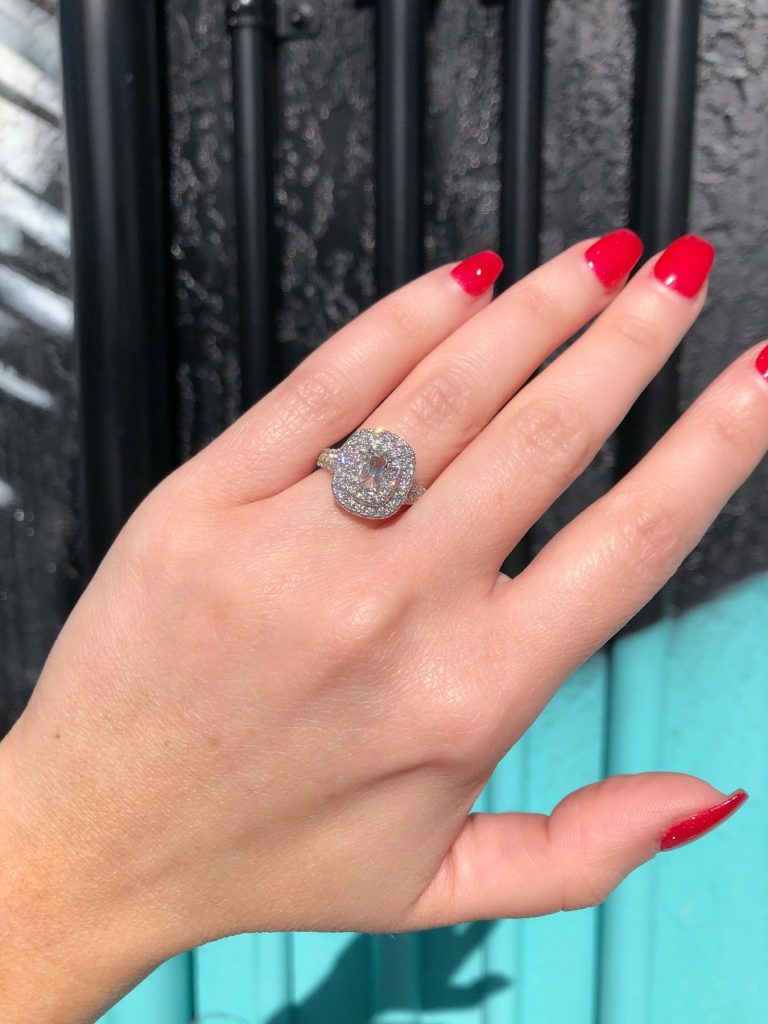 This modern ring has a vintage flair and is double the trouble. The Lilliputian centerpiece is encompassed by not one, but TWO round brilliant diamond halos, giving this ring an impressive stature. Then, the split shank pave diamond band only adds to its amplitude and flash. A ring of this size and grade can be surprisingly affordable, and that is only possible with a halo setting. The perfect combination of extravagant and economical.
Contemporary Yellow Gold Halo Engagement Ring with Channel Set Band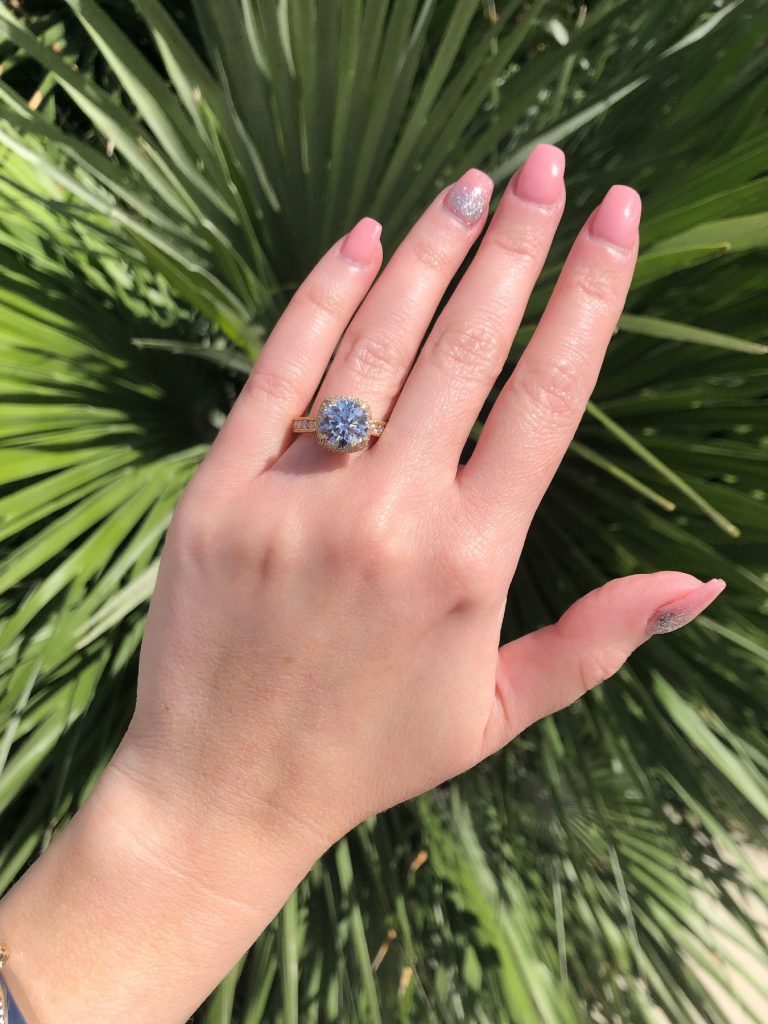 Many contemporary halo engagement rings are moving towards thin micro-pave halos around a large centerpiece. It allows the centerstone to be the center of attention while offering all the same security and contrast of larger halo settings. This halo engagement ring is particularly unique. It is crafted from yellow gold, which makes the round brilliant centerpiece pop in an unbelievably captivating manner, and the band uses a channel setting, to give it the perfect amount of vintage appeal. This is one of those contemporary halo engagement rings that is sure to drop jaws, for all of posterity, beginning with you.
Elongated Oval Halo Engagement Ring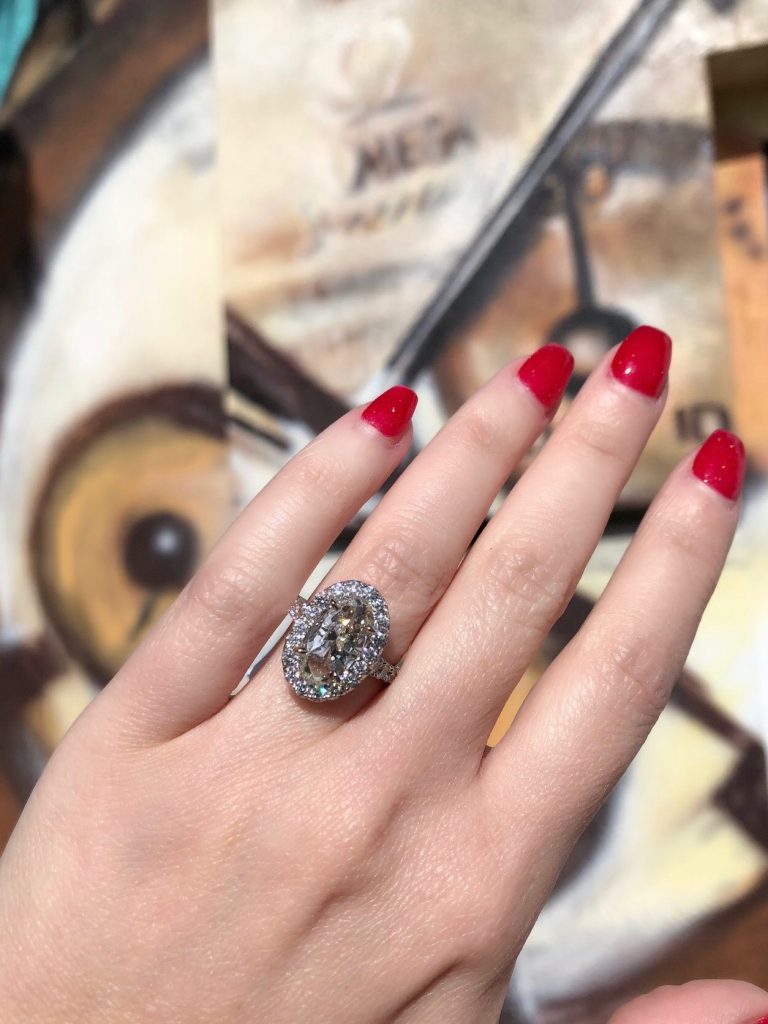 Here is an exquisite elongated oval halo diamond engagement ring that was expertly crafted with fine detail. It is proportioned in a way that makes the fingers look long and slender. This type of halo engagement ring offers an elegant, vintage yet modern appearance, and we can guarantee it will never go out of style. This is a bona fide heirloom that will capture perpetual compliments.
8 reasons why the halo engagement rings will never go out of style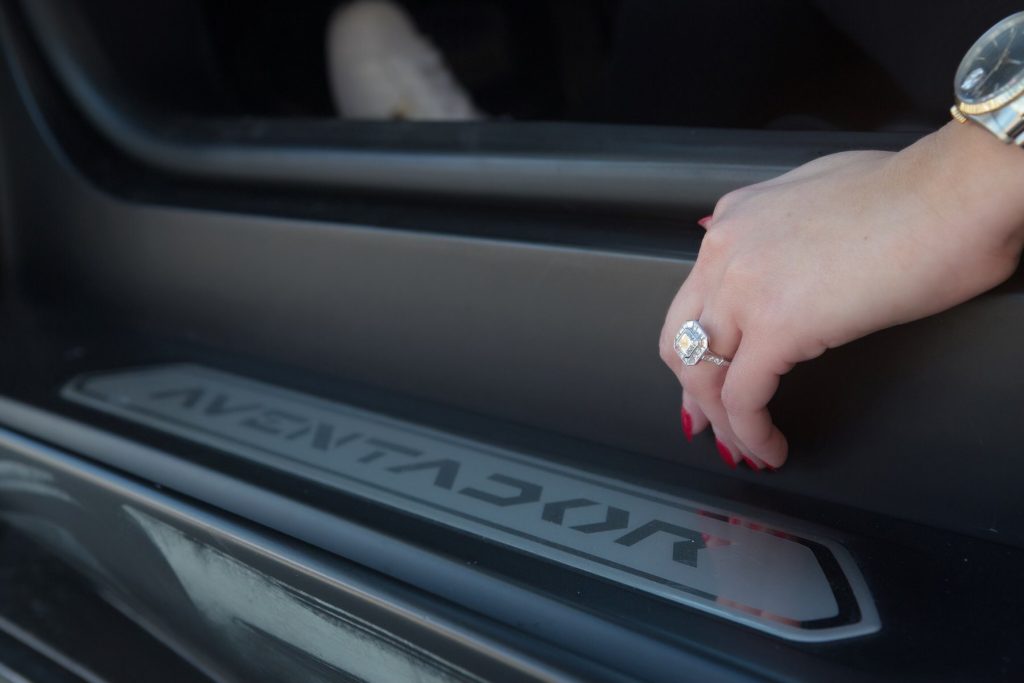 There are many reasons why halo engagement rings will never go out of style, a few of which we briefly mentioned above.
Let's go over more reasons why we can guarantee halo engagement rings will never go out of style.
1. The halo setting is the best option for a diamond band
Many women want their engagement ring to sparkle from all angles. The more diamonds, the better.
So, how to do that? A pave or channel set diamond band.
And, although a pave diamond band looks good with a solitaire setting, it looks even better with a halo setting. A diamond band and a halo setting go hand in hand. They were essentially made for each other. So, if you think a halo setting is going away, then so are diamonds on bands.

There are a lot of minimalists out there, but let's be serious, many women can't get enough diamonds. Is it tacky? We think NOT…It's stunning!
2. Halo settings look best with split shank and wider bands
On this same note, wide bands, split shanks, and three-row bands simply look better with a halo setting. It creates a proportional look, and even more so when these wide bands have diamonds.

As with diamond-set bands, split shanks, wide bands and three-row bands are more popular than ever, which in turn leads to more engagement ring designs with halo settings.

In the modern-day, bigger seems to be better. Will that change? Probably not anytime soon, as this is a trend that has been building and building for decades.
3. Halo settings allow for more colors and contrasts
Colors and contrasts are essential elements of jewelry design. They make pieces unique, and they make them stand out. Even a simple touch of color or contrast can make all the difference.
With halo settings, ring makers have more options at hand. For example, they can use gems like sapphires or fancy color diamonds in the halo; or they can use a different precious metal for the prongs of the halo (think a rose gold halo setting among an otherwise white gold ring); or they can use a different diamond cut like a step-cut diamond. All of these aspects will make a ring incredible distinctive.
All in all, there is no better setting than a halo setting when it comes to playing with colors and contrasts. With the future moving towards more colors and unique looks, we expect to see more and more modern halo settings with unique details.
4. Halo settings increase size in an affordable way
This has been known by men and women since day one. The halo engagement ring offers the "illusion" of a larger centerpiece.
The best part is, halo engagement rings are wonderfully affordable. That's because smaller diamonds are far less expensive than larger diamonds, even if the total carat weight is the same. This all comes down to larger diamonds being more scarce. So, of course, they cost more.
Thus, for a 3 carat (total combined) halo engagement ring, you will pay far less than a 3-carat solitaire engagement ring. BUT, you will still get the same "acreage". In fact, you will often get a bit more (depending on the cut).
5. Halo settings offer more protection
It's not all about looking bigger. Halo settings also (and probably most importantly) offer protection of the valuable centerstone.

A lot of people don't realize that diamonds can break. Yes, they are incredibly hard and tough, but diamonds can be vulnerable in certain conditions. Especially diamond cuts that have edges or points.
So, while halo settings offer the most protection to your diamond, solitaire settings offer the least. This is why you so often see pear and princess cut diamonds with halo settings. It eliminates the possibility for the edge or tip of the diamond to chip.

Therefore, this further proves are point as to why halo engagement rings will not go out of style. They are not only stunning, they are also functional.
6. Halo settings offer incredible sparkle
Halo engagement rings offer tons of sparkle. The numerous small diamonds in the halo reflect light back into the centerstone, adding even more sparkle.
Overall, the halo setting is unrivaled in shine.
7. Halo settings work for all diamond shapes
Halo settings are extremely versatile. Although some diamond shapes look better with solitaire settings and some with halo settings, any diamond shape can use a halo setting.
This versatility only increases the prevalence of the halo engagement ring.
8. Celebrities and Royalty love halo settings
Whether you like it or not, celebrities set the tone for the fashion world. This is because they have the "in" with top designers.

So, if designers are creating and pushing halo settings, and celebrities are adorning their fingers with halo engagement rings, what does this mean? Well, it means the rest of the world is going to follow.
At this point, incredibly iconic celebrities from the past and present are known to be betrothed with halo engagement rings. Thus, the halo engagement ring is an iconic design.
AND, it's not only celebrities who are sporting halo engagement rings, some of the most influential princesses in the world are (and have been) too.
From Princess Diana to Kate Middleton to Pippa Middleton, the halo engagement ring is clearly regal-worthy. And…it clearly isn't going anywhere.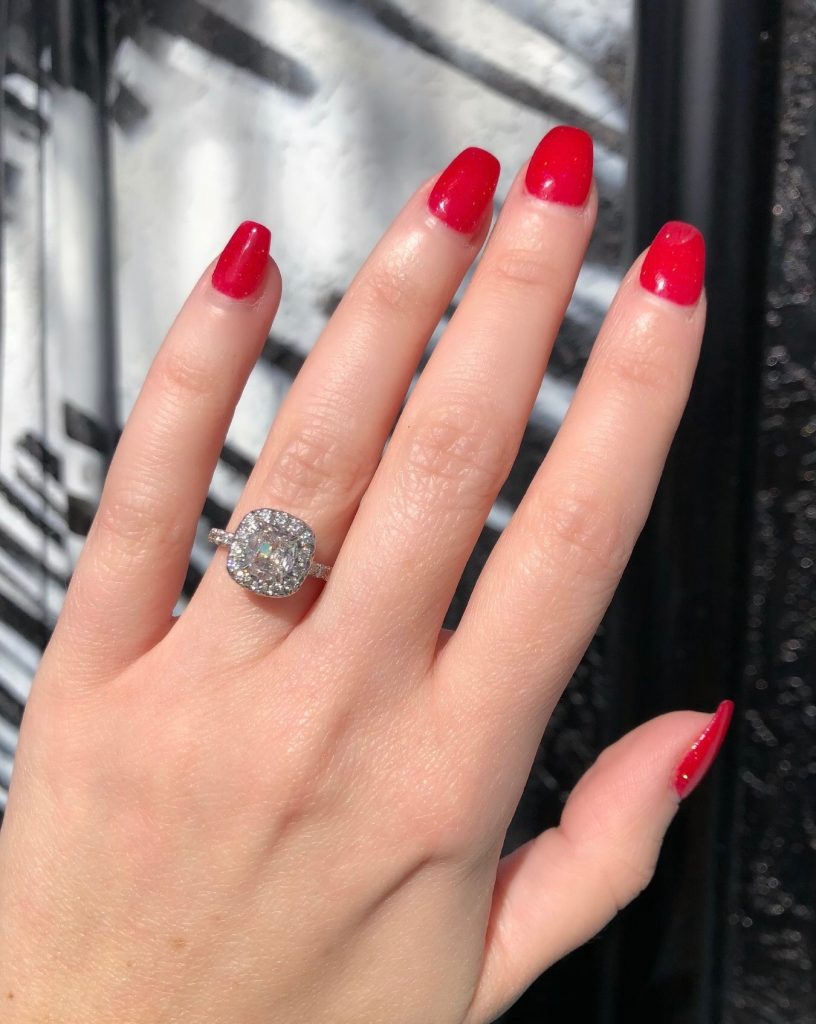 Halo engagement Rings in Boca Raton
Do you live in South Florida? Come to Diamonds By Raymond Lee in Boca Raton to try on some vintage, unique and contemporary halo engagement rings. There's no better way to see if a halo engagement ring is right for you than by trying them on.
In the end, the most important aspect of selecting an engagement ring isn't "is it going to go out of style?", it is "DO YOUR LOVE IT?" Because chances are, if you absolutely love your ring now, you will love it for a lifetime. That can't be said about everything in life, but with engagement rings, that's generally the case.
Still not sure? Halo vs No Halo Engagement Rings: Pros and Cons