Each time there is a royal wedding the media goes beyond itself to cover each and every detail. From the moment an engagement is announced there is fanfare about what the ring is like, what the dress will be and endless other details. While not everyone pores over these articles and discusses each possibility, who would not want to add a Royal touch to their own wedding?
Selecting similar color arrangements, flowers, or even cake flavor can be a way to infuse your wedding with Royal style but jewelry can truly set it apart. Emulating Royal engagement ring designs and jewel traditions is an infallible way to bring classic traditional style to your nuptials.
Here are 5 ways to make your wedding day a bit more Royal.
Engagement Rings Featuring Colorful Gems
The traditional engagement ring has always diamonds. The setting and cuts may have changed over time but generally speaking, an engagement ring has been that eternal stone, the diamond. This continues to be true but women over the past century have also begun to explore different colorful gems for engagement rings. The Royals are no different. While Queen Elizabeth II's engagement ring is the traditional large diamond set in the center, the Royals that have come after she seem to have shifted their preference.
Royal Engagement Rings
There is any number of colorful gems that can be included in an engagement ring. Princess Diana's sapphire engagement ring is the most famous of these colorful gem engagement rings. Inspired by her own mother's ring and later presented to Kate Middleton, the Sri Lankan 12-carat oval Ceylon sapphire is surrounded by solitaire diamonds. On the other hand, the Duchess of York, Sara, has a red Burmese ruby ring surrounded by 10 pear cut diamonds. Furthermore, Princess Eugenie's engagement ring is one of the world's rarest sapphires, a padparadscha sapphire. It is surrounded by 10 brilliant cut and two pear cut diamonds.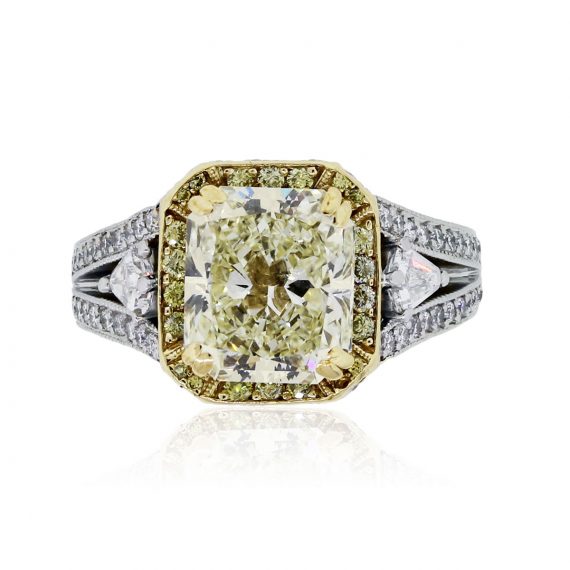 This platinum engagement ring features a unique 3.42ct radiant cut light fancy yellow diamond with 1.12ctw trillion shape diamonds and round brilliant accent diamonds. Gregg Ruth designers crafted this bold, colorful and refined engagement ring.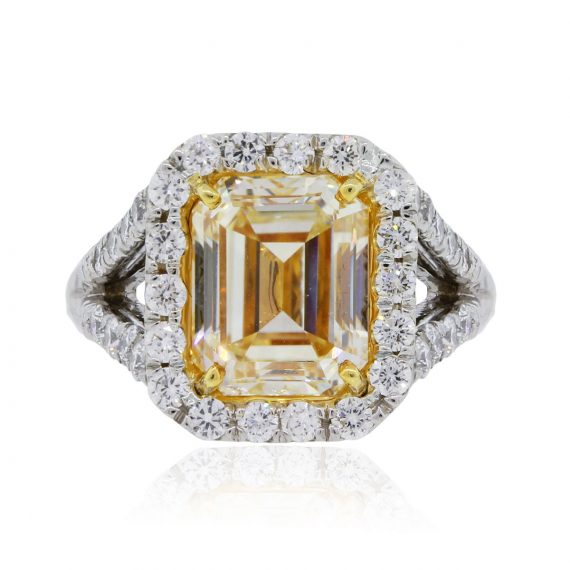 Another yellow diamond with a platinum ring this one has a 5.02ct EGL certified natural fancy yellow diamond surrounded by approximately 0.74ctw of round brilliant diamonds. The unique emerald cut also has a halo feature. This is not usual and gives the ring an even brighter shine.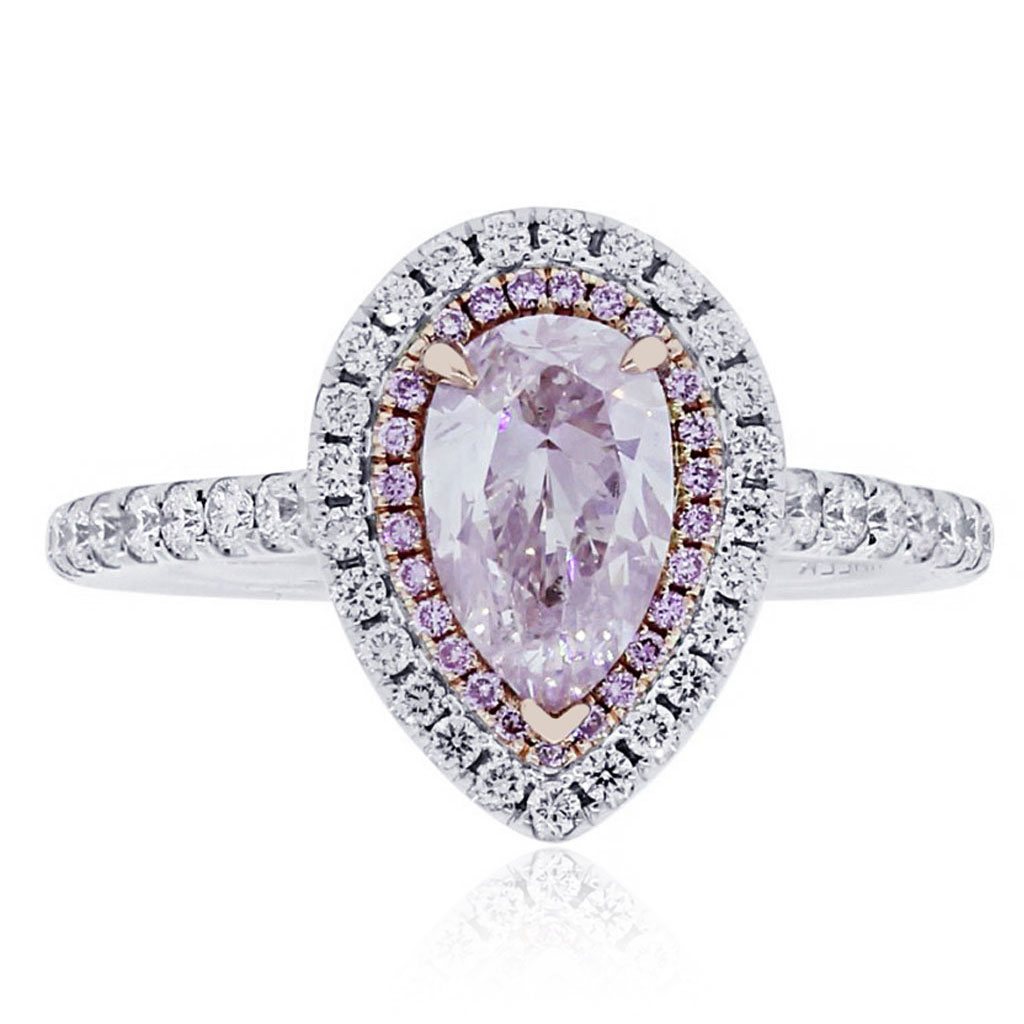 On the other hand, this stunning ring has a 1.01ct natural pink pear-shaped diamond surrounded by approximately .37ctw of round brilliant diamonds and 0.07ct in natural pink diamonds. For the woman who loves this Pink Panther-esque light pink shade, the ring accentuates the unique center pear-shaped stone with round pink diamonds.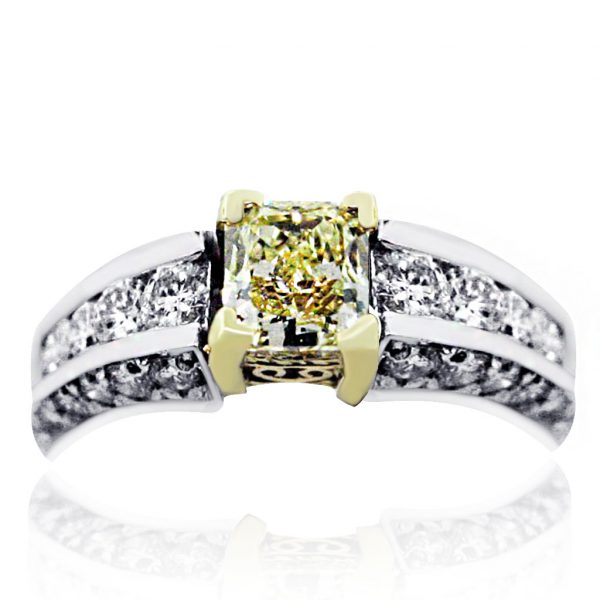 Another fancy yellow diamond this time in a 2.11-carat radiant cut one, this 18k yellow gold and platinum ring also has 36 round brilliant cut white diamonds set in an eternity band. Sparkling from every angle and featuring a yellow stone this is a unique and Regal look.
An art deco style design this ring has a 2 carat light fancy yellow diamond with rubies and diamonds surrounding it. Unique and multi-colored this halo style ring is iconic of a golden age.
Finally, the bluest of blues this platinum ring features a Ceylon sapphire like Diana and Kate Middleton's. Although, it is a lighter shade than the Royal engagement ring the sapphire is also accompanied by diamonds. There is two trillion cut diamonds are featured on each side.
Yellow Gold Wedding Band
Next are the wedding bands. Royal tradition has been to use very rare and culturally important Welsh yellow gold for wedding bands. While this gold is reserved for the Royals it does not mean you cannot emulate the style and go for simple matching yellow gold bands.  We offer traditional yellow gold bands for men and women in a variety of prices, along with a wide range of more modern designs.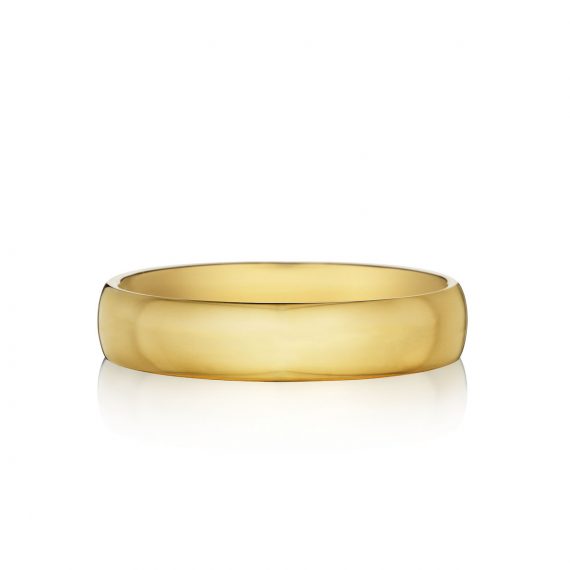 This Henri Daussi design for men's wedding band is similar to the Royal's traditional yellow gold band. There are several other available options from different designers, price points, and finishes. Don't forget to check our website for our full range of wedding bands, just click here.
Tiaras
Another Royal inspired piece of jewelry is, of course, the tiara. The epitome of Royal fanfare tiaras has been worn by pretty much all Royal brides over time. There are varying designs and sizes of tiaras but they truly are the crown jewels of their weddings. While most brides probably won't be wearing their bridal tiaras day to day the jewels can always be passed on. Even the Royal family does! In fact, the Queen's engagement ring is custom-made featuring diamonds from Prince Philip's mother's tiara.
A gorgeous feature with veils tiaras can be custom made to your design and accommodate any jewels. Not all diadems started out intended to be worn atop ladies heads. In fact, many of the Royal tiaras have been crafted from or specifically for brooches. From joining series of brooches to crafting tiaras that will feature a brooch as the centerpiece the Royals lean heavily towards their brooches. While a brooch might not be the first piece of wedding jewelry that comes to mind, brooches are uniquely Royal pieces of jewelry.
Brooches
For Meghan Markle and Prince Harry's wedding, the Queen wore a very special brooch. This one with its swirling scroll design features a large pearl and diamonds in yellow gold and silver settings. The brooch was a particularly apt choice as Meghan Markle's choice of the Crown Jewels was Queen Mary's tiara. Take inspiration from the Queen at the Royal Wedding and add a complementary brooch to your tiara! While some brides may prefer not to wear a tiara at all they can still adorn their wedding day style with a brooch. From monochrome to brightly colorful there is a huge range of brooch styles to choose from. Glittering and glamorous wearing a brooch for your nuptials is unique and offers diverse options.
A brooch can be pinned to the gown, veil, onto jewelry or even into the bouquet. Men can also don brooches for their wedding day. Along with a tie pin or pinned onto their lapels a brooch can be used to adorn men's wedding day suits in a variety of ways. Adding a brooch to your wedding is a lovely royal ornamental touch.
Here are some of the brooches available from Raymond Lee Jewelers. There are a design and jewel for every taste.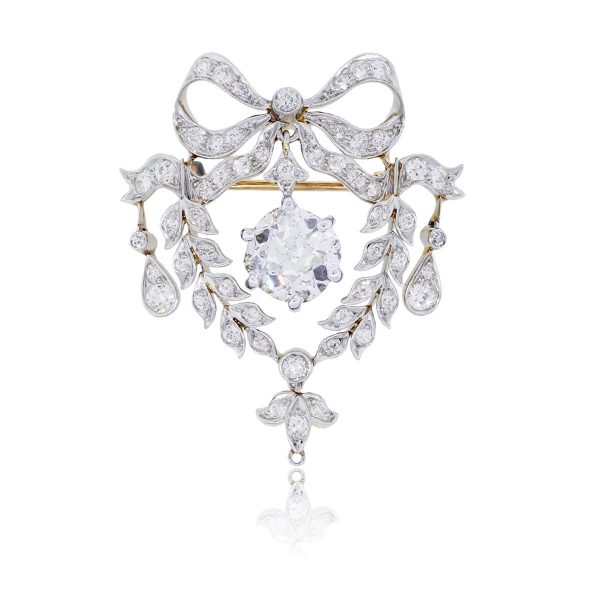 Similar to the Queen's choice this antique diamond brooch pin features a hanging 2.55-carat cushion cut diamond. It has a traditional and very regal design with a swooping bow and leaf-shaped European cut diamonds.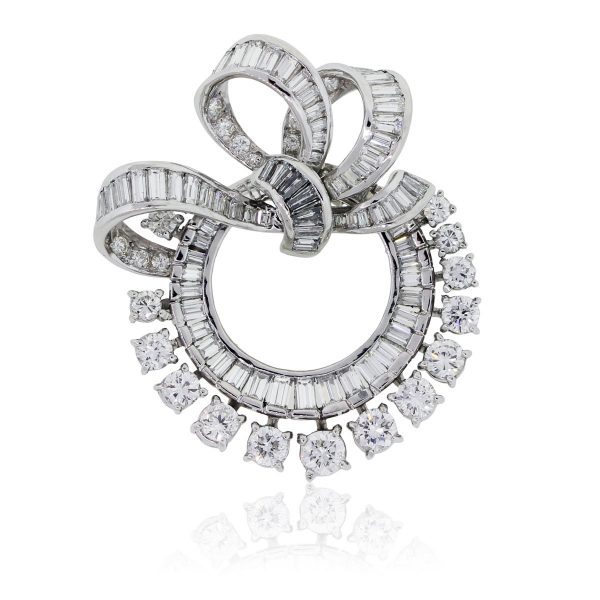 Another platinum brooch this vintage piece features 4.5-carat diamonds and a swooping bow as well. In a traditional round halo shape the brooch has baguette, round brilliant and emerald shape cut diamonds.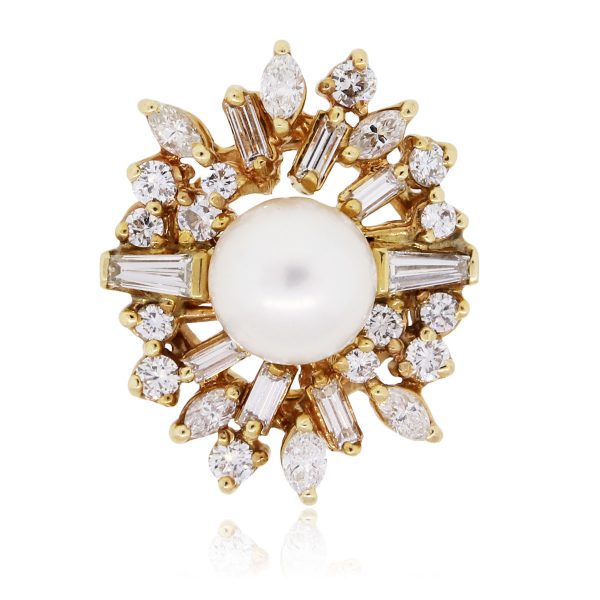 Similar to the Queen's wedding attire this brooch also features a large pearl at the center. This brooch has a cultured pearl measuring approximately 8.5mm in diameter and set in 18k yellow gold. There are a variety of diamonds radiating away from the pearl. Set into a round circle the brooch has round brilliant, marquise and baguette shaped diamonds.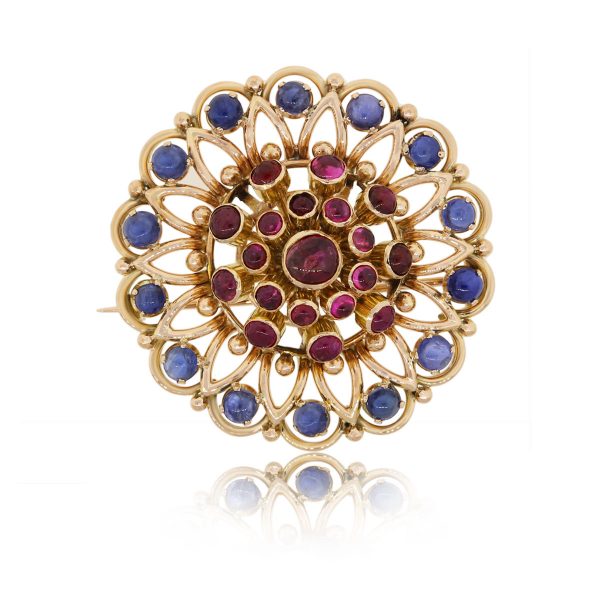 Additionally, this bloom inspired 14k yellow gold brooch has unique settings and colorful gem combinations. It features gorgeous cabochon gemstones, rubies, and sapphires. This round brooch pin is 1.5 inches in diameter.
Similarly, we offer an elongated vertical pin featuring 5 carats of diamonds cut into a baguette, round brilliant, and marquise shapes. This vintage brooch is delicate and feminine made to last in high-quality platinum.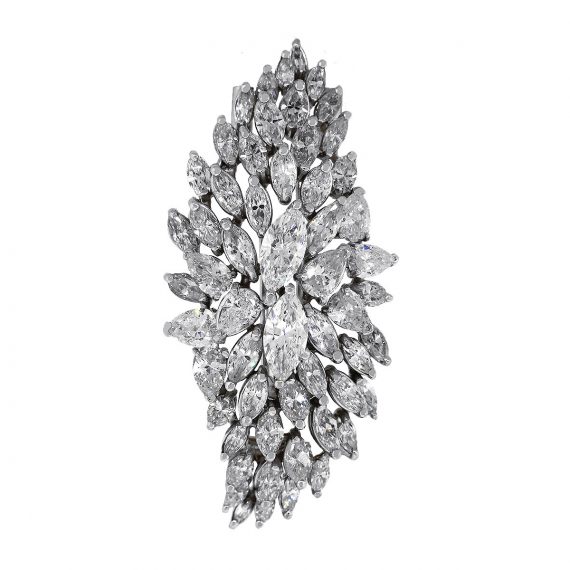 Another intricately set white gold and diamond beauty, this pin has approximately 6.00ctw of a pear shape and marquise cut diamonds. This pin can be worn traditionally on a gown, accenting a bracelet or necklace or even adorning a bride's hair.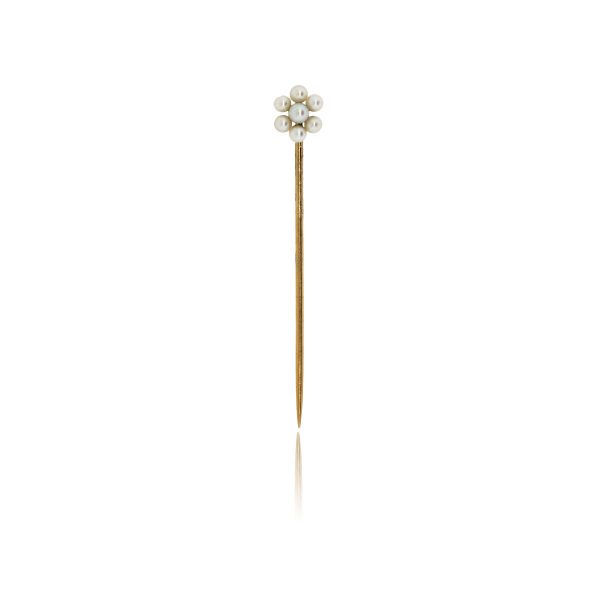 Although this pin is much more subdued than the Queen's large brooch this pearl stick pin is a dainty addition. Classic and simple this vintage yellow gold pearl cluster is a simple yet sophisticated accessory.
Custom Jewelry
Custom Engagement Rings
The Royals rarely purchase a ready-made pre-designed engagement ring. From the Queen to Meghan Markle their engagement rings are designed and custom made. In keeping with tradition and exclusivity, each Prince has purchased a custom-made engagement ring to propose with. This is not just for Royals though, we at Raymond Lee Jewelers strive to ensure couples wedding dreams come true. In keeping with this goal, we offer custom jewelry design at our beautiful stores. You can come in and discuss with our master jeweler your plans and hopes for this unique piece of jewelry that will emblemize your deepest truest love.
Once we have a solid idea of your dream engagement ring we will create a 3D design image of it with each and every refined detail included. At this point, we move into sourcing the highest quality materials and get you a budget to be signed. This is when our artisans truly show their craftsmanship and begin bringing your creation to life. They work in our state of the art facilities minting, polishing and setting every millimeter of your jewel before testing and checking it against our rigorous quality standards. Finally, we will deliver your ring and you can present it to that special someone in your lifetime proposal.
Custom Wedding Bands
Already engaged? We can also craft your dream wedding bands. Made from the materials of your choice uniquely for you, our artisans can create wedding bands unlike any other. Imagine your ceremony celebrating your love with custom created bands. From designing to engraving we are here to help you make your dreams a reality.
As a family business based on tradition and commitment to exclusive fine jewelry and watches, we pride ourselves in offering services like our custom creations. We rigorously provenance all of our product offerings and raw materials and test them for quality assurance. For the past 30 years we have been the premier diamond, watch and jewelry destination for South Florida, and look forward to providing the same caliber of excellence for the next three decades to come.  
To find out more about designing your very own custom engagement ring or wedding bands click here.