On September 30, 2013, a rare 12.47 ct blue diamond was discovered in a mine in Lesotho, Africa. Blue diamonds are one of the rarest diamonds in the world. It was found in Gem Diamonds' Letseng mine. The quality of the stone is not known at this point. At the same time, an 83.9 carat white diamond with exceptional quality was also found. The blue diamond was found in the Main pipe, and the white diamond was found in the Satellite pipe.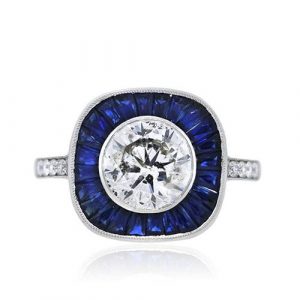 These diamonds are expected to be auctioned off in Antwerp, Belgium, and are also thought to fetch good prices. Blue diamonds have such a great value that they usually fetch higher prices, as this can be seen in previous auctions. A fancy deep-blue diamond of 5.3 carats was sold for over $9.5 million at Bonham's Fine Jewellery sale in London. The price per carat was $1.8 million and set a world record for a diamond of that color. In April of this year, Petra Diamonds announced that it had a 25.5 carat blue diamond in its possession that came from South Africa.
According to Bullionstreet.com, Clifford Elphick, Gem Diamonds CEO states, "Letšeng continues to recover large, white, largely undamaged diamonds on a relatively consistent basis as well as the occasional rare blue or pink diamond. As mining focuses on the higher value and higher grade Satellite pipe during the latter part of this year, it is expected that Letšeng will continue to produce more of these exceptional diamonds."
Letseng Mine
Gem Diamonds owns almost three quarters of the Letseng mine in Lesotho, which was purchased in 2006, while the country's government owns the remaining portion of the mine. Gem Diamonds also owns the Ghaghoo mine in Botswana. Letseng sits at an elevation of over 3000 meters, or 10,000 feet, and is the world's highest elevation diamond mine. It is known for producing large, good in quality and color, white diamonds. It is the highest valued dollar per carat kimberlite mine for diamonds. Letseng has produced a fifth of the top twenty largest white good quality diamonds in the world. The higher elevation causes the temperatures at the Letseng mine to fall to -20 degrees Celsius, and snow is not uncommon during the winter months.
Lesotho is a country in the most southern part of Africa and is surrounded by its only neighboring country on all sides, South Africa. Another mine, located in the northern part of Lesotho is the Lighobong mine, owned by Firestone Diamonds. There are several other famously discovered diamonds from the Letseng mine. The 603 carat Lesotho Promise was found in August of 2006. The Letseng Legacy is the 16th largest rough white diamond ever found. It is 493 carats and was discovered in September of 2007. The Leseli La Letseng is a 478 carat D color white diamond found in September of 2008. The Letseng Star was recovered in August of 2011 and is 550 carats.
Blue Diamonds
Blue diamonds can sometimes contain several shades of overtones, such as gray, green, violet or a combination of two. The intensity grades for blue diamonds are faint, very light, light, fancy light, fancy, fancy intense, fancy vivid, fancy deep and fancy dark. These grades depend on the combinations of colors in the natural stone. Blue diamonds are most connected with royalty and power.