Worlds Largest Paraiba Tourmaline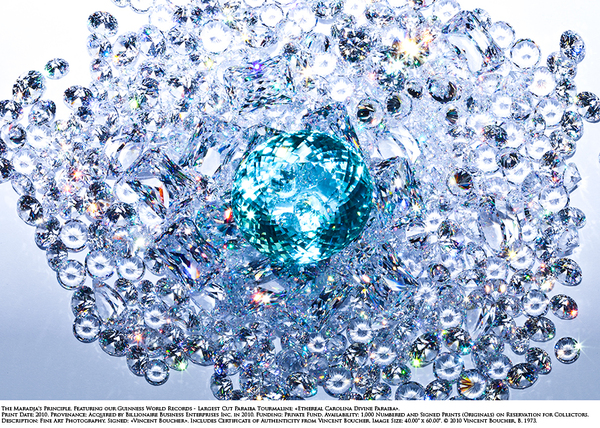 Vincent Boucher, a financier from Montreal, and the holder of degrees in political science, aerospace engineering and physics, is the owner of a world record breaking gemstone. It is known as a Paraiba tourmaline, so named after the region in Brazil where these jewels are mined. Boucher, a former employee with the Canadian Space Agency, founded Billionaire Business Enterprises in 2000. He purchased this precious stone for his Planetary Collection in April of 2010.
Named the Ethereal Carolina Divine Paraiba, it is about 191.87 carats of stunning and sparkling beauty. Experts in the jewelry industry estimate that the gem's worth is between $25 million and $125 million. Boucher, however, declined to reveal what he paid for this rare jewel.
This brilliant, oval cut jewel is the bold and eye catching centerpiece of a necklace that was unveiled by Kaufmann de Suisse at its Montreal boutique on October 18, 2013. The holder of a Guinness Book of World Records, this stone measures 36.44 mm x 33.75 mm x 21.85 mm, and exudes a soft blue hue that is transparent. The stunning aquamarine color of this jewel has flecks of blue running through it. This coloring celebrates the peaceful nature that is the earth while the other aspects of the necklace work in tandem with it. With both precious and semi-precious stones radiating their beauty from the necklace, it also features a stunning 10 ct yellow diamond. The melding of the colors is designed to pay homage to the sea's of the earth.
There is no doubt about the authenticity of this Boucher's Paraiba tourmaline since it was properly certified by the Gemological Institute of America, considered to be the authority in the gemology industry, in June 2010. These gems are exceedingly rare since an average is only one found for every 10,000 diamonds that are mined. In addition, only about 50 kilograms of this gemstone have been found as of 2009.
Of course, the jewelry world finds this Paraiba Tourmaline to be a fabulous specimen of a nearly flawless gem due to its rare color as well as its heft and weight. However, people who enjoy art are as spell bound by the mesmerizing beauty of the stone as well as those who are in the jewelry industry. When it is combined with the earthy elements of the necklace, with the other semi-precious stones setting off the beauty of the aqua marine gem, many people consider the Ethereal Carolina to be a unique work of art.
Like the Cullinan Diamond, Golden Jubilee, Alan Caplan Ruby, Hope Diamond and Logan Sapphire before it, the Ethereal Carolina Divine Paraiba has earned an esteemed place of reverence for those people who appreciate beauty. In addition, this jewel is a piece of history that holds a great deal of history inside it. Unearthed after more than 4.5 billion years in the making, this gem is flawless, majestic and embodies the very characteristics that make such stones precious in the first place.
Related articles