Tuesday night's Olympic games were among our favorite events yet! Between watching the U.S. Men's swim team take home gold and seeing the U.S. women's gymnastics nail a perfect routine to snag their own gold medals, it was definitely a high point for the U.S. in the 2012 London games!
Omega ambassador Michael Phelps became the most decorated Olympian ever on Tuesday with help from teammates Connor Dwyer, Ricky Berens and Ryan Lochte. The men performed amazingly well in the 4×200 meter freestyle, with Phelps anchoring the race for the first time ever. The men accepted their gold medals joyfully and without Ryan Lochte's red white and blue grill.
Meanwhile, the ladies on the U.S. gymnastics team performed near perfect routines in rapid succession, quickly surpassing their main competition, Russia. The girls showed off their hard work and emotions were running high as team captain Aly Raisman tearfully ended a stunning floor routine. Perhaps those strong emotions run in the Raisman family, but Aly's facial expression showed her realization that her team had just won the gold!
Aly's shiny new Olympic gold medal wasn't her only accessory either. The USA team captain wore a sparkly pair of diamond, ruby and sapphire studs as a token of good luck. Raisman family friend and jewelry designer Anto Aboyan who owns Adamas Fine Jewelry in Aly's home town created the earrings after Aly made the Olympic team.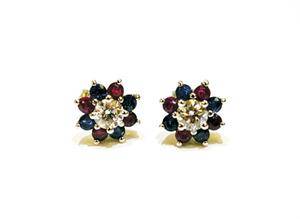 "The idea was for me to do the red, white and blue and something small enough to surround the diamond with the colors, so I ended up with the star," Aboyan said.Aly, along with Jordyn Weiber, Gabbby Douglas, Kyla Ross and McKalya Maroney shone one Tuesday night, and made the USA so proud of the "Fab Five." The women's team finally brought home gold for the first time since 1996, and we can't wait to see what's in store for Gabby Douglas and Aly Raisman when they compete in the individual all around event. And as the swim events build to a climax, we're excited for more USA gold medals!