Spotlight On: Ulysse Nardin
Ulysse Nardin Watchmaker has a history unlike most others in the marketplace. In the early days of the company, throughout the late 1800s, the Nardin family were famous for creating Chronometers.
These chronometers were highly accurate mechanical marine timepieces that were made for merchant and marine ships in the era, and before the invention and application of quartz timepieces.
Businessmen and investors bought out the company almost 100 years later. The new direction of the company involved the creation and design of complication timepieces. One of the first redesigns came in 1985: the  Astrolabium Galileo Galilei. This famous watch not only displays local and solar time, but also displays the orbits and eclipses of the sun and moon, and the positions of several major stars—not to mention 14 other distinct functions. This timepiece was noted in the 1989 Guinness Book of Records as the World's most functional watch.
Today, Ulysse Nardin Timepieces are some of the priciest on the market. Buying used is a great option considering the dough you'll save and the worth of the watch in the future.
Raymond Lee Jewelers is currently offering a slew of pre-owned Ulysse Nardin timepieces.
My personal favorite is this Men's Ulysse Nardin Freak 020-88 18K White Gold watch. Wrapped with a blue Alligator bracelet and covered in scratch resistant sapphire, this glorious wristwatch even includes a warranty.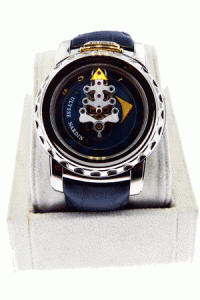 Raymond Lee Jewelers also offers the Ulysse Nardin Maxi Marine Diver Watches in a variety of colors and styles.
 A luxury watchmaker that has survived the changing times but left a huge impression on the watch making world and the public, Ulysse Nardin is a skilled watchmaker producing high quality luxury wrist watches.