Tacori Engagement Rings Our Insta Community Loves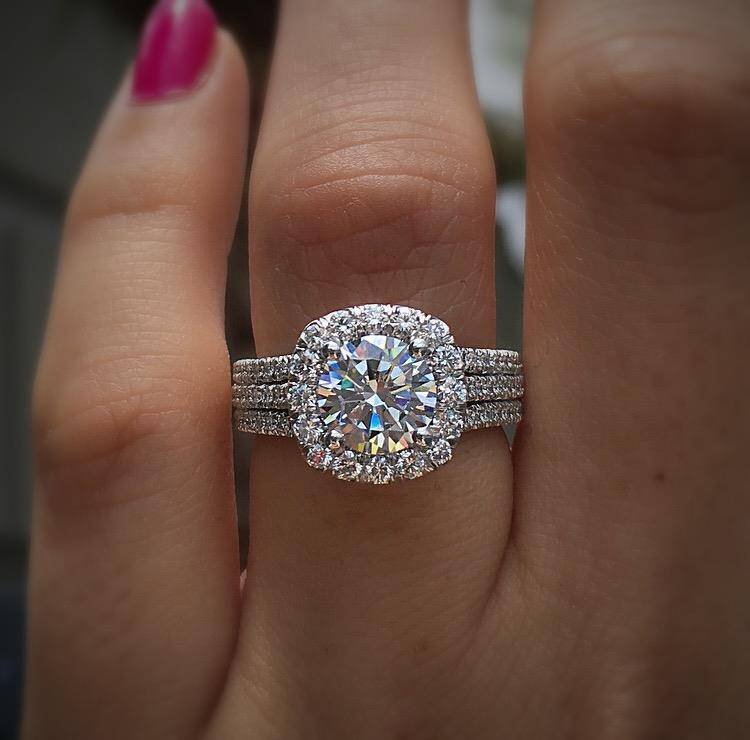 Tacori engagement rings officially stole our Insta community's hearts. Ever since we started posting our favorite Tacori settings, our fans made it unanimous: they can't get enough!
Thanks to Tacori engagement rings' handcrafted details, luxurious designs, and Gorgeous, Very Sexy (G color, VS clarity) diamonds these settings shot straight to Instagram fame. And if you liked our post from Wednesday, you're going to love this one.
Today we're showing off the top 10 Tacori engagement rings our Instagram community just can't get enough of.
10.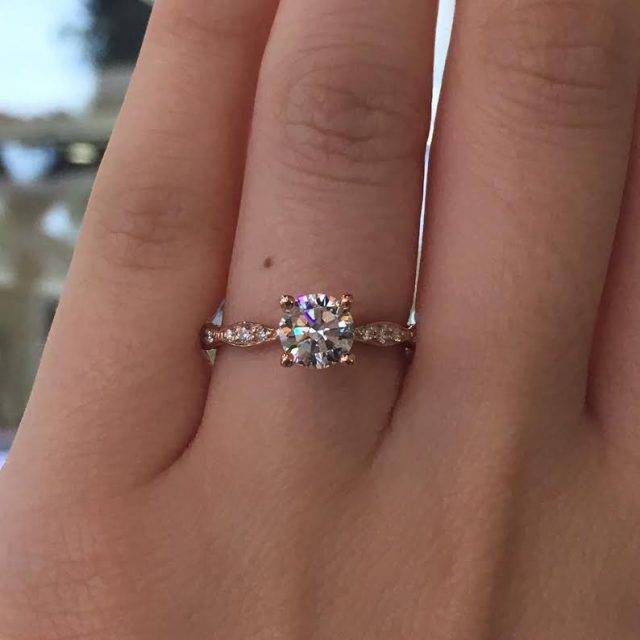 Let's kick things off with this stunning rose gold halo! The Pretty in Pink collection takes the most popular Tacori engagement rings and gives them a pair of rose colored glasses, in the form of their trademark and trade secret special rose gold alloy. Tacori rose gold rings are the ultimate in romance, and this particular Blooming Beauty proves why. It has approximately .31ctw of round brilliant diamonds, and can accommodate a center stone half a carat and up, in round or princess shape. Want a different shape diamond? Just let us know – we partner with Tacori to provide free customizations.
9.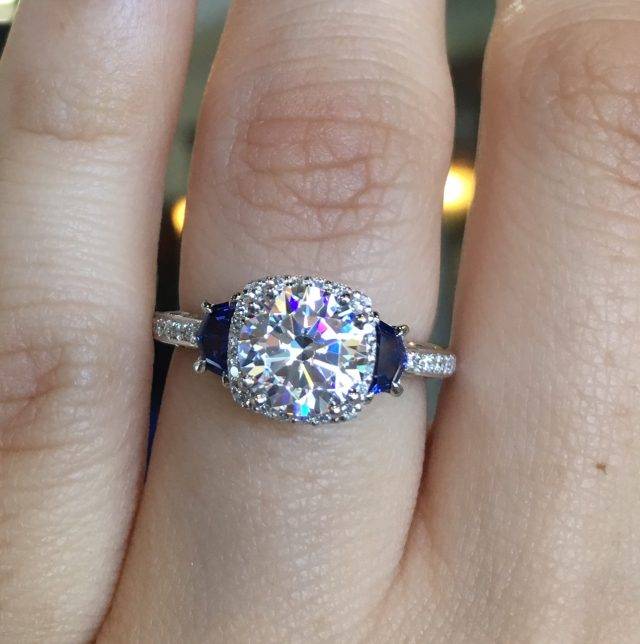 This fabulous Dantela Tacori engagement ring gets an added boost from two beautiful blue sapphires. The Dantela collection draws its inspiration from lace – the word means lace in Romanian – so the details are delicate and feminine, directing all the attention to the center stone. This setting's diamonds add about .26ctw and the setting can accommodate a round, princess, oval or emerald cut center diamond.
8.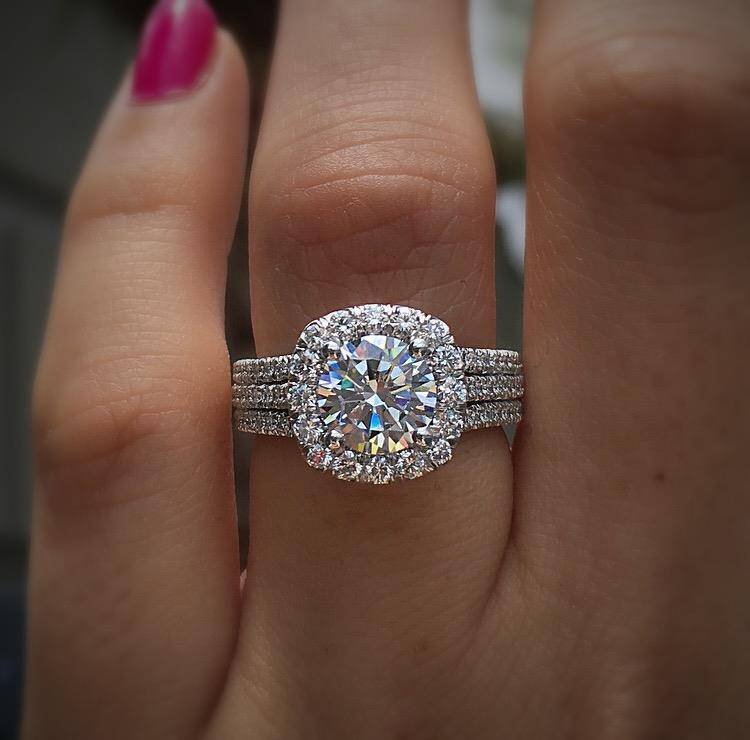 If you thought the split shank was hot, allow us to introduce you to the triple shank. This fresh design is taking the bridal world by storm, and this particular Tacori Petite Crescent halo is no exception. The accent diamonds on each band, plus the beautiful soft square halo, add 1.03 carats to the beautiful setting.
7.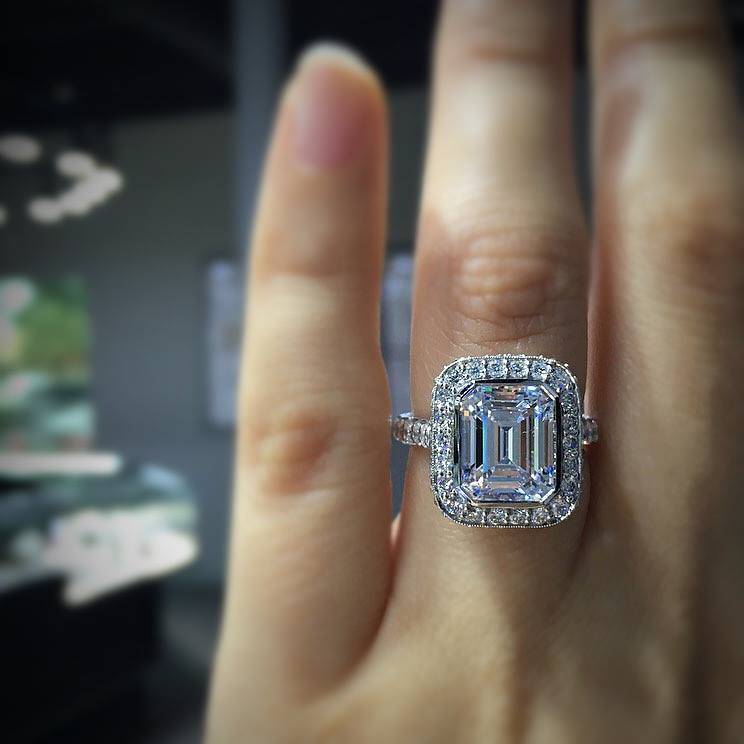 We've obsessed over this RoyalT emerald cut on several social channels at this point, but can you blame us? The accent diamonds alone weigh nearly 2 carats, adding 1.77ctw of round brilliant pave and shared prong dazzle. This ring, along with all Tacori engagement rings from the RoyalT line is reserved for center diamonds 2 carats and up.
6.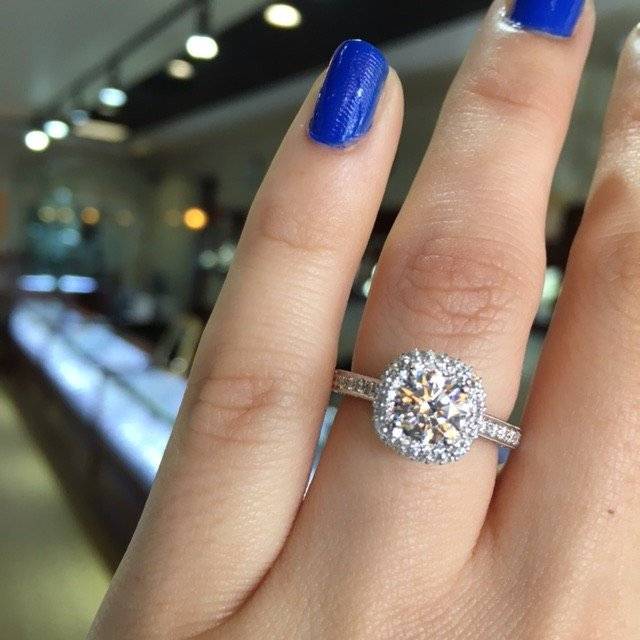 The Blooming Beauties line features nature-inspired halos with sculpted edges as gorgeous as any bouquet. This setting adds two layers of diamonds beneath your center stone, adding 1.03 carats of round brilliant diamonds (plus the graduated diamonds in the shanks). This ring can accommodate emerald, oval, princess and round diamonds .65ctw and up.
5.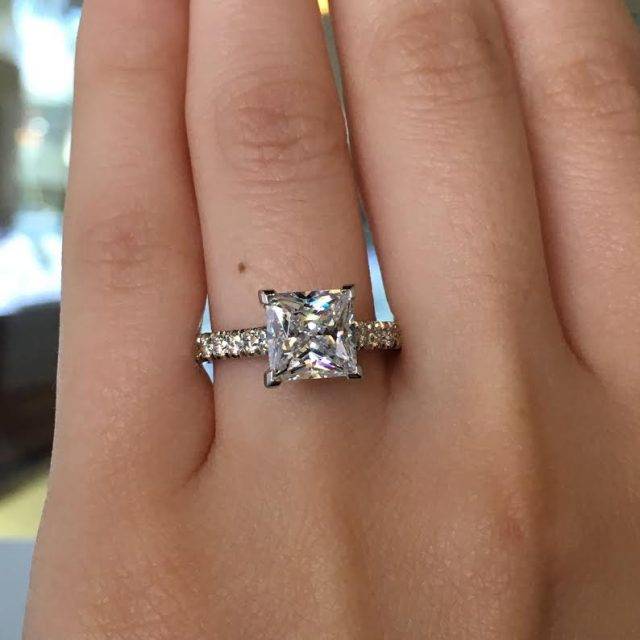 The ever popular princess cut gets the Tacori treatment with this Petite Crescent setting. The accent diamonds add .57ctw, keeping the focus entirely on the center stone. This setting can accommodate center diamonds 2 carats and up, in princess, round, and asscher shapes.
4.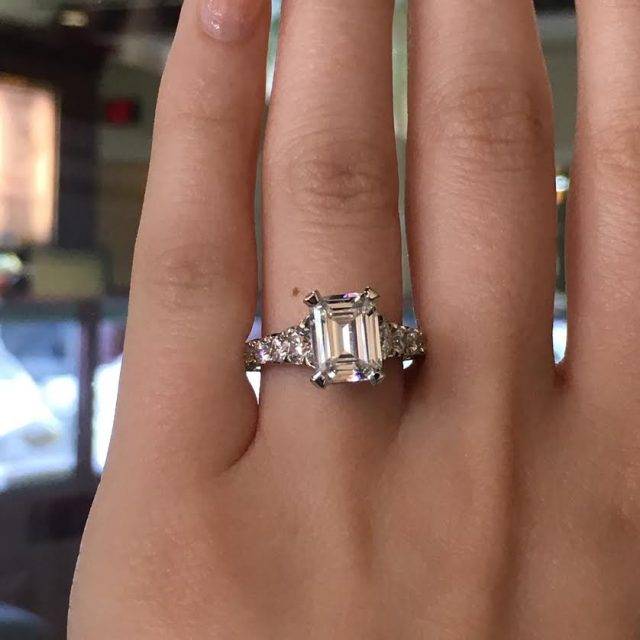 This fabulous RoyalT solitaire combines the elegant clean lines of an emerald cut with sparkling round brilliants that make up the entire shanks. This beauty features 1.65ctw of round brilliants and accommodates a 2 carat diamond in pretty much any shape.
3.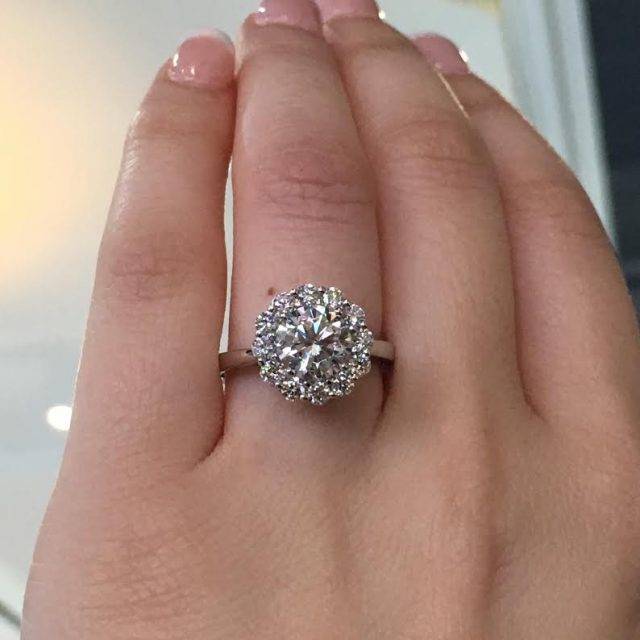 The Tacori Full Bloom line is a more polished and more obviously floral version of the halo style seen 'round the world. We love that this ring mixes a bright, large floral halo with a simple tapered shank band so it's not overwhelming. We paired it with a Classic Crescent band to create a more layered look!
2.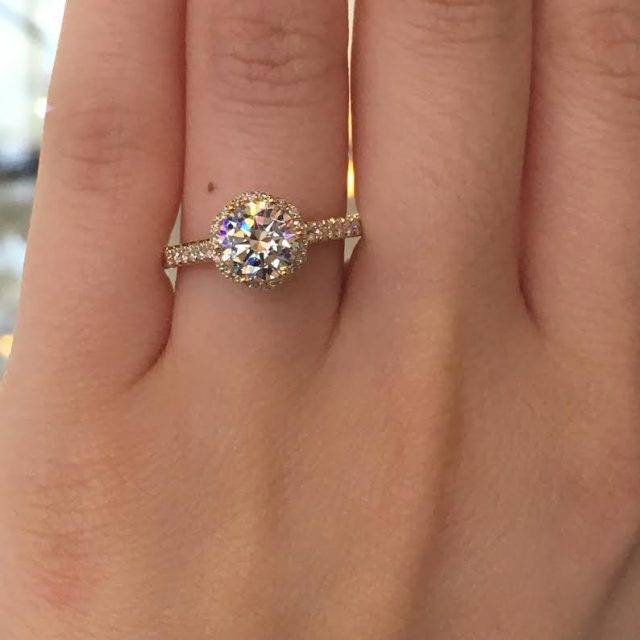 Tacori engagement rings get the Midas touch with their Tacori Gold collection. Like Pretty in Pink, this line takes the most popular designs and updates them in rich 18kt yellow gold. This floral design features half a carat of gorgeous, very sexy accent diamonds.
1.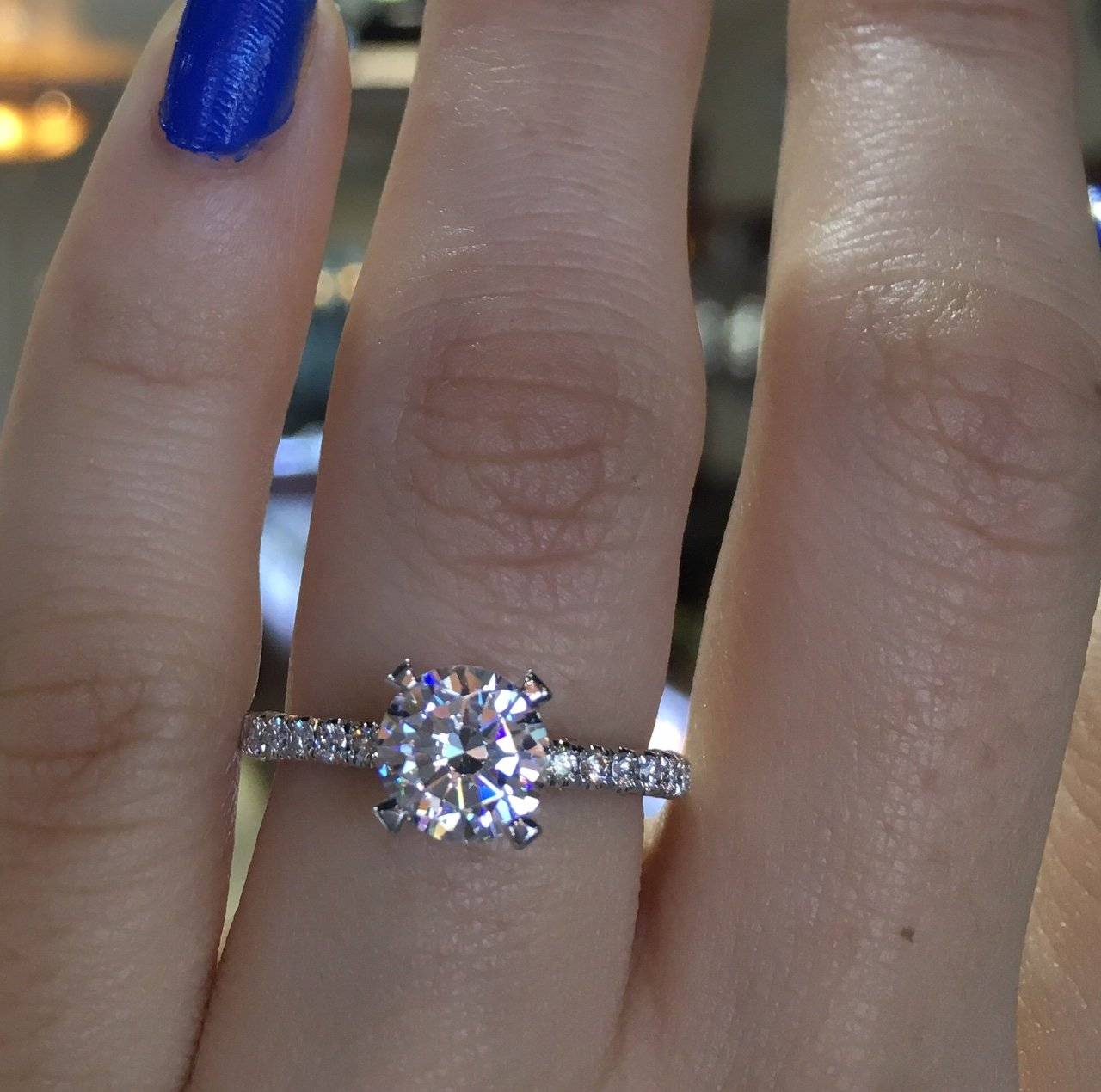 Finally, we have this incredible Petite Crescent solitaire. The setting features .36ctw of Gorgeous, Very Sexy diamonds in minimal 18kt white gold – though it also comes in 18kt, rose, and platinum.
So, do you agree with our Instagram community? And more importantly, are you one of them? Follow @DiamondsByRaymondLee for even more fabulous Tacori engagement rings!