If you're seeking a timeless and fashionable winter favorite for accessorizing, check out silver cuff bracelets. While cuff bracelets were recently discussed on the blog as a piece of jewelry that every woman should own, this is a focus on the silver cuff bracelets.
Cuff bracelets are simple: you slide them on and the dress up even the dullest outfits. They're versatile, fashionable in any climate, and while they can be further accessorized, they're great statement pieces that don't require a lot of attention.
Many designers are coming out with intricate, gorgeous pieces in this category. If you're a fan of vintage accessories and attire, check out this amazing silver lace cuff bracelet by Amanda White.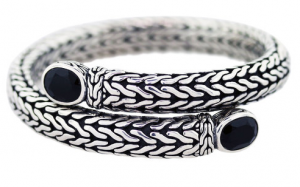 John Hardy's answer to the silver cuff is this intricate sterling silver and black onyx cuff featured here. Cuffs are easy to purchase as a gift because they're adjustable to fit almost any wrist size.
Simple Silver Cuffs, like this one by the Sausalito Silver Co., are great to dress up a simple solid shirt and jeans, or as an accessory for a red holiday cocktail dress.
Silver cuff bracelets work well throughout the year, but really bring some sparkle to your winter attire. Silver is highly polishable and much less expensive than it's precious metal counterparts like gold and platinum, and works well with any skin tone!