Royal Oak Offshore Audemars Piguet Forged Carbon Watch Review
There are fine luxury time pieces and then there are those special edition and discontinued fine luxury time pieces. Few in the world and even fewer for sale these are the pieces we look forward to bringing our clientele. For example a forged carbon Audemars Piguet Royal Oak Offshore 44 millimeter men's watch. Today we are reviewing a brand new (to us) Royal Oak Offshore forged carbon chronograph watch. It is unlike any other Royal Oak Offshore watch ever. That is because all of the forged carbon watches are not only extremely light they are also each absolutely unique. This is due to the process of forging the carbon cases, but we will get into the nitty gritty details later in this review. The watch is a stunning and large faced AP Offshore with an extremely light weight feature. It weighs less than any other Royal Oak Offshore this size!
The forged carbon case is as incredible as you would expect any Royal Oak Offshore Audemars Piguet to be. A fine example of Audemars Piguet's innovative and pioneering work in the world of haute horlogerie. The forged carbon watch is a new material that has since they started production been discontinued. Now the designer brand is known for doing this and it adds a nice touch of exclusivity to these fine watches. It is not easy to find them after the 2007 forged carbon watch release with the Alinghi Team. This forged carbon watch is as unique as your fingerprint made out of carbon fibers. We cannot wait to review this beauty. It is one of our ultimate preferred AP Royal Oak Offshore styles. And you know we appreciate a bespoke modified Offshore. So without further ado the forged carbon Audemars Piguet Royal Oak Offshore 44 mm Chronograph men's watch.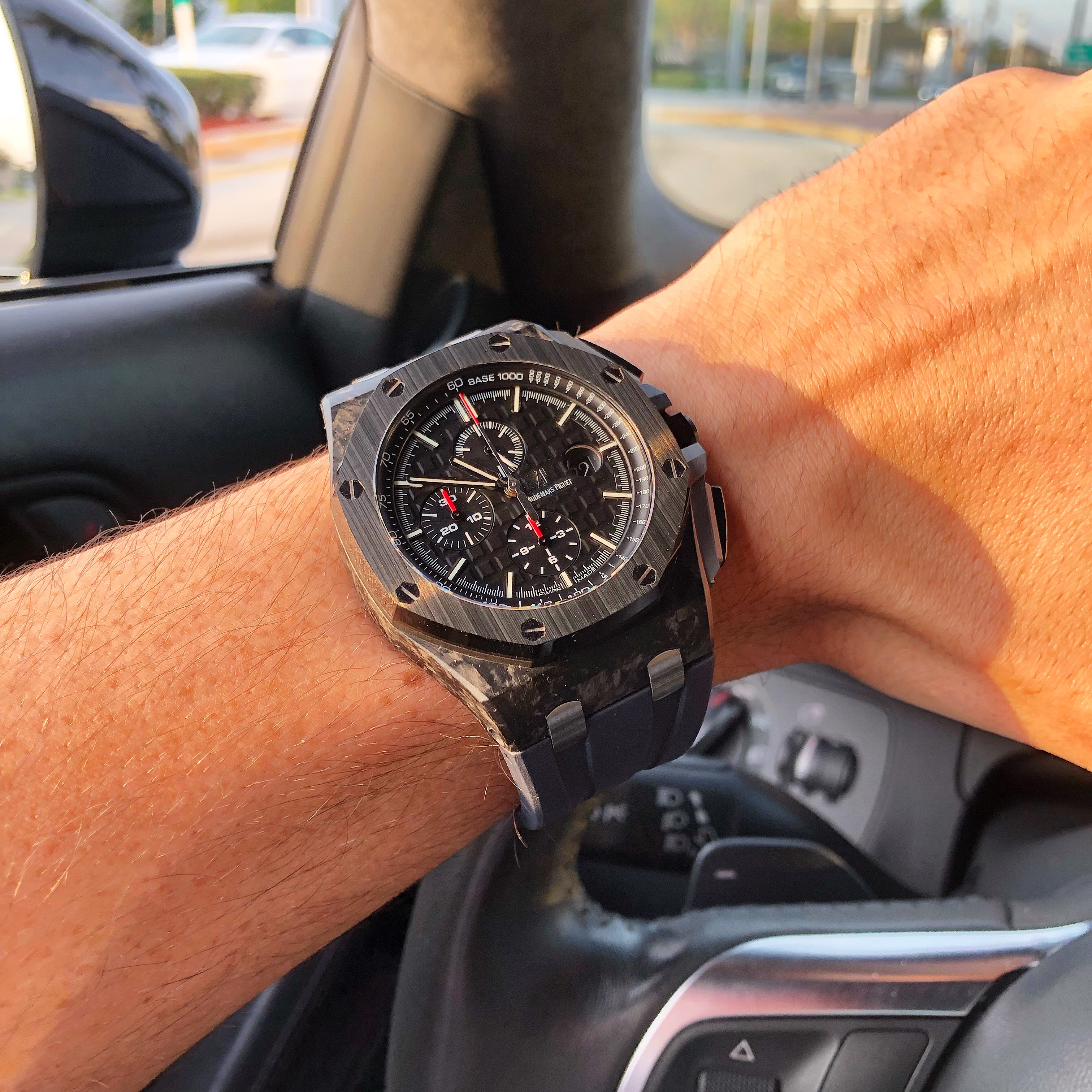 Audemars Piguet Royal Oak Offshore men's watches
Now Audemars Piguet is well known for their innovative designs and powerfully precise movements. All always packaged neatly into some of the thinnest and most exquisite luxury watch cases around. The instantly recognizable and dare we say iconic brand has a knack for taking not only their design but also materials to the next level. Really the only octagonal watch bezel around worth talking about. With the signature eight visible accent screws. An Audemars Piguet Royal Oak Offshore is a stunning watch. While it does feature sub dials and other classic fine watch details such as the crown protecting bridge. There is little else on this watch. That is not the absolute picture of modernity. And in this special instance is there something more modern than forged carbon? Borrowed from the aeronautics industry. As they tend to do in the luxury time piece world. Forged carbon is extremely light weight.
Strong and unique like you would not believe. Unlike any other watch it has personality that cannot be replicated. Now the Royal Oak Offshore watch style already has a significant design that is personable and unique. It is after all a watch that is one of the finest Audemars Piguet watches around. Unique and powerful like you. It is seen consistently on powerful men's wrists across industries. Its power, precision and impeccable design are instantly recognizable. And that is no different when it comes to this forged carbon case edition. If anything it is only more accentuated. Exclusive and incredibly singular as we will go into later when we talk about the molding and production process. This forged carbon case is sure to draw eyes and be a watch for any occassion. It is after all a monochromatic black look that is both a high tech and high design timepiece.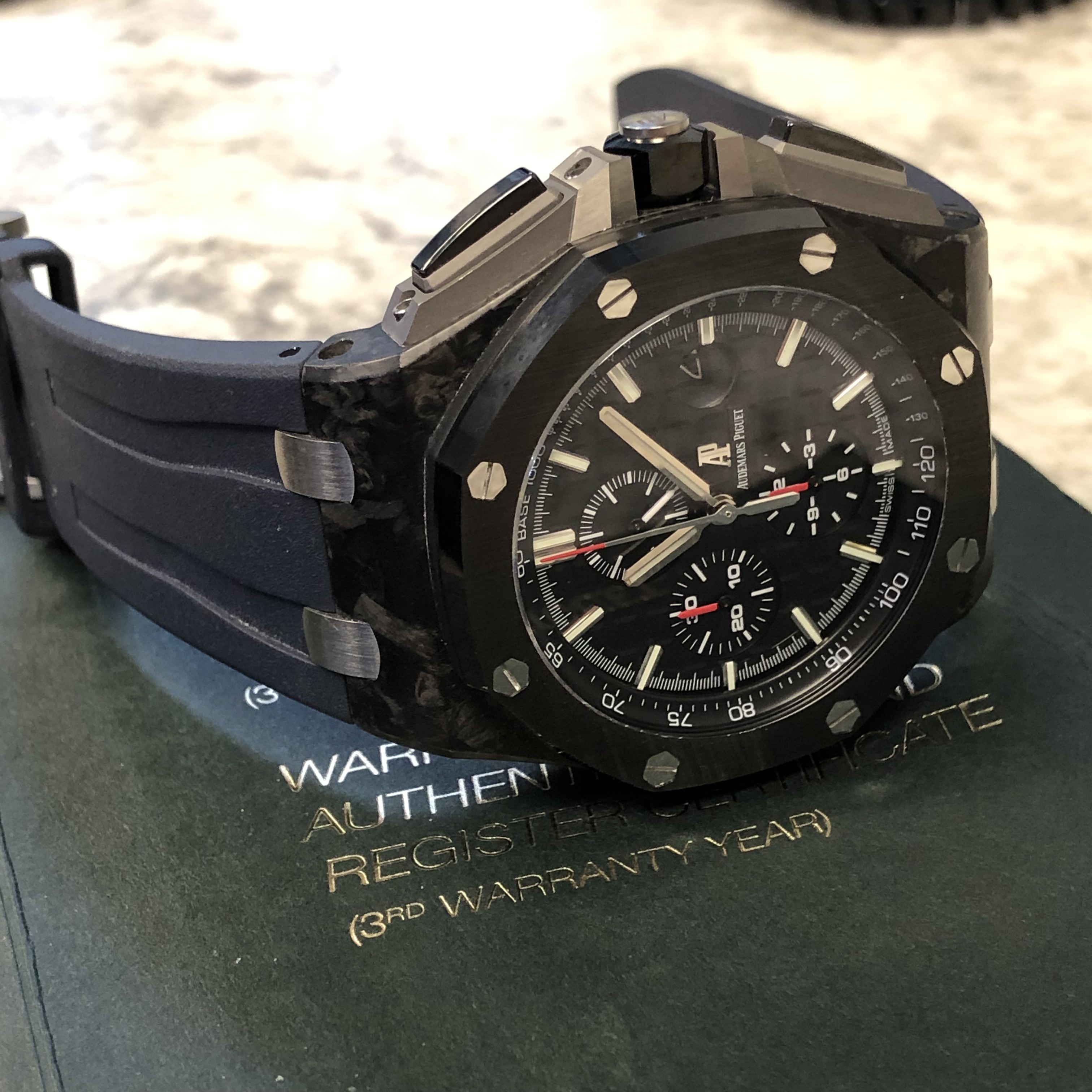 History of Audemars Piguet Forged Carbon Cases
So how did the iconic Audemars Piguet Royal Oak Offshore watch get its forged carbon look? Well it started out with one of their other experiments with unique materials for watch cases. From the classic stainless steel look Audemars Piguet tried their hand with the likes of tantalum, then PVD black stainless steel, followed by Acralite, then carbon fiber. Throughout the years these tests with different materials making use of the latest technology and innovations resulted in some truly unique watches. From the 80's to present day the innovative materials truly make the Royal Oak Offshore stand out. Particularly when these editions are discontinued or limited. That is not even mentioning their plays on changing up the bezel and crown guards or accent screws. These also exclude some gold versions of the watch. Now the advanced composites and combinations used for these watches are the stuff of outer space – literally.
Used in the aeronautics industry these composites and alloys are used for their resistance. Typically these materials excel at handling heat exposure by combining ceramic and metal features. Actually utilised on space shuttles that have left the orbit of our Earth you bet these are tough tested materials. For a luxury sport watch what else could you possibly ask for? This thing is made to endure the pressures and heat of trying to blast off through our atmosphere. The hardness of this material is incredible. Furthermore the material is highly anti-corrosive so there is no doubt this is a watch for the ages. If you are building up your timepiece collection for posterity and future generations in mind this is absolutely a watch to look into. Futuristic and legendary a Royal Oak Offshore deserves its place as part of many a collector's choice. Unique unlike any other, here's the process.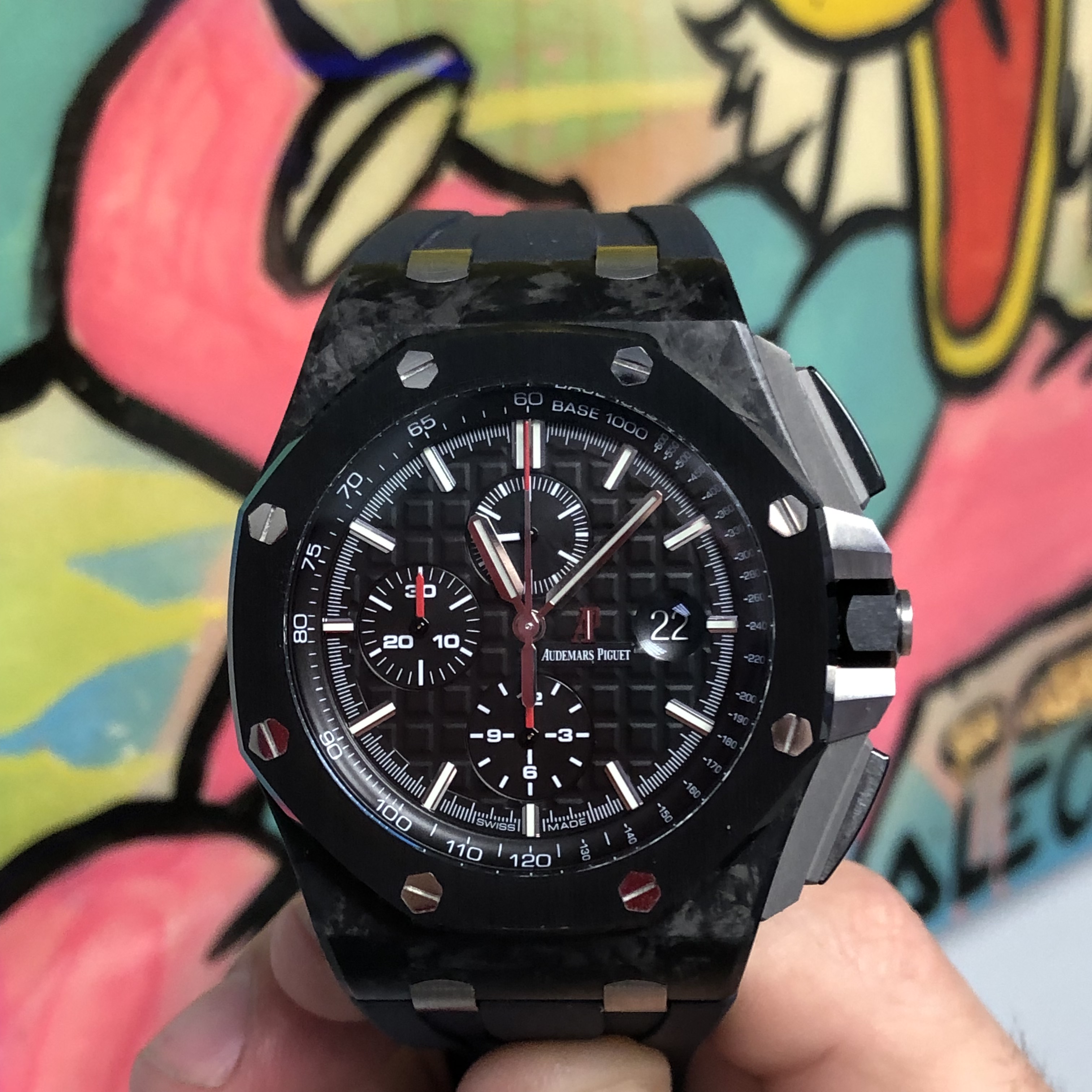 AUDEMARS PIGUET ROYAL OAK OFFSHORE CHRONOGRAPH 44MM FORGED CARBON
This edition of the Royal Oak Offshore is truly special. In 2007 when Audemars Piguet released their forged carbon case they truly did it in style. The first ever case of this version it was released when the Alinghi Team was defending their title in the Americas Cup. As a 1,300 piece limited edition this 32nd edition of the Americas Cup was the special scene for the forged carbon. And each one of the forged carbon cases are very special indeed. It is impossible for any two to be the same let alone identical. This is due to the very unique process of molding. So Audemars Piguet created this satiny and smooth marbled look material in their own unique way. First, a mold is created. Then carbon fibers are distributed in a random manner inside of the mold. Then the material is compressed under high heat and heavy pressure.
Here it evolves in its very own way creating an unpredictable final product that is unique each and every time. This is the same manufacturing process and technical equipment method that the aeronautics industry uses when forging carbon. A registered brand of an aeronautical company in Lyon, France forged carbon Royal Oak Offshore watches are a result of a relationship. Audemars Piguet and Vincent Duqueine, head of this French aeronautical company came together to create these stunning pieces. Now from these beginnings AP has ceased all production on all of their forged carbon time pieces. Which makes these coveted editions. It is a highly meticulous process of production for these watches and the materials are unique in every way imaginable. Also when it comes to forged carbon, no other watch company does it nearly as well as Audemars Piguet. They are innovators and leaders. Now for all the watch features.
The dial and its skeleton back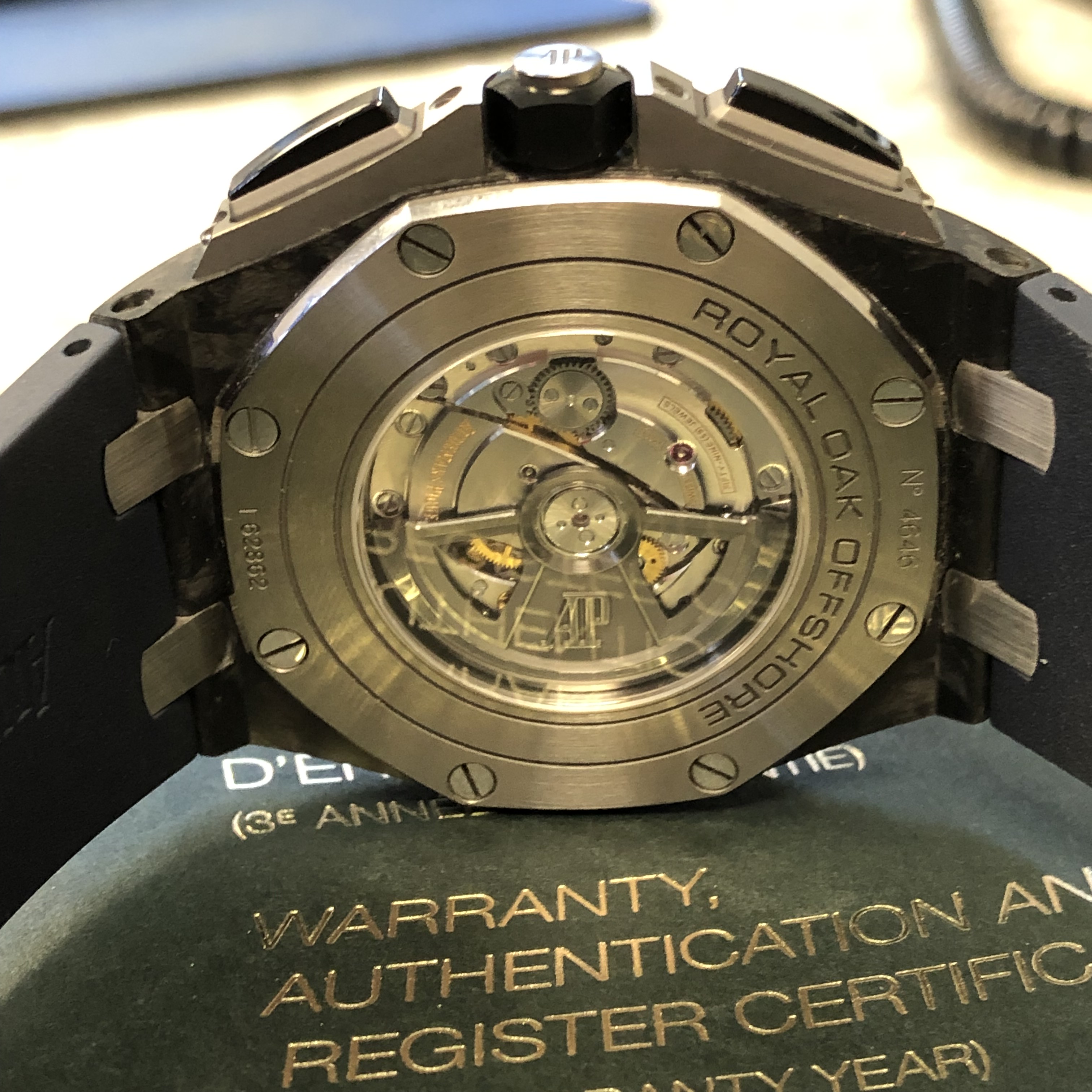 The black dial adds to the monochromatic look on this chronograph. A 'Méga Tapisserie' waffle style dial gives the marbled look of the forged carbon a contrasting texture. It also contrasts with the texture of the three sub dials. Further it accentuates the luminescent hour markers and red detailing on the silver hands. It also has a slightly recessed seconds register. The pushers are made of titanium with rectangular and slightly rounded black ceramic caps and protected by sandblasted titanium guards.
This watch also has a gorgeous skeleton back feature. It allows you to see the incredible movement and machinations within the watch. Powerfully precise the Royal Oak Offshore packs a punch. The case although forged carbon is still slim as can be. This leads us to the fit and feel of the watch while you wear it.
The fit and feel
This piece fits really nicely. Even though it is a large case it has ergonomic design. Also the silky texture of the forged carbon is cool and smooth.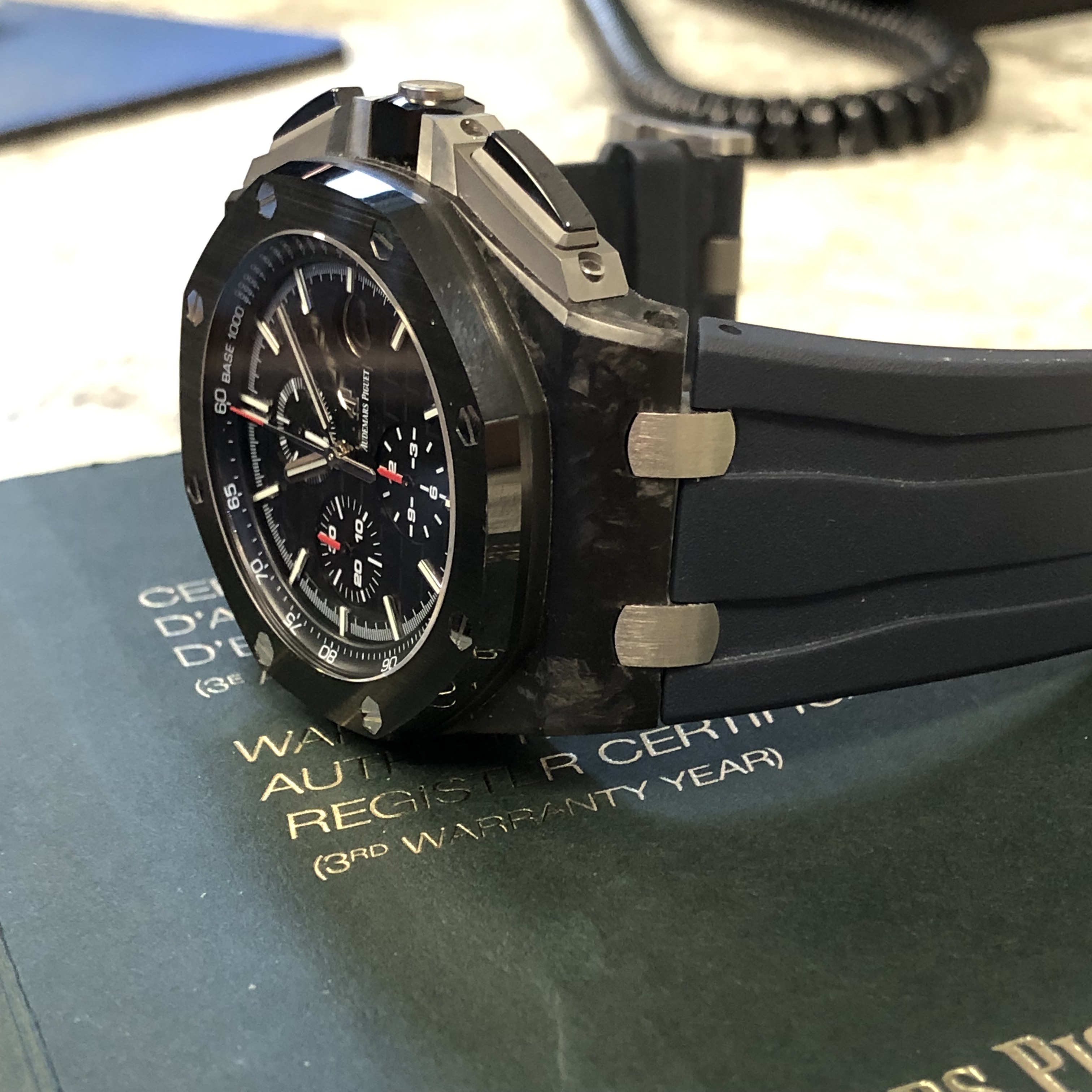 Horus luxury interchangeable rubber strap options
Now Horus Watch straps is a company that started out in 2014 bringing the luxury watch strap industry flying into modern fashion. They have surpassed all expectations, if anyone even had any, with high end aesthetic designs. These are not just trendy but refined and edgy. As you would of course need them to be to pair appropriately with heavy hitter collector watch brands like Rolex and Audemars Piguet. As a company they stand out and challenge the norm bringing out fine luxury watch accessories and innovative looks. For the gentlemen that do not accept the status quo and are the trend setters of our times Horus Watch straps offer alternatives and personality for men's luxury watches. If you are looking for ways to bring more of your very own  personal style into your fashion and accessories look no further than Horus. They produce many a style of rubber straps.
Further, they have crafted ergonomic straps that are extremely comfortable and complement some of the world's most sought after Swiss luxury watch brands. They have watch straps for iconic brands like Rolex, Bell & Ross, Tag Heuer, Breitling, and Audemars Piguet. These range from new colors like your modern white or unique patterns like green or even orange camouflage. Also these straps fit snugly and are perfectly crafted to fit onto the cases of some of the worlds most desirable watches. So if you have this forged carbon AP Royal Oak Offshore for example and want to switch it up a bit from the monochromatic black on black look a Horus high quality rubber watch strap is one way to go. The strap overall is comfortable, durable and wraps nicely around your wrist without sticking. It is the accessory for your luxury accessory that lets you update your personal style anytime.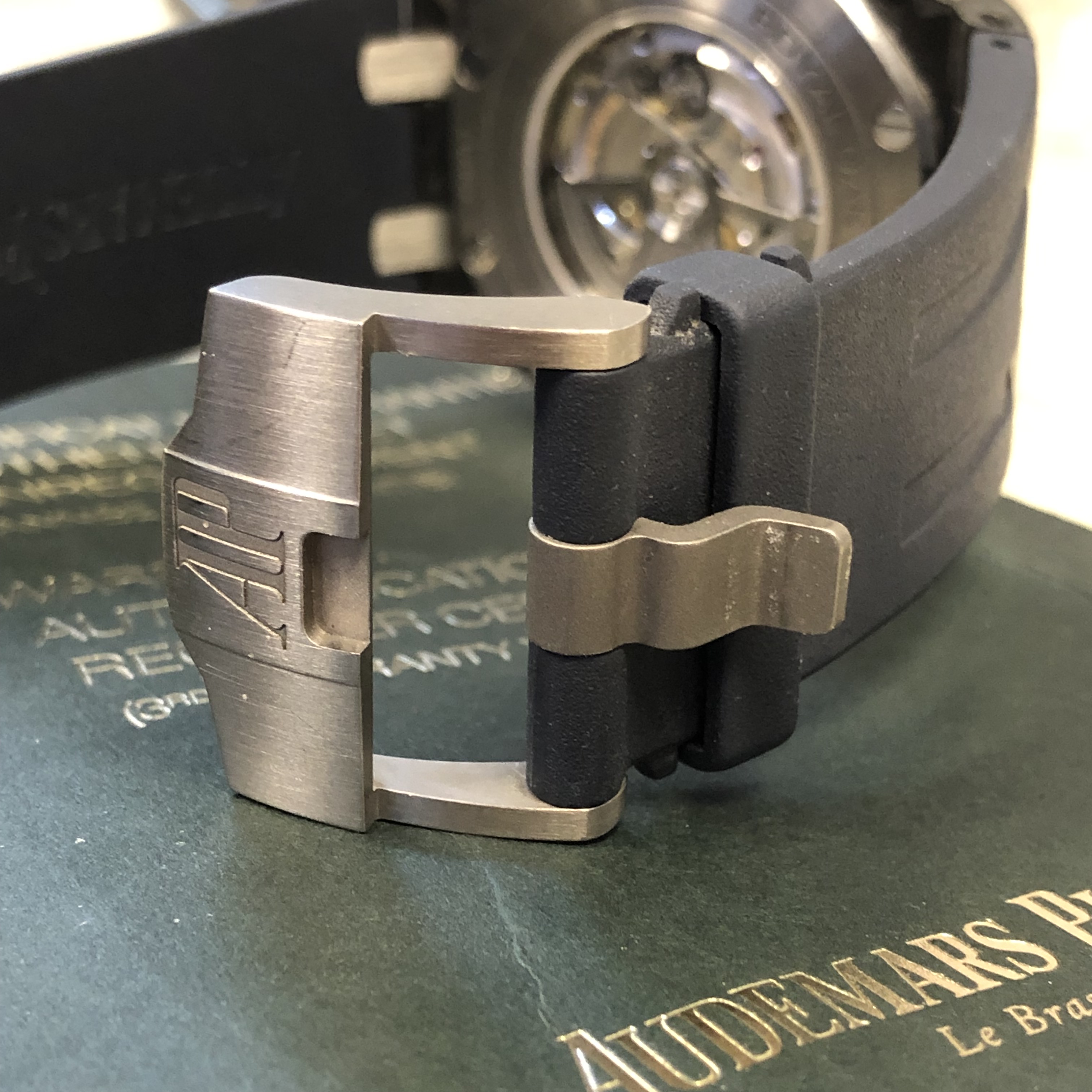 Where to buy Audemars Piguet Royal Oak Offshore Forged Carbon men's watches? At Diamonds by Raymond Lee in South Florida
If you are looking for fine and exquisite time pieces then Diamonds by Raymond Lee is the place for you. Beyond our collection of classics from the haute horlogerie cannon we also carry a uniquely curated collection of limited, special, and bespoke editions of watches like the Audemars Piguet Royal Oak Offshore. More than just watches these fine timepieces are personality carries with details and features unlike any other watches in their range. A family company we have been catering to our selective clientele for the last three decades. Bringing luxury watches and men's accessories to South Florida constantly. When it comes to fine time pieces our master craftsmen and experts are the ones to turn to. We do not just find these unique watches but test, maintain and modify them to your preferences too. We know that the collector and passionate watch purveyor want the exclusive and elusive pieces.
That is why we find gems like this forged carbon Audemars Piguet Royal Oak Offshore. As always our aim is to provide top of the range quality brand luxury time pieces and superior service for all our clients. It is why we put time into not just testing the watches but reviewing them too. So you know all about these fine timepieces before even seeing them in person. Which of course we not only welcome but encourage you to do. We are delighted to welcome you to our showrooms to view watches like the forged carbon Royal Oak Offshore. We believe in building community and creating connections. It is why we host special events each and every month. So if you are looking to buy a forged carbon watch or any special, limited edition or classic luxury watch we have a fine selection for you, no matter where you are.