Rolex Sky-Dweller Gold Men's leather watch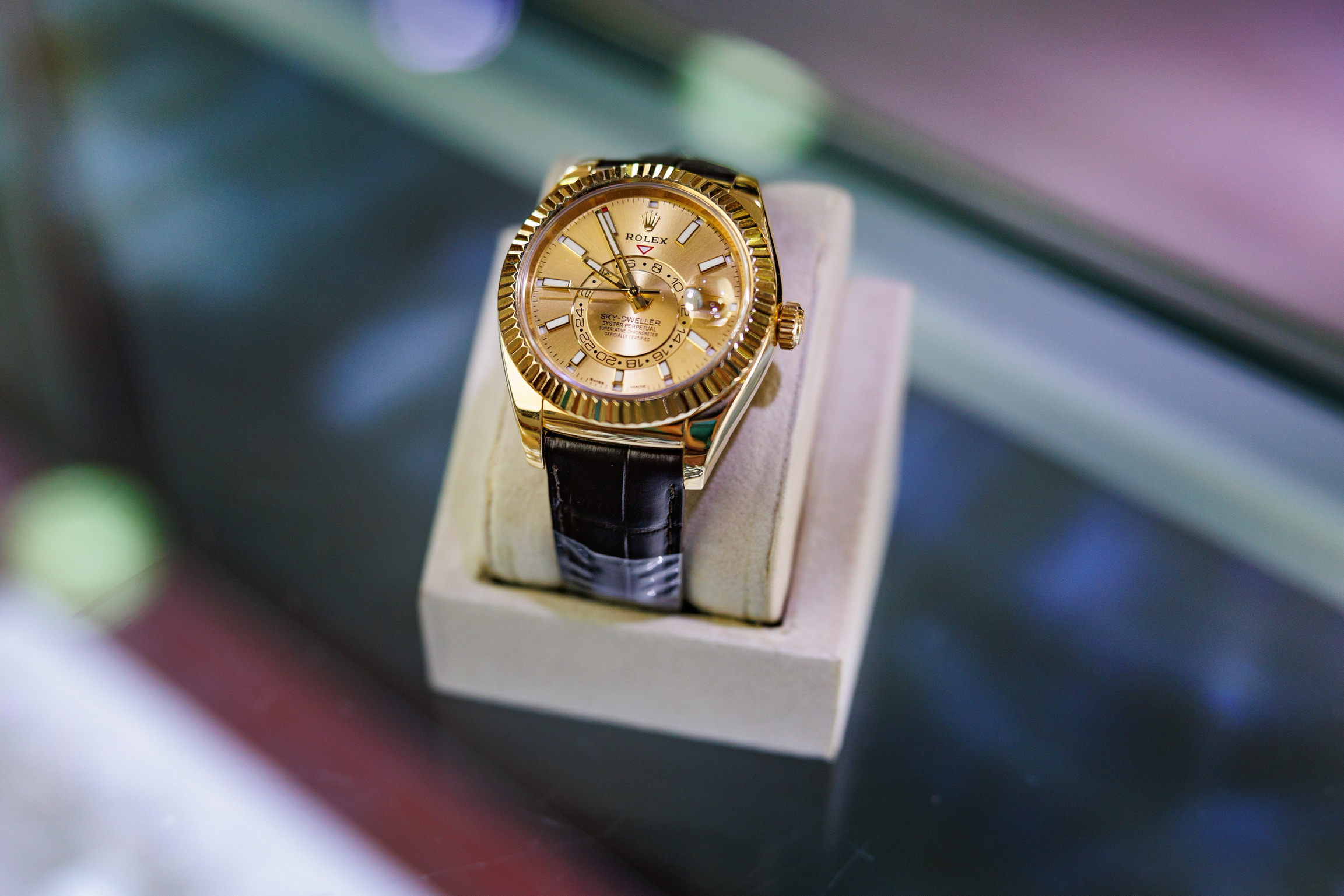 There's no denying the allure that comes with wristwatches laced only with gold metals. They are shiny, inviting, and catchy. So, we understand why many people prefer to go for gold when they pick their Rolex watches. 
But there are alternatives for people, especially men who don't mind a difference. Instead of a wristwatch that contains gold alloy and metals, how about you try this? The Rolex Sky-Dweller men's leather watch has about the same level of beauty as any of your metal watches.
It has the right amount of leather and metal mixture to make it appealing. Of course, there are unique features that make leather watches different from others. 
Apart from its unique design, Rolex Sky-Dweller is popular among global travelers. It is the perfect technological improvement to help travelers keep up. It has the perfect annual calendar and has two time zones.
The First Rolex Sky-Dweller
Rolex Sky-Dweller is one of the newest works of Rolex. Before its first appearance in 2012, the brand had not produced any watches for a long time. When the brand introduced the watch with its new and special features, it went viral.
It became a household name because of the features it came with. It had a GMT feature, which of course, has been available since 1956. Apart from the GMT feature, and the two time zones, it also came with a SAROS mechanism. The SAROS mechanism handles the annual calendar in this watch.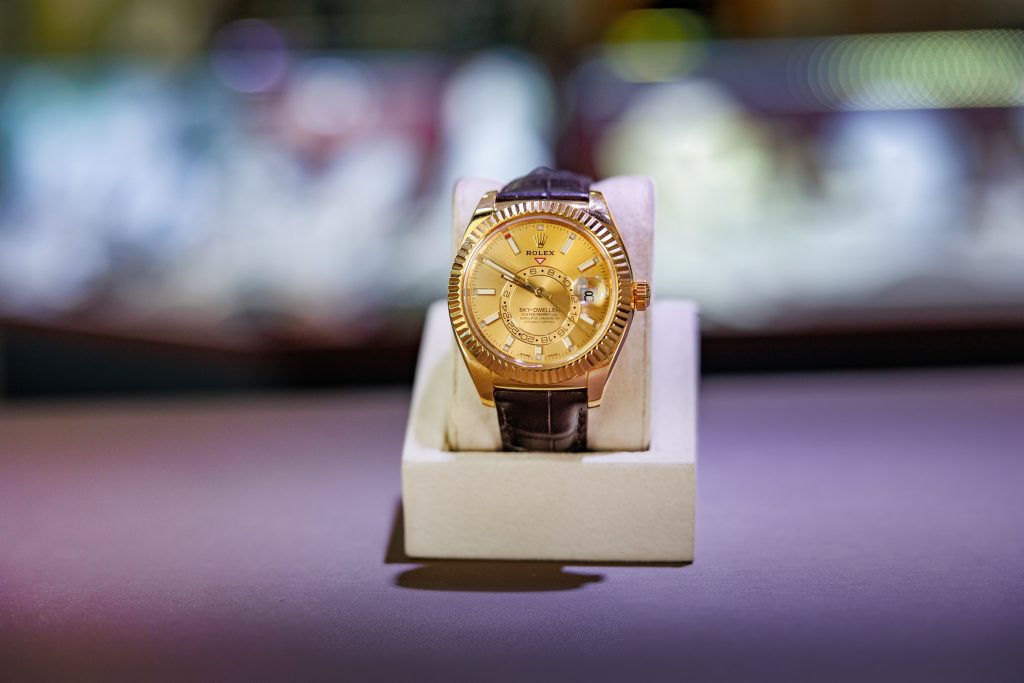 It is no surprise that this watch, which was for global travelers has become a wonder. Its evolution has also made it easy for people to acquaint themselves with it. You'll hardly come across Rolex enthusiasts who don't know a Sky-Dweller.
The Reference time and Local time in Rolex Sky-Dweller
One of the most distinctive features of the Rolex Sky-Dweller is the two time zones it has. Many people often get this watch with the excitement of being able to access the time zones. Sadly, only a few people know what the time zones truly mean.
First, the two time zones in a Rolex Sky-Dweller are the reference time and local time. A reference time sits below the 12 O'clock on the watch's dial. To trace the reference time, you should look out for the red arrow pointing at the rotating disc.
The local time pops up around the center hand. The display isn't like the reference time. It uses the bi-directional jump hour mechanism. With this special mechanism, the one-time zone doesn't affect the other.
Features of the Rolex Sky-Dweller
Normally, Rolex watches have features that make them different from other brands. The Sky-Dweller being one of the unique ones has a lot of features that distinguish it from others. Here are the features that make up a Rolex Sky-Dweller:
42mm
The thickness and diameter of your Rolex watch matter a lot. For most people, a watch that appears smaller or bigger than their wrist is a turn-off. It is why a lot of people curate their watch diameters between 36mm to 42mm.
Rolex Sky-Dwellers come in 42mm. So, they fall under the category of the big watches. The watch's major target audience is global travelers and of course men. On average, men have bigger wrists than women. So, it makes sense that the watch is a perfect fit for men anywhere in the world.
Materials
Rolex Sky-Dweller is special in every way. All materials of the watch are going to give you one of the best, if not the best experience. The variety of materials makes it easy for everyone to pick the most suitable.
Wondering what the options would be if you were to pick materials for the Rolex Sky-Dweller men's watch? Here is what the option looks like: yellow gold, white gold, Everose gold, white Rolesor, and yellow Rolesor.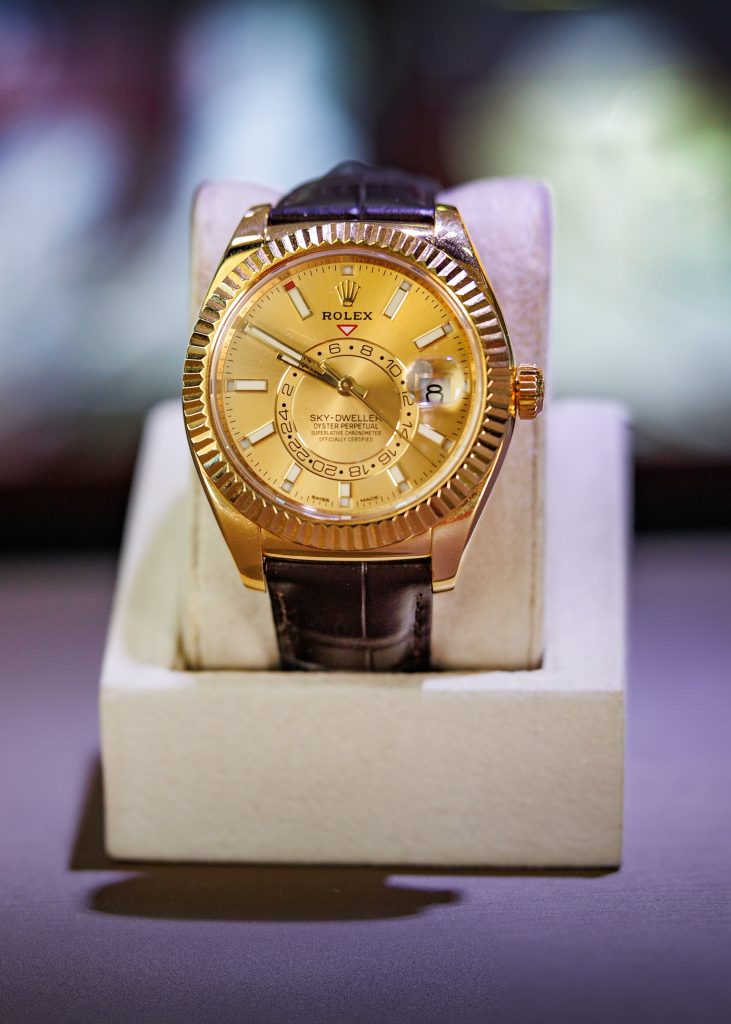 The beauty of the options that you have to pick from is that they are all exceptional in their ways. Choosing any of the above will not mean less. So, you should focus more on your preference, and worry less about a different outcome.
Functions
A major element to look out for in the Rolex Sky-Dweller watch is how it works. For a watch that took many years of thought, it is no surprise that they have the best functions.
While the two Time zones and the presence of an annual calendar are quite popular. That is not all there is to the functionality. This Rolex Sky-Dweller also has time with running seconds as well as a date display!
So, you do not only get to read the reference time and local time on your Rolex sky dweller. You also have the privilege of reading the date and day of the week.
Sapphire Crystal
All watches, including a special one like Rolex Sky Dweller for men need their crystal. The crystal of a watch is a covering placed over the dial of the watch. The presence of crystal is important for transparency, and protection.
When there is crystal, you find it easy to read through and tell the time. The crystal is also responsible for protecting your dial from scratches. As long as the crystal stays over the dial, it works as a protective shield. So, you already know that a Crystal has to be strong to do its work.
With a sapphire Crystal, you'll never have to worry that your dial will get damaged. The primary function remains to be transparent, and allow you to read the time. But the crystal is also strong and durable, making it scratch-resistant.
Strap/Bracelet
The face of the watch may be the most important part of the watch because it tells time. This doesn't mean the other parts are not essential to the wholesomeness of the watch.
For instance, the bracelet or strap has nothing to do with time or date. However, you'll need the bracelet and strap to hold the watch around your wrist. Bracelet types for a Rolex Sky Dweller are leather, oyster flex, and oyster.
Oyster-flex and oyster are good for people who do not mind an all-metal wristwatch. The leather bracelet is for people like you who prefer to have a mixture of metal and leather. The Rolex Sky Dweller men's leather watch always comes with a leather bracelet. Of course, the colors often range between black and brown for men who desire to own one.
Water Resistance
When shopping for wristwatches, one of the things people never forget to search for is this. Water resistance is important considering the damage possible in the absence of it.
If you've made due research about the Rolex Sky Dweller, you know this is one of those watches. It has a moderate water-resistant feature. This makes it possible for you to engage in certain water activities when you wish.
Are you wondering what the level of water resistance is? The Rolex Sky Dweller has a water resistance of about 100 meters/330 feet. So, it's the ideal watch to take swimming, wear under the rain or wear go snorkeling. You should stay away from diving. This is because the activity needs a 200-meter level of water resistance.
Bezel
To have a functioning Rolex Sky Dweller, the Crystal of the watch has to be secure. Thanks to the bezel, you do not have to worry about this. The primary function of any type of bezel is to ensure that the crystal doesn't remove over time.
Of course, there are different types of bezels depending on the type of watch. For a Rolex Sky Dweller, you will see the 18k gold fluted style bezel. This special bezel is also a ring command.
Besides holding down the Crystal, it helps in other ways. It helps to determine functional adjustments that come with winding.
Caliber 9001
Everything we've learned so far points to the fact that this is a high-precision watch. So, of course, the caliber is a certified Swiss chronometer. It is a self-winding mechanical movement.
The caliber 9001 came with the Rolex Sky Dweller in 2012. It's been more than a decade, and we cannot deny its complexity. Thanks to the complexity and make-up, it provides ease of movement.
Doing the Right Thing with Your Rolex Sky-Dweller
All the elements that make up the Rolex sky dweller are enough to convince you to buy one. While designers and jewelers have done the work before buying, you would need to pick up from there! Here are the things you must do right after getting your Rolex sky dweller:
Wound manually
We know that your Rolex Sky Dwellers is an automatic winding movement. Nevertheless, this should not stop you from doing the manual winding the first time you get yours. It is necessary to unscrew the crown totally after you buy this watch.
To get it back to partial winding, you would need to turn it clockwise at least 25 times. Turning the crown anti-clockwise won't do much for the setting. When you do this right the first time, you stand a chance of enjoying the automatic movement.
Setting the day and time manually the first time is also necessary. For some watches like the sky dweller that has automatic movement, you wouldn't need to set a time and date every day. But it's fine to check every few days or weeks to ensure you are on track.
Clean your watch
Your watch like any other accessory tends to damage if you do not care for it as you should. One of the best things you can do for your watch is to cultivate the habit of cleaning.
The best way to clean the watch is to use a microfiber cloth to clean it with ease. When you notice that the case has gathered dust, you can take a step further and wash it. To wash, you should use a mild soap, and rinse thoroughly with water until there is no longer soap solution.
Dry properly
Leaving water on your case is not the best thing to do even if it is water-resistant. It can only resist water and damage for a while. So, you should take drying as important as cleaning your sky dweller watch.
To dry properly, you can use a soft cloth to pat every corner of the case and the face of the watch. Ensuring that you properly dry water is one of the ways to keep your watch for a long time.
Care for your bracelet differently
There are sky dwellers with oysters and oyster flex as bracelets. However, this men's sky dweller has a leather bracelet. So, there is a need to develop a different means for cleaning the bracelet of this watch.
Instead of soap and water that you would have used for oysters, use a dry, soft cloth for this. The goal is to ensure that your leather stays dust-free. With the help of clean clothes and consistent cleaning, you will easily achieve this.
Final Thoughts
While the Rolex Sky-Dweller is a watch for global travelers, nothing says you can't use it. If you have always loved the idea of having two time zones on your watch, this is your time to shine.
The Rolex Sky-Dweller men's leather watch has the feature you want. It also exceeds your expectations with its annual calendar and other special elements.
The design is, of course, an added advantage. It has the best dial features. The leather bracelet just makes it more distinct from many other watches.
Look no further if you want a watch with special functions and a unique design. The Rolex Sky-Dweller men's leather watch is the right pick for you. Get one as soon as you can, and watch as it transforms your life.
Meta Description
Keywords