Princess Solitaire Ring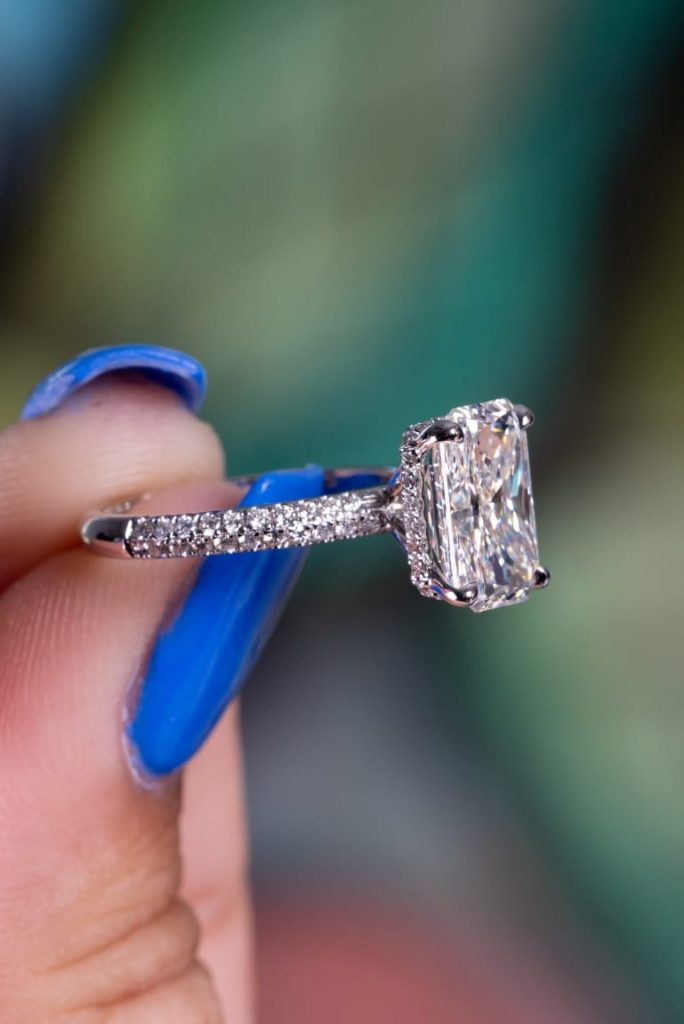 Diamonds are where it's at when it comes to high-end jewelry. So it is no surprise that princess solitaire ring is so popular. A high-end, high-quality ring is a great way to show off your sense of style, taste, and appreciation for the finer things in life. Whether you are looking for a piece of statement jewelry, the princess diamond is a great option for rings.
Too often, we simply think of rings as a symbol of our marital status. Of course, it is a way to denote whether we are taken or not. But high-end rings can be for anyone and any finger. A piece of statement jewelry with the highest clarity diamonds and precious metals will set off any outfit regardless of the occasion. 
So, do you want a diamond engagement ring that has timeless style and elegance? Or you want an eye-catching and bold statement ring, the princess diamond is a wonderful option for both styles.
You can cut a diamond into a huge variety of shapes and sizes. This is because it is the hardest natural substance on Earth. Not only is it beautiful and rare, but it also has versatility, unlike most other precious gemstones.
It can take on so many different cuts and shapes. Also, it has the association with glamour and royalty, the diamond will always hold a high place in our lives.
People love the princess cut for diamond rings because it is elegant and timeless in shape. This is a cut that will look just as good twenty years from now as it does today. Styles may come and go, but some elements are timeless and princess solitaire rings are one of these timeless pieces.
The Superior Touch of Diamonds
They say diamonds are a girl's best friend for good reason. What girl doesn't love that sparkly, elegant shine? The thing is, diamonds aren't just for women, they are for everyone. But when it comes to princess solitaire rings, these tend to be for females. Diamonds have a long association with the upper classes and the finer things in life. We know when we see a high-grade diamond that the person who bought it has a keen taste and an appreciation for quality.
Another great thing about the diamond is that it is incredibly versatile. As we note earlier, diamonds are the hardest stone on Earth and as such, they can be cut into a huge range of shapes and cuts. The versatility of this stone and its ability to take on pretty much any cut or shape just further its popularity. Not only can it be cut into pretty much any shape or style, but it is also a very versatile stone.
Since, most commonly, diamonds are clear, they can pair with pretty much anything. They look good with pretty much any kind of precious metal you can imagine. From gold in every hue to platinum, and even stainless steel, diamonds will work with it all. And, they can also pair with pretty much any other gemstone. If you want a punch of color or to use different stones, diamonds are a natural choice since they don't clash.
Unknown to many, diamonds come in a rainbow of different colors. If you want a stone that can withstand the princess-cut, but that has a bit of color, any of the fancy-colored diamonds are a great choice. You can find diamonds in a wide range of different colors ranging from pink to black.
Diamond Stones as Accessories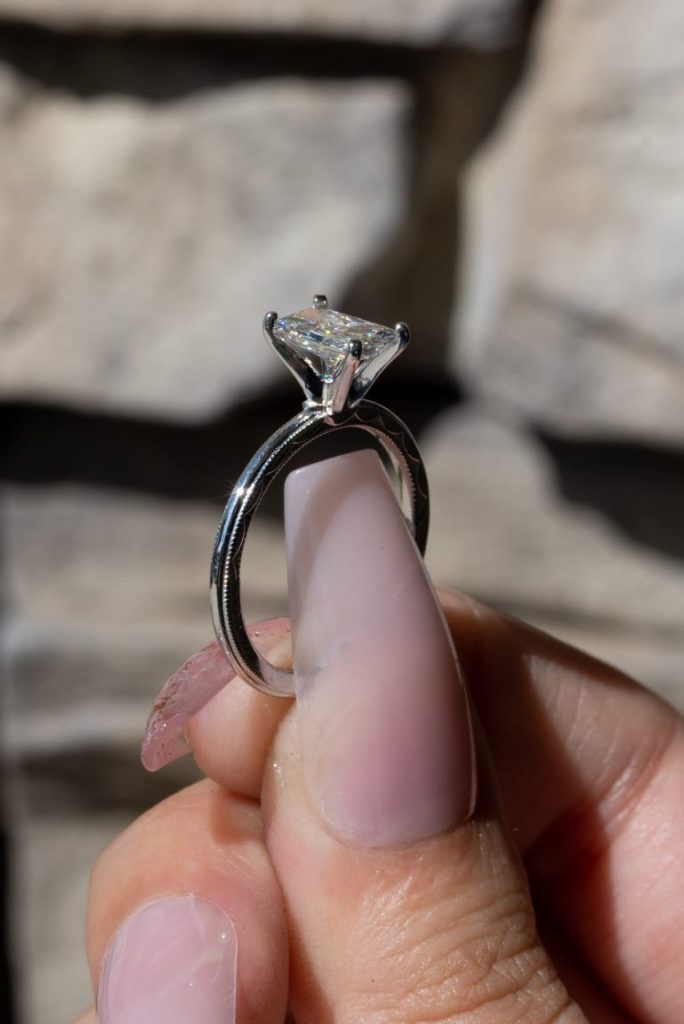 For many of us, when we think of high-end accessories, we think about diamond jewelry of all sorts. This is because the diamond is the epitome of luxury. Think about your favorite fashion icon. There is a good chance that they own a piece (or more than one) of high-end diamond jewelry.
Diamonds look great with everything and they are surprisingly versatile. They work well with formal attire, of course, but will also take a casual outfit to a whole new level of style and elegance.
Princess solitaire rings look great with pretty much any type of fashion for any occasion. Whether you are pairing the ring with something for a formal event or a pair of jeans and a t-shirt, you get an instant glamor that only diamond accessories can provide.
While rings are the most popular and common type of diamond accessory, you can use diamonds in pretty much any type of jewelry you can think of. These stones look great in rings, earrings, necklaces, bracelets, and even pieces like cufflinks and brooches.
The great thing about the diamond is that it can easily pair with so many other colors and types of jewelry. Whether you are wearing your princess-cut rings daily, or you wear them for special occasions, they can easily become part of your signature look.
Pair it with other pieces of your favorite high-end jewelry and create a look that is truly one-of-a-kind and all your own. Carefully chosen accessories can help you create a unique look and style that can make you the style icon amongst your friend group.
Introducing Princess Diamonds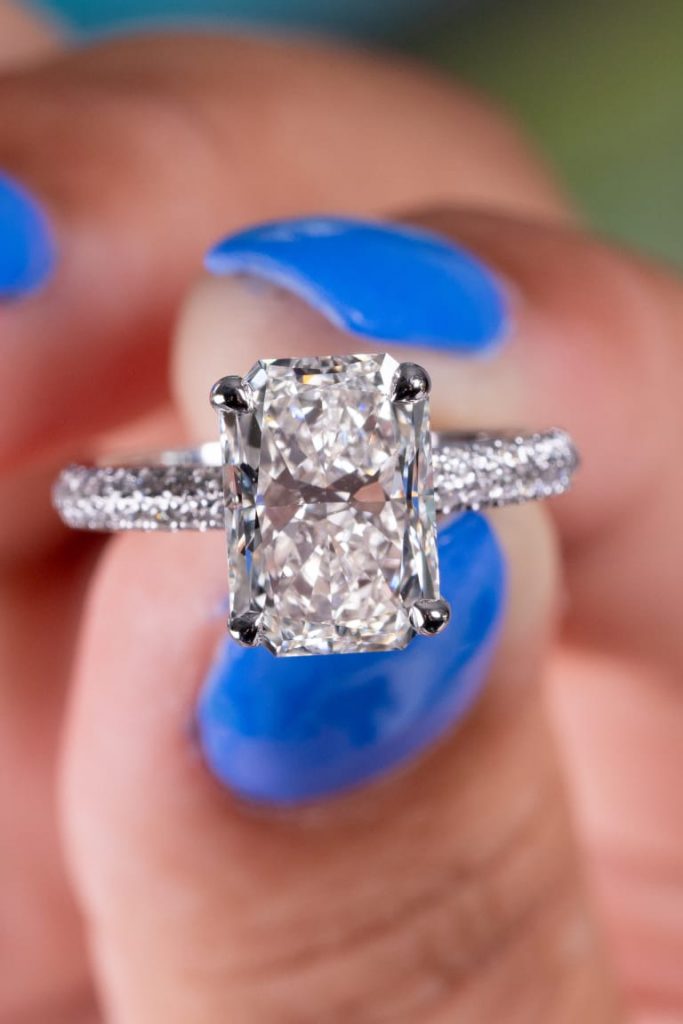 Due to its timeless simplicity and elegance, the princess diamond is incredibly popular. It is a square-cut diamond shape, but it can also be elongated into rectangles. While for many, a round-cut stone reigns supreme, the princess-cut square diamond is the most popular non-circular diamond shape.
This cut of stone has a nice fire and brilliance. This means that it will refract a good deal of light, leading to that sparkle and shine we so often associate with diamonds. Because of its timeless shape and style, this is a popular choice for engagement rings.
You can find more elongated princess diamonds that will have a more rectangular shape. Some jewelers will set the diamond on one of its points, which can give the stone a, well, diamond shape. You can have a ring with a large princess diamond by itself, or you may choose to pair it with accent stones of a different cut and shape.
This cut will have two to four chevron patterns on the surface of the stone. The princess diamond may have between 50-58 facets. It is these tiny cuts that help the stone to refract light so beautifully.
Meet the Princess Solitaire Ring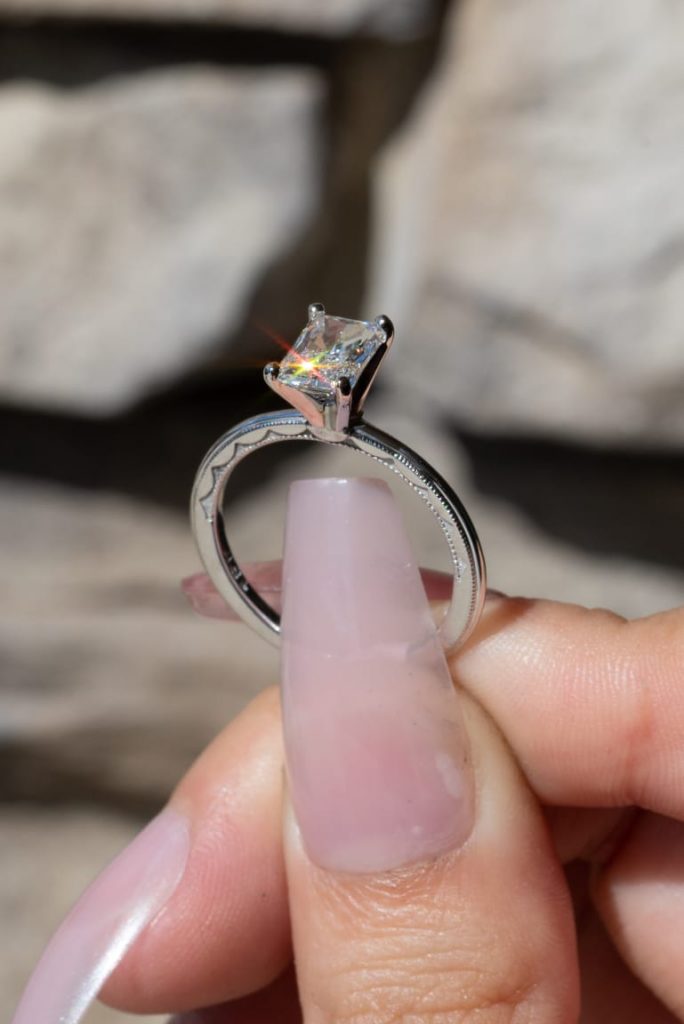 It is easy to see why the princess diamond is so popular for engagement rings. It is a timeless style that works well with a huge range of fashions. Since our engagement ring is something we wear daily, we want to choose something that will pair well with a range of different styles and that will stand the test of time.
Just because princess solitaire rings have a timeless shape and style doesn't mean there isn't a ton of room for personalization and creativity. Many people, especially those who are using the princess-cut stone for their engagement ring, will choose to feature a large, high-grade stone.
This makes the stone the focal point of the ring. As a result, it is recommended that you choose the highest-quality stone you can afford. With the stone being the focal point, it is what will draw the eye in. That means that any imperfections will be noticeable and that isn't something we want to draw the eye to if possible.
Other people like a little more bling. Accent stones look great with princess diamonds. Some people will choose the halo style, which has tiny diamonds that encircle the main stone of the ring. Others will have diamonds around the band of the ring. And others may choose to pair their diamond with other fine gemstones. This will give the ring a bit of color in addition to all that lovely sparkle and shine.
Pretty much any piece of diamond jewelry will be elegant and stylish, but this is especially true of princess-cut rings. This is because the princess cut is such a timeless and elegant cut. The square or rectangular cut of the stone gives it a timeless elegance and sophistication that is unlike any other cut you can find. And the great thing about this cut is that it can easily pair with other gemstones or accent stones. 
Whether you want a ring that has a single, large stone, or one that has a multitude of stones, we are sure you will love the effortless elegance as well as the versatility of these pieces. Not only do they look good with pretty much any type of fashion for any social occasion, but they also work well with other pieces. Most of us don't just wear one piece of jewelry, so we want to make sure that anything we choose will work with our other pieces.
The biggest thing you have to look out for is clashing metals. You can easily pair different gemstones and even different styles of jewelry, but it is best to stick to the same metal throughout.
So, for example, say you choose platinum for your princess-cut ring, it then makes sense to choose platinum as the preferred metal for your other pieces as well. This will help tie the pieces together so they come together to create a complete look and none of the pieces detract from each other.
Whether you choose princess solitaire rings for an engagement ring or a statement accessory, we know you will appreciate the classic and timeless elegance and glamour these pieces offer. These rings have a cut that will never go out of style and the diamond will continue to be a gemstone we covet for many years in the future. This is due both to its rarity and its beauty.
As we mention several times throughout this piece, some people choose princess solitaire rings that highlight a single large stone. But others want something a little different, perhaps with a little more sparkle and shine. This is where accent stones come in.
A lot of people will pair their princess diamond with accent stones that create what is called the halo style. What this means is that the main stone will have smaller stones that surround it, kind of like a halo. Most often, these are small, round-cut diamonds, but you aren't relegated to this shape.
Other people like having the single large stone on the main portion of the ring but still want a little extra sparkle and shine. For these people, choosing small stones that encircle the band of the ring, like an eternity band, is an option.
Some people will choose a single row of tiny diamonds. Others will select multiple rows of diamonds. Most popular are tiny round-cut diamonds such as a feature in a halo-style ring. However, uniquely sparkly and tiny pave diamonds are also a great choice. These tiny, brilliant diamonds create a continuous row of unparalleled sparkle.
Conclusion
Whatever way you style your princess solitaire rings, they are always stunning! These princess diamonds bring out on special occasions a striking piece that always makes a statement.
Princess solitaire rings are a popular accessory, often worn as engagement rings. This cut of a diamond is a square or rectangular-shaped stone. It has a lot of cuts and facets that give it depth, fire, and sparkle.
This cut is timeless in its elegance and style. It is versatile and looks great with a wide range of fashions and styles. It is incredibly popular for engagement rings but need not be limited to just this style. Many choose princess-cut rings that feature a large, high-grade diamond that serves as the focal piece of the stone. Others like a bit more sparkle and shine. This leads them into choosing a range of diamond accents to complete the look and feel of their ring.
These accents may include smaller diamonds around the main stone. This flanks the accent stones, or diamonds around the band of the ring. There are so many different options to choose from. This makes it is easy to find the perfect piece for your tastes and needs.