No baby in the world has been the focus of so much attention from conception until birth as has little Crown Prince George, son of Prince William and his wife, the Duchess of Cambridge. Before conception, actually, there was eager speculation about his entry into the royal household soon. Now the day has come, and he is here, with all the bells and whistles deserved.
British Push Present Tradition
With the flash of cameras and the rumors of Prince William actually singing Coldplay to soothe his crying baby comes the speculation of all of the world about his baby gift to his wife, Catherine. In the UK it is a tradition that a new father present his wife with a significant gift after childbirth. The royal family has long observed this tradition with fabulous jewels. The rumor mill swirling around baby Prince George and his beloved parents whispers that Prince William has given a great amount of thought and preparation toward a beautiful pink diamond childbirth gift for his bride. He is said to have directed the royal jewelers to prepare an exquisite pink diamond gift, but meanwhile the country waits with great anticipation for the presentation.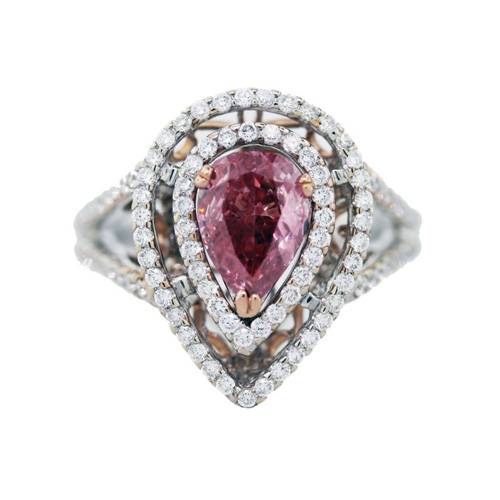 The Queen herself was given the largest known uncut pink diamond upon her marriage to Prince Philip, and is said to cherish its beauty, frequently wearing it as a brooch. The pink diamond is not only a unique stone but especially feminine and graceful in its appearance, pleasing Prince William. It is thought he wanted a jewel piece that would reflect the charm, grace and femininity of his wife, Catherine, Duchess of Cambridge. The pink diamond itself has a reputation of light and color, light heart and soul, deep passion and perfection, highlighting the mystery of beauty. It is said to reflect searching for the absolute, together with the promise of happiness. What better gift for the world's most beloved and charming Prince Royal to give to his wife, mother of his baby prince?
Prince George's mother, Duchess Catherine, prominently wears her sapphire and diamond engagement ring from Prince William, which had also been presented to Princess Diana by Prince Charles. Soon the public will have a new jewel to amaze and thrill the masses, when Prince William gives his wife her "push" present for the birth of baby Prince George. At present it appears it will be a dazzling pink diamond "Push Present from the Prince".
The entire world extends good wishes and celebrates the birth of infant Prince George.