Introducing the Patek Philippe Sky Moon Tourbillon 6002G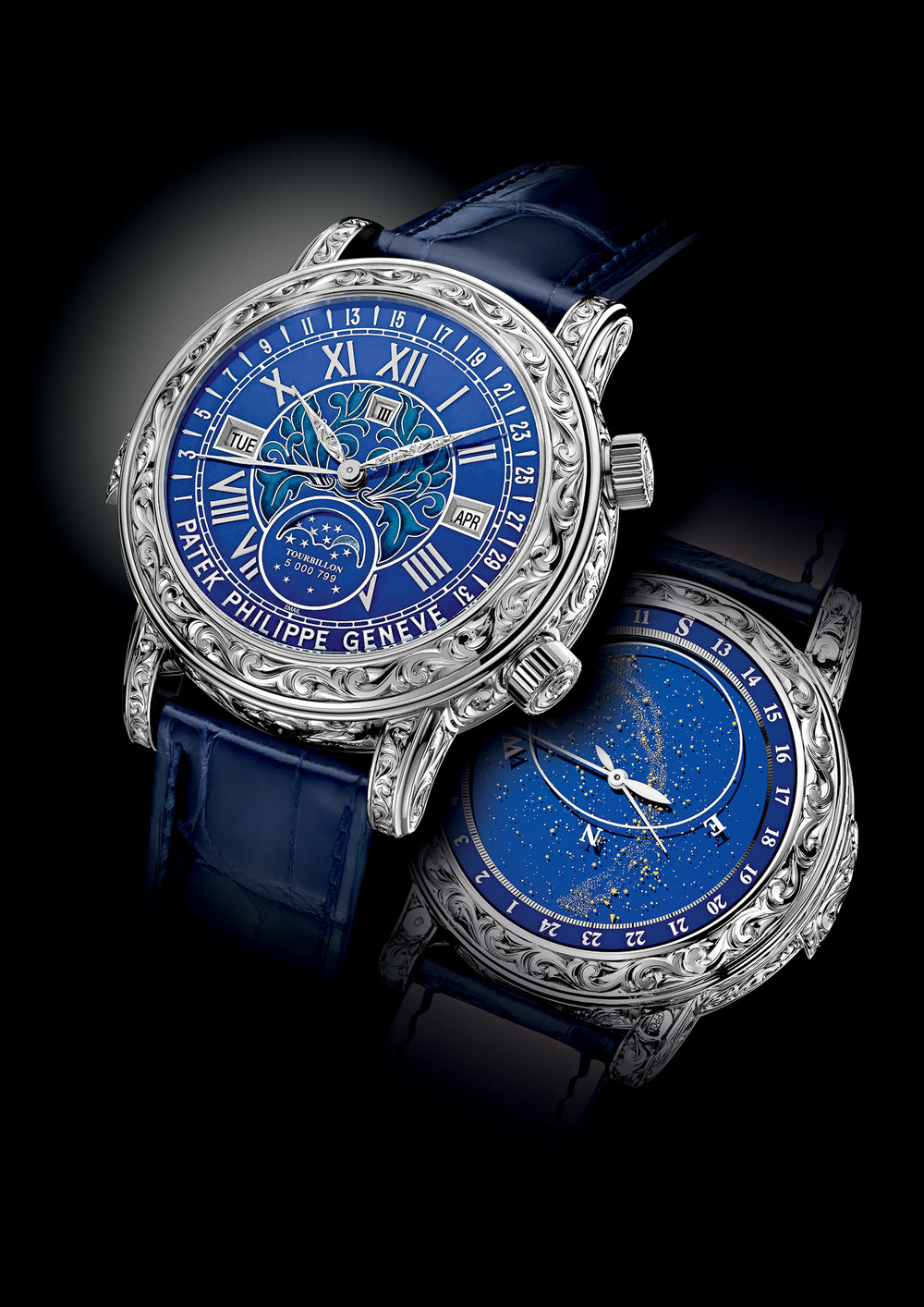 Patek Philippe recently announced the creation of a follow-up model of their most complicated watch by far, the reference 5002 Sky Moon Tourbillon. This new timepiece, the reference 6002 Sky Moon, is receiving much praise for its decorations and embellishments. The model features stunning enamel work on both the front and rear dials. It is literally covered in intricate engravings as well.
The Patek Philippe Sky Moon Tourbillon has an 18 karat white gold case measures 43.5 by 18mm, large enough to accommodate all the movement inside. The case engravings require over 100 hours of tedious work to complete. The detailed design extends all the way to the minute repeater lever and to the crowns with information relayed on winding directions and crown function. The effect is a beautifully detailed baroque look, giving it quite a different look from the timepiece's more technical counterpart, the Sky Moon Tourbillon 5002.
The reference 6002 Sky Moon engages the same calibre, R TO 27 QR SID LU CL as the reference 5002 model. A hand wound movement, it is made of a whopping 686 parts giving it a power reserve of 48 hours. Between both front and rear dials, a total of thirteen complications are displayed. The time, a tourbillon, calendar display, a moon phase display and a minute repeater bearing two cathedral gongs are found on the front.
One very noticeable difference between the two models is the 6002 model's discontinuance of retrograde hands for most of the calendar display. The new Sky Moon Tourbillon uses three apertures on the the dial making the 6002 easier to read. It also is easier to open up the dial to admire the enamel artistry.
The rear of the timepiece features a depiction of the northern sky with a sidereal time display. There is also an indication for the angular progression and phases of the moon.