Lazaro Wedding Dresses
Lazaro wedding dresses are some of the world's most renowned designer wedding gowns. From the incredibly unique and modern cut looks to the detailed hand beading, embroidery, and lace each dress is a masterpiece. They are all glamorous with strong dramatic silhouettes.  Every bride has her very own personal taste and Lazaro bridal gowns embody those different personalities beautifully. Ensuring each and every bride finds the right dress to express her very own sense of style Lazaro wedding dresses come in a wide variety of styles and fabrics. From layers and layers of fine luscious lace to shimmering sparkling metallic gowns Lazaro wedding dresses are imaginative and wondrous. For your happy day together a Lazaro gown ties it all together into a reality that matches the dream you have always had in mind. Now the only thing more important for the couple than their guests and the gown, the ring.
Finding a wedding ring can seem straight forward to some and leave others at a loss. It is completely understandable as it is after all the ultimate symbol of your love. The one piece that will stay with both of you throughout your lives. Present for all the celebrations and day to day wonders of life. Choosing a wedding ring can be quite difficult for some brides. Ladies wedding bands come in all sorts of shapes and sizes. Each one has its own story behind the design. Not to mention the multitude of options when you get to select your precious metal and gem stones. For us as with most people the preferred gem stone tends to be the diamond. Diamonds are forever after all, right? Now to help those brides who are looking at iconic Lazaro wedding dress designs and wondering how your jewelry will pair – we've got you.
Diamond wedding bands and Lazaro wedding dresses
We got together some of the most unique designer diamond wedding bands around. Put them all in one place for you with some Lazaro wedding dress pairings suggested. Like a well paired glass of wine when your wedding gown and rings are a perfect match there is absolute harmony. So whether you have your heart set on a Lazaro wedding gown, or want to find the perfect wedding band first or perhaps are still getting inspiration this list will help you visualise some of the options. We selected four different gowns, one for each silhouette type available, and paired them with four diamond wedding bands from top designers. These designers include Tacori, and Henri Daussi, two American favorites. When it comes to unique and personal wedding bands made with the finest materials by master craftsmen they know what they are doing. These rings perfectly match the personality of these dresses.
You know a Lazaro dress is made with you in mind as inspiration too. Cuban born Lazaro takes a bride into his mind's eye and creates a spectacular timeless design from there. With the additional sprinkle and sparkle for glam he designs gowns in luxurious fabrics for elegant collections easy to take any girl's heart and sweep her off her feet, once again. While still a student at the Ray College of Design in Chicago Lazaro won "Best New Bridal Designer" in a national competition. From there he and his own label have taken the world by storm. He prides himself on being able to design for every bride. His styles include everything from slim silhouettes to extravagant ball gowns. Further, Lazaro tries to go to as many of his trunk shows as possible to help brides find their dream dress. Old Hollywood glamour to modern styles Lazaro's got everything.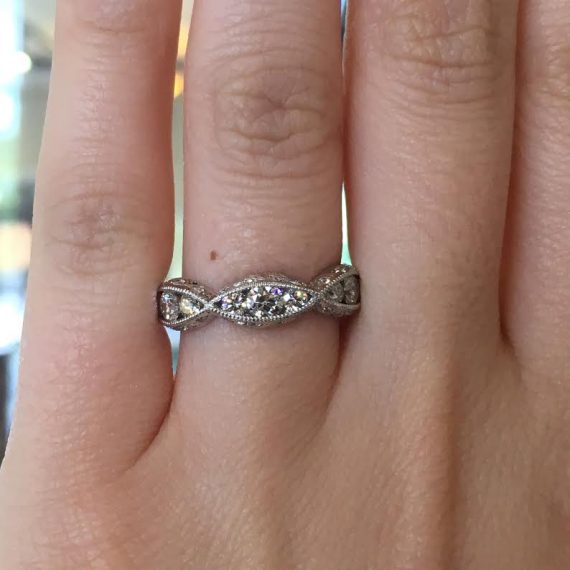 This Tacori Classic Crescent diamond twist wedding band has a stunningly delicate and detailed design. The Tacori Classic Crescent band features approximately 0.90 carats of round brilliant cut diamonds set in a beautiful twist silhouette. Each one with handcrafted milgrain details that go up about half way around the band. The wedding band itself is 5 mm at its widest point. Making it a quite slender but scripted band. Also it is available to order in your preferred size, in 18 carat white gold, yellow gold, or rose gold as well as in platinum. This Tacori Classic Twist wedding band is the perfect match for a Lazaro trumpet wedding gown. Personally we would suggest the Spring 2019 collection's Lucia style 3904. It has an incredible Ivory soutache lace pattern. Further the two piece gown has a scalloped V neckline both in the front and in the back as well.
This gown is intricate and shapely supply following the curves of your body. Along with the gentle V neckline the trumpet cut of this dress is embellished with romantic lace detailing. Similar to the Tacori Classic Crescent this is a more traditional classical style for wedding apparel. Meanwhile Lazaro's expert design does bring the vintage inspired style into the modern times treading that line lightly. The gown is by no means overly reserved as the straps sit high on your shoulders. Further the lace material is actually made with open cuts. This second lace piece is worn above the matching blush silk charmeuse bias cut slip. Overall the Tacori Classic Crescent wedding ring's inspired scrolling style and intricate milgrain design make it a perfect match for this dress. From the inspirations in the styles to the intricate visual effect. These are romantic and gorgeous patterned bridal dress and wedding band.
Asscher cut diamonds
Asscher cut diamonds are not all that well known. Surely not as well known as brilliant round cut diamonds. However, they are amongst some of the most expensive diamond cuts around. There is a material reason for this expense though. Only the very high quality diamonds can be used for Asscher cut diamonds because there is no way to hide blemishes in this cut. Since the Asscher cut is geometrical and displays the clarity of diamonds best it is almost impossible to hide a diamond blemish. The cut has been around for quite a while. Joseph Asscher introduced the Asscher diamond cut to the world in 1902. The diamond cut named after their family was created by the Asscher Brothers of Holland's Asscher Diamond Company (now the Royal Asscher Diamond Company). However, the Asscher diamond cut did not gain popularity until round about the 1920s, the roaring Art Deco age.
During this roaring era is when Asscher cut diamond engagement rings gained their famed Art Deco origins and really took off as a style. Architectural and geometric in nature it was absolutely perfect for the era of opulence and pre-World War I style of visual arts. Asscher cut diamonds do in the end call for very high carat diamond stones.  The diamonds in this cut are breathtaking but tend to always have a high carat weight. Furthermore, the step facets make it easy to see through the stone itself lending to a better result with larger stones. Also, open settings allow light to stream through them and thus also enhance the stone's brilliance. Asscher cut diamonds have been said to be reminiscent of the Hall of Mirrors in Versailles. Now the ring we feature below truly can be held in comparison. With 15 Asscher cut diamonds this ring is mesmerizing.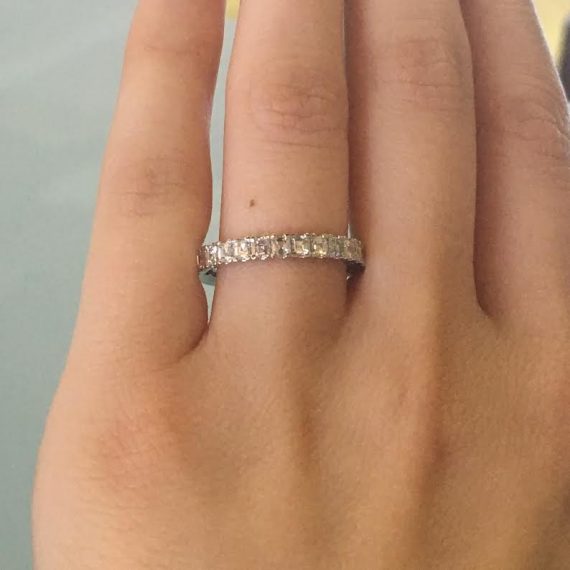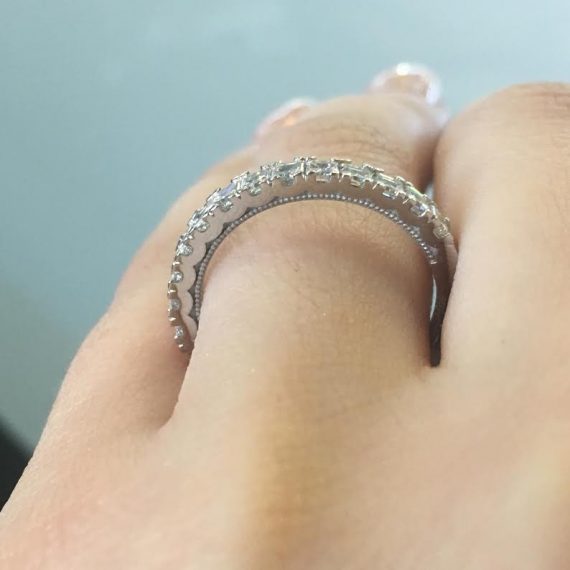 Finally, the Asscher cut Tacori Clean Crescent diamond wedding band itself. This gorgeous half way wedding band features a whole 15 Asscher cut diamonds. As we discussed above these are extremely high quality and high clarity diamonds. In order to get them into this exquisite geometric Asscher cut style they absolutely had to be. Now these impeccable diamonds are set along the band with French settings. As you can see in the picture above where we see the ring from behind at an angle. This band also features Tacori's handcrafted milgrain details which can be seen on the profile view of this ring. Also it is not just milgrain designs on this ring. Each one of the Asscher diamonds are also set in French settings. These give a bit more of a slight curve and incredibly comfortable fit. Further, the ring sits comfortably on your finger because of the width.
It is approximately 2.15 millimeters wide. Also the Asscher cut diamond's smooth edges and flat tops make them perfect for the edges of your fingers. There are no sharp edges. Only the sharp design and lovely memories from every step of the way. This ring we would pair with a particularly clean cut yet reminiscent of the roaring twenties as well. The Lazaro Tatiana dress style 3901. It is a gorgeous art deco inspired slip bridal gown. It matches a plunging V neckline with jeweled straps. As well as an open back leading to the master design touch. It opens up into the skirt which features tiered pleated ruffles. This accent skirt gives the gown movement and a beautiful flared detailing. The skirt does spill at the bottom into a gorgeous chapel train. Once again showing Lazaro's ability to take inspiration from the past and bring it to life.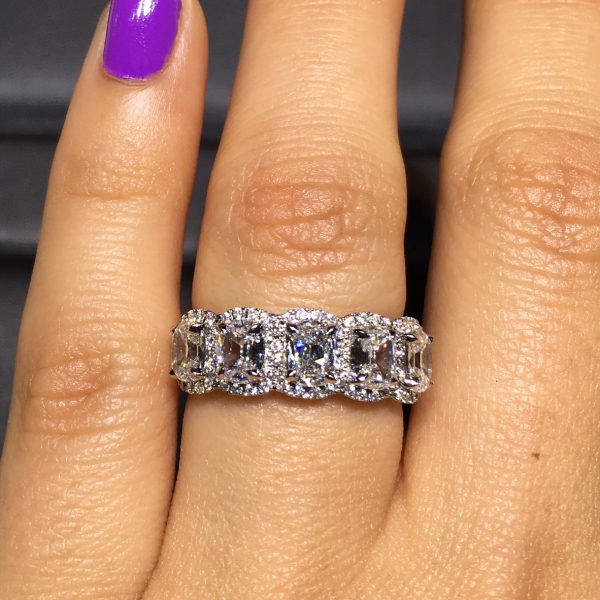 Finally, a stunning 5 cushion cut diamond with a halo feature Henri Daussi wedding band. Fit for a ball gown this ring is an absolute Old Hollywood stunner. From the jewels of icons like Elizabeth Taylor, who she herself had one of the world's most incredible jewelry collections, the cushion cut diamond with a diamond halo is a classic of luxury. An accented and stunningly sparkly ring this semi band has an incredible look. The cushion cut diamonds are large. Further, they establish a strong presence. For the bride that wants the gown. That is ready for the ball room look wedding. All of the glamour and all of the lights. This is the wedding band for the sumptuous skirts. For the full and armed gown. A recent Lazaro ball gown design that is the match made in heaven for this ring? May we suggest the romantic Juliet style 3907.
An ivory bridal ball gown with silk organza. This dress has a full sweeping skirt and scoop neckline. Accentuating this neckline style are the jeweled spaghetti straps. Not glamorous enough for you? Do not worry there are off the shoulder cap sleeves with a fantastic fringe accent. Now for the real stunner to match all those diamonds on that ring. The bodice of this dress features a Lazaro design favorite. A crystal hand embroidered corseted bodice. This swoops down to a natural waist and circular A line skirt. The dress has all the layers. Also all the details. For a stunning glamorous ball gown look to go with the enchanting powerful presence of this 5 diamond halo wedding band. While Lazaro and Henri Daussi have yet to work together we must say their work pairs well. A blooming gown and beaming diamond ring that says it all, a true match.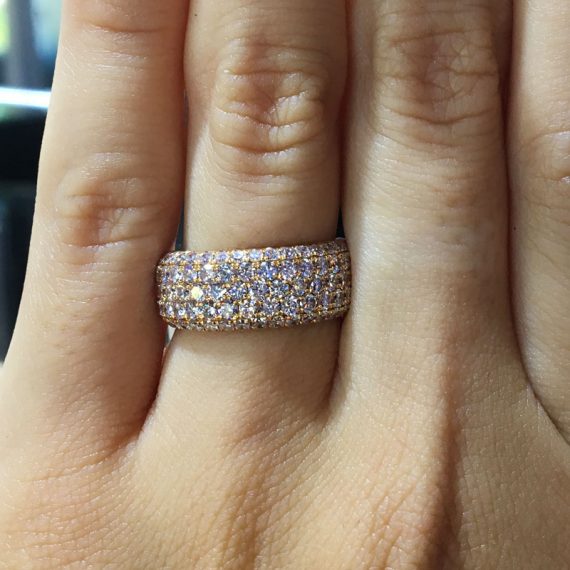 Our very last diamond wedding band and Lazaro gown pairing is one that is truly modern. This Henri Daussi fancy pink diamond wedding band is the only colorful one we included. However, the gown to match it is also not your traditional all white gown. Weddings no longer have to be these very set specific rules of the past. Now a days brides really and truly have taken matters into their very own hands. From the wedding ceremony and themes to the wedding rings and yes absolutely the gown brides now more than ever before show off their personal styles. This Henri Daussi rose gold ring reflects back the lovely fancy pink diamonds. Thus we would pair it with a starkly contrasting gown. For example the Lazaro Spring 2019 wedding gown collection's Veronica style 3915. It is a stunning black shimmer bridal ball gown with a lovely strapless sweetheart neckline.
It has an absolutely beautiful bodice accented with a beaded applique. These lead to a natural waist which then opens to a sheer box pleated skirt with an underlay. Finally splaying out into a beautiful chapel train.