Spotlight On: July Birthstone Ruby
Fashion trends may come and go but there is one trend that will never go out of style: heavenly jewelry! It is the icing on any outfit, and if your birthday is in July, it is the icing that is even better than the icing on your birthday cake: your birthstone.
This July let your fashion flag fly and adorn your fingers, necks, ears and wrists with rubies.
Rubies are remarkably sophisticated as they denote a spirit of love and vivacity that can only be flawlessly executed through the right accessory.
Utterly famed, the ruby is considered one of the most valuable gemstones on Earth. It has uber-rich color, stellar hardness and flaunts its brilliance. In addition, rubies are an extremely rare gemstone and during the emergence of its discovery, it was given to rulers in India to covet.
Our ruby-infused  pieces always stand out in our showroom. The pieces are decidedly fashionable and fanciful and will make you fall into L-O-V-E.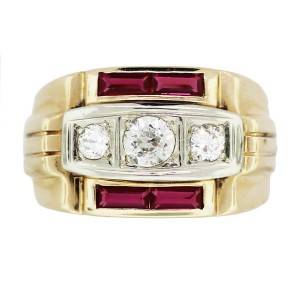 14K Yellow Gold Diamond and Ruby Men's Ring
To call this ring "incredible" does not do it justice. Comprised of 14k yellow gold setting with 3 white diamonds and 4 red rubies, this ring is an intriguing blend of masculine and vogue. Ideal for style setters, show off the ring's round brilliant cut diamonds and red rubies that are pointedly desirable.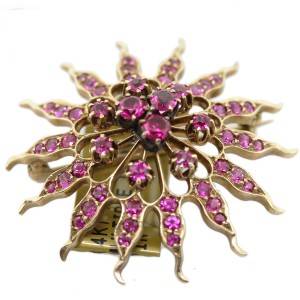 14K Yellow Gold and Ruby Starburst Pin
This sensational 14K Yellow Gold and Ruby Starburst Pin is an of-the-moment obsession. With 52 rubies, elevate any of your warm-weather ensembles with a pin that is distinctive and conveys a luxe look. Stun in this glamorous addition to a fashion aficionado's accessory drawer.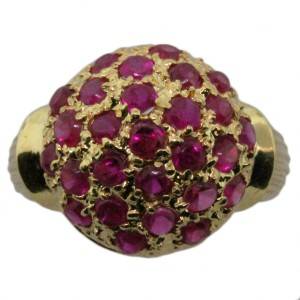 Vintage Yellow Gold and Ruby Pave Domed Ring
It is festive, it is fresh, and it is oh-so fashion-forward. This lavish piece offers a bold take on power dressing. Make a statement in its pave domed ruby ring style and stones that are set in a 14k yellow gold twist band. It is no wonder that it will make you enamored the second you slip it on.