Whether you're searching for the perfect Halloween statement piece or your looking to pair some perfect pieces with your killer costume, there are so many fun options for Halloween. A holiday where kids and kids-at-heart get to dress up as their favorite characters, the horror movie icons that scare the masses or the public figures that shape media and society, it's always a bonus to accessorize to the fullest!
Making a Halloween Statement
Perhaps you can't wear your Pirate costume to work, but still want to acknowledge the holiday through your jewelry. Try these fun Halloween statement pieces!
These 'Day of the Dead' skull charms can easily be turned into earrings for a fun workplace statement worn with any outfit. The cute dangly pieces would put the fun into functional business casual!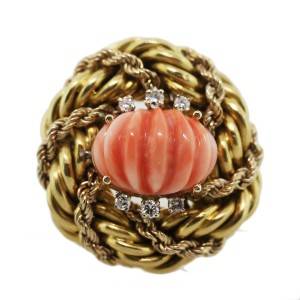 While this Estate Coral, Diamond, and Yellow Gold Rope design pin is versatile, it'd suit your Halloween accessorizing well! The Coral in the center of the pin definitely resembles a pumpkin. The gold rope design encompasses the coral pumpkin as if it's sitting inside a fall wreath.
A cute,quick DIY beading project could yield something fun to wear on it's own, or as part of a costume!
Preparing your Costume Around Your Jewelry
A tried and true halloween favorite, the witch, is a costume that you could get super creative with. A witch doesn't necessarily wear black oversized robes and sport a bulging, green nose anymore. You can easily pair the costume with fun accessories to highlight your choice.
This fun Sterling Silver charm bracelet features charms of witches and ghosts, pumpkins and calderons, as well as charms that say 'Spell' on them. A great accessory for a fun witch costume!
Perhaps your halloween poison is a blood sucking vampire? Or a sparkly, Twilight-esque vampire this halloween. This super-cool brushed brass bat necklace has red beading dripping off like blood. A bold piece to fashion your vampire costume around.
Many of you stray as far away from the scary costumes as you can, embracing the fun or whimsical costume options for halloween. A fantasy world fairy or elf could benefit from this beautiful ear cuff that doesn't require any holes!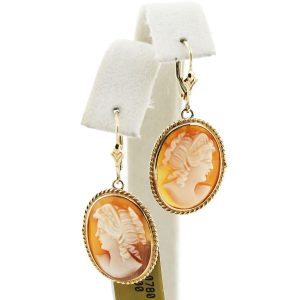 Perhaps you're reenacting your favorite character from a great literary work of fiction set in the victorian era. It's not just enough to wear a gown with a massive petticoat, but to have the impecable hairstyle and accessories to compliment your outfit. These Cameo earrings would also work well with a greek goddess costume or toga!
Halloween is one of the greatest times of the year to showcase your creativity and outgoingness. How far are you willing to go to create the perfect costume? With only weeks left to prepare for the event, it's time to get shopping for the best accessories to match your best Halloween costume yet!