Get The Perfect Engagement Ring for Her in 3 Steps
We've written before about how to get the engagement perfect engagement ring – geared towards our Raymond Lee Brides – but at the end of the day, it's typically the groom doing the shopping! Now don't get us wrong, we've seen our fair share of "just browsing" turned into surprise in-store proposals. We've also noticed more and more couples shopping together "well in advance" just so he can get some ideas. We think both are great ways to go! But if you want the ring and proposal to be as much of a surprise as possible, what's a groom to do? Don't worry, here are the top 3 ways to get her the perfect engagement ring.
1. Trunk Shows – If the idea of going to a jewelry store, just to look, is too obvious for you, a trunk show is a great alternative. Often, they feature one particular designer line (like our Verragio Trunk show did!) but you are always free to browse the rest of the store's collections and original designs. It's less of a shopping atmosphere, and more of a party. She can play dress up, try on as many rings as her heart desires, and you can munch on the catered food and open bar that any jeweler worth their salt will provide. Bonus points if they have ESPN playing, some great background music, and a giveaway or two lined up. That's how we roll. Something to note: if she does find the perfect ring, her eyes light up like the heart eye emoji, and you know you'll be back to get that ring when you're ready, subtly telepath to the sales associate that you're interested. We speak Future Groom. If you can, send your girl to the bar, or if your salesperson is really good they'll have another team member show her something lovely on the other side of the room. Exchange contact info without her noticing, that way the salesperson can call you later to explain any discounts or offers that are exclusive to the trunk show.
2. Enlist a Sister – Sorority or biological, whichever you think will help you the most. A woman's perspective will give you insight into details that you may have overlooked while you were focused on getting a top quality diamond. Things like shank style, width, gallery details, metal colors, brand preferences, gemstone preferences and more. The little things she may have told her best friend, in the hopes that you just may recruit her for some stealth shopping. Bonus: this woman also likely knows your girlfriend's ring size, or can easily get it without rousing suspicion. We like to leave the Moms out of this because unless your Mom is a jewelry expert or knows your girlfriend's style so well she can comfortably buy jeans & dresses for her, you're just adding another person's personal style and preferences into the mix. It's good to get a second opinion, but you don't want to second guess yourself, or your girlfriend's style, and each person's engagement ring style is very specific. Ditto for her Mom – unless she's a jewelry expert, we love to keep her in the dark so that her little girl can be the first one to tell her the exciting news.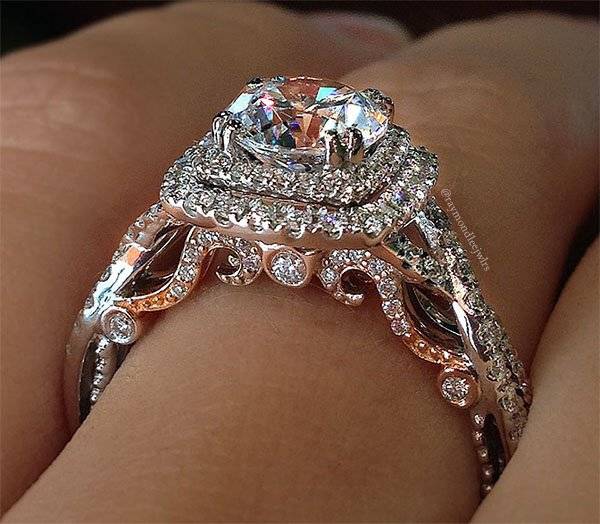 3. PINTEREST – Ever heard of it? Most likely yes, yes you have. You can thank it for those cool braids she wore on your last date, that insane Reese's cake she baked for your birthday, and possibly the expert way she caulked the tub during the bathroom renovation. Chances are, you can also thank it for showing you exactly what her dream engagement ring looks like. Many women have some sort of dream wedding Pin board where they save away beautiful images of gorgeous weddings for later. It's not crazy, it's female nature. And you can most certainly use it to your advantage. Step one is finding the rings – check that aforementioned wedding board, or you can click on "all pins" on her profile homepage. Likely, there will be a few of them. If they look vastly different at first, pull them all up so you can look at them side by side (save the images to your desktop or camera roll if you need to.) Are there unifying themes? Like:
Are there more old fashioned-style rings? With captions like antique, vintage, Victorian, or estate?
Are they more organic and simple, with rough stones and a handmade look?
Are they all halo style, with a diamond border around the main stone?
Do they all have the same style shank (the side bands of the ring)?
Are they all one particular shape of diamond?
Chances are, she'll have a mix. You just want to look for a prevailing common denominator between them all. If you're still not sure, you have inspiration pictures to show your jeweler and/or shopping partner in crime.
Using these easy 3 tips will ensure that you get her a ring that she adores. You can also just try to be more attentive whenever she drops hints, or lingers in front of a jewelry store window. If you're in the stage of life where all of your friends are getting engaged, she'll likely volunteer her opinions on her friends' and your friends' engagement ring choices – make sure you're taking mental notes! And remember, even if you surprise her completely out of the blue with a ring you just felt drawn to, she'll most likely fall madly in love with it – it symbolizes a very happy beginning with you.