Thirsty Thursday: Emeralds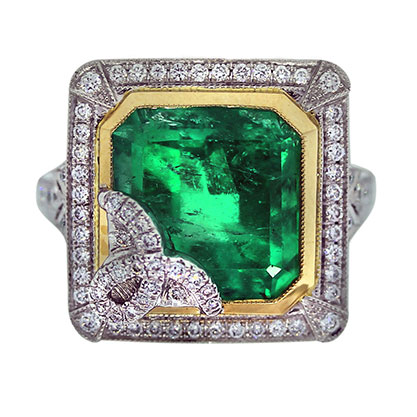 Emeralds are one of our favorite cocktail rings. Emerald cocktail rings are usually giant (point 1), can carry off intricate designs (point 2) and look equally beautiful in white or yellow gold settings (point 3). They also happen to look fabulous with both black tie and business casual, making them an impressive addition to your jewelry happy hour. And if ever there were a gemstone made for happy hour, the emerald is certainly it. Especially one like this, set into a stunning platinum mounting. The massive 8.56 carat square cut emerald is a rich, deep green with dreamy, geometric crystal inclusions. Each jagged crystal within has softened lines, giving the ring a swirling palette of different shades of green. The emerald itself is set into an 18 karat yellow gold bezel with cut corners to hug the gemstone. The inner edge of the gold is milgrain, and small details like these (and the facets in the corners of the gold) elevate this ring. As do the setting's platinum details. The ring is set with .65 carats of diamonds that are G/H in color and VS in clarity, and again each corner that frames the emerald features added small details. Of course, our favorite detail is the diamond swirl that laps onto the surface of the emerald itself adding even more interest.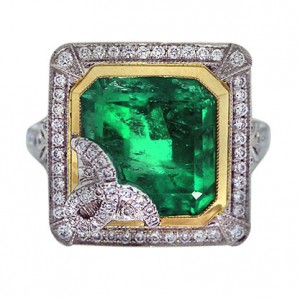 The shanks of the ring feature small brilliant diamonds that stop just where the finger meets its neighbors, giving the look of diamonds all the way around. The gallery detail is laser cut scroll work that raises the ring off the finger (but not too high) and adds another dimension from another angle. It is truly magnificent.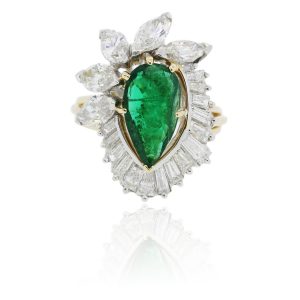 And one great emerald cocktail needs a match, so we thought this concoction by Absolute, called simply "The Emerald" was just right. Considering this is a dressier cocktail ring, the libation needed to be elegant as well, and a sleek martini glass is just the right vessel for this forest green drink. Two parts cognac and one part mint green liqueur make for interesting bedfellows (drinkfellows?) but we're still intrigued. Bottoms up!