Emerald and Diamond Cocktail Ring
A bold piece of jewelry such as an emerald and diamond cocktail ring is a really great way to show off your unique and personal style. These pieces are meant to be seen and are a perfect addition to any look for a formal occasion. The cocktail ring we feature here is not your grandmother's paste or glass cocktail jewelry. This ring is the real deal. It features high-grade white gold, a large, quality emerald, and high-quality diamond accents. The cocktail ring in question is what most people wish they could have and now it is a real option.
This is a great piece for special occasions. Obviously, this isn't something you are going to wear on a daily basis. It is much too ornate for that. But it is a really great piece of jewelry for those special occasions. For instance, the next time you are invited to a cocktail party or a gala, that is the perfect opportunity to bring this ring out to show off. The great thing about a ring such as this is that it can either accent your look or be the focal point of your look. That is up to you.
Stunning Accessories
The accessories you wear can do a lot for your overall look. They can give you that complete, put-together look that makes fashion icons so stylish. Another thing they can do is tell others about you. Something like a large emerald and diamond cocktail ring is a great way to tell others that you appreciate the finer things in life and that you have a strong sense of style. And really, think about first impressions. These are hard to shake once they have developed and people tend to make this impression on us before we even speak.
So accessories can be more important than just a way to adorn our bodies. They can tell the world that you appreciate fine high-quality jewelry. But they can also tell others that you have a serious side or that you are more whimsical. The style of the jewelry you choose really does convey a lot of information that we might not think about when choosing what to wear. It really does make sense why people put some degree of effort into choosing the right accessories for their look and style.
The Best Place for Your Jewelry Needs
At Raymond Lee Jewelers, style and quality is our passion. The emerald and diamond cocktail ring we feature here is a really great example of the type of pieces we carry in our display cases. We want our clients to have pieces that aren't just like what you can find anywhere else. That means we send our buyers all over the country and the world to seek out the rarest, finest, and more unique pieces we can source. Our buyers have a ton of experience, as well as a lot of connections around the world. This allows us to source a really wonderful selection of pieces, which we then pass on to you.
We also do a lot more than just provide a wonderful selection of rare, high-end jewelry. In addition to this, we also offer custom jewelry design services. While we have a great selection, there is no way for us to have everything. So if you have something in mind that we don't offer, you can work closely with our skilled jewelers. Using the latest equipment and computer-aided technology, we can easily turn your dreams into a reality. And this will be something truly one-of-a-kind.
And, we also offer a comprehensive array of repair services. We have the tools and the skills to take on most repair projects, large or small. Whether you simply need to resize that ring or you have an antique piece of jewelry you would like to see in working order, we are here to help.
The Cocktail Ring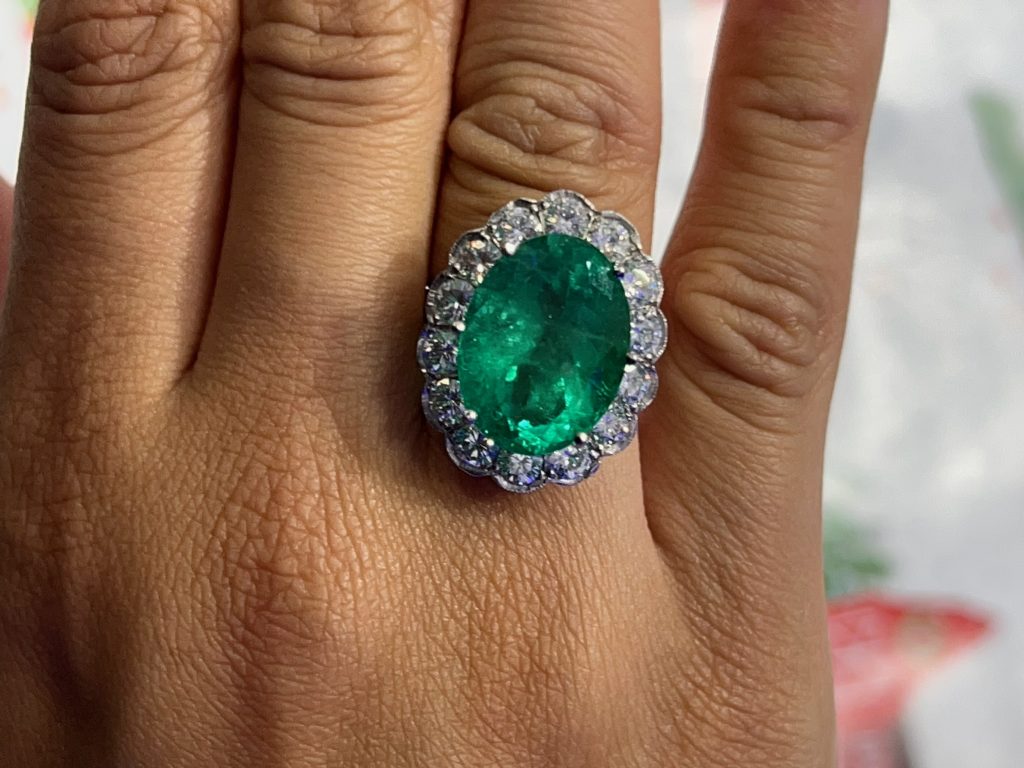 The cocktail ring is a fun piece of jewelry that saw its heyday during the 1920s era. There are so many different kinds of cocktail rings that it wouldn't even make sense to try to cover them all. But what makes a cocktail ring, well, a cocktail ring? Essentially, what separates a cocktail ring from just a ring is that it tends to be oversized. But beyond that, the sky really is the limit when it comes to how these pieces can take shape. They might be oversized versions of a classic ring, such as the emerald and diamond ring we feature here. Or, they may be whimsical and stylized rings that look like nothing you've ever seen before.
The ring we feature here, though, really is like a giant version of a popular ring. It features a large central stone with a halo of diamond accents around the edge of the emerald. And since these are genuine fine gemstones, it really is hard to overstate how stunning and elegant this piece really is. It is a genuine work of art that you can adorn yourself with, which is something pretty special. When we think about cocktail rings, we probably envision our grandparents' costume jewelry. While these pieces were definitely popular, there are real pieces that are absolutely magnificent to behold. 
We have a wide selection of unique, high-end cocktail rings that come in a variety of shapes and sizes. You can find cocktail rings in pretty much any material and with any kind of gemstone you can think of.
Emeralds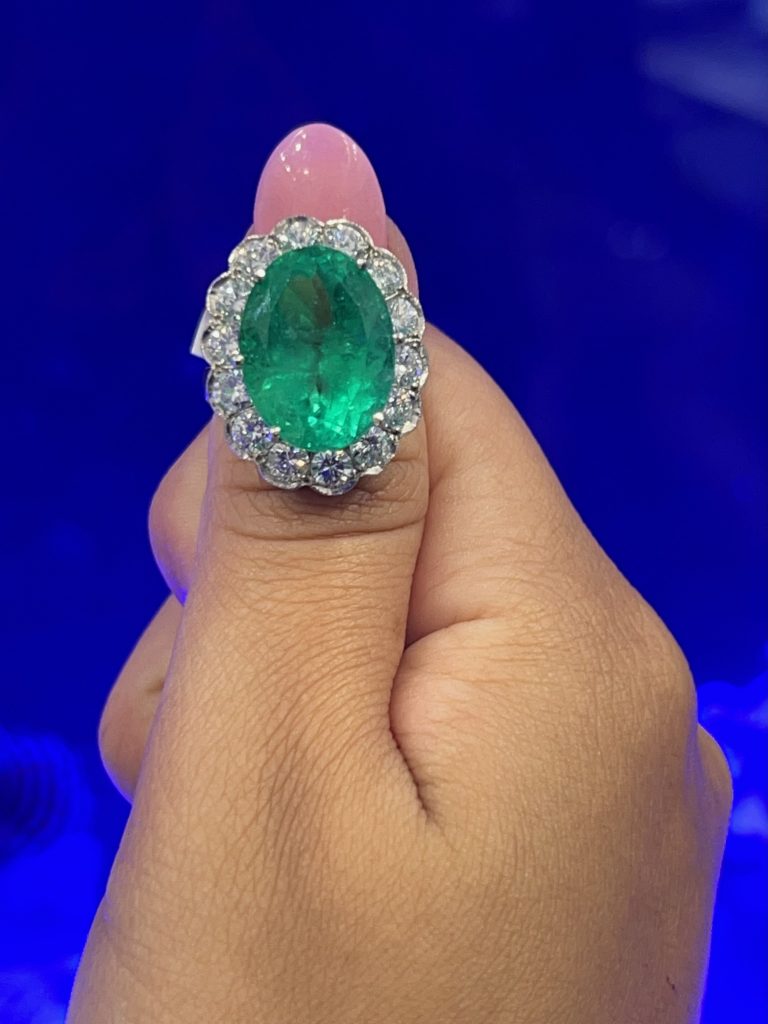 The emerald is a stunning green stone that has been prized for use in jewelry for thousands of years. Like all fine gemstones, there are different grades of emeralds. These grades refer to the clarity of the piece, the color of the piece, and more. The stone is also the birthstone for the Cancer astrological sign and is often worn by people whose birthday falls under this sign.
In its basic form, the emerald is a variety of a material called beryl. In fact, specimens of lower quality but that have a green hue are often labeled green beryl rather than emeralds. They will, of course, fetch a lower price than the higher-grade stones. The gemstone gets its beautiful color from trace amounts of chromium or vanadium.
While beryl is a fairly hard substance (it is a 7.5-8 on the Mohs hardness scale), it is actually pretty susceptible to breakage. This is why emeralds are often seen in pretty simple cuts. This reduces the likelihood that the stone will break and shatter during the process of creation. Though the cuts the emerald can take on are simpler, that doesn't mean they aren't gorgeous.
In fact, most of the cuts that are commonly seen with emeralds actually show off the internal depth and color of the stone. When we are talking about gemstones with color, the general rule of thumb is that the more richly saturated and deeper the hue, the rarer the piece. You can also see the price rising along with the depth of the stone color. 
Diamond Halo Accents
Diamonds, well, they are a girl's best friend for a reason. And the simple reason is that they are sparkly and absolutely gorgeous. It is hard to introduce such a beautiful and magnificent gemstone. The diamond is a great addition to any piece of jewelry, but it definitely adds magic and drama to the emerald and diamond cocktail ring we feature here. While the emerald is the focal point of the piece, that doesn't mean the diamonds can't, well, shine, in their own right.
Surrounding that massive, stunning diamond is a circle of high-end diamonds. These sparkly beauties don't just offset the emerald well, they add sparkle and glamor that you can only get with diamonds. For millennia, diamonds have been a material that man covets. It has a ton of uses, both stylistic and functional. Man has been working diamonds to make personal adornments for thousands of years. We are naturally drawn to this sparkly and unique rock.
There are more reasons to love diamonds than simply how they look. These are tough and durable stones, so it makes sense that our ancestors would choose to make jewelry with this material. It is the hardest stone that we know of and so it can hold up to a wide range of different cuts and shapes in a way other stones simply cannot. Whether large or small, the diamond can add a bit of glamor and elegance to any piece.
A Bold Style Statement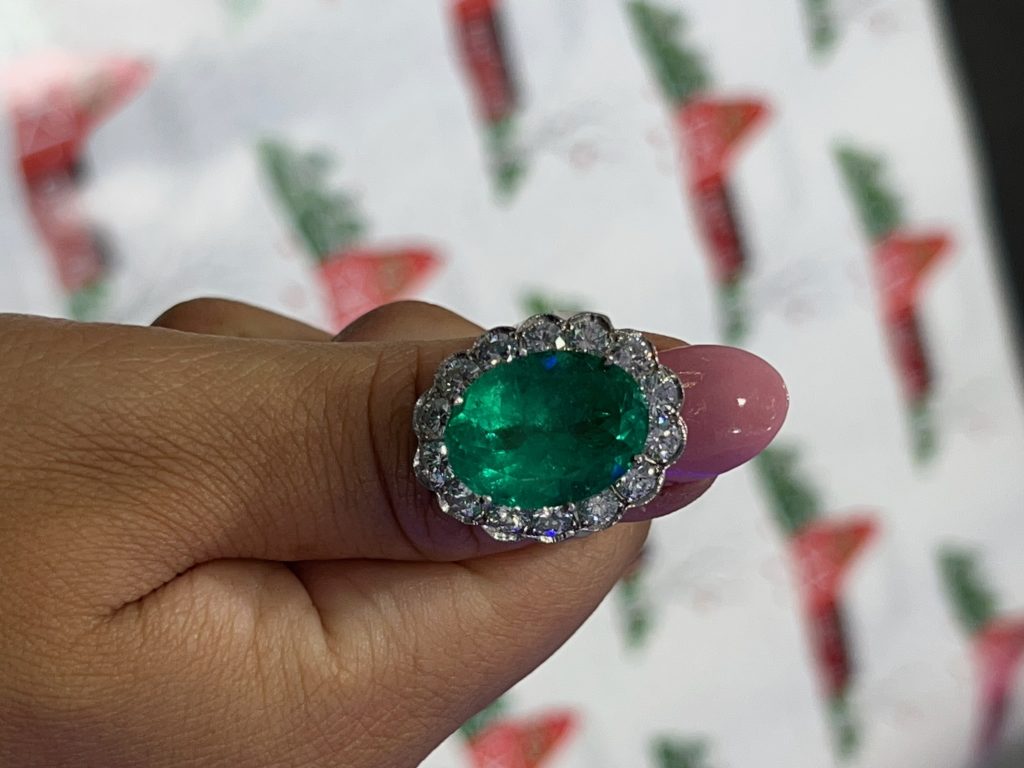 Sometimes it is fun to have a bit of a show-stopping look. Say you have a fine party or other events where you really want to shine and stand out from the crowd. This is the perfect opportunity to bring out that flashy and eye-catching piece of jewelry that isn't really suitable for other occasions. And who doesn't want to have a look that draws the attention of onlookers? For those of us with bolder and bigger personalities, pieces like this are what it takes to stand up to our strong sense of style and fashion. The emerald and diamond cocktail ring we feature here is an elegant, but bold, piece of jewelry that will draw the attention of anyone who sees it. 
Sometimes bold style needs really bold accessories to really complete the look. For the fashionista or person with a bold sense of fashion, something like this cocktail ring is a great addition to your collection.
Perfect for Parties and Special Events
It might seem like there isn't really any place where it would make sense to wear something as bold and ornate as an emerald and diamond cocktail ring, but there, you would be wrong. Formal events are the perfect place to bring out those fine, special pieces you hold back for special occasions. A cocktail party or a gala really is a great place to bring out something like this cocktail ring. It is a beautiful piece of jewelry that is as fine as it is eye-catching.
We all like to have special pieces that we hold back for a special event and cocktail rings are a really great example of this. The ring we feature here is bold enough to be the focal point of your look, but it doesn't have to be. If you want the ring to stand center stage, you would pair it with something rather simple. Say, for example, a little black dress. Then, the accessories you choose will be the proverbial star of the show. Or, the ring can be an additional accent to a bold fashion statement. You might, say, wear this ring with a bold silver dress and the color of the emeralds would really help to set off the dress even further. The sky really is the limit when it comes to the different pairings you might choose.
In Closing
If you want something bold and stylish, there really isn't a piece of jewelry that is much better than a cocktail ring. These are bold, oversized rings that are meant to draw the attention of anyone who sees it. But not all cocktail rings are paste and glass numbers. There are some that are the real deal and they are magnificent. Here, we look at a high-end cocktail ring that features the finest diamond accents and an absolutely stunning large emerald as the focal point of the piece. This is a cocktail ring that is made from the finest materials to the highest standards of design and construction. It really is a work of art.
A ring such as this makes a great statement piece. Whether you wear it on its own or it is paired with other pieces, there is no denying that this piece is a show-stopper. It can pair with simple or ornate attire and will work well with pieces that feature other gemstones. We know that you will look forward to any opportunity you have to bring a piece like this out of the jewelry box. These formal events give us a chance to feel and dress like royalty, so why not go all out?