Double Halo Diamond Engagement Rings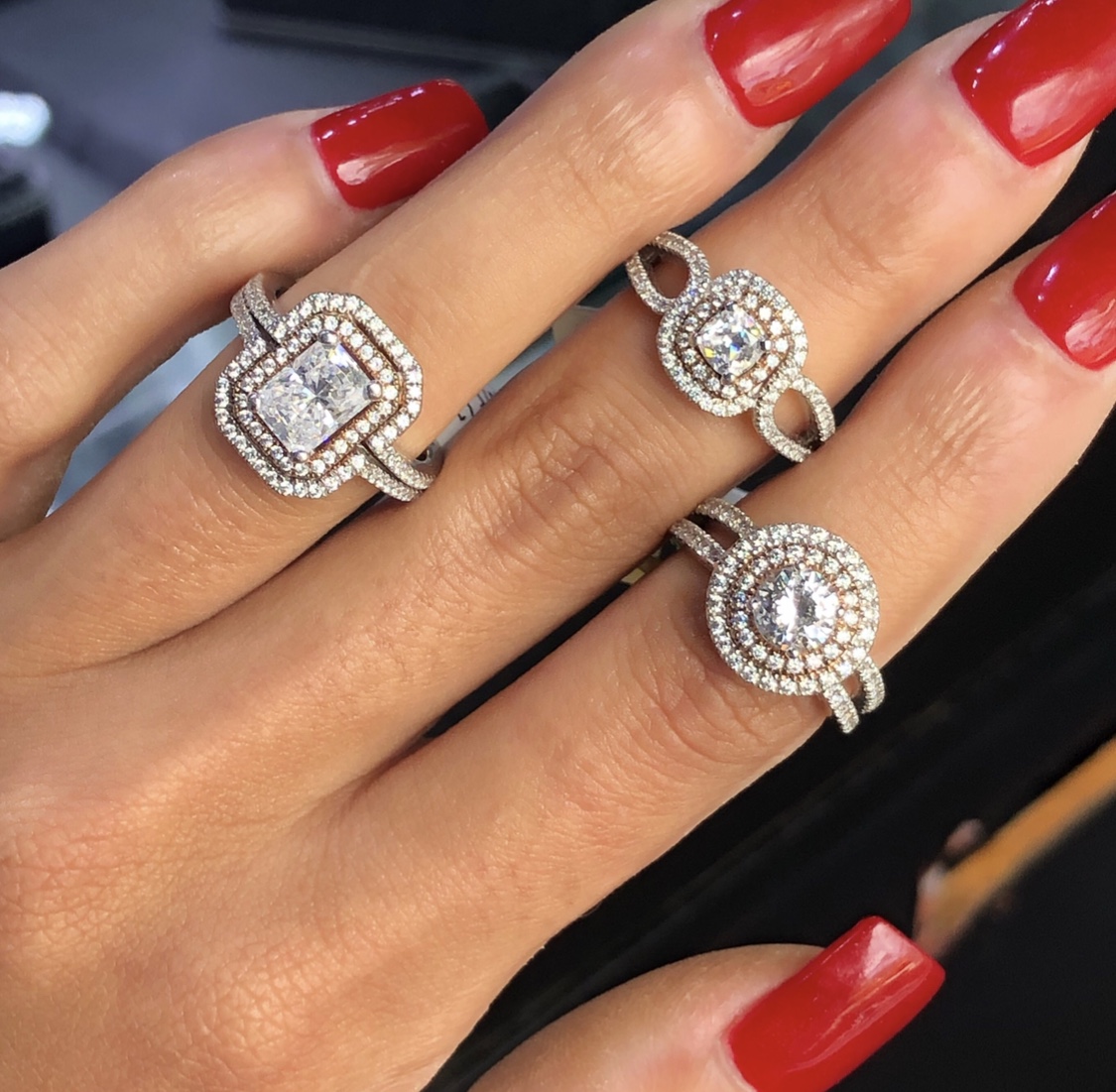 It is the deciding moment of the direction of your new life. One built with and alongside a friend, a partner and a true love. The moment of your engagement. That singular occasion of working up to a commitment like no other. Other than the couple involved the most important thing in that moment is of course the ring. What is a proposal without a symbol? And what better symbol than the timeless symbol of unity and eternity, of forever, the diamond ring.
Over the years the diamond rings have changed shape, color and setting but what remains true is a ring will set the proposal in stone, literally. As these stylistic changes have happened to the engagement ring scene a delicate innovation allowing for a lot more play when it comes to unique rings is the double halo feature. A furtherment of the single halo feature the double halo engagement ring look adds to the sparkle and shine of any ring. Also you can change it up more than ever before with colorful gems, different metals and contrasting patterns. They are versatile and refined. You can add them to practically any ring diamond cut. Also details like the spacing together or apart of the two halos also gives you room, if you will, to play with the design. More and more intricate rings are coming to the market and it is all thanks to the double halo feature.
Another great reason to go for a double halo engagement ring is that it accommodates even smaller diamonds or center stone gems. So if you are looking at a smaller carat stone then a double halo with additional accent diamonds can help get both the size and shine you are going for. Check out some designer double halo rings we stock.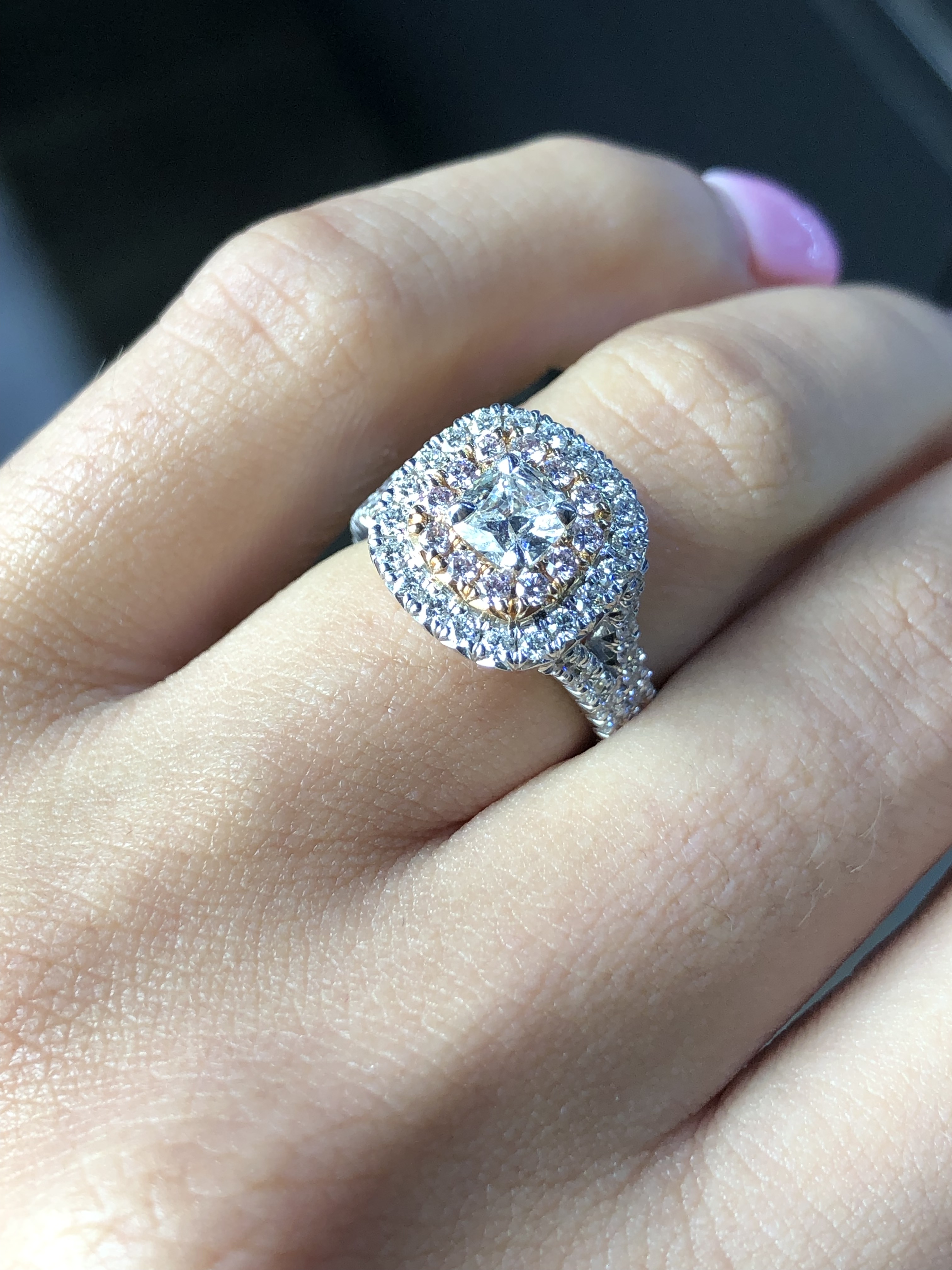 This gorgeous Henri Daussi designer diamond engagement ring features a diamond double halo. Flush and tightly set together this ring features pink round cut diamonds as well as brilliant white round cut diamonds. The colorful gems are placed in the central halo of the ring. The inner of the two double halos. For this princess cut ring the double halo feature as well as the ample accent diamonds on this ring add to its shine and weight. Adding a significant presence and visual sturdiness the double halo feature completely transforms a classic cut solitaire ring. Surrounding the four prong set center stone are the pink diamonds set in colorful gold. This section of rose gold further emphasizes the pink diamond halo's color. Further the contrast between the pink and the white diamonds flanking it on either side give it a breathtaking style, from the center stone and the outer halo.
Halo feature solitaire diamond rings
The solitaire diamond or precious gem stone ring is undoubtedly the classic and iconic ring for an engagement. It is a singular and stunning design style for a ring. Further it is the base from which so many modernized and unique designs start from. Firstly came the accent diamonds added flanking the center stone. Then of course the small accent diamonds all along the band of the ring. Finally we go the halo feature. The halo feature is a touch of diamonds surrounding the center stone. These add depth and shine to the center stone. Both physically in a size increase but also by reflecting the light that comes from within the center stone. This double reflection if we can call it that gives additional sparkle to the ring.
Further depending on how the accent diamonds in the halo are cut their own shine from within the stones pair with one another for that lovely colorful dance of light in the ring.  The ring's center stone's fire as it is called by diamond experts is this colorful sparkle a diamond emits as light is broken down. Diamond fire is that dazzling touch to a ring. A halo feature main purpose is exactly to add to the diamond fire. A delicate and not inaccessible addition to a solitaire diamond ring a halo open the opportunities for a series of new design iterations. The halo feature is like a ring of gems surrounding the center stone.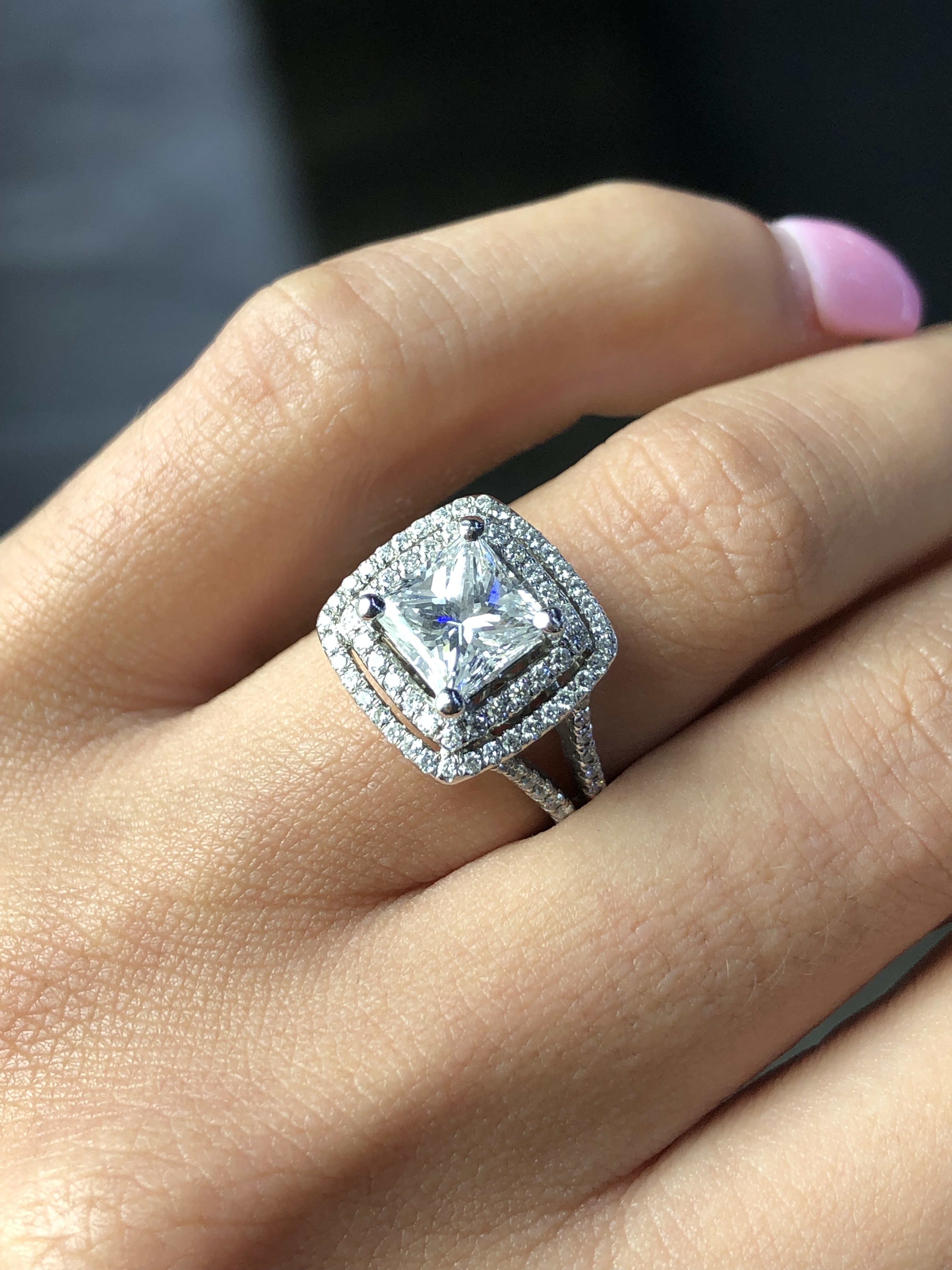 Double halos
A double halo goes a step further than that. After the ring of diamonds on the first halo you can also have a second ring of diamonds surrounding the centre stone. This is known as the double halo feature design. It expands your ring and its shine even further with the addition of more diamonds. It also offers a series of different options. A double halo feature does not necessarily have to be flush against the center stone surrounding it. Nor do they have to be white diamonds. The halo feature can be of colorful gem stones and even of different metals. Your imagination is the limit when it comes to what is possible in the combinations.
While here we are featuring A. Jaffe rings we do make bespoke modifications and additions to rings. So whether you already have your engagement ring and just want to add a halo or double halo feature or are looking for a ring you have come to the right place. We are diamond and gem stone experts. Our mission is to help you find the rings of your dreams. Even if they only exist in your dreams at the moment. We have expert craftsmen on our team and know how to source the finest materials. On our website we even have a convenient diamond search function so you can look through cuts and qualities at your own leisure.
Colorful stone halo features
The halo features can be classic white diamonds as we have referenced but they can also be colourful stones. For example pink diamonds or fancy yellow diamonds as well. These two types of colorful diamonds can be set in colored gold metal (rose gold and yellow gold) to emphasize their color. The color of the metal reflects back the colorful shine of the stones enhancing its coloration. Further if you want these colorful bits to really shine contrasting them as a feature on an all platinum or white gold ring really stands out as we will see below. It can be as the first or center halo feature to really emphasize the solitaire center stone.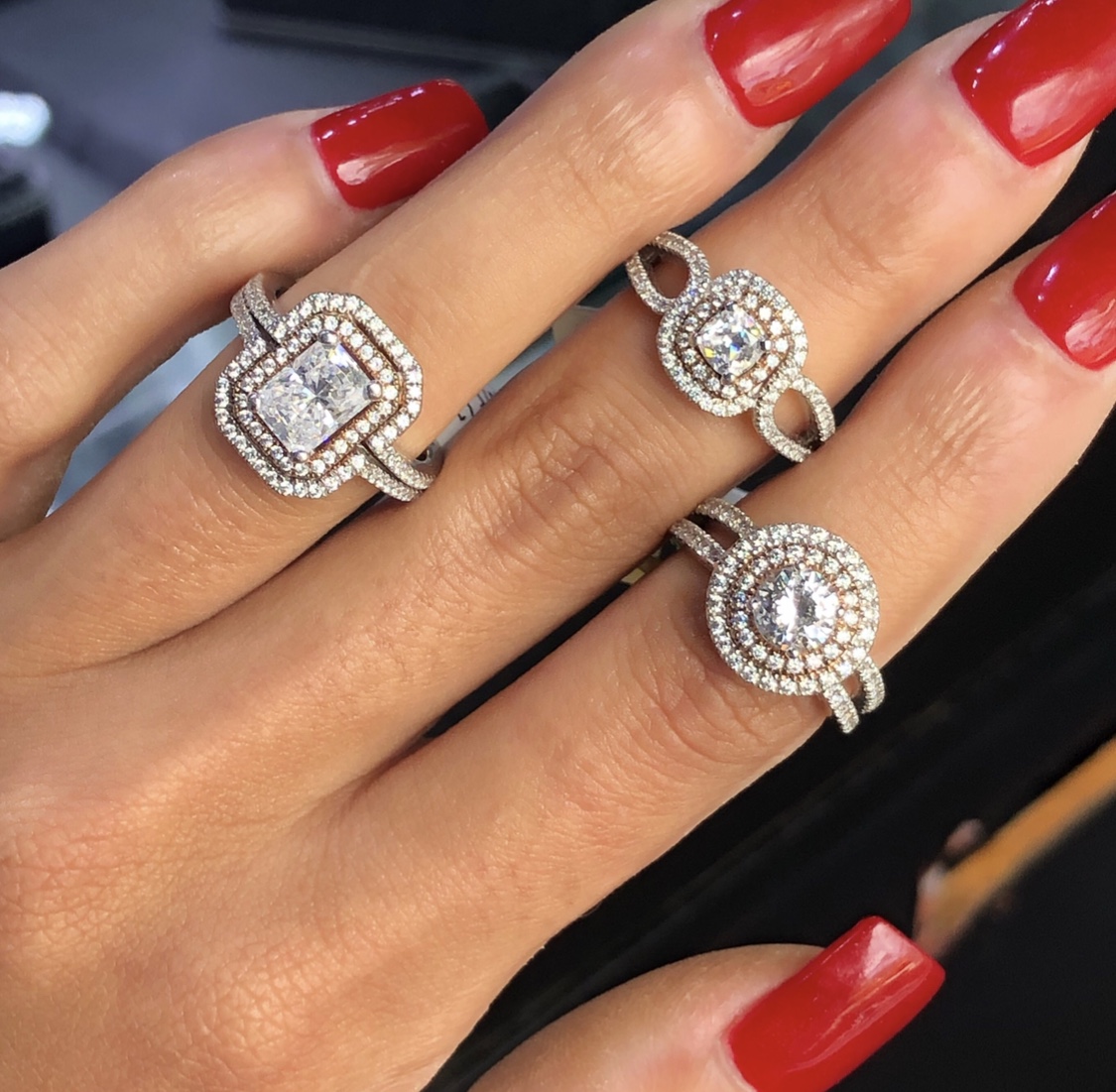 First, as seen on the furthest left in the photo above is a gorgeous double halo emerald cut diamond engagement ring. This gorgeous design features a rose gold inner halo contrasting the white diamonds on white gold or platinum setting. This distinctive ring mounting has beautiful round brilliant cut accent diamonds on the shank as well as across the bridge of the ring. As well as of course along the double band. Available in 14 or 18 carat gold or platinum this ring is a stunner. It features approximately 0.68 carats of accent diamonds.
Another gorgeous double halo engagement ring featuring a rose gold inner halo this ring has a traditional round cut centre diamond. This ring is quite unique beyond the double halo feature. Which similar to the ring above features a rose gold inner halo allowing for a bright contrast. Furthest to the right in the image above this ring has a looping band. Open and also studded with accent diamonds the band emphasizes the round design of the center stone and halos. The split diamond shank is the most unique part of this A. Jaffe engagement ring. It has approximately 0.74 carats of accent diamonds.
Finally the ring at the center in the picture above is a swooping design mounting. Like the other rings above this mounting does not come with a center diamond stone but is flexible enough to adapt to almost any cut! Once you find your ideal diamond it can be fitted into this lovely one of a kind design. It features approximately 0.45 carats of accent diamonds and can fit perfectly a cushion cut diamond, round, asscher or princess cut shape diamond. Similar to the rings above it features the rose gold inner halo for added contrast and glamour. Finally the swooping open band is reminiscent of an eternity symbol with its interconnected halo and shank.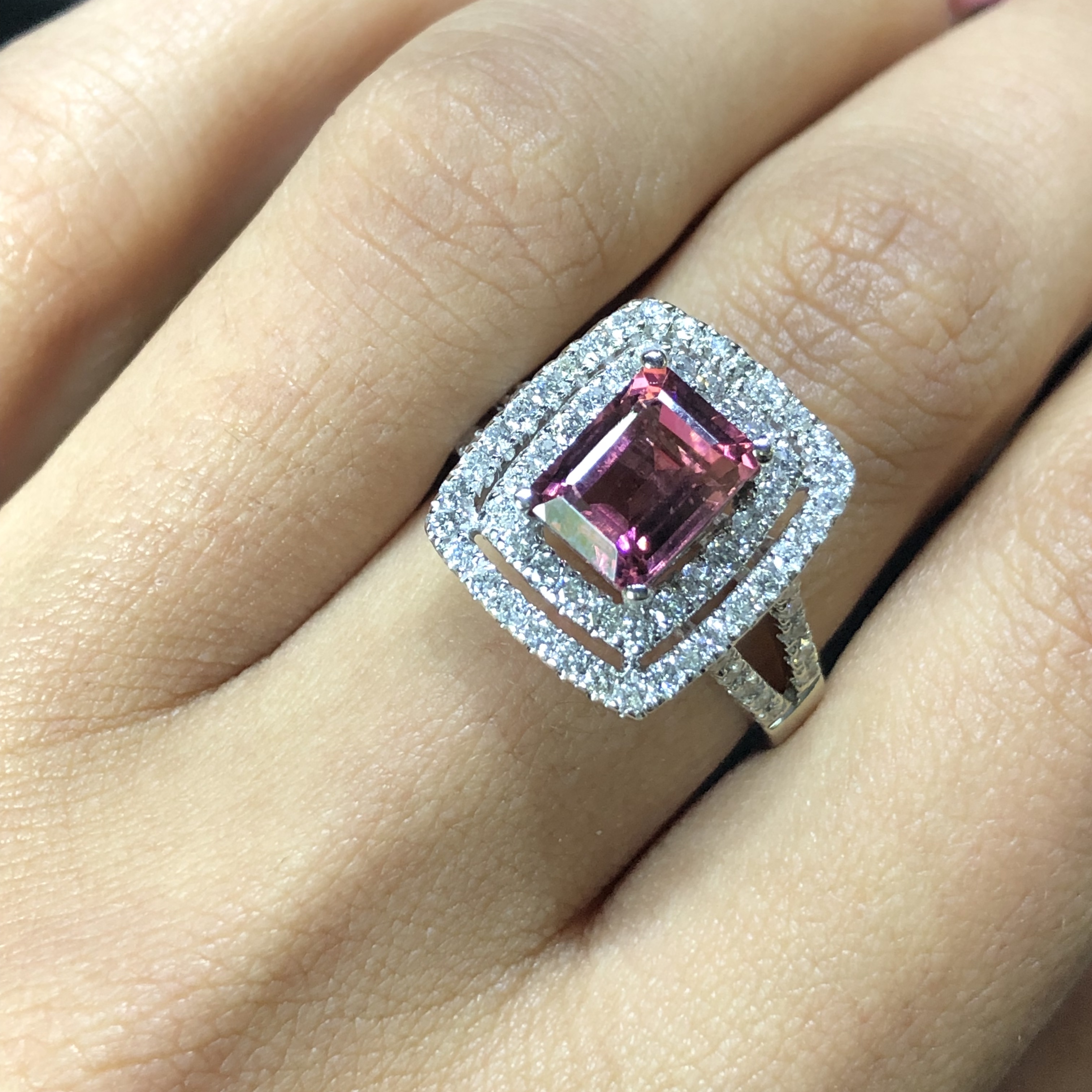 A. Jaffe exclusive double halo colorful emerald cut gem engagement ring
Finally an A. Jaffe exclusive engagement ring not yet on our site. This gorgeous colourful gem emerald cut engagement ring features the diamond double halo feature. The halos are separated by a small distance giving space and size to the ring. Further the emerald cut centre stone is in a raised setting above the halos giving a lovely aesthetic. Seemingly of ripples in a pond the diamond double halo on this ring radiates outwards from the centre stone.
Additionally there are accent diamonds on the double open band of this ring. These connect to the bottom of the outer halo giving the ring even further height. This not only accentuates the design of levity and spaciousness but also emphasizes the colourful centre stone even more. The stone itself is set in a lovely four prong white gold setting. And the pink simply dazzles. It is a gorgeous contrast between the pink and the white diamonds that surround it in every direction. This is a great example of how the double halo feature can be used in a ring that is not the classic round cut. The stone is expertly cut and polished with flat clear cuts and angles. Each one of the bevels reflect light into the center of the emerald cut stone.
This is a very modern ring with a traditional aesthetic but very new design. The style is definitely glamorous and makes a statement. With a double halo feature it is hard to go unnoticed. Really the greatest detail here in this ring though is the raised nature of the center stone and double halo. Since these are not flush against your finger there is enough space for you to wear bands like your wedding or anniversary band on the same finger. They fit perfectly beneath the halos.
Double halo engagement rings from the top jewelry designers is at Diamonds by Raymond Lee
When looking for a place to purchase your engagement ring it is important to choose somewhere you can trust. A place that has your best interest and preferences at heart. We pride ourselves in being a family company and focusing our efforts on personally walking this journey into marriage with our clients. It is a big life milestone and there can be a lot of questions along the way. That is why we not only encourage you to get in touch with us and let us know what you are thinking but also to come and visit! Nothing is more reassuring than seeing an engagement ring in person. Truly it makes it so much easier to decide when you can hold and touch the potential symbol of your love. Plus in store our diamond experts are ready to welcome and help you.
Whether it is the first time you are purchasing fine jewelry (it happens more often than you think!) or you are a diamond connoisseur yourself we are here to walk you through any of our pieces. Speaking of which we carry only the finest quality designer engagement rings from world renowned brands like A. Jaffe, Henri Daussi and Gabriel & Co. For something truly unique we also have estate and private label jewelry at our shops. And finally if your dream ring is the one you have conjured up in your mind we can help with that too.
Our master jewelers and craftsmen are equipped and experienced to create the ring of your dreams. With any of the materials that you are after as well as the highest quality gems and diamonds. You can choose yourself or leave it up to our team. You can be as highly involved or leaning more towards an ideation position as you wish.