Bypass rings, a style that has the two shanks of a ring crossing over one another, rather than meeting to complete the circle, are one of our favorite styles. This edgy twist on a ring is a gorgeous way to show of stones and unique architectural designs. The bypass ring, far from a modern trend, has been in existence for over 100 years – we have several vintage, antique and estate bypass rings. This ring is edgy and unique – we love how it turns the typical on its head. It's a perfect option for right hand rings and for women who want something a little bit different for their engagement ring (but still love diamonds and gemstones!) Check out a few of our favorites below.
We love the delicate diamond accents on this bypass ring. Bright & clean round brilliants weighing a total of .15 carats rest between the prongs of 14kt white gold. This ring is the perfect addition to a ring stack of any metal or gemstones.
Don't these round brilliants look almost like old mine cuts? We love the effect that this 18kt buttery gold setting has on its stones, further proof that any setting can completely change the personality of a diamond. These rounds are .75 carats each and have plenty of sparkle, which is a fun addition to the blockish, geometric look of the ring.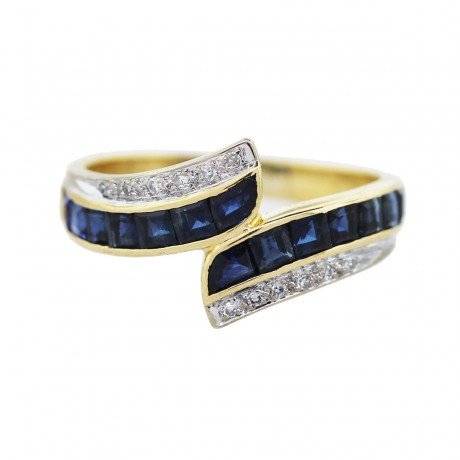 This stunning estate ring is another great addition to a stack. We love the pop of color these deep blue invisibly set sapphires lend (not to mention the extra sprinkling of diamonds around the borders).
This vintage platinum and diamond bypass ring is one of our favorites in the whole store. We can't get enough of its vaguely Egyptian motifs, its lattices serpentine shape, and of course the .90ctw of old European cut diamonds.