Black Friday Weekend is Coming!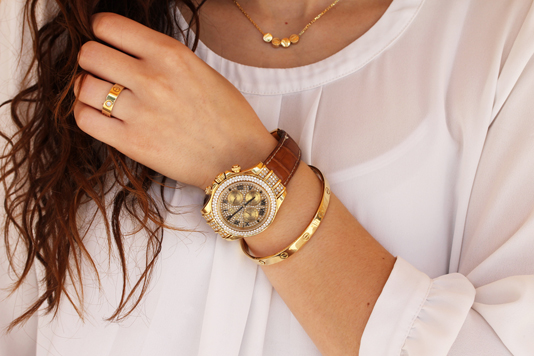 Can you believe it? One week from today we'll all be stuffed to the gills with turkey, mashed potatoes, cranberry sauce, and the fierce desire to do battle over flat screen tv's and Apple watches. Of course, even if Black Friday sporting isn't quite your thing, we might be able to tempt you.
With Thanksgiving quickly approaching, our eyes are on our big Black Friday weekend. We're adding a few things to our holiday offerings to make this weekend extra sweet.
We'll be closed on Thursday, so our staff can spend the holidays with family and carb-load in anticipation of a weekend's worth of jewelry and watch lovers hunting for the perfect gift. On Friday, we're opening at our regular time (10am) but instead of closing at 6, we're keeping the lights on and the diamonds sparkling for every single last customer. Ditto for Saturday, when we'd usually close at 5 – out the well decorated window! We're committed to staying open to accommodate every last item on your wish list. And on Sunday, our President and VP's will be opening for a family affair. At noon, our doors will open to every shopper who's ready to take advantage of our amazing Black Friday weekend deal.
For three days only (November 27 – 30) we're extending our November financing special from 2 years of 0% interest to 5 years of no interest payments, no money down, on the vast majority of our hand-picked merchandise.*
That means the Cartier bangle you've been coveting for years? Yours, with plenty of time to pay.
That upgrade to your dream bridal set? You won't pay a cent of interest on it, and can make comfortable payments spread out over the next 5 years.
That Rolex you've been promising yourself for the last decade? Now is the time to finally make it yours, with no money down.
It's the perfect time to make your holiday dreams come true, and shop for everything you've always dreamt of, without the financial pressure. Our huge selection, team of experts, and flexible financing will help you make this holiday your most luxurious yet.
*This promotion applies to in-store purchases only. Our online financing is still available through our website, and if you have any questions, we're here to help. Please give us a call at 1-800-329-GEMS if you have any questions, and please read our financing page fore more details.