Bell & Ross Limited Edition BR01-92-S Radar 109/500 Watch Review
The Bell & Ross Limited Edition BR01 92-S Radar Watch Review, in South Florida. We have the Radar Limited Edition Bell & Ross watch in our Boca Raton store ready for review. First, we will go into this incredible and unique brand. Their history, spectacular know how and professional references. Then, we will dive deep into the Bell & Ross Instruments Collection. The Limited Edition Radar watch is part of this spectacular collection. It is known for its unique square cases. Below we go into the reasons behind why it has a square case.
Next, we will go into the actual Limited Edition Radar watch itself. Giving you an inside look at this singular item, one of only 500 in the world. Further, we will show you the black three disc dial with its unique functionality. Finally, we will review the two black and orange straps and clasp that come with this incredible watch.
The Bell & Ross Know How
First, the Bell & Ross brand was interested in one thing and thing only. That was to produce the world's best timepieces for professionals to wear as tools of their trade. Like many of the fine and luxury watch brands that came out of Switzerland, this was particularly including the aeronautical professionals. Bruno Belamich and Carlos A. Rossilo established the Bell & Ross brand in 1993. They took the first three letters of their last names to create an incredibly unique and now iconic brand. It all began as nothing more than a University project. However, Carlos and Bruno had vision and commitment to creating truly tough and functional watches. As a team of watch designers and aeronautical control panel specialists, this team went to work. The ultimate goal was to continue the Swiss tradition of exceptional watchmaking. However, these timepieces were intended to meet the demands of men facing extreme situations.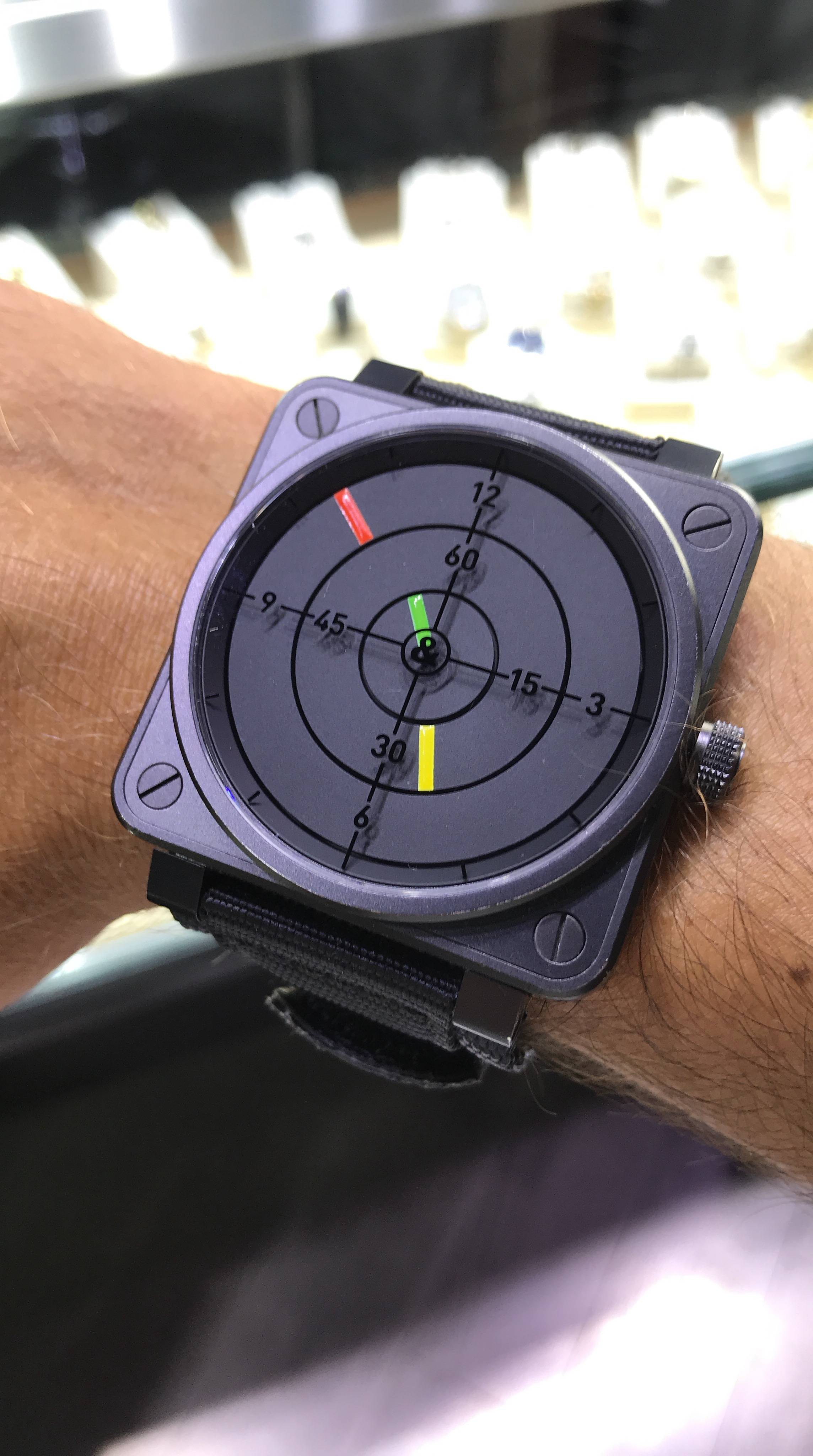 Producing instruments of the absolute highest quality was and continues to be the top Bell & Ross priority. Taking cues from their impressive inspiration of military and aeronautical references each watch includes a technical or visual feat alluding to this significant past. Overall the Bell & Ross watches are each a unique and powerful machine that not only stands to the traditional Swiss watchmaking expertise standards but also to the tough and durable needs of the men who wear them. From the men who are exposed to extremely high velocity, superior speeds, extreme pressure or even dangerous temperatures the Bell & Ross watches are there for them. Regardless of the situation or specific need of the men in these lines of work these watches are part of the tools that keep them alive. No other fine Swiss timepiece has the iconic beautiful design paired with powerful precision cased in such a tough watch.
Professional References – Bell & Ross
Further, the professional men who employ these fine timepieces as tools of their trade. These are men who defuse bombs to protect society at large. They are men who fly to the final frontier. The ones who are exploring space and the deepest depths of the ocean. There are the pilots and bomb disposal experts who work in the most extreme conditions possible. The Bell & Ross watches not only a tool of their trade. They are not just one more instrument that they use. The watches are a constant ally keeping them company in the most extreme conditions. These highly utilitarian watches with their simple and clear instrument like views are a combination of expertise. From professional watch makers and designers to engineers and the professional men who wear these watches, they are all consulted. That is how you produce a not only high quality and power but iconic watch.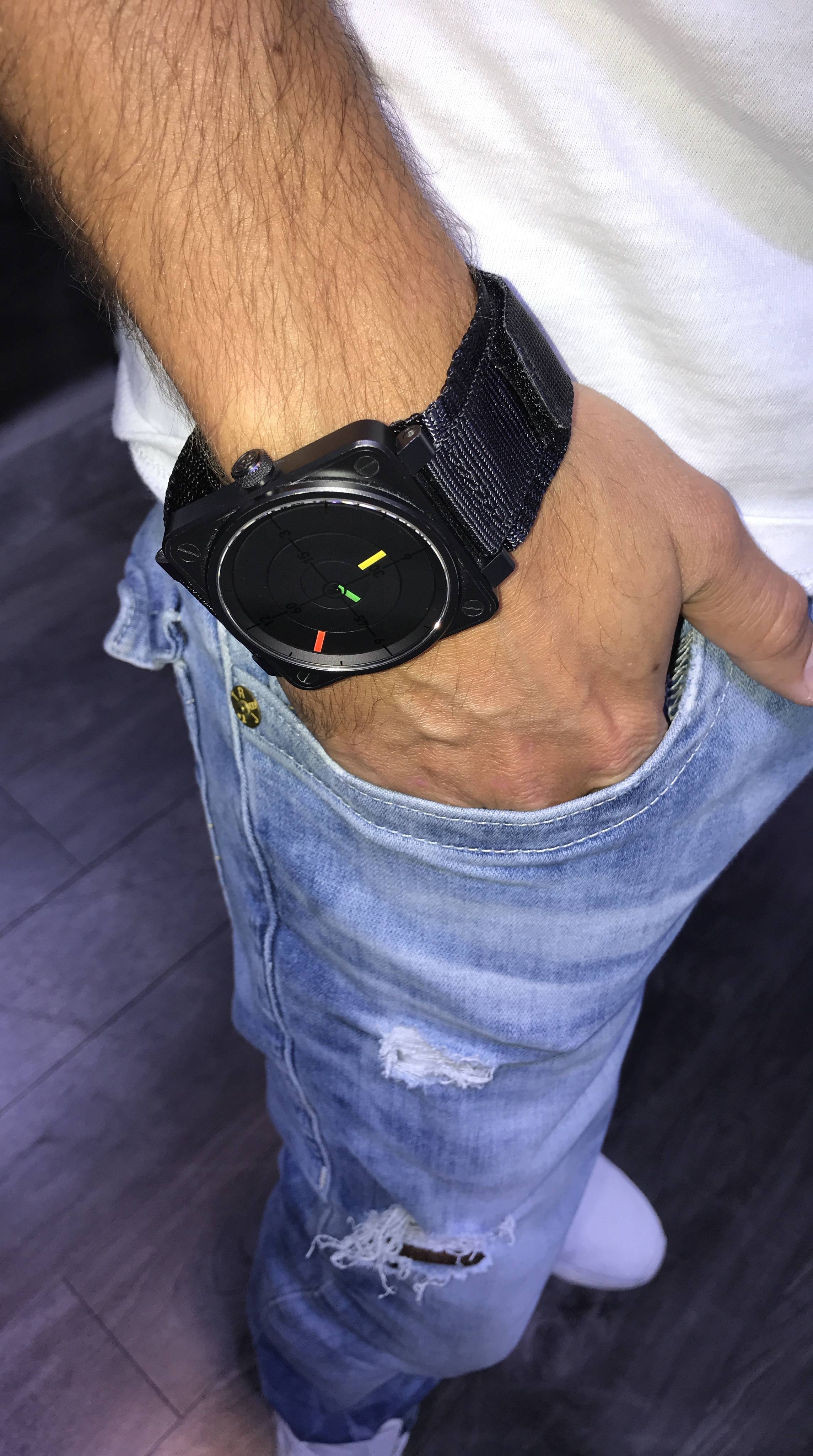 As can be seen on their website the Bell & Ross motto is that the "essential is never compromised by the superfluous". That is the motto that all of these professional references go by when offering expert opinions and suggestions. It is the motto that the designers and creators go by when crafting these unique and iconic watches. Thus, these watches are straight to the point. They are extremely powerful and incredibly precise however they are a no frills operation. In the end, that is what sets them apart. The high level functionality and power inside each one of the Bell & Ross watches is paired into a minimalistic and straightforward design. It is a design and style for men who are uncomplicated. Thus, the watches embody the professionals who wear them. There are far too many important tasks at hand for frills. The focus is functionality and of course timeless elegance.
The Bell & Ross Instruments Collection
First things first, the instruments collection revolves around four key principles. These are the principles that drive everything from the design to the functionalities incorporated into the watches in this collection. Thus the four key principles of the Bell & Ross instruments collection are legibility, functionality, reliability and finally precision. These four are what make the Instruments collection watches just that instruments. They are instruments of design and instruments of trade for the men who wear them. Regardless of their profession or specific needs each of these watches packs the finest and highest powerful technological advancements available. Also, as we mentioned above it is a no frills operation. There are no excess or extraneous details. It is a functional and beautiful watch. Each one is designed in pure straight lines. Further, they have extreme visibility prioritizing the watch face, dial, and functionality reading. There is of course also extreme quality control.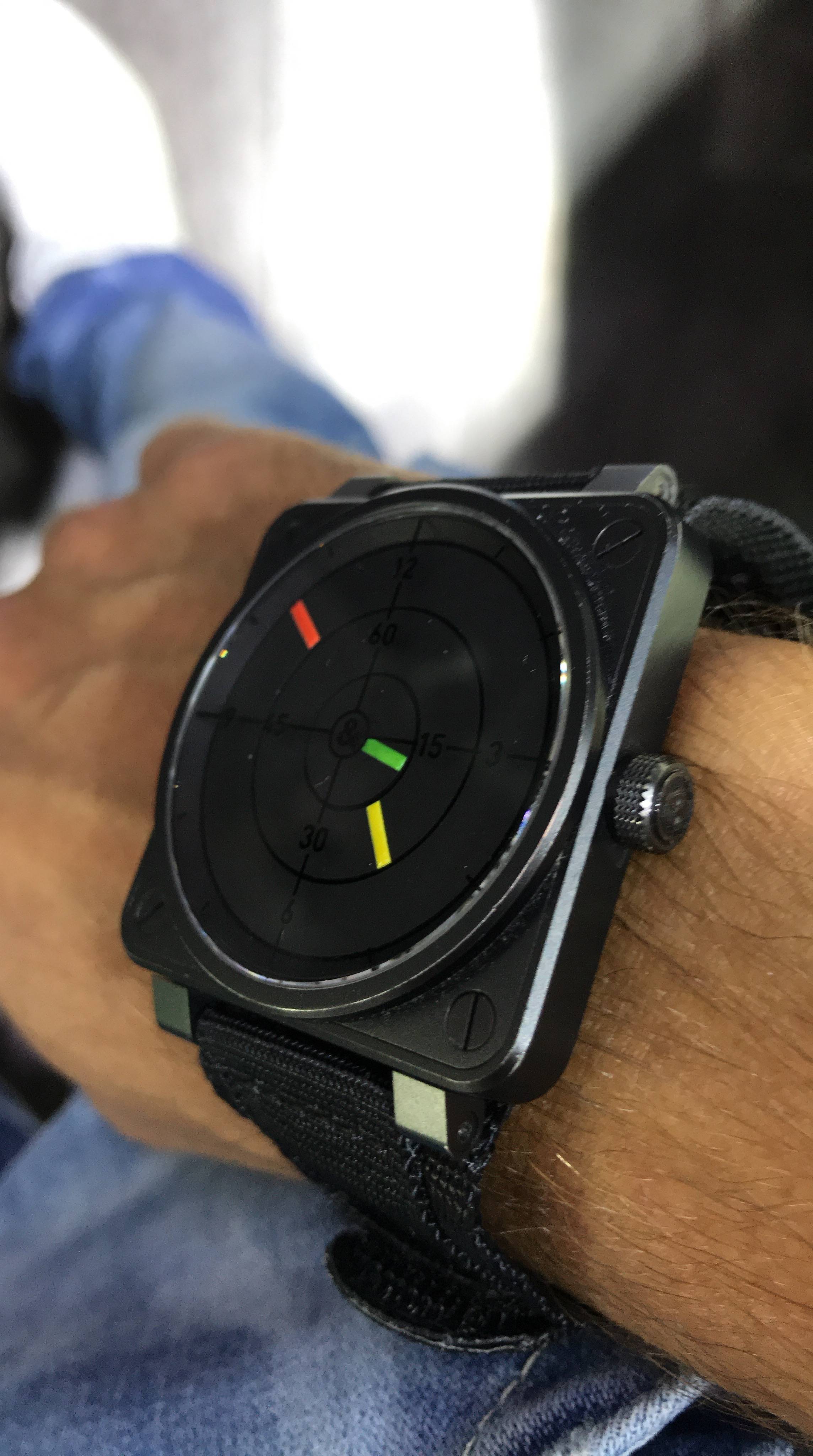 This is done to ensure the fine functions of each one of the watches. Legibility is most important. Therefore the legibility of on board aeronautics instruments is what inspired this incredible collection. This initial inspiration can be recognized in each aspect of the Instrument Collection watches. Strongly inspired by aeronautics these watches are reminiscent of a cockpit. Like the cockpit instruments these watches in the Instruments Collection have square cases. Further, the square cases hold incredible dials. The one we are reviewing and will go into next is the limited edition BR01 92S Radar watch. This one is one of the most unique watches in the Instruments Collection. It features an incredibly unique and limited Radar style dial with three discs. Further, this collection also features unusual materials. There are watches in this collection made from unique PVD coated steel. This powerfully resistant material is part of the watches' allure.
Finally, the watch itself. This incredible Bell & Ross Instruments Collection watch is one of the most unique watches they have ever produced. The BR 01 92 S Radar watch is a limited edition watch featuring very unique features. From the case to the dial all the way to the strap each aspect of this watch is not only reminiscent of the cockpit is enhances the tools of the man who wears it. It has powerfully precise functionality. Therefore, the 46mm case displays automatic movements. The entire watch is made in coated steel PVD. Also, the matte black color paired with the square shape of the case make it strongly masculine. Further, this gives it a monochromatic black visual that then allows the dial to be the legible center of attention it is required to be. Also, the crystal on this watch is sapphire for optimal visibility. Every part is intentional.
The entire watch is an embodiment of the brand's commitment to powerful functionality. They are tough and durable to stand the test of the most extreme conditions. Further, this limited edition BR 01 912S has a peculiar dial, which we will delve into next. It is still strongly inspired by the aeronautical instruments industry. It is a watch for the man who appreciates a simple and understated design with impeccable functionality. There is never a compromise when it comes to Bell & Ross watches and this one is no different. The unique design and dial do not in any way take but rather add to the watch's high level precision and consistency. It is a watch that incorporates the modern and classic with the powerful and precise. As you will see below this particularly limited edition watch also comes with a limited edition after market orange strap. Unique like you are.
The Limited Edition Radar Dial
The dial. This is the most unique part of this limited edition Bell & Ross watch. This Radar style dial consists of three discs. These black discs not only continue the black monochromatic style of the watch it also further emphasizes the exclusivity of this watch. Like all the Bell & Ross pieces it is made for professional and extreme situations. The military like black PVD coated steel accentuates this feature. As it is inspired in a pilot's instrument  the radar dial packs in a whole lot of relevant information into a small and easy to read face. There are three separate colorful hands within each one of the concentric discs. Further, the yellow hand if you will gives you the hours. Meanwhile, the red hand gives you the minute. Finally, the green hand gives you the seconds. It is an instrument on your wrist with intricate disc movements unlike any other.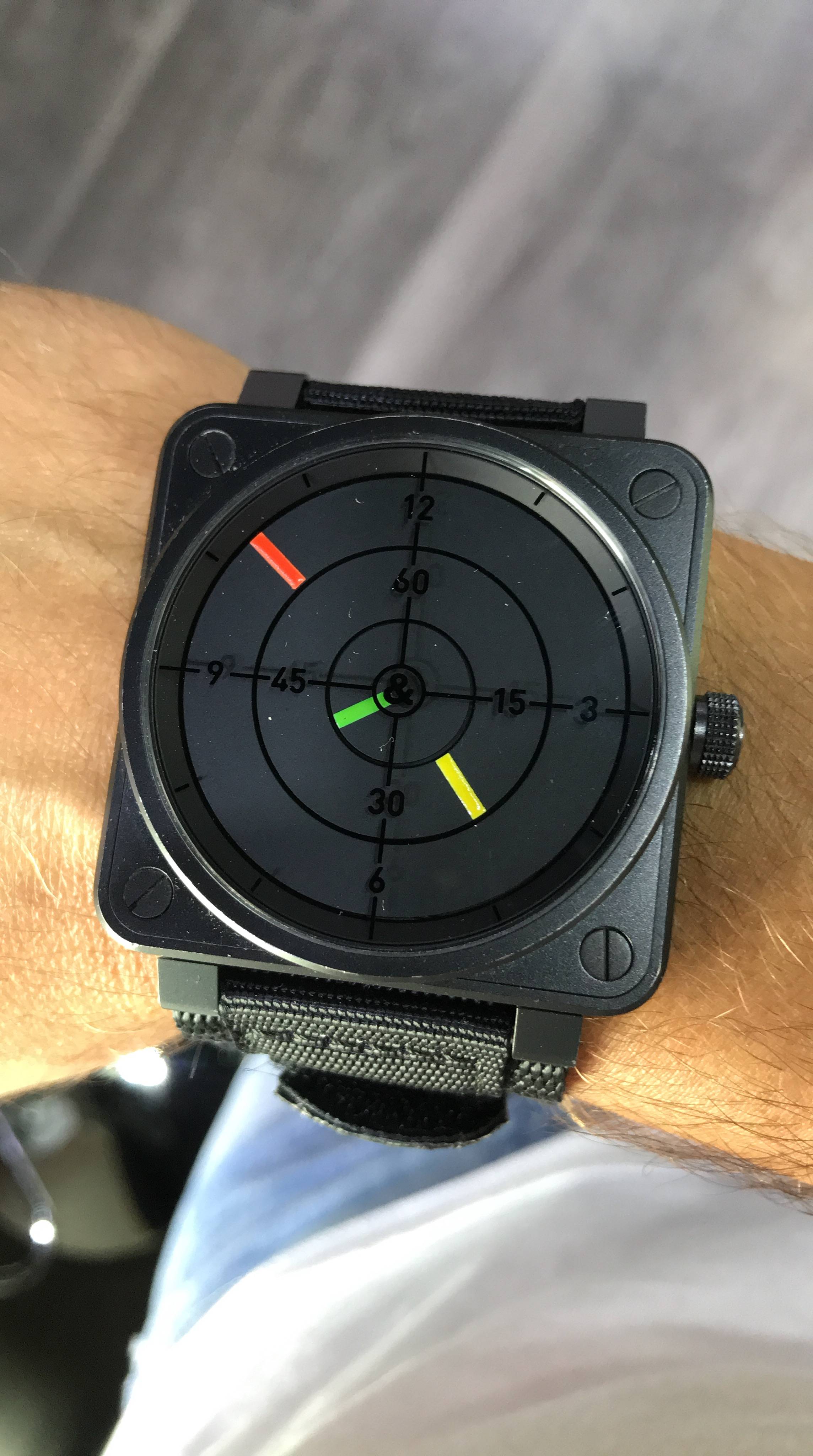 This watch with its unique dial is also one of only 500 ever made in the world. That means this unique three color hand black dial is only available in a limited edition collection. It is not only an iconic shape that forms the bulk of the Bell & Ross brand. Further, it also has a masculine, minimalist style that is unparalleled. It is the ideal in stylized limited edition watches. It packs an incredible amount of precision and functionality with superior legibility in reading.
Two Straps and Clasp
Also, this incredibly durable and aeronautical inspired watch comes with an extremely unique strap. The neo canvas strap is a black bracelet. This black monochromatic feel not only goes with the sleek black of the casing and dial it also adds to the modern look. Further, the clasp is a steel buckle with a black PVD finish. This is like the case and offers a smooth look and feel. This buckle is versatile and is also a feature of the additional orange strap. You can see below the orange limited edition after market neo canvas strap.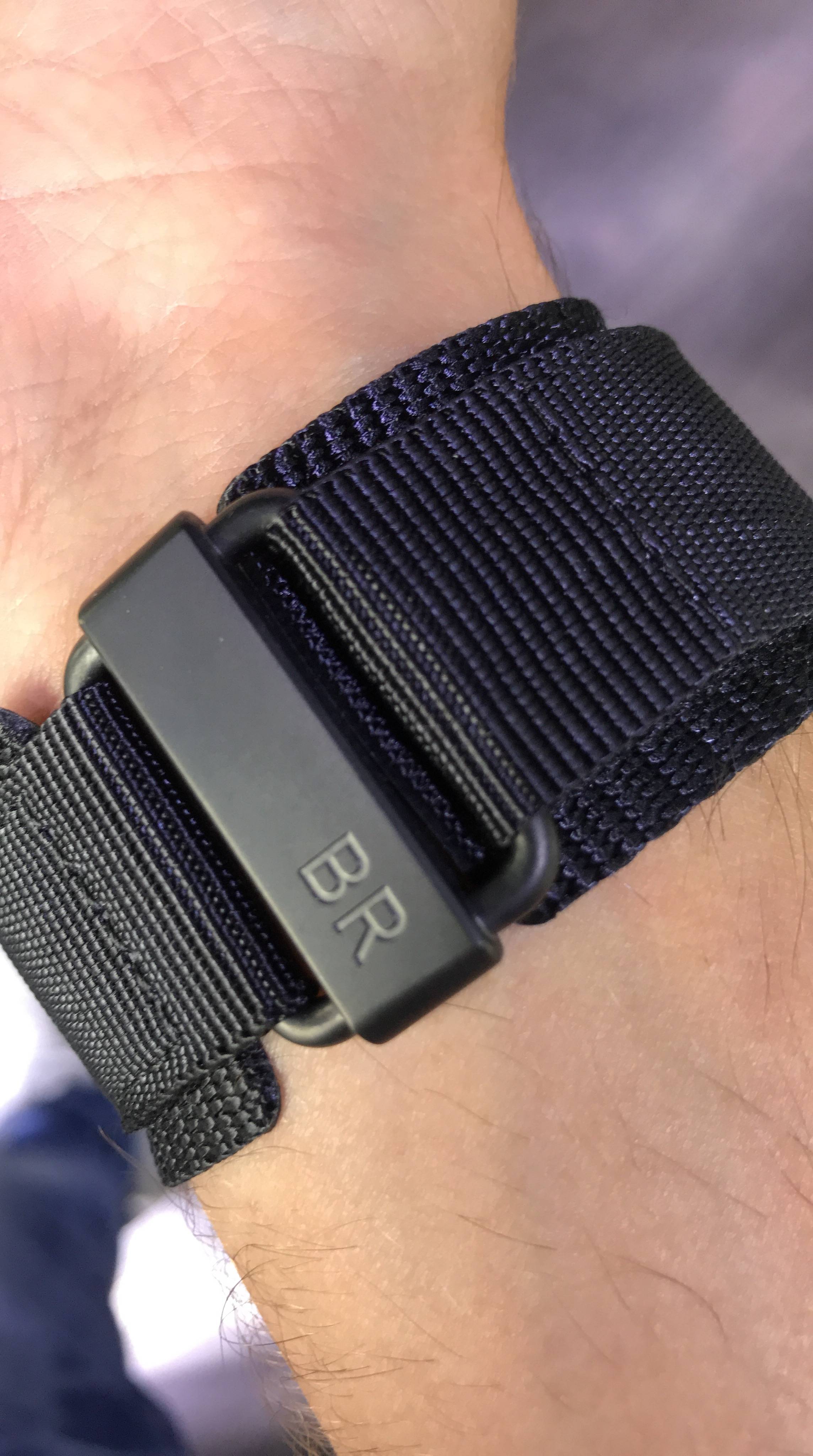 Another, option that comes with this incredible watch is the orange after market version of the black neo canvas strap. The watch comes with this second strap option and the original Bell & Ross tools. These tools can be used to change the straps on the watch and ensure the bright new color is fixed. The tools are fine and have the classic Bell & Ross BR emblem for the BR instruments collection. All of these accessories and the watch come in a Bell & Ross box with a special 1 year Raymond Lee Jewelers warranty. 
Limited Edition Watches at Diamonds by Raymond Lee
We at Diamonds by Raymond Lee have been serving the South Florida community for the past thirty years. Our commitment to excellence and superior quality makes us the go to jeweler and fine watch store in Boca Raton. From some of the world's most exquisite watches and luxury brands to singular items, we have a comprehensive curated collection. Our specialization is in fine limited and special edition watches. A majority of these are part of collections with few in the world. To view, our entire collection visit our fine watches page here. Otherwise, we would love to welcome you in our store.
We have conveniently located and expertly designed show rooms where you can view and try on a series of items. There is no better way to find spectacular new pieces for your personal collection, a stunning gift or for personal shopping. If you would like to schedule an appointment to view this magnificent Bell & Ross Radar Limited Edition watch you can do so here. Also, we are happy to welcome you any time if you choose to just pop into our store. Our family business is helping people find the most unique luxury jewellery items and fine timepieces. Let us help you find yours.