Audemars Piguet Royal Oak Offshore Rose Gold 44mm Watch Review
Audemars Piguet Royal Oak Offshore watches are some of the finest in the world. A sportive and powerful watch these are not your average luxury timepiece. With an absolutely inimitable design and look these watches stand out. Every part of these watches is an impressive combination of powerful machination and movements with impeccable design and aesthetics. It is the octagonal bezel we all know and can instantly recognize. The incredibly thin cases and well known rubber clad style. Audemars Piguet Royal Oak Offshore watches are accessories worn by men at the top of their leagues. Whether in sports games or the game of life these gentlemen know how to sport a tool like the AP Royal Oak Offshore. Beyond the incredible brand and this collection of watches this week's watch review features a very special material. The Audemars Piguet rose gold. A unique blend of fine metals unlike any other.
In general rose gold men's luxury watches are becoming ever more popular. The modern color and unique tints that each company produces are taking over the scene. However there are a few companies that really make a difference. More than just a rose gold watch these pieces are made unique in their details. The AP Royal Oak Offshore in rose gold is one of these. With the factory black rubber clad finery this watch is stellar. Beyond the rubber clad strap this watch features black rubber clad push buttons and crown, as well as a removable bezel cover. It has an impressive number of movements and functionality. All packed away behind a skeleton back and rose gold case. The aesthetics of this watch are impressive. Modern and slick the rose gold watch is contrasted by the black and black dial and rubber strap. Let's take a look at this piece.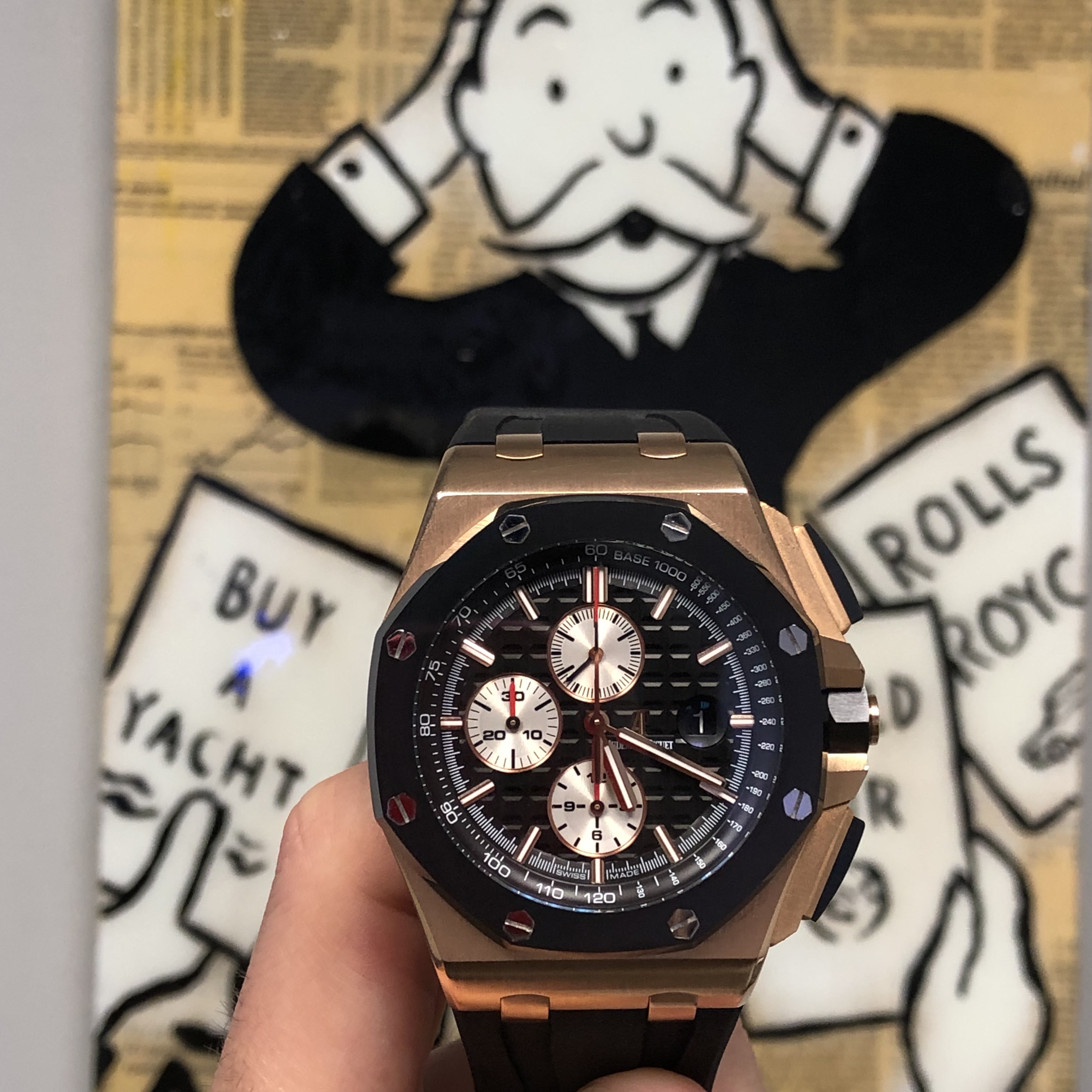 Audemars Piguet,
Le Brassus
from Switzerland to the world
In the heart of the valley in de Joux, Audemars Piguet was born. The brand that is recognized for masterfully crafted watches. An experience of ownership unmatched by other brands. From their beginnings in the land of watch making. Audemars Piguet was a partnership of masters. In 1875 Jules Louis Audemars and Edward Auguste Piguet came together to create iconic men's luxury watches in Switzerland. We all know how well known the Swiss are for their watch making abilities. However these two were a very particular pair indeed. They both came from watch making families. And their company, much like our very own Diamonds by Raymond Lee, is a family company. It has impressively remained a family company throughout the centuries of fine watch making and expansion. Audemars and Piguets' talent and passion for haute horlogerie shines through to this day. In every movement and fine time piece they produce.
They opened branches around the world from Berlin, to London, and Paris, all the way across the Atlantic to New York and Buenos Aires as well. This massive growth came early. As it does for those who craft incredible and unmatched pieces. They create watches that are strong and powerful watch yet thin and refined at the same time. Audemars Piguet is one of the most innovative luxury watch brands. Their watches are truly a feat of design and engineering capabilities. Each one packs a punch with powerful precision. Further they are at the cutting edge of design and men's fashion. As can be seen with this rose gold master piece. It is a slick modern look with contrasting black detailing and their very own rose gold tint. Audemars Piguet embodies a spirit of independence. This is quite clear in their styles. While still remaining true to heritage and lineage.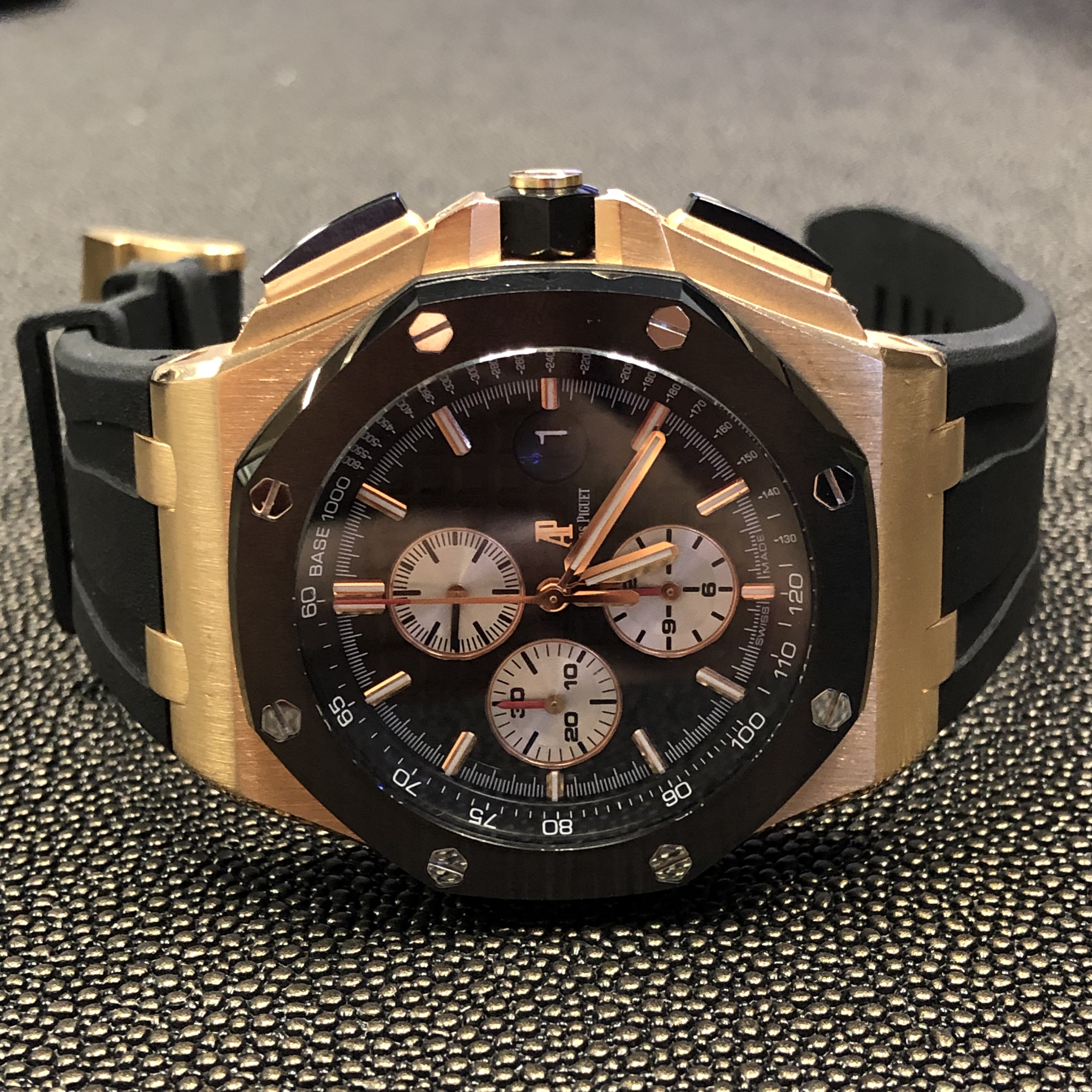 The Dial
The black tapisserie dial with rose gold hour markers are a unique accent. Along with the sub dial and hands the touch of rose gold adds a glimmer to the contrasting colors.
Rose gold men's luxury watches
From all the historical ties and tradition comes a splash of modernity. The color of this watch is not your traditional stainless steel. Nor is it your usual yellow gold watch. This AP is a stunning rose gold time piece. The innovative material that can be seen more and more often in luxury accessories like men's watches. It is becoming ever more popular even outranking the traditional and well loved metals.
While it is a particularly new style it remains a happy medium between a classic icon and a modern time piece. There are other watches that are much further down the evolution chain. For example the Audemars Piguet forged carbon watch we reviewed here. While the rose gold style is new and modern it stays within the fine metals family. Meanwhile AP pushes ever further in their pursuit of the best in class and finest design. So do not worry if you think the rose gold watch is too modern. It is actually a happy medium with a lot of room for bringing it further modern or dial it back a notch to a more traditional look. The rubber clad strap is the secret. For a more modern and spiced up look a new Horus rubber strap can do the trick. They have patterns, styles and colors of all kinds.
Otherwise a more traditional bracelet in a fine metal can take this modern watch a dial back. The black rubber clad details like on the bezel for example can all be removed for a monochromatic look. So either way this versatile material can be turned up or dialed back as you wish. It is after all an Audemars Piguet. A watch not just for a lifetime but for generations. Their family company commitment goes far down to every detail.
Royal Oak Offshore rubber clad watches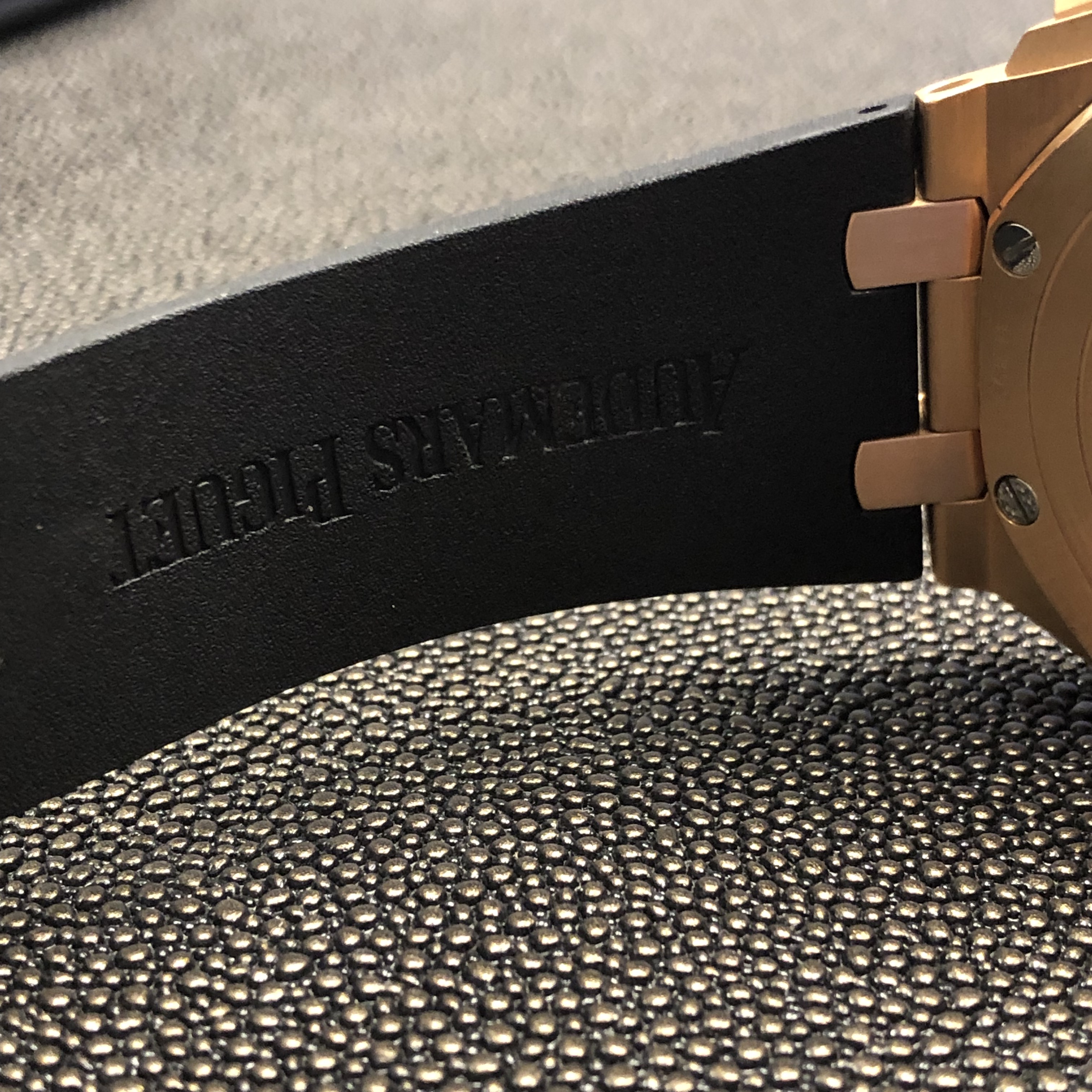 One of Audemars Piguet's most renowned collections the Royal Oak Offshore watches are a sporty style. Moving away from the traditional classics this watch collection really showcases what their craftsmen are capable of. Strongly masculine with the straight hard lines and iconic geometric octagonal shape the edges of this watch keep you on an edge. An eye catching piece to say the least, this is the type of watch for men who know how to command attention. No matter where they go. It is a slightly more prominent look than their traditional watches and thus has a couple of details to set it apart. Particularly the rubber clad versions. With the highest quality rubber details the Royal Oak Offshore is a watch in its own category. A black rubber cover on the bezel makes it more prominent. A feature for sportive wear and comfort. It matches the rubber clad strap.
A mixture of tradition and avant garde the Audemars Piguet creed shines through the Royal Oak Offshore watches. They are true to their tradition. However everything about these watches is the latest cutting edge in technology, power and functionality. It is the blend of staying true to the company's roots and breaking all of the rules. Once they are mastered it is time to break them after all. And that is exactly what Audemars Piguet does with these rubber clad watches. Pushing the boundaries of what is possible when it comes to men's luxury watches and accessories the power of imagination is clear. No other rose gold watch on the market can match this rubber clad Offshore. With its highly sportive detailing and strongly masculine look it is no wonder some of the world's most powerful and inimitable men choose to wear the Audemars Piguet Royal Oak Offshore rubberclad watch.
Audemars Piguet Royal Oak Offshore 44mm Rose Gold 26401.RO.OO.A002.CA.01
Now this particular watch we have in store is an exquisite skeleton back piece. It is the black rubber clad well known Royal Oak Offshore in an impressive 44 millimeter case. This sportive and highly masculine watch design gets a strong edge with the rose gold tint. A particular muted shine from the alloy blend rose gold makes it an exclusive type of accessory style. As we mentioned earlier the slick black dial with rose gold hour markers adds to the contrast and gorgeous look of this piece. This is a modern and trendy twist on the watch of the moment's usual tapisserie dial. It has the texture that you expect while also giving a high gloss look to the softer shine of a rose gold case. It is the sleek modernity aspect that we love integrated into a classic icon time piece like the Audemars Piguet Royal Oak Offshore.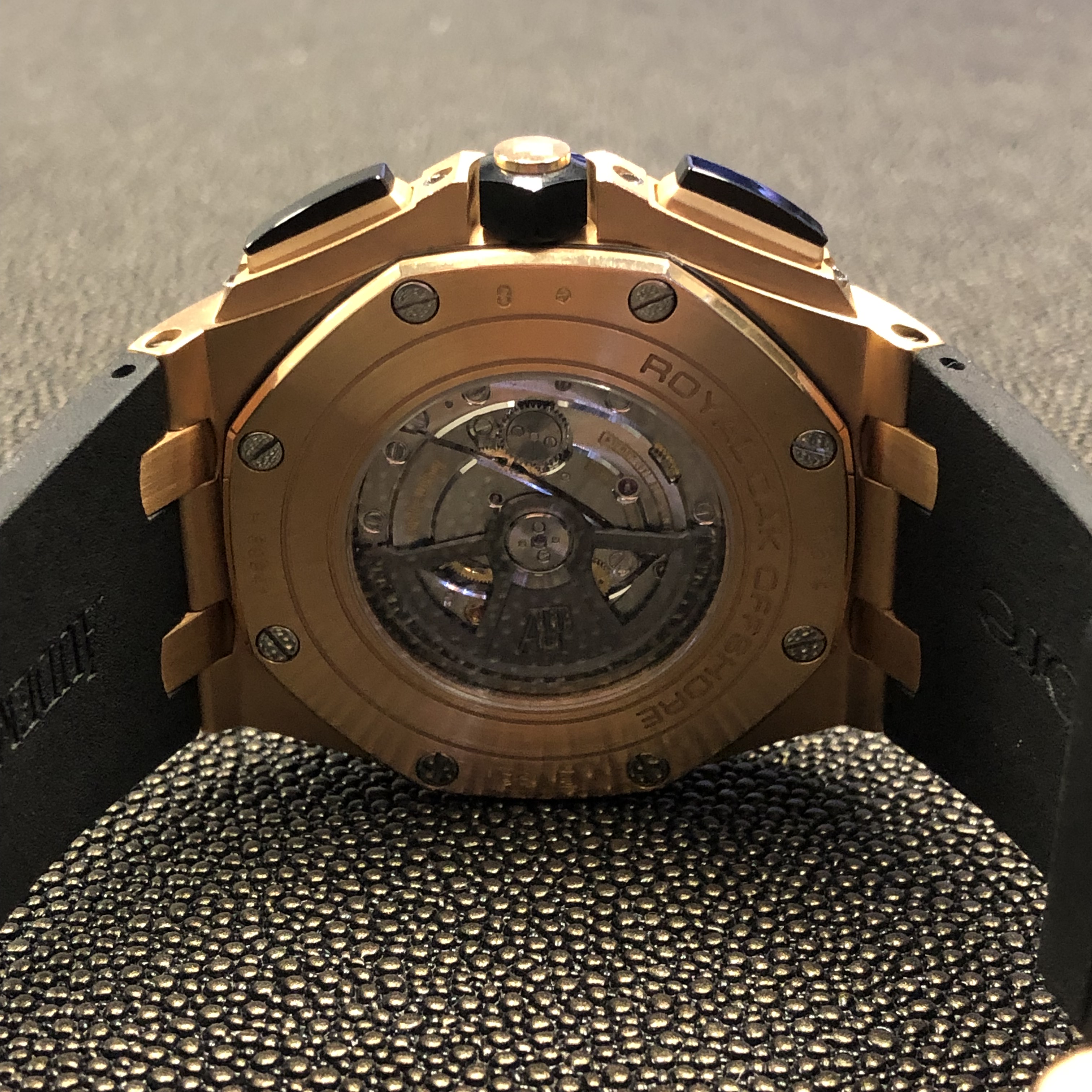 A fine example of haute horlogerie this Royal Oak Offshore is a sample of artistry. We will go into all of the details below on what is going on inside but first let us take a look at the fit and feel of this watch. It does feature a rubber strap, unusual for luxury watches but ideal for sportive wear. The rubber strap is an Audemars Piguet achievement though and fits incredibly well. Made from the highest quality rubber and branded as you would expect it fits perfectly into the lugs of this watch. Not your usual details the Royal Oak Offshore also has unique lugs attaching the strap at the centre of the case rather than at either end. It makes for a tight fitting attachment and added comfort when it comes to the fit. This is a comfortable long wear watch for sportive or day to day activities.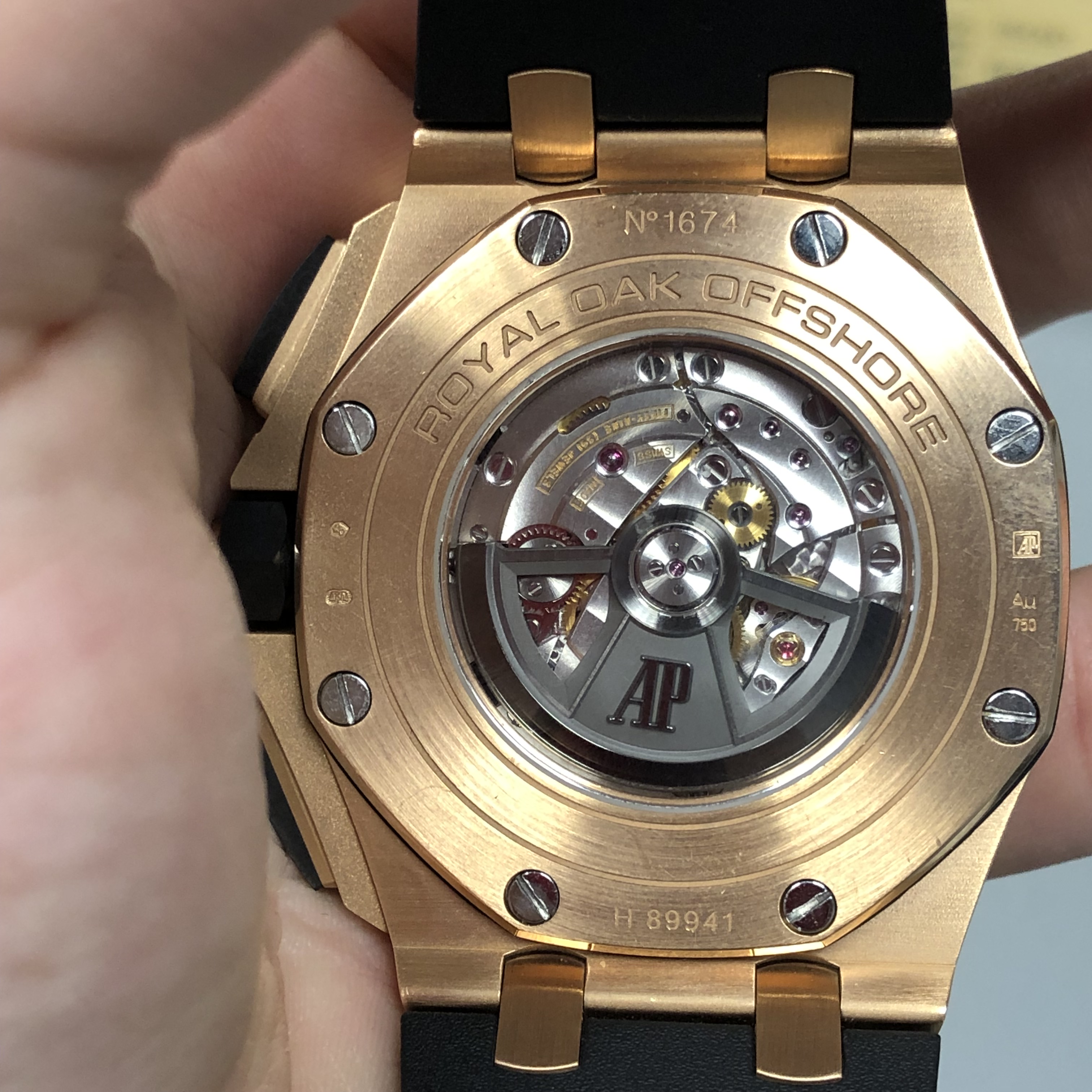 The skeleton back and movements
For the past 140 years Audemars Piguet has been mastering the craft of haute horlogerie. When it comes to movements and complications they are now breaking the rules. Reforming what the industry standards are and in general taking their powerful complications to the next level. The complications in their watches are rare to say the least. Which is why a skeleton back is such a fantastic feature on this Royal Oak Offshore. You can see the delicate and high tech innovations right there on the surface of the back. This display of their savoir-faire is not only complex and impressive it reaches the point of beauty. With yellow gold and colourful details for their up to six different complications available for three separate mechanisms the Royal Oak Offshore is a collection for the greats.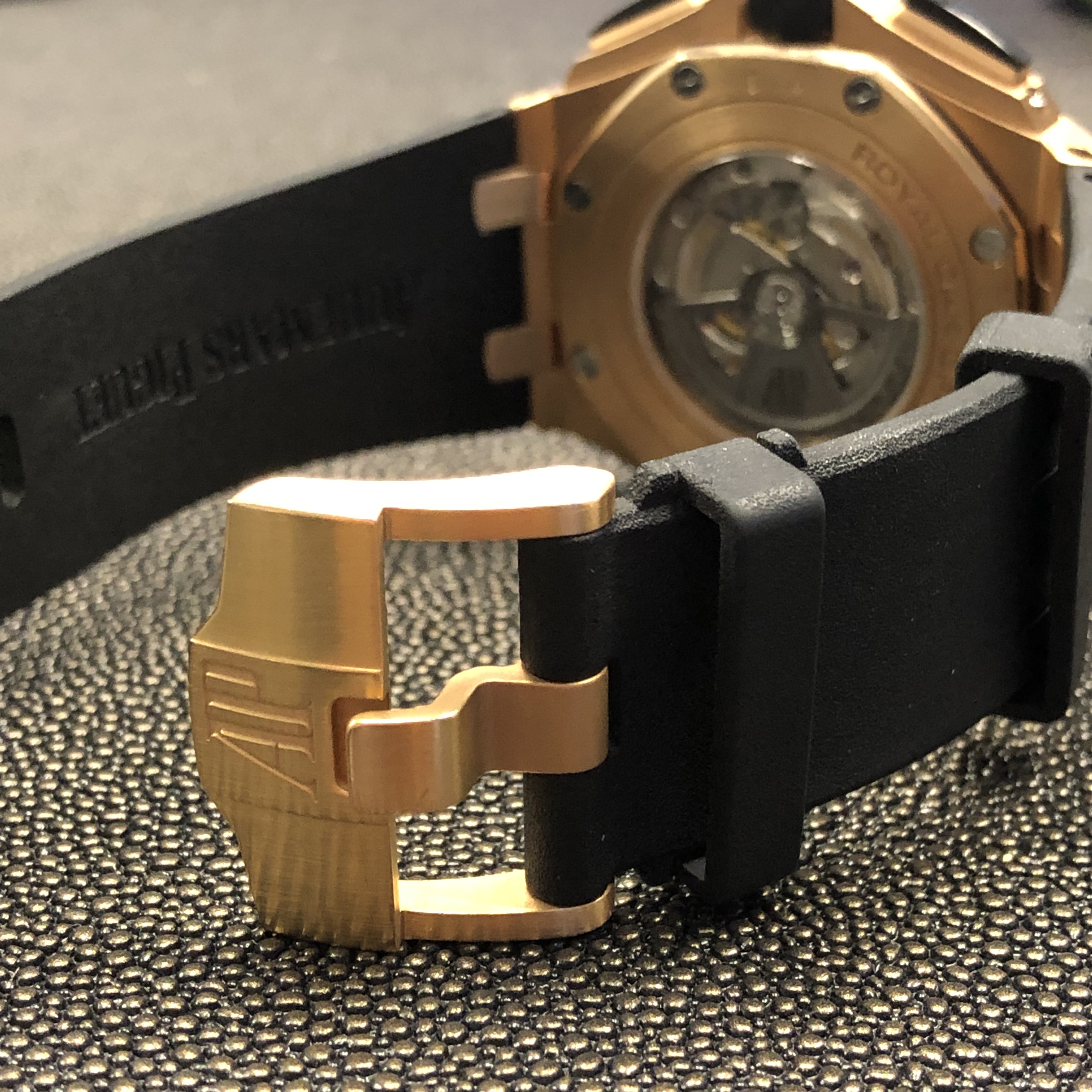 Want to buy an Audemars Piguet Royal Oak Offshore rose gold rubber clad watch like this? Diamonds by Raymond Lee is your place
If you are looking to buy an Audemars Piguet watch, whether its the Royal Oak Offshore or other collections, Diamonds by Raymond Lee is the place. We have been serving the South Florida community for the past three decades. Much like the Audemars Piguet families we intend to continue offering superior service and unmatched quality for generations to come. We bring the best and most modern luxury watches and fine jewelry for men from across the globe right here to Boca Raton. We find and curate a strong selection of iconic watches for gentlemen of all personal tastes. Whether you are looking to add to your watch collection or just finding one of your first fine time pieces we are here to assist you. Our diamond and fine time piece experts are here to answer any and all of your questions. As well as help find the one for you.
Our master jewellers at our stores also test each and every one of these watches. Specially when it comes to fine pieces so that we know we are offering you a quality product. We have the latest technology and best instruments. As well as a highly skilled and dedicated staff of master craftsmen. They know their watches from the inside out. And they are here available for repairs, maintenance and ofcourse finding your latest piece. We take the time and want to discuss each one of your purchases with you. It is to get an idea of what exactly you are looking for. How we can best serve you and what items will peak your interest. It is important to purchase with knowledge and we know exactly how the experience is. It is why we are here to walk you through each purchase. It's why we love what we do.