She may have a beautiful engagement and wedding ring, but years worth of better and worse, richer and poorer, and sickness and health should be celebrated with a beautiful and sentimental anniversary ring. A wedding ring symbolizes your start together, but an anniversary ring celebrates the rest of the journey.
While the most common version of an anniversary ring is a diamond-encrusted band, the sentimental token can be any ring that strikes her fancy. Some ladies love the idea of adding an additional band, similar in style to her wedding band, to the same finger. This is also the perfect way to beef up a petite engagement ring and offers the option to wear the new band in place of the bridal set.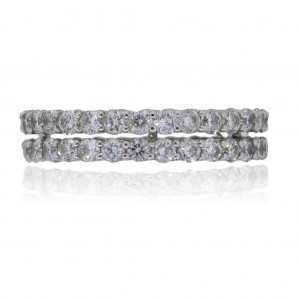 On the other hand (literally), many couples choose an anniversary ring to be worn on the right hand. This presents a wider range of style options and allows her to pick something those suites her personality and fashion sense, without worrying about if it looks right against her older set. This is especially nice for ladies whose style has evolved in the years since her vows.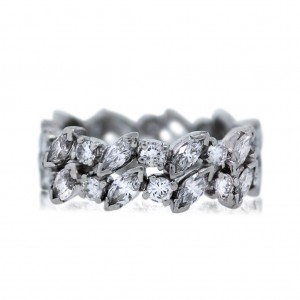 Sparkling diamonds are always a divine choice, especially if they are going to be showcased next to her wedding ring. But, an anniversary ring lets you step outside the traditional choices. If you opted for a standard diamond wedding ring but crave color, choose an anniversary band with bright gemstone, either in your favorite shade, the birthstones of your babies, or the gem associated with the month you tied the knot.
Perfect for any year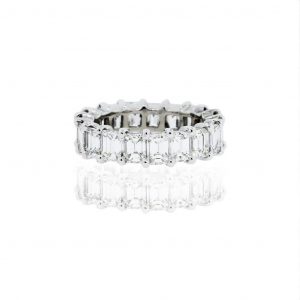 The traditional list of anniversary gifts dictates that diamonds are reserved for the sixtieth year. Even the modern list suggests waiting until 10 years. In this one case, let's throw etiquette out the window. There's never a wrong year to give a beautiful ring, diamond or otherwise. However, a memorable gift is even more special for whatever constitutes a milestone year in your relationship. While significant numbers, like the first, fifth or twentieth anniversary are obvious choices, feel free to be creative. An anniversary ring is perfect for celebrating the year you had your first child, the one you made a big career move, tackled a big challenge or survived the seven-year itch.
Make it a surprise… sort of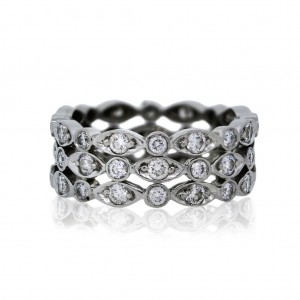 You may have spent months agonizing over her engagement ring, anticipating the look on her face as she popped open the velvet box. This time around, make the ring a surprise of a different sort. Since the best part of an anniversary ring is the ability to express her own style, get her in on the selection or design process. Instead of wrapping up the ring, surprise her with a shopping trip. After an extravagant anniversary dinner, detour to her favorite jewelry store to start the hunt together.
Go sentimental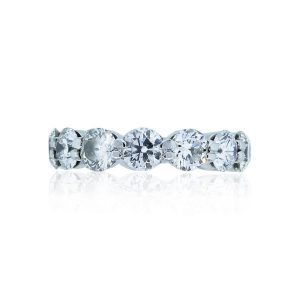 Anniversaries are always a time to look back at the joys of the previous years. Add a sentimental touch to an anniversary ring with a little personalization. Have a sweet message engraved inside, such as the wedding and anniversary dates, a simple "I love you," or a quirky inside joke between the two of you.