Alex Soldier is an artist at heart, but a jewelry designer by trade. Creating each piece in his collection of new form, texture, and structure, Soldier uses his art to express himself and appeal through beauty to the masses.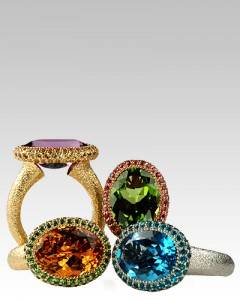 "Soldier immigrated to the United States in 1990 from Russia, establishing himself as an independent designer working in 18-karat gold and platinum with precious gemstones. Fast forward to fall 2010, when a downturn in the economy and escalating gold prices pushed the designer to turn to a new metal–sterling silver."
Although hesitant, Soldier found that he could attain the same weight and depth with the Silver Jewelry as he was once able to achieve with gold. Soldier refers to his jewelry as "Silver Redefined," putting the same time, creativity, and energy into the Silver jewelry as he would with gold.
"My work is not polished and mass-produced looking," Solider says. "Hand-carving techniques make it artistic and intricate. That's the big difference between us and the rest of the world in silver."